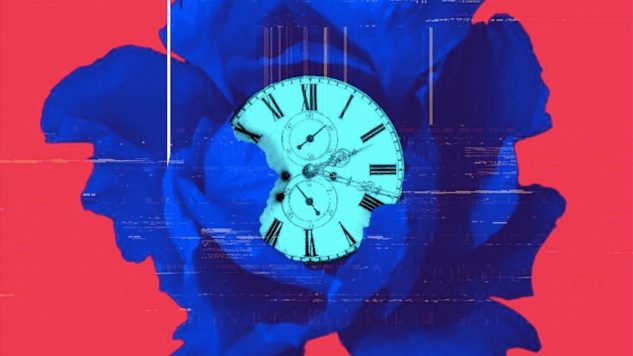 With many readers back in school this month, it feels like summer has officially ended. But entering the academic realm doesn't mean we have to set aside fun books! So in the spirit of literary balance, we are putting our full audiobook focus this month on fiction.
Mysteries! Punk rock science fiction! Tween puzzlers! Historical epics! The real world might be underwhelming, but in your earbuds? That's a whole different story. May you find just what you're looking for below, and happy listening.
Editor's Note: The titles below are organized first by release date, then by run time.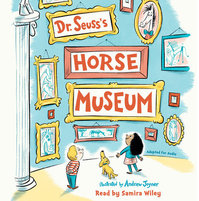 Dr. Seuss's Horse Museum by Dr. Seuss
Narrator: Samira Wiley
Run time: 43 minutes
Release date: September 3rd
Audible | Libro.fm | Overdrive
From Stephen King's Santino Fontana-narrated The Institute to Salman Rushdie's Vikas Adams-read Quichotte, September is set to fill our audio queues with some of the twentieth century's most famous literary men. The one whose audiobook we're most excited for, though, is Dr. Seuss. His posthumously discovered guide to art history, Dr. Seuss's Horse Museum, is finally hitting the shelves this month after a manuscript and sketches were discovered in his home back in 2013. As an illustrated guide to art history, a print copy of Horse Museum is an absolute necessity. But anyone whose childhood was built on Dr. Seuss knows that his words demand to be read aloud. With actor Samira Wiley performing the audiobook narration and a publisher's note at the end that discusses the discovery of the manuscript, listening to the audiobook will only enrich the Horse Museum experience.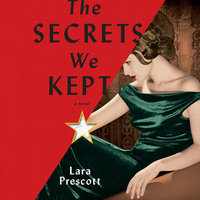 The Secrets We Kept by Lara Prescott
Narrators: Mozhan Marno as Olga, Carlotta Brentan as Irina, Cynthia Farrell as Sally, Saskia Maarleveld as The Typists, Jonathan Davis as Boris, David Pittu as Sergio and James Fouhey as Teddy
Run time: 10 hours and 55 minutes
Release date: September 3rd
Audible | Libro.fm | Overdrive | SoundCloud
Spies, secret loves, CIA plots, Doctor Zhivago, a multicast performance and "the powerful belief that a piece of art can change the world"—talk about audiobook Paste bait! Diving into the story of Olga Ivinskaya, the imprisoned mistress and muse of Soviet writer Boris Pasternak, The Secrets We Kept is Lara Prescott's debut. But listen to Mozhan Marno's narration as Olga in the SoundCloud link above, you'll be blown away. Add in the rest of the killer cast, and the epic sweep of Prescott's narrative ambition is stunning. Now, to find the best recording of Doctor Zhivago for when we finish The Secrets We Kept…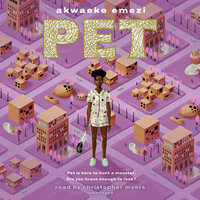 Pet by Akwaeke Emezi
Narrator: Christopher Myers
Run time: 5 hours and 32 minutes
Release date: September 10th
Audible | Libro.fm | Overdrive | SoundCloud
Akwaeke Emezi's Freshwater was one of 2018's most dazzlingly fiction debuts, so it should come as no surprise that their Young Adult (YA) debut promises to be just as sparkling and ferocious. Ostensibly about a horned and clawed monster, Pet is ready to elude the rigid trappings of any one genre. Nothing is as it seems—not the monsters, not the city, not even protagonist Jam, herself. Also note the audiobook narration, which is performed by writer and illustrator Christopher Myers. As a children's book writer, Myers has experience reading and speaking to young audiences, so his performance is dynamic. Listen to the book's first few minutes in the SoundCloud clip linked above, and you'll see why his participation in the project brings more to the audiobook table than just his voice. We can't wait to listen again and again!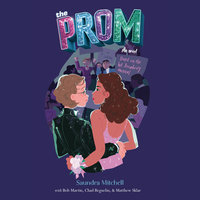 The Prom: A Novel Based on the Hit Broadway Musical by Saundra Mitchell, with Bob Martin, Chad Beguelin and Matthew Sklar
Narrators: Caitlin Kinnunen and Isabelle McCalla, with Beth Leavel, Joshua Lamon and Tara Sands (includes an interview with Chad Beguelin, Bob Martin and Matthew Sklar from the musical's creative team conducted by Joshua Lamon)
Run time: 6 hours
Release date: September 10th
Audible | Libro.fm | Overdrive | SoundCloud
When we saw that The Prom, one of Broadway's current fan favorites about a pair of Broadway stars who "help" protagonist Emma and her girlfriend go to prom together, was getting its own novelization, we were jazzed. When we heard the audiobook team had also snagged the original Broadway cast to take on the narration? We were over the twinkle-lit papier-mâché moon. More adaptation than straight script-to-chapter translation, The Prom clearly aims to capture YA's passionate core of queer love-loving readers. And we're sure that with YA author Saundra Mitchell leading the adaptation, print readers will find plenty to be passionate about. That original cast narration, though—that's like a cheat code straight to their (and our) hearts.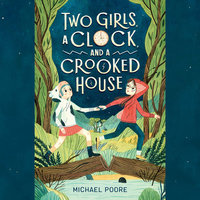 Two Girls, a Clock, and a Crooked House by Michael Poore
Narrator: Cassandra Morris
Run time: 6 hours and 21 minutes
Release date: September 10th
Audible | Libro.fm | Overdrive | SoundCloud
A new entry in the Mysterious Benedict Society series is hitting shelves this month, but as much as we love the adventures of Reynie and his crew of kid geniuses, we can't say no to fresh puzzle-solving blood. Enter Michael Poore's Two Girls, a Clock, and a Crooked House, which combines time travel, witches, telepathy, spirits and tween female friendship, all rolled up in Snicket-esque prose. With Cassandra Morris helming the narration with the same earnestly indomitable spirit she recently lent Paste-favorite To Night Owl from Dogfish, Amy and Moo's adventure is one you don't want to miss.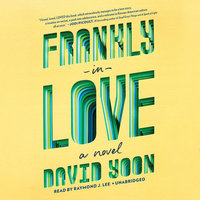 Frankly in Love by David Yoon
Narrator: Raymond J. Lee
Run time: 10 hours and 10 minutes
Release date: September 10th
Audible | Libro.fm | Overdrive
Sweet and funny, generous but unflinching, Frankly in Love is less about narrator Frank Li's love life than it is about how his other relationships and the challenges of his American and Korean heritages. This is a book worth reading in whatever format you can get your hands on. But with so much of the story hinging on the various degrees of linguistic assimilation achieved by Frank's parents and his first generation Korean friends' parents, having Raymond J. Lee step into those voices with equal parts precision and care is crucial. Pick this one up!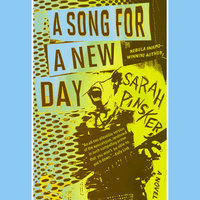 A Song for a New Day by Sarah Pinsker
Narrators: Dylan Moore and Nicol Zanzarella
Run time: 12 hours and 31 minutes
Release date: September 10th
Audible | Libro.fm | Overdrive | SoundCloud
September boasts not one but two sci-fi novels centered around a renegade punk rock core! The first of these, Sarah Pinsker's A Song for a New Day, is a dystopian tale with underground concerts serving as a revolution against government-mandated social isolation. We'd listen to that story any day, but with the audio co-narrated by Dylan Moore and Nicol Zanzarella, Pinsker's world gains extra dynamism when the pair's varying tones of earnest warmth and wry cynicism bounce off one another.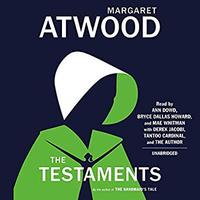 The Testaments by Margaret Atwood
Narrators: Ann Dowd, Bryce Dallas Howard, Mae Whitman, Derek Jacobi, Tantoo Cardinal and Margaret Atwood
Run time: 13 hours and 18 minutes
Release date: September 10th
Audible | Libro.fm | Overdrive
Any new Margaret Atwood novel is a cause for excitement. But between the weight The Handmaid's Tale holds as part of the modern literary canon and the success Hulu's adaptation has found on the small screen, Atwood's return to the world of Gilead in The Testaments has everyone clamoring. The fact that the audiobook of The Testaments, which follows the perspectives of three different women in the Republic of Gilead more than 15 years after the events of The Handmaid's Tale, is performed by a powerhouse cast that includes Ann Dowd (Hulu's Aunt Lydia), this version should have you extra hyped.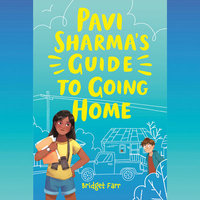 Pavi Sharma's Guide to Going Home by Bridget Farr
Narrator: Ariana Cordero
Run time: 5 hours and 27 minutes
Release date: September 17th
Audible | Libro.fm | Overdrive | SoundCloud
Invoking Freeform's family drama The Fosters is always going to grab our attention. So Bridget Farr's middle grade debut, which follows a foster kid fighting for the safety of a five-year-old in a nightmare home she already escaped, made an immediate impression on us. When we heard that Ariana Cordero, who was on our best audiobooks of August list, was on board for the narration, we were all in. Writing through layers of marginalization for an audience this age requires finesse, but Pavi Sharma threads the needle with care.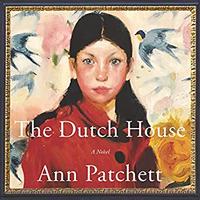 The Dutch House by Ann Patchett
Narrator: Tom Hanks
Run time: 9 hours and 52 minutes
Release date: September 24th
Audible | Libro.fm | Overdrive | SoundCloud
Tom. Hanks. We can't imagine what else is needed to convince even the most diehard of print readers that Ann Patchett's forthcoming The Dutch House, which follows two siblings over five decades, is worth listening to as an audiobook. Hanks, whose previous audio credits are limited to his own short stories, a couple introductions to nonfiction books and a satirical bit of Stephen Colbert puffery, narrates Patchett's deep prose straight into your brain for almost 10 whole hours. His performance in the SoundCloud clip is so soothing, we've been listening to it on loop. As far as audiobook experiences go, we can't think of a better way to spend the end of the month.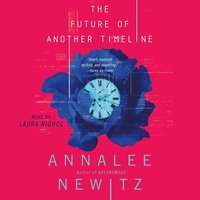 The Future of Another Timeline by Annalee Newitz
Narrator: Laura Nichol
Run time: 11 hours and 30 minutes
Release date: September 24th
Audible | Libro.fm | Overdrive
What a Paste trifecta: punk rock, time travel and a music-filled audio production. One of fall's most anticipated sci-fi releases, Annalee Newitz's The Future of Another Timeline is September's second punk rock saga. The hook is time travel between 2022 and 1992, and the riot grrl movement plays such a crucial role that original music is included as soundtrack to Laura Nichol's narration on the audiobook and a music video was created for riot grrl band Grape Ape's song "What I Like to See" (watch below)). We love an ambitious audio project!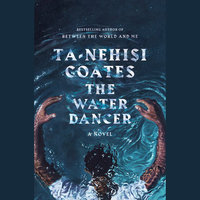 The Water Dancer by Ta-Nehisi Coates
Narrator: Joe Morton
Run time: 14 hours and 14 minutes
Release date: September 24th
Audible | Libro.fm | Overdrive | SoundCloud
After making his mark in nonfiction, Ta-Nehisi Coates is finally utilizing fiction to examine slavery's legacy and America's struggle to tell the truth about its history. Following Hiram Walker, a young man born into bondage who gains a mysterious power after nearly drowning, The Water Dancer will top 2019's must-read lists. It's no surprise that the audio team swung big and hired actor Joe Morton to narrate. Morton not only brings Hollywood familiarity to the sound booth but delivers a pacing to Hiram's story that immediately hooks the ear. You'll savor every minute.

Looking for even more reading recommendations? Check out our lists of the best books and the best Young Adult novels of September.
---
Alexis Gunderson is a TV critic and audiobibiliophile whose writing has appeared on Forever Young Adult, Screener and Birth.Movies.Death. She'll go 10 rounds fighting for teens and intelligently executed genre fare to be taken seriously by pop culture. She can be found @AlexisKG.