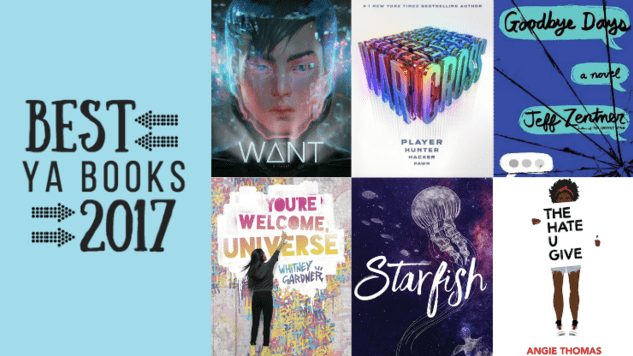 When you check out the best Young Adult books of 2017 on this list, you'll discover that the year has yielded some incredible YA fiction. We've seen amazing debuts that left us stunned, from Angie Thomas' The Hate U Give to Akemi Dawn Bowman's Starfish. And we were gifted the first books in fantastic new series, like Want by Cindy Pon and Forest of a Thousand Lanterns by Julie C. Dao. It's been month after month of incredible reads, and here are our 30 favorites.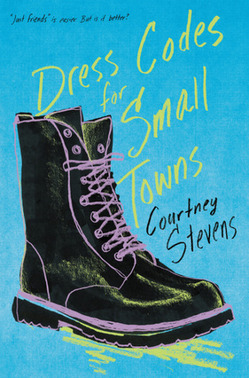 30. Dress Codes for Small Towns by Courtney C. Stevens
Why You'll Love It: To read a Courtney C. Stevens book is to accept that you will cry. Embrace this inevitability. In Dress Codes for Small Towns, Stevens writes a story about friendship, religion and sexuality—and how they intersect.
For Fans of: Beautiful prose and characters you just want to hug…so books by authors like Jeff Zentner, Sara Zarr and Adam Silvera.
Description: As the tomboy daughter of the town's preacher, Billie McCaffrey has always struggled with fitting the mold of what everyone says she should be. She'd rather wear sweats, build furniture and get into trouble with her solid group of friends: Woods, Mash, Davey, Fifty and Janie Lee.
But when Janie Lee confesses to Billie that she's in love with Woods, Billie's filled with a nagging sadness as she realizes that she is also in love with Woods…and maybe with Janie Lee, too.
Always considered "one of the guys," Billie doesn't want anyone slapping a label on her sexuality before she can understand it herself. So she keeps her conflicting feelings to herself, for fear of ruining the group dynamic. Except it's not just about keeping the peace, it's about understanding love on her terms—this thing that has always been defined as a boy and a girl falling in love and living happily ever after. For Billie—a box-defying dynamo—it's not that simple.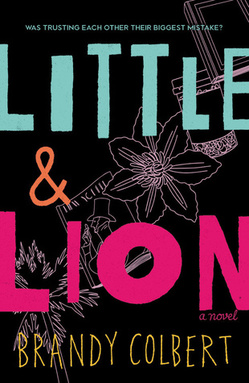 29. Little & Lion by Brandy Colbert
Why You'll Love It: Brandy Colbert wrote one of the greatest YA novels ever, Pointe. Her second novel, Little & Lion, was one of Paste's most anticipated YA books of 2017, and now it's on the best of the year list. A story about mental health and the family complexities, it makes for one of 2017's most moving reads.
For Fans of: Books about family and mental illness by authors like Stephanie Kuehn, Christa Desir, Emery Lord and Bryan Bliss.
Description: When Suzette comes home to Los Angeles from her boarding school in New England, she isn't sure if she'll ever want to go back. L.A. is where her friends and family are (along with her crush, Emil). And her stepbrother, Lionel, who has been diagnosed with bipolar disorder, needs her emotional support.
But as she settles into her old life, Suzette finds herself falling for someone new…the same girl her brother is in love with. When Lionel's disorder spirals out of control, Suzette is forced to confront her past mistakes and find a way to help her brother before he hurts himself—or worse.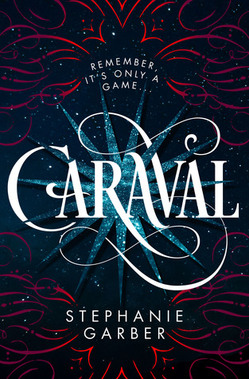 28. Caraval by Stephanie Garber
Why You'll Love It: There was a lot of hype surrounding Stephanie Garber's book through most of 2016. Why? Well, when it's pitched as a YA take on The Night Circus, it's going to be a hit—especially since it delivers on its magical promise. Caraval proves to be an enchanting, beautiful novel about family and sisterhood.
For Fans of: Perfect for fans of Erin Morgenstern's The Night Circus, as well as The Weight of Feathers by Anna-Marie McLemore.
Description: Scarlett has never left the tiny island where she and her beloved sister, Tella, live with their powerful, and cruel, father. Now Scarlett's father has arranged a marriage for her, and Scarlett thinks her dreams of seeing Caraval, the far-away, once-a-year performance where the audience participates in the show, are over.
But this year, Scarlett's long-dreamt of invitation finally arrives. With the help of a mysterious sailor, Tella whisks Scarlett away to the show. Only, as soon as they arrive, Tella is kidnapped. It turns out that this season's Caraval revolves around Tella, and whoever finds her first is the winner.
Scarlett has been told that everything that happens during Caraval is only an elaborate performance. But she nevertheless becomes enmeshed in a game of love, heartbreak and magic with the other players in the game. And whether Caraval is real or not, she must find Tella before the five nights of the game are over and her sister disappears forever.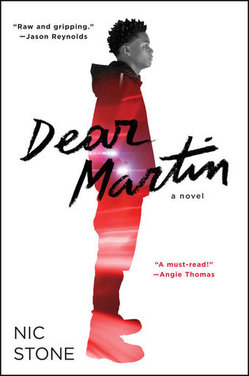 27. Dear Martin by Nic Stone
Why You'll Love It: Nic Stone's powerful debut novel features a teen writing letters to Dr. Martin Luther King Jr., and this stunner made it onto our list of powerful YA books that tackle racism. From the unique prose that shifts from narrative to letters to a play-like-structure to the timely content, Dear Martin makes for one of the most awe-inspiring reads of the year.
For Fans of: The Hate U Give by Angie Thomas and Monster by Walter Dean Myers
Description: Justyce McAllister is top of his class, captain of the debate team and set for the Ivy League next year—but none of that matters to the police officer who just put him in handcuffs. He is eventually released without charges (or an apology), but the incident has Justyce spooked. Despite leaving his rough neighborhood, he can't seem to escape the scorn of his former peers or the attitude of his prep school classmates. The only exception: Sarah Jane, Justyce's gorgeous—and white—debate partner he wishes he didn't have a thing for.
Struggling to cope with it all, Justyce starts a journal to Dr. Martin Luther King Jr. But do Dr. King's teachings hold up in the modern world? Justyce isn't so sure.
Then comes the day Justyce goes driving with his best friend, Manny, windows rolled down, music turned up. Way up. Much to the fury of the white off-duty cop beside them. Words fly. Shots are fired. And Justyce and Manny get caught in the crosshairs. In the media fallout, it's Justyce who is under attack. The truth of what happened that night—some would kill to know.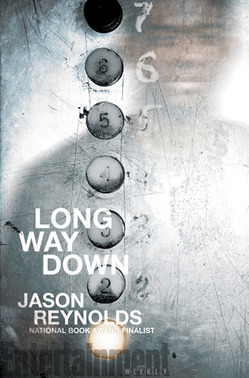 26. Long Way Down by Jason Reynolds
Why You'll Love It: Jason Reynolds' latest, beautiful book is written in verse. You can inhale it in a day, which I did, and re-read it right after you've finished…which I did. Get. This. Book.
For Fans of: YA books in verse, like titles from Ellen Hopkins and Cordelia Jensen.
Description: A cannon. A strap.
A piece. A biscuit.
A burner. A heater.
A chopper. A gat.
A hammer
A tool
for RULE
Or, you can call it a gun. That's what 15-year-old Will has shoved in the back waistband of his jeans. See, his brother Shawn was just murdered. And Will knows the rules. No crying. No snitching. Revenge. That's where Will's now heading, with that gun shoved in the back waistband of his jeans, the gun that was his brother's gun. He gets on the elevator, seventh floor, stoked. He knows who he's after. Or does he? As the elevator stops on the sixth floor, on comes Buck. Buck, Will finds out, is who gave Shawn the gun before Will took the gun. Buck tells Will to check that the gun is even loaded. And that's when Will sees that one bullet is missing. And the only one who could have fired Shawn's gun was Shawn. Huh. Will didn't know that Shawn had ever actually USED his gun. Bigger huh. BUCK IS DEAD. But Buck's in the elevator? Just as Will's trying to think this through, the door to the next floor opens. A teenage girl gets on, waves away the smoke from Dead Buck's cigarette. Will doesn't know her, but she knew him. Knew. When they were eight. And stray bullets had cut through the playground, and Will had tried to cover her, but she was hit anyway, and so what she wants to know, on that fifth floor elevator stop, is, what if Will, Will with the gun shoved in the back waistband of his jeans, MISSES.
And so it goes, the whole long way down, as the elevator stops on each floor, and at each stop someone connected to his brother gets on to give Will a piece to a bigger story than the one he thinks he knows. A story that might never know an END…if WILL gets off that elevator.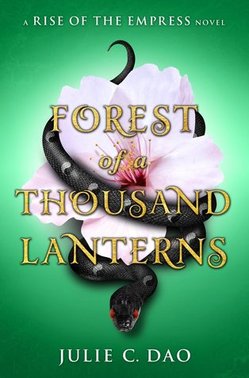 25. Forest of a Thousand Lanterns by Julie C. Dao
Why You'll Love It: Julie C. Dao's debut novel, which has been racking up starred reviews, is one of 2017's big books that you don't want to miss. A reimagining of "The Evil Queen" legend with an East Asian fantasy spin, it's a lush fantasy novel that kicks off a thrilling new series.
For Fans of: YA retellings like Cinder by Marisa Meyer and The Shadow Queen by C.J. Redwine.
Description: Eighteen-year-old Xifeng is beautiful. The stars say she is destined for greatness, that she is meant to be Empress of Feng Lu. But only if she embraces the darkness within her.
Growing up as a peasant in a forgotten village on the edge of the map, Xifeng longs to fulfill the destiny promised to her by her cruel aunt, the witch Guma, who has read the cards and seen glimmers of Xifeng's majestic future. But is the price of the throne too high? Because in order to achieve greatness, she must spurn the young man who loves her and exploit the callous magic that runs through her veins—sorcery fueled by eating the hearts of the recently killed. For the god who has sent her on this journey will not be satisfied until his power is absolute.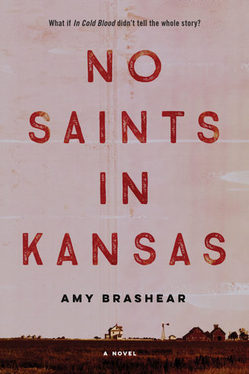 24. No Saints in Kansas by Amy Brashear
Why You'll Love It: A reimagining of In Cold Blood, Amy Brashear's stunning YA novel is as spectacularly written as it is researched. This is definitely one of the most unique YA novels you'll read this year.
For Fans of: YA novels centered around history, like books by Stacey Lee, Anne Blankman and Meg Medina.
Description: November is usually quiet in Holcomb, Kansas, but in 1959, the town is shattered by the quadruple murder of the Clutter family. Suspicion falls on Nancy Clutter's boyfriend, Bobby Rupp, the last one to see them alive.
New Yorker Carly Fleming, new to the small Midwestern town, is an outsider. She tutored Nancy, and (in private, at least) they were close. Carly and Bobby were the only ones who saw that Nancy was always performing, and that she was cracking under the pressure of being Holcomb's golden girl. The secret connected Carly and Bobby. Now that Bobby is an outsider, too, they're bound closer than ever.
Determined to clear Bobby's name, Carly dives into the murder investigation and ends up in trouble with the local authorities. But that's nothing compared to the wrath she faces from Holcomb once the real perpetrators are caught. When her father is appointed to defend the killers of the Clutter family, the entire town labels the Flemings as traitors. Now Carly must fight for what she knows is right.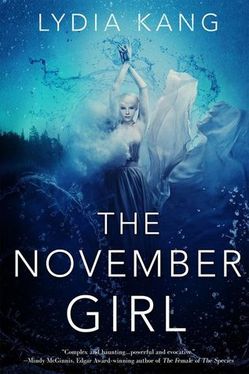 23. The November Girl by Lydia Kang
Why You'll Love It: First, can we talk about how Lydia Kang published three books this year? A nonfiction title about bad cures (Quackery), an adult novel (A Beautiful Poison) and now her latest YA novel (The November Girl).
If you read and loved Kang's Control duology, her dive into magical realism with The November Girl is an exciting genre leap featuring a character who is literally a storm. This book is so unique and utterly captivating.
For Fans of: The Lake Effect by Erin McCahan and The Vicious Deep trilogy by Zoraida Cordova.
Description: I am Anda, and the lake is my mother. I am the November storms that terrify sailors and sink ships. With their deaths, I keep my little island on Lake Superior alive.
Hector has come here to hide from his family until he turns 18. Isle Royale is shut down for the winter, and there's no one here but me. And now him.
Hector is running from the violence in his life, but violence runs through my veins. I should send him away, to keep him safe. But I'm half human, too, and Hector makes me want to listen to my foolish, half-human heart. And if I do, I can't protect him from the storms coming for us.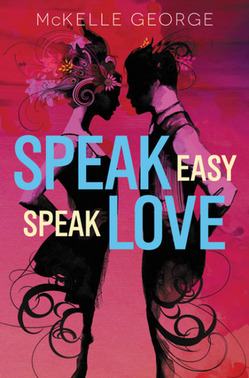 22. Speak Easy, Speak Love by McKelle George
Why You'll Love It: It's fascinating when YA contemporary blends with Shakespearian retellings. Not only does McKelle George's novel do that, but it also throws in a historical setting. The result is an entertaining book that's an absolute delight from start to finish.
For Fans of: Lauren Morrill's Meant to Be mashed up with Libba Bray's The Diviners and sprinkled with a bit of Stephanie Perkins.
Description: After she gets kicked out of boarding school, 17-year-old Beatrice goes to her uncle's estate on Long Island. But Hey Nonny Nonny is more than just a rundown old mansion. Beatrice's cousin, Hero, runs a struggling speakeasy out of the basement—one that might not survive the summer.
Along with Prince, a poor young man determined to prove his worth; his brother John, a dark and dangerous agent of the local mob; Benedick, a handsome trust-fund kid trying to become a writer; and Maggie, a beautiful and talented singer; Beatrice and Hero throw all their efforts into planning a massive party to save the speakeasy. Despite all their worries, the summer is beautiful, love is in the air, and Beatrice and Benedick are caught up in a romantic battle of wits that their friends might be quietly orchestrating in the background.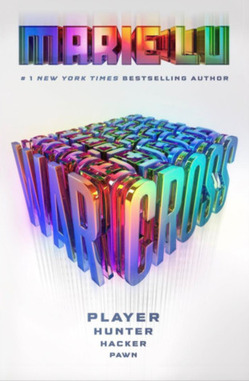 21. Warcross by Marie Lu
Why You'll Love It: Because it's a book that delivers some serious Ready Player One vibes mashed up with YA reads in virtual worlds, like Epic by Conor Kostick. It's a sci-fi thriller by the legendary (no pun intended there) Marie Lu, and you are going to devour it.
For Fans of: The Leveler series by Julia Durango and The Eye of Minds by James Dashner.
Description: For the millions who log in every day, Warcross isn't just a game—it's a way of life. The obsession started 10 years ago and its fan base now spans the globe, some eager to escape from reality and others hoping to make a profit. Struggling to make ends meet, teenage hacker Emika Chen works as a bounty hunter, tracking down players who bet on the game illegally. But the bounty hunting world is a competitive one, and survival has not been easy. Needing to make some quick cash, Emika takes a risk and hacks into the opening game of the international Warcross Championships—only to accidentally glitch herself into the action and become an overnight sensation.
Convinced she's going to be arrested, Emika is shocked when instead she gets a call from the game's creator, the elusive young billionaire Hideo Tanaka, with an irresistible offer. He needs a spy on the inside of this year's tournament in order to uncover a security problem . . . and he wants Emika for the job. With no time to lose, Emika's whisked off to Tokyo and thrust into a world of fame and fortune that she's only dreamed of. But soon her investigation uncovers a sinister plot, with major consequences for the entire Warcross empire.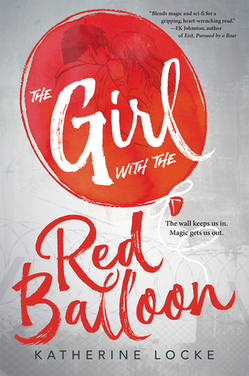 20. The Girl with the Red Balloon by Katherine Locke
Why You'll Love It: Time travel! Magic balloons! Alternate history! There's so much happening in Katherine Locke's YA debut, and it blends together in a way that feels effortless. Combine that with a story that shifts point of view and a world that's spectacularly researched, and you've got one of the most memorable reads of 2017.
For Fans of: Young Adult novels that blend history and magic, like The Diviners by Libba Bray, or alternate history YA that talks about identity, like Anne Blankman's beautiful books.
Description: When 16-year-old Ellie Baum accidentally time-travels via a magical red balloon to 1988 East Berlin, she's caught up in a conspiracy of history and magic. She meets members of an underground guild in East Berlin who use balloons and magic to help people escape over the Wall—but even to the balloon makers, Ellie's time travel is a mystery. When it becomes clear that someone is using dark magic to change history, Ellie must risk everything—including her only way home—to stop the process.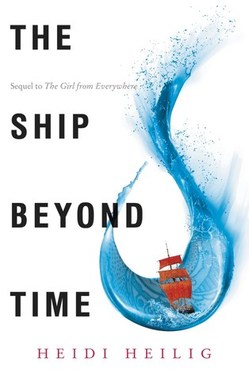 19. The Ship Beyond Time by Heidi Heilig
Why You'll Love It: The sequel to The Girl From Everywhere, one of Paste's best YA books of 2016, is spectacular. Instead of being a mere passenger on her father's ship, Heidi Heilig's bold protagonist, Nix, is now in charge. And just as her father battled to save the person dearest to him, Nix discovers she's fated to do the same. Hello time-traveling pirate ship with family drama; it's good to see you again.
For Fans of: Wayfarer by Alexandra Bracken and the Outlander series by Diana Gabaldon.
Description: Nix has spent her whole life journeying to places both real and imagined aboard her time-traveling father's ship. And now it's finally time for her to take the helm. Her father has given up his obsession to save her mother—and possibly erase Nix's existence—and Nix's future lies bright before her. Until she learns that she is destined to lose Kash, the one she loves.
Desperate to change her fate, Nix takes her crew to a mythical utopia to meet another Navigator who promises to teach her how to manipulate time. But everything in this utopia is constantly changing, and nothing is what it seems—not even her relationship with Kash. Nix must grapple with whether anyone can escape her destiny, her history, her choices.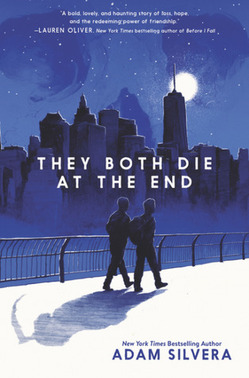 18. They Both Die at the End by Adam Silvera
Why You'll Love It: Once again, Adam Silvera succeeds in genre-blending, the sort that made us list his debut, More Happy Than Not, as the best YA book of 2015. He blends a bit of sci-fi into this heartbreaking-yet-hopeful YA contemporary novel, creating a stirring tale of love and sadness that's impossible to put down. You won't be able to turn away from this story, even though your heart might want a break.
For Fans of: What We Left Behind by Robin Talley and Simon vs. the Homo Sapiens Agenda by Becky Albertalli, mashed up with Denton Little's Death Date by Lance Rubin.
Description: When Mateo receives the dreaded call from Death-Cast, informing him that today will be his last, he doesn't know where to begin. Quiet and shy, Mateo is devastated at the thought of leaving behind his hospitalized father, his best friend, and her baby girl. But he knows that he has to make the most of this day, it's his last chance to get out there and make an impression.
Rufus is busy beating up his ex-girlfriend's new boyfriend when he gets the call. Having lost his entire family, Rufus is no stranger to Death-Cast. Not that it makes it any easier. With bridges to mend, the police searching for him and the angry new boyfriend on his tail, it's time to run.
Isolated and scared, the boys reach out to each other, and what follows is a day of living life to the full. Though neither of them had expected that their final day on earth would involve falling in love…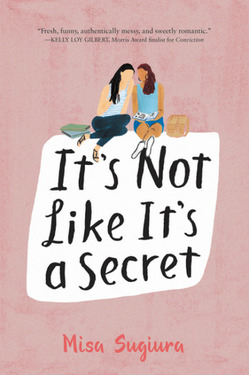 17. It's Not Like It's a Secret by Misa Sugiura
Why You'll Love It: From the diverse cast of charming characters to the inclusive love story, there's so much to adore in Misa Sugiura's wonderful debut. It's Not Like It's a Secret isn't just about the secrets that the main character hides; it's about feeling out of place, even when you are surrounded by people. The fact that it's peppered with poetry makes it all the more delightful.
For Fans of: The To All The Boys I've Loved Before series by Jenny Han, Going Geek by Charlotte Huang, Geekerella by Ashley Poston and This Is Where the World Ends by Amy Zhang.
Description: Sixteen-year-old Sana Kiyohara has too many secrets. Some are small, like how it bothers her when her friends don't invite her to parties. Some are big, like that fact that her father may be having an affair. And then there's the one that she can barely even admit to herself—the one about how she might have a crush on her best friend.
When Sana and her family move to California, she begins to wonder if it's finally time for some honesty, especially after she meets Jamie Ramirez. Jamie is beautiful and smart and unlike anyone Sana's ever known. There are just a few problems: Sana's new friends don't trust Jamie's crowd; Jamie's friends clearly don't want her around anyway; and a sweet guy named Caleb seems to have more-than-friendly feelings for her. Meanwhile, her dad's affair is becoming too obvious to ignore anymore.
Sana always figured that the hardest thing would be to tell people that she wants to date a girl, but as she quickly learns, telling the truth is easy…what comes after it, though, is a whole lot more complicated.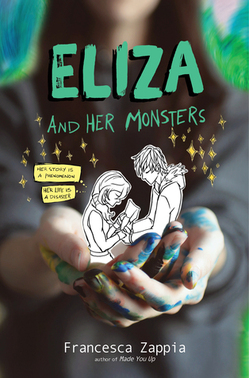 16. Eliza and Her Monsters by Francesca Zappia
Why You'll Love It: Francesca Zappia's Eliza and Her Monsters is the equivalent of that feeling you get when you discover something precious in the geek universe: a new comic, a movie franchise, a Netflix series worth binge-watching. Zappia's novel pulls at you with that same level of joy. From her drawings peppered throughout to the fun way the book is structured (showing message boards and the like), you're going to love this one.
For Fans of: Fangirl by Rainbow Rowell and Nimona by Noelle Stevenson.
Description: In the real world, Eliza Mirk is shy, weird and friendless. Online, Eliza is LadyConstellation, anonymous creator of the wildly popular webcomic Monstrous Sea. Eliza can't imagine enjoying the real world as much as she loves her digital community, and she has no desire to try.
Then Wallace Warland, Monstrous Sea's biggest fanfiction writer, transfers to her school. Wallace thinks Eliza is just another fan, and Eliza begins to wonder if a life offline might be worthwhile. But when Eliza's secret is accidentally shared with the world, everything she's built—her story, her relationship with Wallace and even her sanity—begins to fall apart.
Sana always figured that the hardest thing would be to tell people that she wants to date a girl, but as she quickly learns, telling the truth is easy…what comes after it, though, is a whole lot more complicated.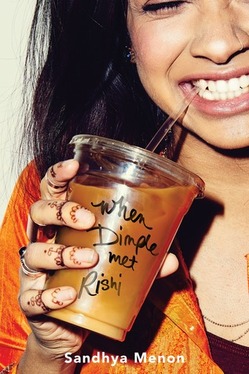 15. When Dimple Met Rishi by Sandhya Menon
Why You'll Love It: If you adore Young Adult rom-coms, Sandhya Menon's debut novel is for you. When Dimple Met Rishi is a diverse read that's absolutely full of heart and deep belly laughs, and it's from an author you should definitely follow.
For Fans of: Rom-com reads by Lauren Morrill and Stephanie Perkins, as well as authors who write about the Indian-American experience, like Tanuja Desai Hidier and Jhumpa Lahiri.
Description: Dimple Shah has it all figured out. With graduation behind her, she's more than ready for a break from her family, from Mamma's inexplicable obsession with her finding the "Ideal Indian Husband." Ugh. Dimple knows they must respect her principles on some level, though. If they truly believed she needed a husband right now, they wouldn't have paid for her to attend a summer program for aspiring web developers…right?
Rishi Patel is a hopeless romantic. So when his parents tell him that his future wife will be attending the same summer program as him—wherein he'll have to woo her—he's totally on board. Because as silly as it sounds to most people in his life, Rishi wants to be arranged, believes in the power of tradition, stability and being a part of something much bigger than himself.
Dimple and Rishi may think they have each other figured out. But when opposites clash, love works hard to prove itself in the most unexpected ways.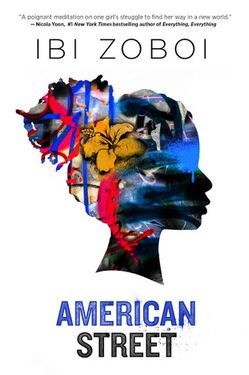 14. American Street by Ibi Zoboi
Why You'll Love It: There's so much to love in Ibi Zoboi's stunning debut, which was longlisted for the National Book Award, that it's hard to know where to start. A moving story about immigration, family and romance, American Street marks the arrival of an author to watch. Zoboi's writing is lyrical and beautiful, creating a book that's hard to put down and a story impossible to ignore.
For Fans of: Books by Jason Reynolds, as well as this year's smash hits from Angie Thomas and Nic Stone.
Description: On the corner of American Street and Joy Road, Fabiola Toussaint thought she would finally find une belle vie—a good life. But after they leave Port-au-Prince, Haiti, Fabiola's mother is detained by U.S. immigration, leaving Fabiola to navigate her loud American cousins, Chantal, Donna, and Princess; the grittiness of Detroit's west side; a new school; and a surprising romance, all on her own.
Just as she finds her footing in this strange new world, a dangerous proposition presents itself, and Fabiola soon realizes that freedom comes at a cost. Trapped at the crossroads of an impossible choice, will she pay the price for the American dream?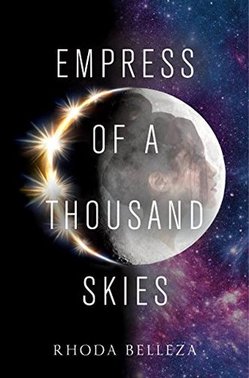 13. Empress of a Thousand Skies by Rhoda Belleza
Why You'll Love It: Reading like a YA version of Game of Thrones in space (so if you like the drama of Syfy's The Expanse, this is definitely for you), Empress of a Thousand Skies is an absolute thrill ride. Rhoda Belleza jettisons readers into a galaxy ruled by royalty and beset by war in this enthralling novel.
For Fans of: Across the Universe by Beth Revis and the Red Rising series by Pierce Brown.
Description: Rhee, also known as Crown Princess Rhiannon Ta'an, is the sole surviving heir to a powerful dynasty. She'll stop at nothing to avenge her family and claim her throne.
Aly has risen above his war refugee origins to find fame as the dashing star of a DroneVision show. But when he's falsely accused of killing Rhee, he's forced to prove his innocence to save his reputation – and his life.
With planets on the brink of war, Rhee and Aly are thrown together to confront a ruthless evil that threatens the fate of the entire galaxy.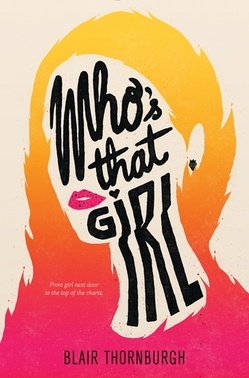 12. Who's That Girl by Blair Thornburgh
Why You'll Love It: Chances are, you've heard the song Hey There Delilah by the Plain White T's. Well, Blair Thornburgh's YA debut reads like the novel version of that song, and it follows a girl who is the subject of a hit single. The story is sweet and hilarious, boasting witty banter and memorable characters.
For Fans of: YA books filled with music, like Nina LaCour's The Disenchantments and Ashley Poston's The Sound of Us. It's also for readers who love the delightful banter found in an Amy Spalding novel.
Description: Junior Nattie McCullough is totally OK with her place in life: Latin whiz. Member of the school's gay-straight alliance. Joni Mitchell superfan. Seventeen-year-old who has never been kissed. So when last summer's crush and her former classmate—Young Lungs lead singer Sebastian Delacroix—comes back to town with his new hit single "Natalie," she can't bring herself to believe it could possibly be about her…could it?
As Nattie sorts through the evidence (the lyrics, Sebastian's elusive text messages and their brief romantic encounter last year), the song's popularity skyrockets, and everyone starts speculating about "Natalie's" identity. If that wasn't mortifying enough, Nattie runs into another problem: her confusing, flirtation-packed feelings for her good friend Zach. With her once-average life upended, Nattie is determined to figure out once and for all if her short-lived past with Sebastian was something love songs are made of—or just a one-hit wonder.

11. Our Dark Duet by Victoria Schwab
Why You'll Love It: We adored the first book in Victoria Schwab's duology, This Savage Song, so much that we listed it as one of the best YA books of 2016. Schwab's second novel picks up right where the first left off, and fans will find a lot to love thanks to its music and poetry—not to mention the terrifying world that Schwab has crafted and her ongoing quest to answer one major question: Are humans the real monsters in our world?
For Fans of: Epic fantasy reads by authors like Kendare Blake (Three Dark Crowns), Susan Dennard (Truthwitch) and Leigh Bardugo (Six of Crows).
Description: Kate Harker is a girl who isn't afraid of the dark. She's a girl who hunts monsters. And she's good at it.
August Flynn is a monster who can never be human, no matter how much he once yearned for it. He's a monster with a part to play. And he will play it, no matter the cost.
Nearly six months after Kate and August were first thrown together, the war between the monsters and the humans is now a terrifying reality. In Verity, August has become the leader he never wished to be, and in Prosperity, Kate has become the ruthless hunter she always knew she could be. When a new monster emerges from the shadows—one who feeds on chaos and brings out its victim's inner demons—it lures Kate home, where she finds more than she bargained for. She'll face a monster she thought she killed, a boy she thought she knew and a demon all of her own making.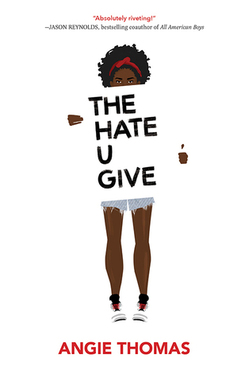 10. The Hate U Give by Angie Thomas
Why You'll Love It: If you even remotely follow the book world, you heard the buzz around Angie Thomas' debut, The Hate U Give, long before it hit bookshelves. Thomas' novel boasts both humor and a devastating story that will rip you apart. There's so much to love in this timely book inspired by the Black Lives Matter movement, and you'll be talking about it for a long time.
For Fans of: American Street by Ibi Zoboi and All American Boys by Jason Reynolds and Brendan Kiely.
Description: Sixteen-year-old Starr Carter moves between two worlds: the poor neighborhood where she lives and the fancy suburban prep school she attends. The uneasy balance between these worlds is shattered when Starr witnesses the fatal shooting of her childhood best friend Khalil at the hands of a police officer. Khalil was unarmed.
Soon afterward, his death is a national headline. Some are calling him a thug, maybe even a drug dealer and a gangbanger. Protesters are taking to the streets in Khalil's name. Some cops and the local drug lord try to intimidate Starr and her family. What everyone wants to know is: What really went down that night? And the only person alive who can answer that is Starr. But what Starr does—or does not—say could upend her community. It could also endanger her life.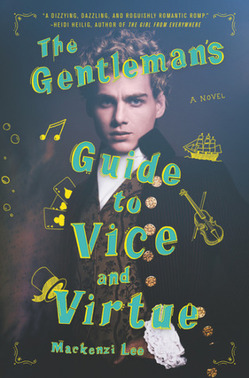 9. The Gentleman's Guide to Vice and Virtue by Mackenzi Lee
Why You'll Love It: An exciting, historical YA novel that features teens zipping around Europe and getting into all sorts of trouble? Sounds fun. But with the added romance, as two boys trying to figure out whether their friendship is something more, Mackenzi Lee has written a book that will have you hooked. Adventure and swooning abound in this epic.
For Fans of: The Conspiracy of Us by Maggie Hall and the historical thrills in books by authors like Anne Blankman (Traitor Angels) and Lindsey Smith (Sekret).
Description: Henry "Monty" Montague was born and bred to be a gentleman, but he was never one to be tamed. The finest boarding schools in England and the constant disapproval of his father haven't been able to curb any of his roguish passions—not for gambling halls, late nights spent with a bottle of spirits or waking up in the arms of strange women or men.
But as Monty embarks on his grand tour of Europe, his quest for a life filled with pleasure and vice is in danger of coming to an end. Not only does his father expect him to take over the family's estate upon his return, but Monty is also nursing an impossible crush on his best friend and traveling companion, Percy.
Still it isn't in Monty's nature to give up. Even with his younger sister, Felicity, in tow, he vows to make this yearlong escapade one last hedonistic hurrah and flirt with Percy from Paris to Rome. But when one of Monty's reckless decisions turns their trip abroad into a harrowing manhunt that spans across Europe, it calls into question everything he knows, including his relationship with the boy he adores.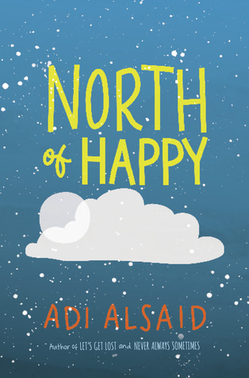 8. North of Happy by Adi Alsaid
Why You'll Love It: This book is as delicious as the premise. A teen who wants to be a chef? Actual recipes at the start of every chapter? Yes, please. Adi Alsaid, author of Let's Get Lost and Never Always Sometimes, writes lyrical YA novels. And his latest tackles love, loss and food with a literary flair you'll adore.
For Fans of: The food-loving joy in Lucy Knisley's graphic novel, Relish: My Life in the Kitchen, and the heart-wrenching (and often heartwarming) prose in Jeff Zentner's Goodbye Days.
Description: Carlos Portillo has always led a privileged and sheltered life. A dual citizen of Mexico and the U.S., he lives in Mexico City with his wealthy family where he attends an elite international school. His friends and fellow rich kid-peers have plans to attend college somewhere in the U.S. or Europe and eventually take over their parents' businesses. Always a rule-follower and a parent-pleaser, Carlos is more than happy to tread the well-worn path in front of him. He has always loved food and cooking, but his parents see it as just a hobby.
When his older brother, Felix—who has dropped out of college to live a life of travel—is tragically killed, Carlos begins hearing his brother's voice, giving him advice and pushing him to rebel against his father's plan for him. Worrying about his mental health, but knowing the voice is right, Carlos runs away to the U.S. and manages to secure a job with his favorite celebrity chef. As he works to improve his skills in the kitchen and pursue his dream, he begins to fall for his boss's daughter—a fact that could end his career before it begins. Finally living for himself, Carlos must decide what's most important to him and where his true path really lies.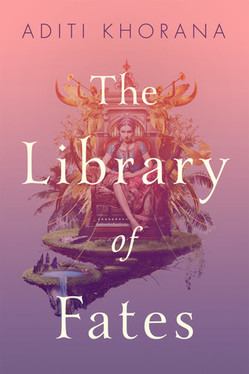 7. The Library of Fates by Aditi Khorana
Why You'll Love It: Aditi Khorana's Mirror in the Sky is an underrated sci-fi novel. She writes beautiful stories about feeling out of place in fantastic worlds, and with The Library of Fates, she does it again. The book follows two teens on a quest to change their fate against a backdrop of romance, magic, betrayal and politics.
For Fans of: YA fantasy novels like Roshani Chokshi's The Star-Touched Queen and Renee Ahdieh's The Wrath and the Dawn.
Description: No one is entirely certain what brings the Emperor Sikander to Shalingar. Until now, the idyllic kingdom has been immune to his many violent conquests. To keep the visit friendly, Princess Amrita has offered herself as his bride, sacrificing everything—family, her childhood love and her freedom—to save her people. But her offer isn't enough.
The unthinkable happens, and Amrita finds herself a fugitive, utterly alone but for an oracle named Thala, who was kept by Sikander as a slave and managed to escape amid the chaos of a palace under siege. With nothing and no one else to turn to, Amrita and Thala are forced to rely on each other. But while Amrita feels responsible for her kingdom and sets out to warn her people, the newly free Thala has no such ties. She encourages Amrita to go on a quest to find the fabled Library of All Things, where it is possible for each of them to reverse their fates. To go back to before Sikander took everything from them.
Stripped of all that she loves, caught between her rosy past and an unknown future, will Amrita be able to restore what was lost, or does another life—and another love—await?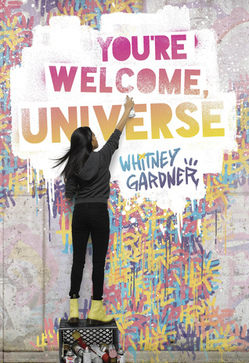 6. You're Welcome, Universe by Whitney Gardner
Why You'll Love It: Not only does Whitney Gardner's debut have a moving, hilarious story involving a teen street artist, it's also packed with original artwork from the author. Gardner introduces readers to Julia, a deaf teenag artist, and follows the turf war that explodes between Julia and an unknown artist at her new school. How it all comes together makes for one enthralling read.
For Fans of: Becky Albertalli's Simon vs. the Homo Sapiens Agenda and Andrew Smith's Winger.
Description: When Julia finds a slur about her best friend scrawled across the back of the Kingston School for the Deaf, she covers it up with a beautiful (albeit illegal) graffiti mural. Her supposed best friend snitches, the principal expels her and her two mothers set Julia up with a one-way ticket to a "mainstream" school in the suburbs, where she's treated like an outcast as the only deaf student. The last thing she has left is her art, and not even Banksy himself could convince her to give that up.
Out in the 'burbs, Julia paints anywhere she can, eager to claim some turf of her own. But Julia soon learns that she might not be the only vandal in town. Someone is adding to her tags, making them better, showing off—and showing Julia up in the process. She expected her art might get painted over by cops. But she never imagined getting dragged into a full-blown graffiti war.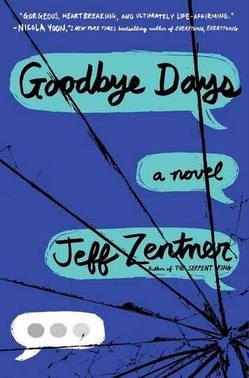 5. Goodbye Days by Jeff Zentner
Why You'll Love It: Zentner's debut novel, The Serpent King, garnered a spot on Paste's best YA books of 2016 list. And Goodbye Days was one of our most anticipated reads of 2017, for good reason. Zentner's latest follows a teen boy who blames himself for a car crash that killed his closest friends. It's a heartbreaking read—each chapter more painful than the last. But in the midst of all the hurt, there's so much hope, love and redemption.
For Fans of: Books that give you a good cry, like novels by Courtney C. Stevens and Adam Silvera.
Description: Carver Briggs never thought a simple text would cause a fatal crash, killing his three best friends, Mars, Eli and Blake. Now Carver can't stop blaming himself for the accident, and even worse, there could be a criminal investigation into the deaths.
Then Blake's grandmother asks Carver to remember her grandson with a "goodbye day" together. Carver has his misgivings, but he starts to help the families of his lost friends grieve with their own memorial days, along with Eli's bereaved girlfriend Jesmyn. But not everyone is willing to forgive. Carver's own despair and guilt threatens to pull him under into panic and anxiety as he faces punishment for his terrible mistake. Can the goodbye days really help?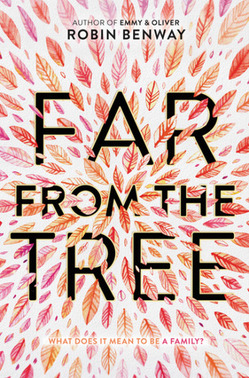 4. Far From the Tree by Robin Benway
Why You'll Love It: Robin Benway's latest book is a contemporary novel about three adoptees who find one another. As an adoptee, I absolutely adored this book. So it's no surprise that this beautiful story won the National Book Award this year. Pick. It. Up.
For Fans of: Literary YA contemporary reads, like books by Adele Griffin and Jeff Zentner.
Description: Being the middle child has its ups and downs. But for Grace, an only child who was adopted at birth, discovering that she is a middle child is a different ride altogether. After putting her own baby up for adoption, she goes looking for her biological family, including:
Maya, her loudmouthed younger bio sister, who has a lot to say about their newfound family ties. Having grown up the snarky brunette in a house full of chipper redheads, she's quick to search for traces of herself among these not-quite-strangers. And when her adopted family's long-buried problems begin to explode to the surface, Maya can't help but wonder where exactly it is that she belongs.
And Joaquin, their stoic older bio brother, who has no interest in bonding over their shared biological mother. After 17 years in the foster care system, he's learned that there are no heroes, and secrets and fears are best kept close to the vest, where they can't hurt anyone but him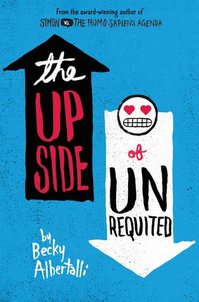 3. The Upside of Unrequited by Becky Albertalli
Why You'll Love It: One of Paste's most anticipated YA books of the year is also one of the year's best. If you loved Becky Albertalli's debut, Simon vs. the Homo Sapiens Agenda, hang on tight. Because The Upside of Unrequited delivers more of her charming, hug-in-the-shape-of-a-book writing. From its diverse cast of characters to its exploration of friendship, body image and sexuality, there's a lot to love in this heartfelt book of breakups and breakdowns.
For Fans of: Albertalli's first novel, of course, along with Julie Murphy's Ramona Blue and Lily Anderson's books with sweetly geeky romantics.
Description: Seventeen-year-old Molly Peskin-Suso knows all about unrequited love. No matter how many times her twin sister, Cassie, tells her to woman up, Molly can't stomach the idea of rejection. So she's careful. Fat girls always have to be careful.
Then a cute new girl enters Cassie's orbit, and for the first time ever, Molly's cynical twin is a lovesick mess. Meanwhile, Molly's totally not dying of loneliness—except for the part where she is. Luckily, Cassie's new girlfriend comes with a cute hipster-boy sidekick. If Molly can win him over, she'll get her first kiss and she'll get her twin back.
There's only one problem: Molly's coworker, Reid. He's a chubby Tolkien superfan with a season pass to the Ren Faire, and there's absolutely no way Molly could fall for him. Right?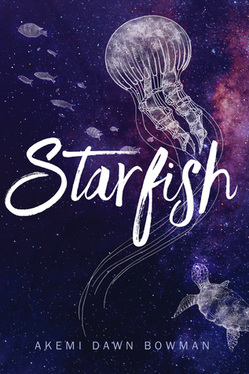 2. Starfish by Akemi Dawn Bowman
Why You'll Love It: The best YA debut novel of the year, Starfish is a book you absolutely cannot miss. Bowman's narrative is a challenging book to read, and that's what makes it so good. It's a heart-wrenching story that tackles abuse, racism and identity, making it one of the most compelling reads of the year.
For Fans of: Books that address identity, like Aditi Khorana's Mirror in the Sky and Charlotte Huang's Going Geek, blended with the emotional punch of novels by Courtney C. Stevens.
Description: Kiko Himura has always had a hard time saying exactly what she's thinking. With a mother who makes her feel unremarkable and a half-Japanese heritage she doesn't quite understand, Kiko prefers to keep her head down, certain that once she makes it into her dream art school, Prism, her real life will begin.
But then Kiko doesn't get into Prism, at the same time her abusive uncle moves back in with her family. So when she receives an invitation from her childhood friend to leave her small town and tour art schools on the west coast, Kiko jumps at the opportunity despite the anxieties and fears that attempt to hold her back. And now that she is finally free to be her own person outside the constricting walls of her home life, Kiko learns life-changing truths about herself, her past, and how to be brave.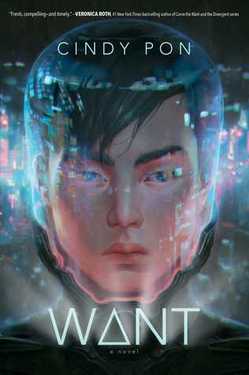 1. Want by Cindy Pon
Why You'll Love It: Hands down the best Young Adult novel of the year, Cindy Pon's Want takes readers to a futuristic Taipei blanketed by the constant fog of smog and disease. The wealthy can live healthy lives in exo-suits, but Pon's protagonist is not so lucky. From the Blade-Runner-esque world to the heart-pounding stakes, this book is impossible to put down. It'll stick with you long after you've finished it, leaving you dying to read the upcoming sequel.
For Fans of: The environmental themes found in Not a Drop to Drink by Mindy McGinnis, Empty by Suzanne Weyn and Breathe by Sarah Crossan, blended with the near-future sci-fi dystopia of Erin Bow (especially in The Prisoners of Peace series).
Description: Jason Zhou survives in a divided society where the elite use their wealth to buy longer lives. The rich wear special suits that protect them from the pollution and viruses that plague the city, while those without them suffer illness and early deaths. Frustrated by his city's corruption and still grieving the loss of his mother, who died as a result of the pollution, Zhou is determined to change things, no matter the cost.
With the help of his friends, Zhou infiltrates the lives of the wealthy in hopes of destroying the international Jin Corporation from within. Jin Corp not only manufactures the special suits the rich rely on, but they may also be manufacturing the pollution that makes them necessary. Yet the deeper Zhou delves into this new world of excess and wealth, the more muddled his plans become. Against his better judgment, Zhou finds himself falling for Daiyu, the daughter of Jin Corp's CEO. Can Zhou save his city without compromising who he is, or destroying his own heart?

Looking for more reading recommendations? Check out our lists of the best novels, best nonfiction books, best short story collections and best audiobooks of 2017.