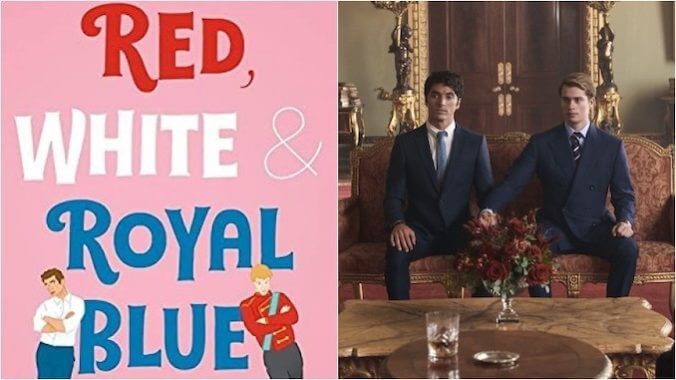 Amazon Studio's latest film, Red, White & Royal Blue, premiered on Prime Video amid a flurry of excitement. The mega-website has often struggled to get consistent eyeballs on its original films and series, finding itself easily overshadowed by the likes of Netflix, but this was something special. The internet was waiting for this film, having spent years making the novel it was based on one of the biggest romance hits of the decade so far. Directed by Tony Award-winning playwright Matthew Lopez and starring Taylor Zakhar Perez and Nicholas Galitzine, the romantic comedy details the enemies-to-lovers relationship between Alex Claremont-Diaz, the son of the first female President of the United States, and Prince Henry, the grandson of King James III. Its success story is a tale of trope-y goodness, TikTok trends, political curiosity, and the eternal hunt for a happy ever after.
The explosion of BookTok over the past couple of years has left an indelible mark on the publishing industry, catapulting many authors into stratospheric levels of fame, from Colleen Hoover to Taylor Jenkins Read. Among the many books that TikTok turned into a mega-hit is Casey McQuiston's Red, White & Royal Blue. The novel had already received strong reviews and online hype before BookTok got its hands on it, but after that, all bets were off. It staked out its place on the New York Times and USA Today bestseller lists, remaining comfortably present for many months as the fandom exploded across multiple platforms. And the fandom's presence is a mighty one, dominating TikTok and Tumblr, and helping the book to become one of the most prominent romance novels of the 2020s so far.
McQuiston's novel is a classic set-up: What happens when you're forced to pretend to be best friends with your mortal enemy, then that disdain turns to forbidden love? It's a trope beloved in the romance world, a set-up guaranteed to inspire all manner of sexy shenanigans. Red, White & Royal Blue ups the stakes with both a royal and a political twist. Alex Claremont-Diaz is the First Son of the United States, with his mother facing a tough re-election bid. He is sent to England to attend a royal wedding, which puts him in conflict with Prince Henry, the black sheep of the British monarchy. After a confrontation ends in a fight and the destruction of the wedding cake, the pair are forced to pretend to be pals to prevent a diplomatic crisis. Soon, they've grown closer and started up a friends-with-benefits relationship that they must keep secret from their families, the press, and the world.
 It's not just peak romance stuff: it's top-notch fanfiction content. It was long rumored that the book was initially fanfic for The Social Network before McQuiston pulled a 50 Shades of Grey and filed off the serial numbers. That's not true, but the book still feels very rooted in the styles and themes of fic that readers so thoroughly love. Enemies-to-lovers is a trope that's huge in fandom, as are the inclusion of quotes to bookend fics, which McQuiston uses here through the historical notes from real-world queer people that Alex and Henry email to one another. Even the decision to name the British prince of the story Henry, which is also the name of an actual ginger prince living in Montecito, feels like a cheeky wink to the liminal nature of fic in the real world. It's also delightfully smutty, something the film mercifully does not skimp on. 
Royal stories are a major part of romance too, as well as a not-uncommon feature in alternate universe (AU) fanfiction. Put a crown on someone and the stakes are immediately sky high. If you love stories of heroes burdened with a sense of duty that include plenty of opportunities for wealth porn, fancy jewelry, and palace intrigue, this is the trope for you. While many of these stories are historical, contemporary royal romances saw a boost in popularity following the weddings of both the Prince and Princess of Wales and the Duke and Duchess of Sussex. The drama surrounding the latter, including their rejection of hallowed duty in favor of love and freedom, has left its mark on the genre too. What's hotter than marrying a prince? How about marrying one who gives it all up for you?
Moreover, Red, White & Royal Blue is tremendously earnest in its idealistic worldview. It's a universe where a woman is President, her Latino son is able to explore his sexuality, and the British public wholeheartedly embraces a gay prince without a drop of right-wing media backlash. McQuiston admitted in an interview with Polygon that they initially intended the book to be more satirical in tone, but following Donald Trump's election in 2016, the book was "really conceived for me as a very big wish-fulfillment place."
 It's an oft-repeated lie that romance is a genre built on rejecting reality in favor of fantasy. Plenty of romances deal with socio-cultural topics and do so with political passion and eloquence. But it is true that this is a genre with one glorious promise: there will be a happy ending. That can't help but feel radical during dark times such as these. We know the disheartening reality of what would happen if a British royal or one of the President's kids came out as LGBTQ+. It wouldn't be pretty, not during these times of astonishingly virulent queerphobia where anti-trans attacks and human rights-limiting legislation is being introduced on both sides of the pond. It shouldn't seem so out-of-this-world to imagine such a romance happening but as our lives are demonized and queer people are attacked as child abusers, it often seems more outlandish than humans landing on Mars. 
Fanfiction and romance are both united in their optimism, and the ways that they can take the seemingly unusual and make it work. McQuiston told Polygon that fanfiction "is here to transform something that you love into something that you could love in a different way. It's just pure love." So is romance fiction when done right, and Red, White & Royal Blue's blending of the two taps into something almost primal for millions of readers. It's not just about the kissing, the flirting, or the sex. It's about the many ways one can imagine a happily-ever-after.
---
Kayleigh Donaldson is a critic and pop culture writer for Pajiba.com. Her work can also be found on IGN, Slashfilm, Uproxx, Little White Lies, Vulture, Roger Ebert, and other publications. She lives in Dundee.