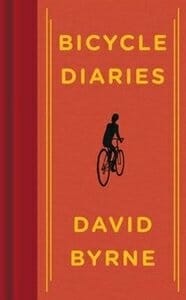 Enjoy the ride
David Byrne admits early on in his Bicycle Diaries that it may be hard to picture him club-hopping on a bike in New York. But it turns out this mode of transportation fits Byrne like an oversized sports coat.
Bicycle Diaries is more a meditation on culture than a standard travelogue, and the bike is a catalyst. In San Francisco, Byrne draws a line from the freewheeling '60s to the "why not?" attitude of Silicone Valley pioneers. He contemplates the origins of karaoke as someone sings "Burning Down the House" at a bar in Manila. He parses what the bland architecture he sees springing up in Berlin and Istanbul says about modern progress, and relates the history of George Eastman while biking to an exhibition at the Eastman House in Rochester.
As Byrne's thoughts wander, Diaries gives us as much a glimpse of his inner world as of the world he's seeing. And though the book can seem random at times, Byrne always has something interesting to say.