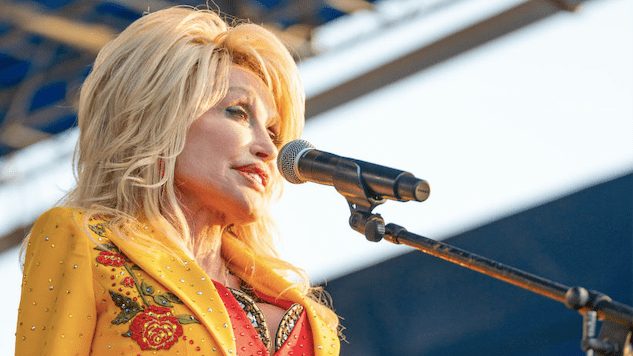 Growing up in East Tennessee, it's nearly impossible to escape Dolly Parton's influence. She's everywhere—her music, her image, her hair. And there is, as sometimes happens with celebrities, a sense of ownership over her.
Dolly grew up just 65 miles down the road from where I did, and while Tennessee is often associated with Nashville, where we grew up was most certainly not. Dolly isn't just country, she's mountain. She got out and made something of herself, but she never forgot her people. Where I grew up, there's no greater sin than forgetting where you came from.
As a child, worshiping at the altar of Dolly was going to Dollywood, Dolly's theme park. Amazingly, my second-grade class won a trip there by virtue of reading the most books (of our school or the state? I don't remember). Going to Dollywood was the first time, even at that young age, I thought that Dolly Parton might be an angel.
We had packed lunches but brought enough money for lemonade and funnel cakes. To this day, I don't think there is a better funnel cake in the world that the one at Dollywood. After the cakes, I rode the log flume so many times my shorts didn't dry, and I waddled through my last hour at the park, my legs chafed. Still, it was worth every minute; I discovered a love for roller coasters (and the aforementioned funnel cakes) thanks to Dolly.
For a girl like me, growing up where I did, that theme park was an oasis. From that time on, I knew Dolly Parton was an angel.
But she's least known for her most angelic work. Dolly, whose father was illiterate, started a once-a-month giving library in 1995 for children ages zero to five in her corner of East Tennessee. Dolly realized that having books in a house led the children who read those books to dream, and in turn, those dreams led the children to stay in school. Starting with 1,760 books given out in Sevier County, Tennessee 24 years ago, Dolly Parton's Imagination Library now mails more than one million books per month across the U.S., Australia, Britain, Canada and Ireland.
The Imagination Library gave out its one hundred millionth book last year. One hundred million books? From a woman who grew up dirt-poor with a father who couldn't read? That must be the work of an angel.
It wasn't until I finally saw Dolly in concert, though, that I got definitive proof of my theory. It embarrasses me to say it: I'd never seen Dolly in person until I was 37 years-old. And when I finally did, it wasn't at home in Tennessee, but in the cold and grumpy wilds of western Massachusetts at Tanglewood.
It was not a Dolly crowd. The venue was beautiful, but people sat the entire show. Almost no one sang along, even during "Rocky Top"! For those not in the know, "Rocky Top" is the state song of Tennessee (one of them, anyway—we have 10), and you really haven't lived until you've screamed this song at the top of your lungs among a crowd of 102,000 people in Neyland Stadium at the University of Tennessee.
I wasn't expecting that, of course, but it's damn hard to sit through Dolly singing "Rocky Top" if you have even an ounce of spirit in your body. But sit they did, except for my friend and me. We stood, we danced, we sang along at the top of our lungs. People glared at us, and we didn't care. Dolly did not care. We did that song proud.
I repeatedly tried to take a picture of Dolly at that concert, but it wasn't possible. Every other person on stage showed up in the photos, but she was just a body-shaped ball of light. There was a halo around her body. I hadn't gone to this concert seeking proof of my angel theory, but I got it.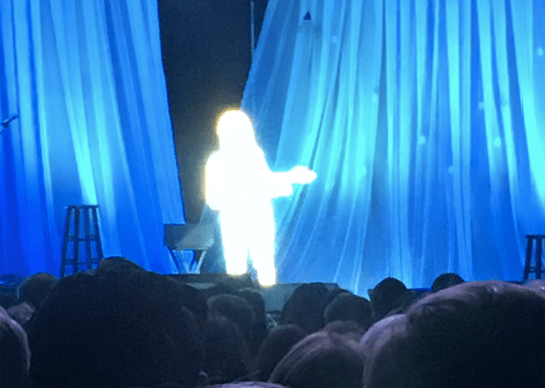 Photo of Dolly Parton at Tanglewood by Elizabeth Chiles Shelburne
Dolly is an incomparable angel to the kids who've learned to love reading, to the Gatlinburg citizens to whom she gave money and time after the 2015 fires. She's an angel to audiences who listen to her songs and watch her movies. And she's an angel for speaking out about LGBTQ+ acceptance long before her audience was ready to hear it.
When people go towards the light at the end of their lives, I bet it's just Dolly. She's so shiny you can't see her face—you just know she's a warm and loving presence. As you gradually receive your heaven eyesight, her shimmer resolves and she smiles at you, laughs that laugh as high-pitched as a panther's scream at your amazement, and says gently, "If you hand me that guitar, I'll play you one song before I go back down to get the next person."
---
Elizabeth Chiles Shelburne is the author of Holding On To Nothing, her debut novel named after a Dolly Parton song. The book follows a couple bound together in rural Tennessee after a drunken mistake, and you can pre-order it ahead of its October 22nd release here.