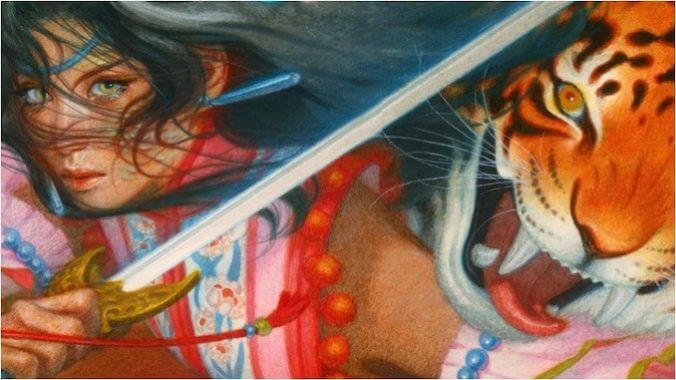 Author Elizabeth Lim's books stand out in the crowded YA fantasy field thanks to their complex heroines, their lushly detailed worldbuilding, and the effortless way their stories incorporate elements of East Asian mythology and folklore alongside more familiar Western fairytale elements. The end results are stories that often feel as delicate and gleaming as the jewels that are found at their centers, but that often hide sharp, unexpected emotional edges underneath. 
Her latest novel, titled Her Radiant Curse, is part standalone adventure, part character study, part origin story, and part tragedy. It is also Lim's best and most cohesive work yet—mixing the rich world-building of her previous stories with a tightly focused tale of two sisters and the curse that has divided their lives. It is also the rare prequel that is not only capable of standing on its own but also manages to offer new depth and insight into one of the key supporting characters from Lim's previously published Six Crimson Cranes duology. 
The story follows a girl named Channi, who is three years old when her little sister Vanna is born. Beautiful, perfect, and radiating a mysterious, enigmatic light, everyone is immediately enraptured with the new child. But when complications following her birth mean the girls' mother might not have long to live, their father, Adah, attempts to sacrifice his eldest daughter to the Demon Witch Angma in exchange for his wife's life. Channi is miraculously saved by the magical Serpent King, but not before the witch curses her—giving her a face covered in scales and a vow that if Vanna is not delivered to her by the girl's 17th birthday, Angma will destroy them all. 
Now nineteen years old, Channi is an outcast in her village, reviled for her serpent-like appearance, forced to wear a mask in public by her father, and shunned by almost everyone, save for her now nearly seventeen-year-old sibling. (She is revered by the snakes of the jungle, however, who consider her one of them.) As Vanna's fame grows—fueled by the strange light that seems to glow from her heart—suitors arrive to compete for her hand. But when her favorite, the kind Prince Rongyo, is outbid during her betrothal ceremony by the cruel King Meguh, Channi steps forward to fight for her sister's honor and draws inadvertently unwanted attention to herself in the process. Fascinated by her appearance and fuming over her defeat of his chosen champion, a half-demon named Hozkuh, King Meguh has Channi kidnapped, and the sisters must find (and often fight) a way back to each other's side. 
Channi makes for an appealingly flawed heroine—strong and stubborn, loyal and willful, immature and furious. There are moments when she is hard to like, yet her behavior is always understandable, grounded as it almost always is in her bone-deep love for the one person who has never shrunk away from her. As readers of Lim's other series already know, Channi will one day grow up to be Raikama, the stepmother of that series' lead character, Princess Shiori. (And one of its absolute best parts.) Lim herself told us that much of Raikama's backstory took inspiration from the legend of Madam White Snake—and that her story actually predates Shiori's, even if the latter was technically published first While her story in those books has its own tragic twists and turns—and is compelling enough in its own right that it doesn't deserve to be spoiled here—many of its earliest roots can clearly be seen on display in this novel, and the detail we learn here adds even more bittersweet layers to the events of Six Crimson Cranes. 
Although Her Radiant Curse is a prequel, the story is such that a newcomer to Lim's gently interconnected fantasy world would be able to follow along easily enough. Those who have read Lim's previous books will find many additional nuances to love here, as well as a few heartfelt surprises along the way. But fantasy lovers of all stripes will enjoy its action-oriented adventure, its unique celebration of the bonds of sisterhood, and the lengths—both magical and otherwise—that Channi and Vanna are willing to go to for one another, and its poignant ending, which involves sacrifice of multiple kinds. 
Throughout her novels, Lim has always excelled at writing complex relationships that never unfold in quite the way you think they will. And that's doubly true in this story, as not only is Channi's bond with Vanna repeatedly tested in a variety of unexpected and creative ways, but so is her relationship with Hozkuh, which runs the gamut from deadly enemies to something quite a bit more than friends. That neither of those key emotional connections follow predictable paths is one of the best things about this book, if only because their arcs play out in a way that manages to feel both surprising and utterly inevitable.
Her Radiant Curse is Lim's first work that feels like a complete story in its own right — a novel that can stand on its own and a prequel that adds something rewarding to the larger world Lim is building. Where this interconnected world will go from here is anyone's guess, but I'm certainly eager to find out.
Her Radiant Curse is available now wherever books are sold. 
---
Lacy Baugher Milas is the Books Editor at Paste Magazine, but loves nerding out about all sorts of pop culture. You can find her on Twitter @LacyMB