April showers bring May flowers…but also plenty of rainy days to curl up with a good book indoors. And fantasy fans have plenty of incredible options to pick from this month. Highly anticipated series finales? Check. A thrilling start to what is sure to be an exciting new trilogy? Check? And a beloved author returning to a popular fictional world years after we thought we'd had our last adventure there? Check and double…actually, triple check — literally, there are three of them this month. 
Truly we are hashtag blessed in this season of rebirth and renewal. Start reading, already. 
Here are our picks for the best books hitting shelves this April.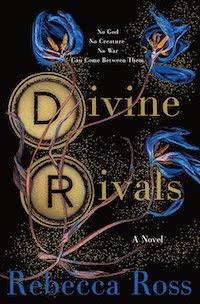 Divine Rivals by Rebecca Ross
Release Date: April 4 from Wednesday Books
Why You'll Love It: An enemies-to-lovers romance with a You've Got Mail twist, is a story of warring gods, dueling journalists, and the magical type writers that bring one pair together while covering the other, Divine Rivals is another absolute winner from author Rebecca Ross, who is rapidly proving there's very little she can't do in the realm of fantasy fiction. The book's fantastic heroine and unique premise (did I mention the rival newspaper writers?) are both wonderful, but what really makes Ross's work stand out in this genre space is her absolute aversion to love triangles, choosing instead to dive deep into what makes her central characters—and their relationship with one another—-tick.
Publisher's Description: After centuries of sleep, the gods are warring again …
All eighteen-year-old Iris Winnow wants to do is hold her family together. With a brother on the frontline forced
to fight on behalf of the Gods now missing from the frontline and a mother drowning her sorrows, Iris's best bet is winning the columnist promotion at the Oath Gazette.
But when Iris's letters to her brother fall into the wrong hands – that of the handsome but cold Roman Kitt, her rival at the paper – an unlikely magical connection forms.
Expelled into the middle of a mystical war, magical typewriters in tow, can their bond withstand the fight for the fate of mankind and, most importantly, love?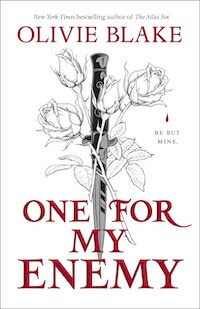 One for My Enemy by Olivie Blake
Release Date: April 4 from Tor Books
Why You'll Love It: Thanks to the wild success of Olivie Blake's The Atlas Paradox, Tor Books is smartly rereleasing new hardcovers of some of her earlier novels, including 2019's One for My Enemy. And this tale of two rival witch families in modern-day Manhatten battling to keep their respective criminal enterprises afloat is definitely worth a second look.
Publisher's Description: In modern-day Manhattan where we lay our scene, two rival witch families fight to maintain control of their respective criminal ventures.
On one side of the conflict are the Antonova sisters — each one beautiful, cunning, and ruthless — and their mother, the elusive supplier of premium intoxicants, known only as Baba Yaga. On the other side, the influential Fedorov brothers serve their father, the crime boss known as Koschei the Deathless, whose community extortion ventures dominate the shadows of magical Manhattan.
After twelve years of tenuous co-existence, a change in one family's interests causes a rift in the existing stalemate. When bad blood brings both families to the precipice of disaster, fate intervenes with a chance encounter, and in the aftershocks of a resurrected conflict, everyone must choose a side. As each of the siblings struggles to stake their claim, fraying loyalties threaten to rot each side from the inside out.

Silver in the Bone by Alexandra Bracken
Release Date: April 4 from Knopf Books for Young Readers
Why You'll Love It: An urban fantasy that mixes Arthurian lore with a hefty dollop of adventure and a fantastic central heroine, Silver in the Bone is Alexandra Bracken at her best.
Publisher's Description: Tamsin Lark didn't ask to be a Hollower. As a mortal with no magical talent, she was never meant to break into ancient crypts, or compete with sorceresses and Cunningfolk for the treasures inside. But after her thieving foster father disappeared without so much as a goodbye, it was the only way to keep herself—and her brother, Cabell—alive.
Ten years later, rumors are swirling that her guardian vanished with a powerful ring from Arthurian legend. A run-in with her rival Emrys ignites Tamsin's hope that the ring could free Cabell from a curse that threatens both of them. But they aren't the only ones who covet the ring.
As word spreads, greedy Hollowers start circling, and many would kill to have it for themselves. While Emrys is the last person Tamsin would choose to partner with, she needs all the help she can get to edge out her competitors in the race for the ring. Together, they dive headfirst into a vipers' nest of dark magic, exposing a deadly secret with the power to awaken ghosts of the past and shatter her last hope of saving her brother. . . .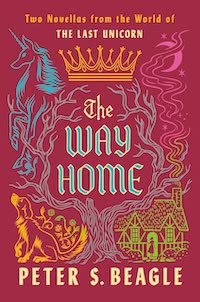 The Way Home by Peter Beagle
Release Date: April 4 from Ace Books
Why You'll Love It: Peter Beagle's The Last Unicorn was a formative text for a certain generation of fantasy fans, and the news that we, even if for the briefest of moments, get the chance to return to the world of that story, is likely enough to convince a great many readers this book is worth their time. But the pair of novellas published under the collective title The Way Home are both more than worth your interest in their own rights—beautiful, bleak, bittersweet, and painful reminders of the best that the fantasy genre can be and do. 
Publisher's Description: ​​Peter S. Beagle's The Last Unicorn is one of fantasy's most beloved classics, with millions of copies in print worldwide.
Beagle's long-awaited return to the world of that novel came with "Two Hearts," which garnered Hugo and Nebula awards in 2006, and continued the stories of the unicorn, Molly Grue, and Schmendrick the Magician from the point of view of a young girl named Sooz.
In this volume, Peter S. Beagle also presents for the first time "Sooz," a novella that sees the narrator of "Two Hearts," all grown up and with a perilous journey ahead of her, in a tender meditation on love, loss, and finding your true self.

Untethered Sky by Fonda Lee
Release Date: April 11 from Tordotcom
Why You've It:  A precise, concise, and magical novella from the author of the bestselling Green Bone Saga, Fonda Lee's Untethered Sky is the story of a young girl who forges a terrifying partnership with a roc, a giant murderbird from legend, to hunt down dangerous manticores (the same beasts that killed her family). If you've ever had a passing interest in falconry or Arabian folklore, this quick, often violent read is the story for you.
Publisher's Description: Ester's family was torn apart when a manticore killed her mother and baby brother, leaving her with nothing but her father's painful silence and a single, overwhelming need to kill the monsters that took her family.
Ester's path leads her to the King's Royal Mews, where the giant rocs of legend are flown to hunt manticores by their brave and dedicated ruhkers. Paired with a fledgling roc named Zahra, Ester finds purpose and acclaim by devoting herself to a calling that demands absolute sacrifice and a creature that will never return her love. The terrifying partnership between woman and roc leads Ester not only on the empire's most dangerous manticore hunt, but on a journey of perseverance and acceptance.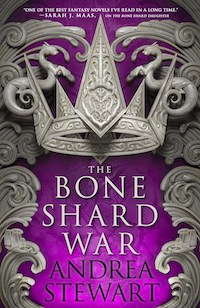 The Bone Shard War by Andrea Stewart
Release Date: April 18 from Orbit
Why You'll Love It: The thrilling conclusion to Andrea Stewart's (excellent) Drowning Empire trilogy, author Andrea Stewart deftly blends epic battle sequences with rich character work,  
Publisher's Description: Lin Sukai has won her first victory as Emperor, but the future of the Phoenix Empire hangs in the balance – and Lin is dangerously short of allies. 
As her own governors plot treason, the Shardless Few renew hostilities. Worse still, Lin discovers her old nemesis Nisong has joined forces with the rogue Alanga, Ragan. Both seek her death.  
Yet hopes lies in history. Legend tells of seven mythic swords, forged in centuries past. If Lin can find them before her enemies, she may yet be able to turn the tide.  
If she fails, the Sukai dynasty – and the entire empire – will fall.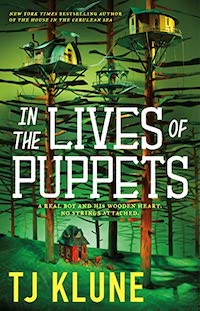 In the Lives of Puppets by T.J. Klune
Release Date: April 25 from Tor Books
Why You'll Love It: The latest standalone fantasy novel from the author of Under the Whispering Door and The House in the Cerulean Sea, In the Lives of Puppets is a dystopian reinterpretation of Pinnochio that features a young human boy named Victor living in a house full of misfit androids in a forest clearing cut off from the rest of the world. (A world where it turns out humanity has been eradicated by robots.) Despite its initially dark seeming premise, T.J.Klune deftly crafts a charming world powered by science and a dash of something that might be called magic. It's a tale full of wit and empathy—and potentially murderous robots—that asks poignant questions about what it means to be human. 
Publisher's Description: In a strange little home built into the branches of a grove of trees, live three robots–fatherly inventor android Giovanni Lawson, a pleasantly sadistic nurse machine, and a small vacuum desperate for love and attention. Victor Lawson, a human, lives there too. They're a family, hidden and safe.
The day Vic salvages and repairs an unfamiliar android labelled "HAP," he learns of a shared dark past between Hap and Gio-a past spent hunting humans.
When Hap unwittingly alerts robots from Gio's former life to their whereabouts, the family is no longer hidden and safe. Gio is captured and taken back to his old laboratory in the City of Electric Dreams. So together, the rest of Vic's assembled family must journey across an unforgiving and otherworldly country to rescue Gio from decommission, or worse, reprogramming.
Along the way to save Gio, amid conflicted feelings of betrayal and affection for Hap, Vic must decide for himself: Can he accept love with strings attached?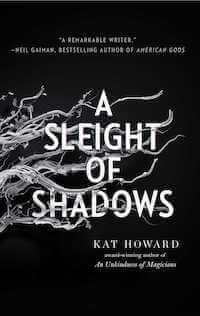 A Sleight of Shadows by Kat Howard
Release Date: April 25 from Gallery Saga/Press
Why You'll Love It: Nearly six years have passed since Kat Howard released An Unkindness of Magicians and, at long last, we're finally getting a sequel. Need I say more?
Publisher's Description: After taking down the source of the corruption of the Unseen World, Sydney is left with almost no magical ability. Feeling estranged from herself, she is determined to find a way back to her status as one of the world's most dangerous magicians. Unfortunately, she needs to do this quickly: the House of Shadows, the hell on earth that shaped her into who she was, the place she sacrificed everything to destroy, is rebuilding itself.
"The House of shadows sits on bones. All of the sacrifices, all of the magicians who died in Shadows, they're buried beneath the foundations. Bones hold magic."
The magic of the Unseen World is acting strangely, faltering, bleeding out from the edges. Determined to keep the House of Shadows from returning to power and to defeat the magicians who want nothing more than to have it back, Sydney turns to extremes in a desperate attempt to regain her sacrificed magic. She is forced to decide what she will give up and what she will lose and whether what must be destroyed is not only the House of Shadows, but the Unseen World itself.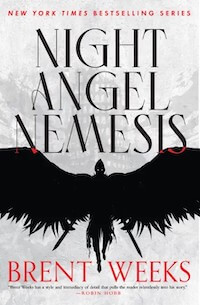 Night Angel Nemesis by Brent Weeks
Release Date: April 25 from Orbit
Why You'll Love It: Brent Weeks returns to the epic fantasy world of assassin Kylar Stern and his companion Logan Gyre for the first time in over a decade. If you've been waiting for this, you don't need me to convince you to read it.
Publisher's Description: After the war that cost him so much, Kylar Stern is broken and alone. He's determined not to kill again, but an impending amnesty will pardon the one murderer he can't let walk free. He promises himself this is the last time. One last hit to tie up the loose ends of his old, lost life.
But Kylar's best–and maybe only–friend, the High King Logan Gyre, needs him. To protect a fragile peace, Logan's new kingdom, and the king's twin sons, he needs Kylar to secure a powerful magical artifact that was unearthed during the war.
With rumors that a ka'kari may be found, adversaries both old and new are on the hunt. And if Kylar has learned anything, it's that ancient magics are better left in the hands of those he can trust.
If he does the job right, he won't need to kill at all. This isn't an assassination—it's a heist.
But some jobs are too hard for an easy conscience, and some enemies are so powerful the only answer lies in the shadows.
---
Lacy Baugher Milas is the Books Editor at Paste Magazine, but loves nerding out about all sorts of pop culture. You can find her on Twitter @LacyMB.