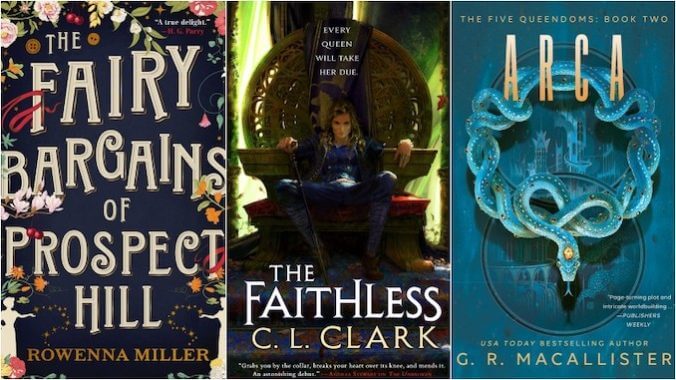 Spring is almost upon us—-a time of rebirth, fresh starts, and the specific, magical joy that comes from the fact that the sun stops setting before 6 pm. But, as with the start of any new season in the publishing industry, a bunch of exciting new fantasy titles are arriving on bookstore shelves—and even more if you count the half dozen or so that landed on the last day of February. (See last month's list for  those)
From highly anticipated sequels to thrilling new series openers and a few that defy easy categorization, there are a variety of great new options for every kind of reader. 
Here are our picks for the best fantasy books of March.

The Foxglove King by Hannah Whitten
Release Date: March 7 from Orbit
Why You'll Love It:  Set in a city built atop the corpse of a buried goddess and featuring a feisty heroine who can literally channel the essence of death itself, The Foxglove King is richly imagined and deftly plotted, balancing questions of philosophy and fate with complex, thoroughly lived in worldbuilding that encompasses everything from political history to religious lore.
Publisher's Description: When Lore was thirteen, she escaped a cult in the catacombs beneath the city of Dellaire. And in the ten years since, she's lived by one rule: don't let them find you. Easier said than done, when her death magic ties her to the city.
Mortem, the magic born from death, is a high-priced and illicit commodity in Dellaire, and Lore's job running poisons keeps her in food, shelter, and relative security. But when a run goes wrong and Lore's power is revealed, she's taken by the Presque Mort, a group of warrior-monks sanctioned to use Mortem working for the Sainted King. Lore fully expects a pyre, but King August has a different plan. Entire villages on the outskirts of the country have been dying overnight, seemingly at random. Lore can either use her magic to find out what's happening and who in the King's court is responsible, or die.
Lore is thrust into the Sainted King's glittering court, where no one can be believed and even fewer can be trusted. Guarded by Gabriel, a duke-turned-monk, and continually running up against Bastian, August's ne'er-do-well heir, Lore tangles in politics, religion, and forbidden romance as she attempts to navigate a debauched and opulent society.
But the life she left behind in the catacombs is catching up with her. And even as Lore makes her way through the Sainted court above, they might be drawing closer than she thinks.


Arca by G.R. McAllister
Release Date: March 7 from Gallery/Saga Press
Why You'll Love It: The second installment in G.R. McAllister's underrated female-focused fantasy series, Arca picks up where Scorpica left off, as the Five Queendoms struggle to pick up the pieces in the wake of the Drought of Girls—a multi-year period in which only male presenting babies were born in these matriarchal kingdoms— and many fear war is looming as troops amass on various borders.
McAllister's worldbuilding and character work are even better in this novel than its predecessor and the series' refreshing and unapologetically feminist focus means the story features many different types of women and female stories.
Publisher's Description: The Drought of Girls has ended, but the rift it broke open between the Queendoms is not so easily healed. Political tensions roil the senate of Paxim, where Queen Heliane vows to make her son Paulus the nation's first ruling King or die trying. Scorpican troops amass on the border of Arca, ready to attack. And within Arca itself, its young, unready queen finds her court a nest of vipers and her dreams besieged by a mysterious figure with unknown intentions.


The Faithless by C.L. Clark
Release Date: March 7 from Orbit
Why You'll Love It: The highly anticipated sequel to 2021's The Unbroken, a compulsively readable sapphic fantasy, The Faithless effortlessly expands and deepens its world and characters. The series' intricate web of political machinations and intrigue remains a highlight and the deft way that Clark weaves themes of colonialism, oppression, and the lingering trauma of conquest throughout every aspect of the story is unlike anything else you'll read right now.
Publisher's Description: In the second installment of C.L. Clark's Magic of the Lost trilogy, soldier Touraine and princess Luca must return to Balladaire to reclaim Luca's throne and to face the consequences of dismantling an empire.
The rebels have won, and the empire is withdrawing from Qazal. But undoing the tangled web that binds the two nations will not be easy, and Touraine and Luca will face their greatest challenge yet.
Luca needs to oust her uncle from the Balladairan throne once and for all and take her rightful place as Queen. But he won't let go of power so easily. When he calls for a "Trial of Competence" and Luca's allies start disappearing from her side, she will need to find a way to prove her might. And she knows someone who can help…
Touraine has found a home in the newly free country of Qazal. But she soon realizes that leading a country and leading a revolution are two very different tasks. And, even more importantly, if Luca's uncle doesn't ratify the treaty, the Qazali could end up right back where they started.
Together, the two women will have to come overcome their enemies, their history, and their heartbreak in order to find a way to secure Luca's power and Touraine's freedom.


The God of Endings by Jacqueline Holland
Release Date: March 7 from Flatiron Books
Why You'll Love It: An atmospheric vampire tale that wrestles with existential questions of being and philosophy rather than bloodlust and gore, The God of Endings is a dark, beautifully written story about what it means to live forever, and the grief and loneliness that walk hand in hand with immortality. Slow-moving and occasionally quite grisly, Jacquelin Holland's debut weaves elements of Slavic folklore throughout her thoroughly modern exploration of the search for meaning in a world where, for central character Collette, everything inevitably fades away. 
Publisher's Description: Collette LeSange is a lonely artist who heads an elite fine arts school for children in upstate New York. Her youthful beauty masks the dark truth of her life: she has endured centuries of turmoil and heartache in the wake of her grandfather's long-ago decision to make her immortal like himself. Now in 1984, Collette finds her life upended by the arrival of a gifted child from a troubled home, the return of a stalking presence from her past, and her own mysteriously growing hunger.


The Curator by Owen King
Release Date: March 7 from Scribner
Why You'll Love It: Look, I'm automatically going to encourage everyone to read any book that the description tells me involves a society that reveres cats as religious icons. But Owen King's sprawling, vaguely unhinged story where very little is actually as it appears to be is certainly like nothing else you'll find on shelves this month.
Publisher's Description: It begins in an unnamed city nicknamed "the Fairest", it is distinguished by many things from the river fair to the mountains that split the municipality in half; its theaters and many museums; the Morgue Ship; and, like all cities, but maybe especially so, by its essential unmappability.
Dora, a former domestic servant at the university has a secret desire—to find where her brother went after he died, believing that the answer lies within The Museum of Psykical Research, where he worked when Dora was a child. With the city amidst a revolutionary upheaval, where citizens like Robert Barnes, her lover and a student radical, are now in positions of authority, Dora contrives to gain the curatorship of the half-forgotten museum only to find it all but burnt to the ground, with the neighboring museums oddly untouched. Robert offers her one of these, The National Museum of the Worker. However, neither this museum, nor the street it is hidden away on, nor Dora herself, are what they at first appear to be. Set against the backdrop of a nation on the verge of collapse, Dora's search for the truth behind the mystery she's long concealed will unravel a monstrous conspiracy and bring her to the edge of worlds.


Lucha of the Night Forest by Tehlor Kay Mejia
Release Date: March 21 from Make Me a World
Why You'll Love It: A compelling and magical coming-of-age story from the author of <i>We Set the Dark on Fire</i> and set in a world of gods and monsters that wrestles with faith, survival, and destiny. Do I need to say more? 
Publisher's Description: A scorned god.
A mysterious acolyte.
A forgetting drug.
A dangerous forest.
One girl caught between the freedom she always wanted and a sister she can't bear to leave behind.
Under the cover of the Night Forest, will Lucha be able to step into her own power…or will she be consumed by it?

The Sinister Booksellers of Bath by Garth Nix
Release Date: March 21 from Harper Teen
Why You'll Love It: This is the second installment in Garth Nix's The Left-handed Booksellers of London series, where once again a team of booksellers must fight to keep dangerous magic under cover before the stuff of legends destroys our world. This time, however, the story involves the search for a supernatural serial killer who is responsible for centuries of deaths and unexplained disappearances, and truly that was all I needed to hear. Nix's fast-paced propulsive storytelling makes the pages fly.
Publisher's Description: There is often trouble of a mythical sort in Bath. The booksellers who police the Old World keep a careful watch there, particularly on the entity who inhabits the ancient hot spring. Yet this time it is not from Sulis Minerva that trouble starts. It comes from the discovery of a sorcerous map, leading left-handed bookseller Merlin into great danger. A desperate rescue is attempted by his sister the right-handed bookseller Vivien and their friend, art student Susan Arkshaw, who is still struggling to deal with her own recently discovered magical heritage.
The map takes the trio to a place separated from this world, maintained by deadly sorcery performed by an ancient sovereign and guarded by monstrous living statues of Portland Stone. But this is only the beginning, as the booksellers investigate centuries of disappearances and deaths and try to unravel the secrets of the murderous Lady of Stone, a serial killer of awesome powers.
If they do not stop her, she will soon kill again. And this time, her target is not an ordinary mortal.


The Fairy Bargains of Prospect Hill by Rowenna Miller
Release Date: March 28 from Red Hook
Why You'll Love It: A cozy, atmospheric historical fantasy set in the turn of the century American Midwest, The Fairy Bargains of Prospect Hill follows the story of two sisters whose family has made a tradition of small bargains with the local Fae folk to improve their lives. (It's how they came into possession of their farm in the first place.) But despite the magical elements, it's the relationship between Alaine and Delphine that serves as the heart of Miller's story, as the sisters wrestle with how much they're willing to bargain away in the name of getting what they want.
Publisher's Description: There is no magic on Prospect Hill—or anywhere else, for that matter. But just on the other side of the veil is the world of the Fae. Generations ago, the first farmers on Prospect Hill learned to bargain small trades to make their lives a little easier—a bit of glass to find something lost, a cup of milk for better layers in the chicken coop.
Much of that old wisdom was lost as the riverboats gave way to the rail lines and the farmers took work at mills and factories. Alaine Fairborn's family, however, was always superstitious, and she still hums the rhymes to find a lost shoe and to ensure dry weather on her sister's wedding day.
When Delphine confides her new husband is not the man she thought he was, Alaine will stop at nothing to help her sister escape him. Small bargains buy them time, but a major one is needed. Yet, the price for true freedom may be more than they're willing to pay.
---
Lacy Baugher Milas is the Books Editor at Paste Magazine, but loves nerding out about all sorts of pop culture. You can find her on Twitter @LacyMB.