Thanks to Valentine's Day, February is a month universally acknowledged as a time for love, and all the roses, chocolates, and romance books that come along with that most seductive of holidays. But if you're an avid reader don't sleep on February—especially this year, when fantastic titles across all sorts of genres will be arriving on shelves.
Fantasy fans, in particular, are in luck as February brings us several highly anticipated sequels, new stories in familiar universes, and exciting debuts from favorite writers.
Here are our picks for the best fantasy books hitting shelves in February.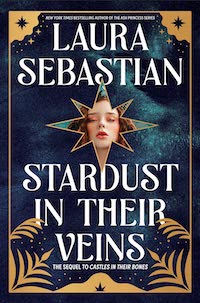 Stardust in Their Veins by Laura Sebastian
Release Date: February 7 from Delacorte Press for Young Readers
Why You'll Love It: Laura Sebastian's Castles in Their Bones series continues with this middle installment that does its best to both deal with the tragic fallout from the trilogy's first entry and move all the pieces into place for a dramatic conclusion. With a story full of political intrigue and lots of twists—Sebastian has proven in this series that she's more than willing to kill her own darlings, literally!—there's plenty here for fans of the first book to enjoy. As ever the sisters' relationship—between each other as well as their scheming mother—remains a series' highlight, as each grows into their own power (magical and otherwise) in new ways.
Publisher's Description: Princesses Beatriz and Daphne have lost their older sister, but their mother's grand scheme of taking the continent of Vesteria is far from complete. With the country of Temarin now under the Empress's control, only the nations of Cellaria and Friv remain free from her rule. What's worse, an ominous prophecy has begun to shine through the constellations: the blood of stars and majesty spilled.
Usurped by conniving cousins Nico and Gigi, Beatriz fears for her life, while in icy Friv, Daphne continues her shaky alliance with the rebels even as she struggles to stay a step ahead of them. But when an unlikely ally offers Beatriz a deal, she finds herself back in her mother's sights.
With enemies around every corner and the stars whispering of betrayal, Daphne and Beatriz can't trust anyone—least of all each other. If they've learned anything, though, it's that the Empress's game is constantly changing. And the arrival of surprise visitors from Temarin just might tip the scales in the princesses' favor . . . if they manage to avoid meeting their sister's fate before they can make their next move.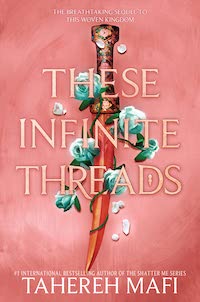 These Infinite Threads by Tahereh Mafi
Release Date: February 7 from HarperCollins
Why You'll Love It: The highly anticipated sequel to Tahereh Mafi's This Woven Kingdom, These Infinite Threads continues the star-crossed romance between Alizeh, heir to a long-lost Jinn kingdom, and Prince Kamran, crown prince of the empire that destroyed it, and both must face warring loyalties of the heart and their respective cultures. But the highlight of this tale is Mafi's lush worldbuilding, particularly her complex depiction of competing kingdoms simply trying to survive in a world of dwindling resources.
Publisher's Description: With the heat of a kiss, the walls between Alizeh, the long-lost heir to an ancient Jinn kingdom, and Kamran, the crown prince of the Ardunian empire, have crumbled. And so have both of their lives.
Kamran's grandfather, the king of Ardunia, lays dead, the terrible secret of his deal with the devil exposed to the world. Cyrus, the mysterious copper-haired royal, has stolen Alizeh away to Tulan, the neighboring kingdom where he rules. Cyrus has made his own deal with the devil—one that would require Alizeh to betray her feelings for Kamran if she's to reclaim the Jinn throne.
Alizeh wants nothing to do with Cyrus, or his deal with Iblees. But with no means of escaping Tulan, and with the tantalizing promise of fulfilling her destiny as the heir to the Jinn, she's forced to wonder whether she can set aside her emotions—and finally become the queen her people need.
Kamran, meanwhile, is picking up the pieces of his broken kingdom. Facing betrayal at every turn, all he knows for certain is that he must go to Tulan to avenge his grandfather. He can only hope that Alizeh will be waiting for him there—and that she's not yet become queen of Tulan.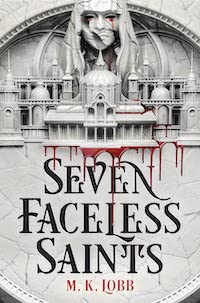 Seven Faceless Saints by M.K. Lobb
Release Date: February 7 from Little, Brown Books for Young Readers
Why You'll Love It: One part murder mystery, one part enemies-to-lovers romance, and one part dark magical fantasy about a civilization built around the worship of seven gods who have each gifted their descendants with specific kinds of magic but left those known as the "unfavored" to suffer powerless lives of poverty and strife, Seven Faceless Saints is nonstop from its first pages.
Publisher's Description: In the city of Ombrazia, saints and their disciples rule with terrifying and unjust power, playing favorites while the unfavored struggle to survive.
After her father's murder at the hands of the Ombrazian military, Rossana Lacertosa is willing to do whatever it takes to dismantle the corrupt system—tapping into her powers as a disciple of Patience, joining the rebellion, and facing the boy who broke her heart. As the youngest captain in the history of Palazzo security, Damian Venturi is expected to be ruthless and strong, and to serve the saints with unquestioning devotion. But three years spent fighting in a never-ending war have left him with deeper scars than he wants to admit… and a fear of confronting the girl he left behind.
Now a murderer stalks Ombrazia's citizens. As the body count climbs, the Palazzo is all too happy to look the other way—that is, until a disciple becomes the newest victim. With every lead turning into a dead end, Damian and Roz must team up to find the killer, even if it means digging up buried emotions. As they dive into the underbelly of Ombrazia, the pair will discover something more sinister—and far less holy. With darkness closing in and time running out, will they be able to save the city from an evil so powerful that it threatens to destroy everything in its path?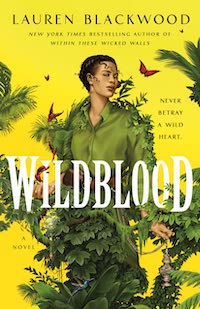 Wildblood by Lauren Blackwood
Release Date: February 7 from Wednesday Books
Why You'll Love It: A dangerous adventure that follows the story of Victoria, a Wildblood who was kidnapped at a young age and forced to work as a tour guide for a company in Jamaica. She must use her magical abilities to protect travelers from ghostly monsters in the jungle, and do it all while essentially being treated as a second-class citizen by the people whose very lives she's saving. Though this story has some familiar and haphazardly deployed tropes (the romance between Victoria and the adopted son of her boss is unsurprising), the utterly unique and richly realized setting makes Wildblood stand out.
Publisher's Descriptoin: Eighteen-year-old Victoria is a Wildblood. Kidnapped at the age of six and manipulated by the Exotic Lands Touring Company, she's worked as a tour guide ever since with a team of fellow Wildbloods who take turns using their magic to protect travelers in a Jamaican jungle teeming with ghostly monsters.
When the boss denies Victoria an earned promotion to team leader in favor of Dean, her backstabbing ex, she's determined to prove herself. Her magic may be the most powerful on the team, but she's not the image the boss wants to send their new client, Thorn, a renowned goldminer determined to reach an untouched gold supply deep in the jungle.
Thorn is everything Victoria isn't – confident, impossibly kind, and so handsome he leaves her speechless. And when he entrusts the mission to her, kindness turns to mutual respect, turns to affection, turns to love. But the jungle is treacherous, and between hypnotic river spirits, soul-devouring women that shed their skin like snakes, and her ex out for revenge, Victoria has to decide – is promotion at a corrupt company really what she wants?

The Crane Husband by Kelly Barnhill
Release Date: February 28 from Tordotcom
Why You'll Love It: Kelly Barnhill's The Crane Husband is more of a bleak fairytale than a strictly magical fantasy, but this dark reimagining of the folktale "The Crane Wife" is grim and compelling in all the best ways. Telling the story of a mother who brings home a crane as the latest in a long line of abusive lovers, this diamond-sharp novella explores motherhood, self-sacrifice, and the uncomfortable tension that often exists between love and duty.
Publisher's Description: A fifteen-year-old teenager is the backbone of her small Midwestern family, budgeting the household finances and raising her younger brother while her mom, a talented artist, weaves beautiful tapestries. For six years, it's been just the three of them—her mom has brought home guests at times, but none have ever stayed.
Yet when her mom brings home a six-foot tall crane with a menacing air, the girl is powerless to prevent her mom letting the intruder into her heart, and her children's lives. Utterly enchanted and numb to his sharp edges, her mom abandons the world around her to weave the masterpiece the crane demands.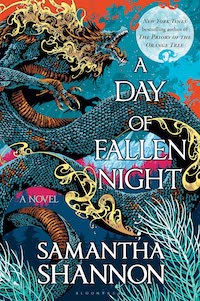 A Day of Fallen Night by Samantha Shannon
Release Date: February 28 from Bloomsbury
Why You'll Love It: The sprawling standalone prequel to Samantha Shannon's epic fantasy The Priory of the Orange Tree is every bit as rich and intricate as the original, unspooling the calamitous tale of the Grief of Ages, when the dark dragon known as the Nameless One last terrorized the world. Spread over a handful of POV characters, including a Priory sister, an Inyish queen, a Seiikinese godsinger, and a housecarl to the Hrothan king, Shannon's deft and complex storytelling has never been better.
Publisher's Description: Tunuva Melim is a sister of the Priory. For fifty years, she has trained to slay wyrms – but none have appeared since the Nameless One, and the younger generation is starting to question the Priory's purpose.
To the north, in the Queendom of Inys, Sabran the Ambitious has married the new King of Hróth, narrowly saving both realms from ruin. Their daughter, Glorian, trails in their shadow – exactly where she wants to be.
The dragons of the East have slept for centuries. Dumai has spent her life in a Seiikinese mountain temple, trying to wake the gods from their long slumber. Now someone from her mother's past is coming to upend her fate.
When the Dreadmount erupts, bringing with it an age of terror and violence, these women must find the strength to protect humankind from a devastating threat.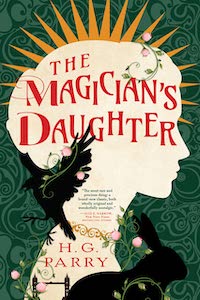 The Magician's Daughter by H.G. Perry
Release Date: February 21 from Redhook
Why You'll Love It: A magical historical fantasy that works in everything from Celtic mythology to the 19th-century literary canon, The Magician's Daughter follows the story of Biddy, who grew up on a magical island with her adoptive father, the Irish wood mage Rowan O'Connell, and his rabbit familiar, Hutchincroft. She yearns to explore the world outside their home, but when Rowan gets into a spot of trouble with the draconian British Council of Mages, Biddy quickly discovers that not everything is like the storybooks she grew up reading. A charming coming-of-age tale that isn't afraid to tell take its time telling its story.
Publisher's Description: It is 1912, and for the last seventy years magic has all but disappeared from the world. Yet magic is all Biddy has ever known.
Orphaned in a shipwreck as a baby, Biddy grew up on Hy-Brasil, a legendary island off the coast of Ireland hidden by magic and glimpsed by rare travelers who return with stories of wild black rabbits and a lone magician in a castle. To Biddy, the island is her home, a place of ancient trees and sea-salt air and mysteries, and the magician, Rowan, is her guardian. She loves both, but as her seventeenth birthday approaches, she is stifled by her solitude and frustrated by Rowan's refusal to let her leave. He himself leaves almost every night, transforming into a raven and flying to the mainland, and never tells her where or why he goes.
One night, Rowan fails to come home from his mysterious travels. When Biddy ventures into his nightmares to rescue him, she learns not only where he goes every night, but the terrible things that happened in the last days of magic that caused Rowan to flee to Hy-Brasil. Rowan has powerful enemies who threaten the safety of the island. Biddy's determination to protect her home and her guardian takes her away from the safety of Hy-Brasil, to the poorhouses of Whitechapel, a secret castle beneath London streets, the ruins of an ancient civilization, and finally to a desperate chance to restore lost magic. But the closer she comes to answers, the more she comes to question everything she has ever believed about Rowan, her origins, and the cost of bringing magic back into the world.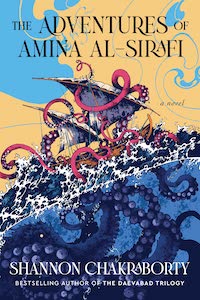 The Adventures of Amina al-Sirafi by Shannon Chakraborty
Release Date: February 28 from Harper Voyager
Why You'll Love It: The first installment in a magical new fantasy trilogy from the author of the Daevabad series, The Adventures of Amina al-Sirafi is a nonstop adventure that follows the story of a legendary female pirate who's lured out of retirement to track down the missing daughter of a former crewmate who's been kidnapped by a sorcerer. It's as fun as it sounds, and Chakraborty's deft, nuanced character work is put to excellent use here, as Amina and her crew of misfits are delightful throughout.
Publisher's Description: Amina al-Sirafi should be content. After a storied and scandalous career as one of the Indian Ocean's most notorious pirates, she's survived backstabbing rogues, vengeful merchant princes, several husbands, and one actual demon to retire peacefully with her family to a life of piety, motherhood, and absolutely nothing that hints of the supernatural.
But when she's tracked down by the obscenely wealthy mother of a former crewman, she's offered a job no bandit could refuse: retrieve her comrade's kidnapped daughter for a kingly sum. The chance to have one last adventure with her crew, do right by an old friend, and win a fortune that will secure her family's future forever? It seems like such an obvious choice that it must be God's will.
Yet the deeper Amina dives, the more it becomes alarmingly clear there's more to this job, and the girl's disappearance, than she was led to believe. For there's always risk in wanting to become a legend, to seize one last chance at glory, to savor just a bit more power…and the price might be your very soul.
---
Lacy Baugher Milas is the Books Editor at Paste Magazine, but loves nerding out about all sorts of pop culture. You can find her on Twitter @LacyMB.