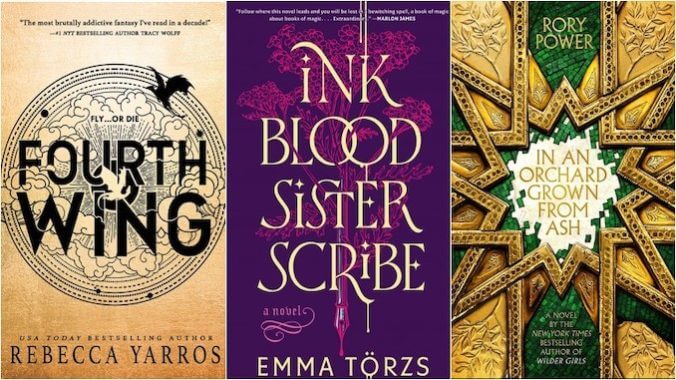 Spring has officially sprung—and with it comes a positive deluge of new fantasy books arriving on bookstore shelves everywhere. As the drumbeat to summer, vacation season, and pool time gets ever louder, more and more releases will be headed our way over the next few weeks and months. (Not that I'm complaining, but my TBR is…let's just call it crowded.)
May brings us many exciting titles, from highly anticipated sequels and thrilling new series openers (my book friends will not shut up about Fourth Wing) to buzzy debuts and books from authors we haven't seen tackle the fantasy genre in a while (did I mention there's a Martha Wells title on this list?), this month is absolutely coming up roses (and dragons and magic) for fantasy fans everywhere. 
Here are our picks for the best fantasy titles arriving on shelves this May.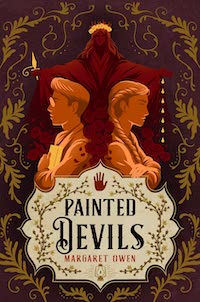 Painted Devils by Margaret Owen
Release Date: May 16 from Henry Holt and Co
Why You'll Love It: The long-awaited sequel to Margaret Owens's delightful 2021 fantasy novel LIttle Thieves sees Vanja, the adopted daughter of Fortune and Death, trying to go legit. (Or…run away from the vulnerability of a real relationship, depending on your perspective.) When she accidentally names herself a priestess of the Scarlet Maiden 
Publisher's Description: Let's get one thing straight—Vanja Schmidt wasn't trying to start a cult.
After taking down a corrupt margrave, breaking a deadly curse, and finding romance with the vexingly scrupulous Junior Prefect Emeric Conrad, Vanja had one great mystery left: her long-lost birth family… and if they would welcome a thief. But in her search for an honest trade, she hit trouble and invented a god, the Scarlet Maiden, to scam her way out. Now, that lie is growing out of control—especially when Emeric arrives to investigate, and the Scarlet Maiden manifests to claim him as a virgin sacrifice.
For his final test to become a prefect, Emeric must determine if Vanja is guilty of serious fraud, or if the Scarlet Maiden—and her claim to him—are genuine. Meanwhile, Vanja is chasing an alternative sacrifice that may be their way out. The hunt leads her not only into the lairs of monsters and the paths of gods, but the ties of her past. And with what should be the simplest way to save Emeric hanging over their heads, he and Vanja must face a more dangerous question: Is there a future for a thief and a prefect, and at what price?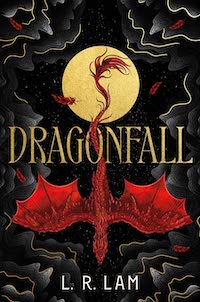 Dragonfall by L.R. Lam
Release Date: May 2 from DAW
Why You'll Love It: A sumptuous tale of betrayal, survival, and magic, this first installment in L.R. Lam's new Dragon Scales trilogy tells the story of a human race that no longer remembers the dragons they once betrayed, a poor thief, who stills a valuable artifact, and the last dragon who must kill the girl that carries it in order to save his dying people. Emotionally damaged characters, well-written angst, and an immersive fantasy world make this one stand out.
Publisher's Description: Long ago, humans betrayed dragons, stealing their magic and banishing them to a dying world. Centuries later, their descendants worship dragons as gods. But the gods remember, and they do not forgive.
Thief Arcady scrapes a living on the streets of Vatra. Desperate, Arcady steals a powerful artifact from the bones of the Plaguebringer, the most hated person in Lumet history. Only Arcady knows the artifact's magic holds the key to a new life among the nobles at court and a chance for revenge.
The spell connects to Everen, the last male dragon foretold to save his kind, dragging him through the Veil. Disguised as a human, Everen soon learns that to regain his true power and form and fulfill his destiny, he only needs to convince one little thief to trust him enough to bond completely–body, mind, and soul–and then kill them.
Yet the closer the two become, the greater the risk both their worlds will shatter.


A Shadow Crown by Melissa Blair
Release Date: May 9 from Union Square & Co.
Why You'll Love It: The highly anticipated sequel to Melissa Blair's buzzy fantasy debut A Broken Blade, sees assassin Keera working with the resistance to overthrow her adopted father, the callous King Aemon, whom she is sworn to serve.
Publisher's Description: To the kingdom, Keera is the king's Blade, his most feared and trusted spy and assassin. But in the shadows, she works with Prince Killian and his Shadow—the dark, brooding Fae, Riven, who sets her blood on fire. Together, they plot to topple the crown that sits upon the king's head.
A secret can only survive as long as its conspirators, and when nothing is as it seems, all are in danger. Keera swore she would never open her heart again after a loss she barely survived. But she will soon find she has more to lose than she ever imagined…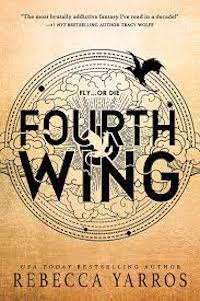 Fourth Wing by Rebecca Yarros
Release Date: May 2 from Red Tower Books 
Why You'll Love It: An epic fantasy about an elite school for dragon riders, Fourth Wing blends a dark academia aesthetic with a grueling coming-of-age tale to forge a fresh and entirely addictive tale of growth and survival. (Also, you know, there are dragons.) You'll be talking about this one all year. (You can read an excerpt here at Paste if you need an early look.)
Publisher Description: Twenty-year-old Violet Sorrengail was supposed to enter the Scribe Quadrant, living a quiet life among books and history. Now, the commanding general-also known as her tough-as-talons mother-has ordered Violet to join the hundreds of candidates striving to become the elite of Navarre: dragon riders.
But when you're smaller than everyone else and your body is brittle, death is only a heartbeat away . . . because dragons don't bond to "fragile" humans. They incinerate them.
With fewer dragons willing to bond than cadets, most would kill Violet to better their own chances of success. The rest would kill her just for being her mother's daughter-like Xaden Riorson, the most powerful and ruthless wingleader in the Riders Quadrant.
She'll need every edge her wits can give her just to see the next sunrise.
Yet, with every day that passes, the war outside grows more deadly, the kingdom's protective wards are failing, and the death toll continues to rise. Even worse, Violet begins to suspect leadership is hiding a terrible secret.
Alliances will be forged. Lives will be lost. Traitors will become allies . . . or even lovers. But sleep with one eye open because once you enter, there are only two ways out: graduate or die.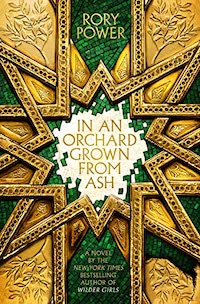 In An Orchard Grown From Ash by Rory Power
Release Date: May 2 from Del Ray 
Why You'll Love It: This follow-up to In a Garden Burning Gold continues author Rory Power's slow-burn exploration of corruption, power, and intergenerational trauma, though readers looking for lots of action will once again find the bulk of this sequel slow going. 
Publisher's Description: The Argyros family is torn asunder, their nation betrayed and taken over by former allies, and twins Rhea and Lexos are left standing on opposite sides of the now full-blown rebellion. Will they be able to reconcile–or will there only be a reckoning?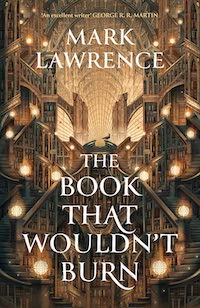 The Book That Wouldn't Burn by Mark Lawrence
Release Date: May 9 from Ace
Why You'll Love It: Lush and intricately plotted, this dense fantasy tale of an aspiring librarian from a village in a backwater known as the Dust and a boy who's lived his whole life trapped in a massive and ancient library is full of surprising twists and turns. With a plot that encompasses everything from romance and political intrigue to time travel and philosophy, this first installment in Mark Lawrence's new Library Trilogy is an often devastating story of the price we pay for knowledge. 
Publisher's Description: A boy has lived his whole life trapped within a vast library, older than empires and larger than cities.
A girl has spent hers in a tiny settlement out on the Dust where nightmares stalk and no one goes.
The world has never even noticed them. That's about to change.
Their stories spiral around each other, across worlds and time. This is a tale of truth and lies and hearts, and the blurring of one into another. A journey on which knowledge erodes certainty, and on which, though the pen may be mightier than the sword, blood will be spilled and cities burned.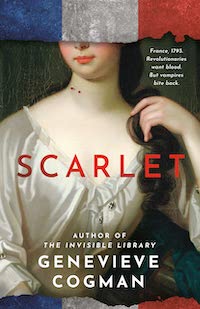 Scarlet by Genevieve Cogman
Release Date: May 9 from Ace
Why You'll Love It: A reinvention of The Scarlet Pimpernel that mixes the French Revolution, vampires, and a complete disregard for historical accuracy is certainly something that *I* am always going to check out immediately.
Publisher's Description: Revolution is a bloodthirsty business . . . especially when vampires are involved.
It is 1793 and the French Revolution is in full swing. Vampires—usually rich and aristocratic—have slaked the guillotine's thirst in large numbers. The mysterious Scarlet Pimpernel, a disguised British noble, and his League are heroically rescuing dozens of aristocrats from execution, both human and vampire. And soon they will have an ace up their Eleanor Dalton.
Eleanor is working as a housemaid on the estate of a vampire Baroness. Her highest aspiration is to one day become a modiste. But when the Baroness hosts a mysterious noble and his wife, they tell Eleanor she is the spitting image of a French aristocrat, and they convince her to journey to France to aid them in a daring scheme. Soon, Eleanor finds herself in Paris, swept up in magic and intrigue—and chaos—beyond her wildest dreams. But there's more to fear than ardent Revolutionaries. For Eleanor stumbles across a centuries-old war between vampires and their fiercest enemy. And they're out for blood. . . .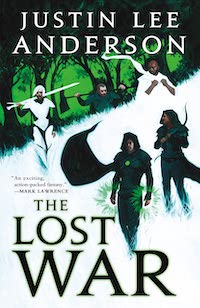 The Lost War by Justin Lee Anderson
Release Date: May 16 from Orbit
Why You'll Love It: This first installment in Justin Lee Anderson's Eidyn Saga has traditional fantasy bones: An emissary for the king who must gather a group of strangers in order to complete a dangerous quest. But when it finally hits its stride it's a grand (and strangely surprising) adventure.
Publisher's Description: The war is over, but peace can be hell.
Demons continue to burn farmlands, violent mercenaries roam the wilds, and a plague is spreading. The country of Eidyn is on its knees. 
In a society that fears and shuns him, Aranok is the first mage to be named King's Envoy. And his latest task is to restore an exiled foreign queen to her throne.  
The band of allies he assembles each have their own unique skills. But they are strangers to one another, and at every step across the ravaged land, a new threat emerges, lies are revealed, and distrust could destroy everything they are working for. Somehow, Aranok must bring his companions together and uncover the conspiracy that threatens the kingdom—before war returns to the realms again.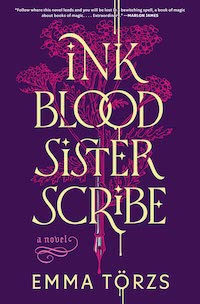 Ink Blood Sister Scribe by Emma Törzs
Release Date: May 30 from William Morrow
Why You'll Love It: Set in a parallel Earth where gruesome spellbooks are literally born from the blood of Scribes, two half-sisters must work to protect their dead father's collection in this intensely well-plotted and twisty magical adventure.
Publisher's Description: For generations, the Kalotay family has guarded a collection of ancient and rare books. Books that let a person walk through walls or manipulate the elements–books of magic that half-sisters Joanna and Esther have been raised to revere and protect.
All magic comes with a price, though, and for years the sisters have been separated. Esther has fled to a remote base in Antarctica to escape the fate that killed her own mother, and Joanna's isolated herself in their family home in Vermont, devoting her life to the study of these cherished volumes. But after their father dies suddenly while reading a book Joanna has never seen before, the sisters must reunite to preserve their family legacy. In the process, they'll uncover a world of magic far bigger and more dangerous than they ever imagined, and all the secrets their parents kept hidden; secrets that span centuries, continents, and even other libraries…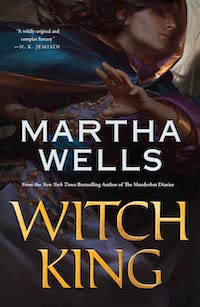 Witch King by Martha Wells 
Release Date: May 30 from Tordotcom
Why You'll Love It: Witch King is Murderbot Diaries author Martha Well's first new fantasy in over a decade and that's reason enough to read it right there. 
Publisher's Description:  After being murdered, his consciousness dormant and unaware of the passing of time while confined in an elaborate water trap, Kai wakes to find a lesser mage attempting to harness Kai's magic to his own advantage. That was never going to go well.
But why was Kai imprisoned in the first place? What has changed in the world since his assassination? And why does the Rising World Coalition appear to be growing in influence?
Kai will need to pull his allies close and draw on all his pain magic if he is to answer even the least of these questions.
He's not going to like the answers.
---
Lacy Baugher Milas is the Books Editor at Paste Magazine, but loves nerding out about all sorts of pop culture. You can find her on Twitter @LacyMB.`