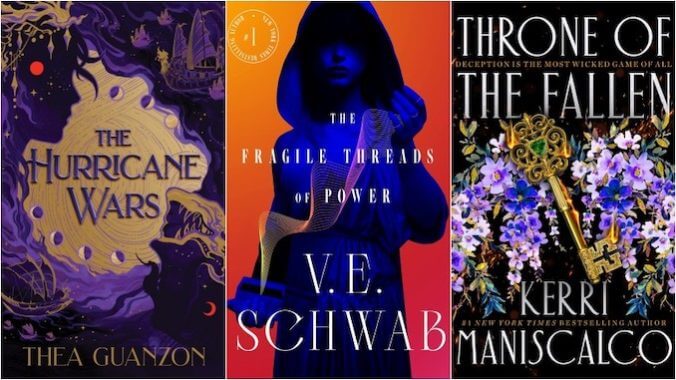 It's the most wonderful time of the year! No, not Christmas…Fall! The season for knee boots, cozy sweaters, and pumpkin spice everything is fast approaching, but those aren't the only reasons you should be excited. September also marks the beginning of the most intense time in the world of publishing, when what feels like roughly one million new books hit shelves, all eager to grab readers' attention ahead of the holiday rush. Fantasy fans should feel particularly excited this year, as a deluge of sequels, debuts, and new series openers are all headed our way over the next few months.
Get ready for new books from best-selling faves like Stephanie Garber, Cassandra Clare, Kerri Maniscalco, Jennifer L. Armentrout, V.E. Schwab, and Rebecca Yarros, along with buzzy newcomers like Thea Guanzon. 
Here are our picks for the fantasy titles that belong on your must-read list this Fall.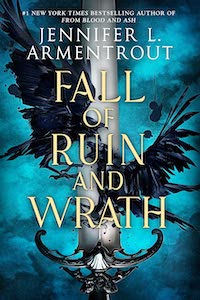 Fall of Ruin and Wrath by Jennifer L. Armentrout
Release Date: September 12 from Bramble
Why We're Excited: Any new romantic fantasy from Jennifer L. Armentrout is generally a reason to celebrate, and Fall of Ruin and Wrath is the first installment in a whole new series, complete with palace intrigue, steamy romance, and more. 
Publisher's Description: Long ago, the world was destroyed by gods. Only nine cities were spared. Separated by vast wilderness teeming with monsters and unimaginable dangers, each city is now ruled by a guardian―royalty who feed on mortal pleasure.
Born with an intuition that never fails, Calista knows her talents are of great value to the power-hungry of the world, so she lives hidden as a courtesan of the Baron of Archwood. In exchange for his protection, she grants him information.
When her intuition leads her to save a traveling prince in dire trouble, the voice inside her blazes with warning―and promise. Today he'll bring her joy. One day he'll be her doom.
When the Baron takes an interest in the traveling prince and the prince takes an interest in Calista, she becomes the prince's temporary companion. But the city simmers with rebellion, and with knights and monsters at her city gates and a hungry prince in her bed, intuition may not be enough to keep her safe.
Calista must follow her intuition to safety or follow her heart to her downfall.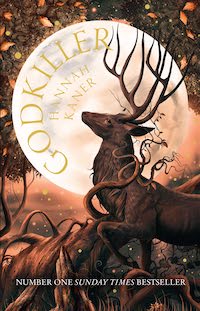 Godkiller by Hannah Kaner
Release Date: September 12 from Harper Voyager
Why You'll Love It: A dark fantasy about a kingdom that killed its own gods and criminalized their worship, Godkiller follows the story of a girl who makes a living tracking down and eliminating the few that remain. 
Publisher's Description: Gods are forbidden in the kingdom of Middren. Formed by human desires and fed by their worship, there are countless gods in the world—but after a great war, the new king outlawed them and now pays "godkillers" to destroy any who try to rise from the shadows.
As a child, Kissen saw her family murdered by a fire god. Now, she makes a living killing them and enjoys it. But all this changes when Kissen is tasked with helping a young noble girl with a god problem. The child's soul is bonded to a tiny god of white lies, and Kissen can't kill it without ending the girl's life too.
Joined by a disillusioned knight on a secret quest, the unlikely group must travel to the ruined city of Blenraden, where the last of the wild gods reside, to each beg a favor. Pursued by assassins and demons, and in the midst of burgeoning civil war, they will all face a reckoning. Something is rotting at the heart of their world, and they are the only ones who can stop it.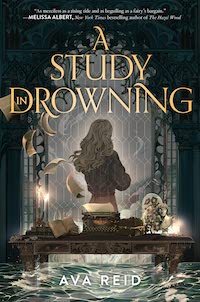 A Study in Drowning by Ava Reid
Release Date: September 19 from Harper Teen
Why We're Excited: The first YA fantasy offering from Juniper and Thorn author Ava Reid may technically be aimed at younger audiences, but certainly doesn't skimp on difficult topics, exploring misogyny and its effects on how history is written with a decidedly feminist perspective. 
Publisher's Description: Effy Sayre has always believed in fairy tales. She's had no choice. Since childhood, she's been haunted by visions of the Fairy King. She's found solace only in the pages of Angharad – author Emrys Myrddin's beloved epic about a mortal girl who falls in love with the Fairy King, and then destroys him.
Effy's tattered, dog-eared copy is all that's keeping her afloat through her stifling first term at Llyr's prestigious architecture college. So when Myrddin's family announces a contest to design the late author's house, Effy feels certain this is her destiny.
But Hiraeth Manor is an impossible task: a musty, decrepit estate on the brink of crumbling into a hungry sea. And when Effy arrives, she finds she isn't the only one who's made a temporary home there. Preston Héloury, a stodgy young literature scholar, is studying Myrddin's papers and is determined to prove her favorite author is a fraud.
As the two rival students investigate the reclusive author's legacy, piecing together clues through his letters, books, and diaries, they discover that the house's foundation isn't the only thing that can't be trusted. There are dark forces, both mortal and magical, conspiring against them – and the truth may bring them both to ruin.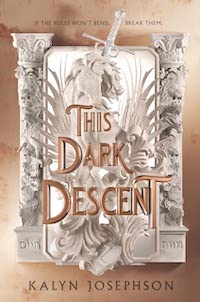 This Dark Descent by Kalyn Josephson
Release Date: September 26 from Roaring Brook Press
Why We're Excited: Described as Peaky Blinders meets The Scorpio Races this YA fantasy features a pair of feisty heroines, intriguing relationship drama, and a dangerous horserace that only takes place once a decade, and is as famous for its body count as it is its the power that comes along with winning it.
Publisher's Description: Mikira Rusel's family has long been famous for breeding enchanted horses, but their prestige is no match for their rising debts. To save her ranch, Mikira has only one option: she must win the Illinir, a treacherous horserace whose riders either finish maimed or murdered. Yet each year, competitors return, tempted by its alluring prize money and unparalleled prestige.
Mikira's mission soon unites her with Arielle Kadar, an impressive yet illicit enchanter just beginning to come into her true power, and Damien Adair, a dashing young lord in the midst of a fierce succession battle. Both have hidden reasons of their own to help Mikira — as well as their own blood feuds to avenge…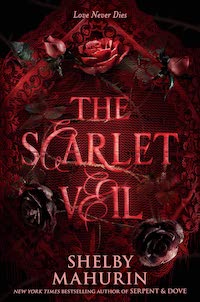 The Scarlet Veil by Shelby Mahurin
Release Date: September 26 from HarperTeen
Why We're Excited: A new fantasy vampire romance from the author behind the Serpent & Dove trilogy? And it's main character is Celie Tremblay, one of the original series' most popular supporting figures. Yes, please.
Publisher's Description: Six months have passed since Célie took her sacred vows and joined the ranks of the Chasseurs as their first huntswoman. With her fiancé, Jean Luc, as captain, she is determined to find her foothold in her new role and help protect Belterra. But whispers from her past still haunt her, and a new evil is rising—one that Célie herself must vanquish, unless she falls prey to the darkness.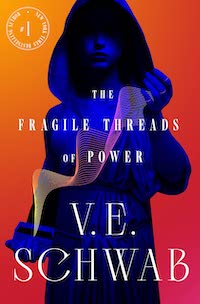 The Fragile Threads of Power by V.E. Schwab
Release Date: September 26 from Tor Books
Why We're Excited: Wake up bestie, the first installment of a new fantasy series set in the world of V.E. Schwab's A Darker Shade of Magic, is about to drop—and it's one that longtime readers and new fans can both dive right into. 
Publisher's Description: Once, there were four worlds, nestled like pages in a book, each pulsing with fantastical power, and connected by a single city: London. Until the magic grew too fast, and forced the worlds to seal the doors between them in a desperate gamble to protect their own. The few magicians who could still open the doors grew more rare as time passed and now, only three Antari are known in recent memory―Kell Maresh of Red London, Delilah Bard of Grey London, and Holland Vosijk, of White London.
But barely a glimpse of them have been seen in the last seven years―and a new Antari named Kosika has appeared in White London, taking the throne in Holland's absence. The young queen is willing to feed her city with blood, including her own―but her growing religious fervor has the potential to drown them instead.
And back in Red London, King Rhy Maresh is threatened by a rising rebellion, one determined to correct the balance of power by razing the throne entirely.
Amidst this tapestry of old friends and new enemies, a girl with an unusual magical ability comes into possession of a device that could change the fate of all four worlds.
Her name is Tes, and she's the only one who can bring them together―or unravel it all.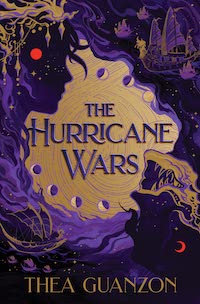 The Hurricane Wars by Thea Guanzon
Release Date: October 3 from Harper Voyager
Why We're Excited: One of the buzziest fantasy debuts of the Fall, The Hurricane Wars features vivid worldbuilding, a swoon-worthy romance, and a truly original premise, all set sin a Southeast Asia–inspired world ravaged by storms. 
Publisher's Description: All Talasyn has ever known is the Hurricane Wars. Growing up an orphan in a nation under siege by the ruthless Night Emperor, Talasyn has found her family among the soldiers who fight for freedom. But she is hiding a deadly secret: light magic courses through her veins, a blazing power believed to have been wiped out years ago that can cut through the Night Empire's shadows.
Prince Alaric, the emperor's only son and heir, has been forged into a weapon by his father. Tasked with obliterating any threats to the Night Empire's rule with the strength of his armies and mighty Shadow magic, Alaric has never been bested. That is until he sees Talasyn burning brightly on the battlefield with the magic that killed his grandfather, turned his father into a monster, and ignited the Hurricane Wars. In a clash of light and dark, their powers merge and create a force the likes of which has never been seen.
Talasyn and Alaric both know this war can only end with them. But a greater threat is coming, and the strange new magic they can create together could be the only way to overcome it. Thrust into an uneasy alliance, they will confront the secrets at the heart of the war and find, in each other, a searing passion–one that could save their world…or destroy it.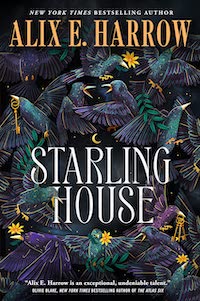 Starling House by Alix E. Harrow
Release Date: October 3 from Tor Books
Why We're Excited: From Ten Thousand Doors of January to A Mirror Mended, Alix E. Harrow is a fantasy author who just does not miss. This magical, heartfelt haunted house tale is no different. 
Publisher's Description: Eden, Kentucky, is just another dying, bad-luck town, known only for the legend of E. Starling, the reclusive nineteenth-century author and illustrator who wrote The Underland–and disappeared. Before she vanished, Starling House appeared. But everyone agrees that it's best to let the uncanny house―and its last lonely heir, Arthur Starling―go to rot.
Opal knows better than to mess with haunted houses or brooding men, but an unexpected job offer might be a chance to get her brother out of Eden. Too quickly, though, Starling House starts to feel dangerously like something she's never had: a home.
As sinister forces converge on Starling House, Opal and Arthur are going to have to make a dire to dig up the buried secrets of the past and confront their own fears, or let Eden be taken over by literal nightmares.
If Opal wants a home, she'll have to fight for it.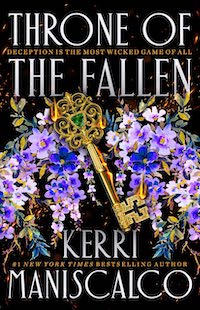 Throne of the Fallen by Kerri Maniscalco
Release Date: October 3 from Little, Brown & Company
Why We're Excited: The highly anticipated adult fantasy debut from bestselling YA author Kerri Maniscalco takes us back to the megapopular world of her Kingdom of the Wicked trilogy for a story about fan-favorite character (and Wrath's brother), the Prince of Envy. 
Publisher's Description: Sinner. Villain. Ruthless. These are wicked names the Prince of Envy welcomes. They remind him what he isn't: a saint. And when a cryptic note arrives, signaling the beginning of a deadly game, he knows he'll be called much worse before it ends. Riddles, hexed objects, anonymous players, nothing will stand in his way. With a powerful artifact and his own future at stake, Envy is determined to win, though none of his meticulous plans prepare him for her, the frustrating artist who ignites his sin—and passion—like no other…
Talented. Darling. Liar. The trouble with scoundrels and blackguards is that they haven't a modicum of honor, a fact Miss Camilla Antonius learns after one desperate mistake allows notorious rake—and satire sheet legend—Lord Phillip Vexley to blackmail her. And now it seems Vexley isn't the only scoundrel interested in securing her unique talents as a painter. To avoid Vexley's clutches and a ruinous scandal, Camilla is forced to enter a devil's bargain with Waverly Green's newest arrival, enigmatic Lord Ashford 'Syn' Synton, little expecting his game will awaken her true nature . . .
Together, Envy and Camilla must embark on a perilous journey through the Shifting Isles—from glittering demon courts to the sultry vampire realm, and encounters with exiled Fae—while trying to avoid the most dangerous trap of all: falling in love.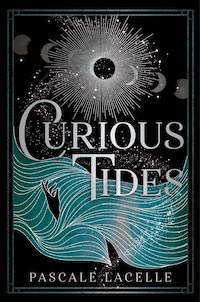 Curious Tides by Pascale Lacelle
Release Date: October 3 from Margaret K. McElderry Books
Why We're Excited: Described as Ninth House meets A Deadly Education, Curious Tides is a fantasy set in a world where magical abilities are assigned based on the moon's phase during the day of their birth, and follows the story of a student who is somehow the only survivor of an event that left a half dozen of her other classmates dead. Why? Well that's what she needs her dead best friend's brother to help her find out.
Publisher's Description: Emory might be a student at the prestigious Aldryn College for Lunar Magics, but her healing abilities have always been mediocre at best—until a treacherous night in the Dovermere sea caves leaves a group of her classmates dead and her as the only survivor. Now Emory is plagued by strange, impossible powers that no healer should possess.
Powers that would ruin her life if the wrong person were to discover them.
To gain control of these new abilities, Emory enlists the help of the school's most reclusive student, Baz—a boy already well-versed in the deadly nature of darker magic, whose sister happened to be one of the drowned students and Emory's best friend. Determined to find the truth behind the drownings and the cult-like secret society she's convinced her classmates were involved in, Emory is faced with even more questions when the supposedly drowned students start washing ashore— alive —only for them each immediately to die horrible, magical deaths.
And Emory is not the only one seeking answers. When her new magic captures the society's attention, she finds herself drawn into their world of privilege and power, all while wondering if the truth she's searching for might lead her right back to Dovermere…to face the fate she was never meant to escape.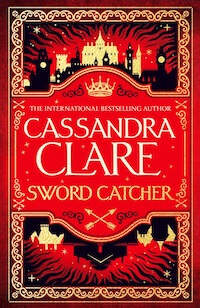 Sword Catcher by Cassandra Clare
Release Date: October 10 from Del Ray Books
Why We're Excited: Cassandra Clare joins the growing ranks of popular YA fantasy authors (Sarah J. Maas, Leigh Bardugo, Holly Black) making the leap to adult fiction. Sword Catcher (which, for the record is definitely not a Shadowhunters novel) follows the story of a pair of outcasts in the city-state of Castellane, a crossroads for the wealthy and influential elite.
Publisher's Description: In the vibrant city-state of Castellane, the richest of nobles and the most debauched of criminals have one thing in common: the constant search for wealth, power, and the next hedonistic thrill.
Kel is an orphan, stolen from the life he knew to become the Sword-Catcher—the body-double of a royal heir, Prince Conor Aurelian. He has been raised alongside the prince, trained in every aspect of combat and statecraft. He and Conor are close as brothers, but Kel knows he has one destiny: to die for Conor. No other future is possible.
Lin Caster is one of the Ashkar, a small community who still possess magical abilities. By law, they must live behind walls in the city, but Lin, a physician, ventures out to tend to the sick and dying of Castellane. Despite her skills, she cannot heal her best friend Mariam without access to forbidden knowledge.
After a failed assassination attempt brings Lin and Kel together, they are drawn into the web of the mysterious Ragpicker King, the criminal ruler of Castellane's underworld. He offers them each what they want most; but as they descend into his world of intrigue and shadow, they discover a conspiracy of corruption that reaches from the darkest gutters of Castellane to the highest tower of its palaces. As long-kept secrets begin to unravel, they must ask themselves: Is knowledge worth the price of betrayal? Can forbidden love bring down a kingdom? And will Lin and Kel's discoveries plunge their nation into war—and the world into chaos?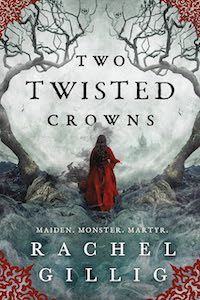 Two Twisted Crowns by Rachel Gillig
Release Date: October 19 from Orbit
Why We're Excited: Rachel Gillig's One Dark Window was a fascinating debut, and its darker and even more atmospheric sequel, Two Twisted Crowns, picks up right where its predecessor left off. A satisfying end to the Shepherd King duology.
Publisher's Description: Gripped by a tyrant king and in the thrall of dark magic, the kingdom is in peril. Elspeth and Ravyn have gathered most of the twelve Providence Cards, but the last—and most important—one remains to be the Twin Alders. If they're going to find the card before Solstice and set free the kingdom, they will need to journey through the dangerous mist-cloaked forest. The only one who can lead them through is the monster that shares Elspeth's the Nightmare.
Elspeth and Ravyn have gathered most of the twelve Providence Cards, but the last, and most important one remains to be found: The Twin Alders.
If they are going to find it before the Solstice and cure the kingdom of the dark magic infecting it, they will need to journey beyond the dangerous mist-cloaked forest that surrounds their kingdom.
And the only one who can lead them there is the monster that shares Elspeth's head. The Nightmare. And he's not eager to share any longer.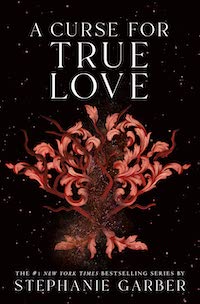 A Curse for True Love by Stephanie Garber
Release Date: October 24 from Flatiron
Why We're Excited: A Curse for True Love is the final installment in Stephanie Garber's Once Upon a Broken Heart trilogy, how could you not be excited?
Publisher's Description: Evangeline Fox ventured to the Magnificent North in search of her happy ending, and it seems as if she has it. She's married to a handsome prince and lives in a legendary castle. But Evangeline has no idea of the devastating price she's paid for this fairytale. She doesn't know what she has lost, and her husband is determined to make sure she never finds out . . . but first he must kill Jacks, the Prince of Hearts.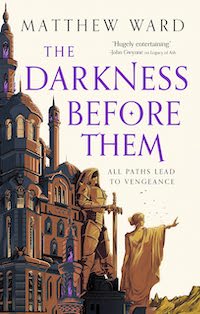 The Darkness Before Them by Matthew Ward
Release Date: November 7 from Orbit
Why We're Excited: The first installment in Matthew Ward's new Soulfire Trilogy, The Darkness Before Them is an immersive story of justice, soul magic, and more. 
Publisher's Description: These are dark times for the Kingdom of Khalad. As the magical mists of the Veil devour the land, the populace struggles beneath the rule of ruthless noble houses and their uncaring immortal king.
Kat doesn't care about any of that. A talented thief, she's pursuing one big score that will settle the debt that destroyed her family. No easy feat in a realm where indentured spirits hold vigil over every vault and treasure room. However, Kat has a unique she can speak to those spirits, and even command them. And she has no qualms using her power to her advantage.
Kat's not a hero. She just wants to be free. To have her old life back. But as rebellion rekindles and the war for Khalad's future begins, everyone—Kat included—will have to pick a side.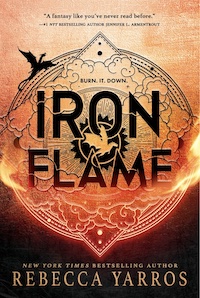 Iron Flame by Rebecca Yarros
Release Date: November 7 from Red Tower Publishing
Why We're Excited: if you read any kind of fantasy at all, you've surely heard of Fourth Wing, Rebecca Yarros's massively popular tale of romance and intrigue set at a war college for dragon riders. Its sequel, Iron Flame, drops this November, and basically, everyone's already counting the days.
Publisher's Description: Everyone expected Violet Sorrengail to die during her first year at Basgiath War College—Violet included. But Threshing was only the first impossible test meant to weed out the weak-willed, the unworthy, and the unlucky.
Now the real training begins, and Violet's already wondering how she'll get through. It's not just that it's grueling and maliciously brutal, or even that it's designed to stretch the riders' capacity for pain beyond endurance. It's the new vice commandant, who's made it his personal mission to teach Violet exactly how powerless she is–unless she betrays the man she loves.
Although Violet's body might be weaker and frailer than everyone else's, she still has her wits—and a will of iron. And leadership is forgetting the most important lesson Basgiath has taught her: Dragon riders make their own rules.
But a determination to survive won't be enough this year.
Because Violet knows the real secret hidden for centuries at Basgiath War College—and nothing, not even dragon fire, may be enough to save them in the end.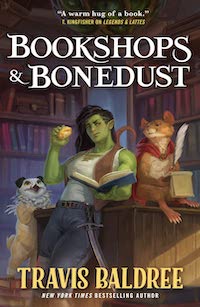 Bookshops and Bonedust by Travis Baldree
Release Date: November 7 from Tor Books
Why We're Excited: A prequel that gives us chance to return to the warm and cozy realm of one of last year's most unexpectedly great fantasy worlds, Bookshops and Bonedust is the heartwarming origin story you didn't know you needed.
Publisher's Description:  Viv's career with the notorious mercenary company Rackam's Ravens isn't going as planned.
Wounded during the hunt for a powerful necromancer, she's packed off against her will to recuperate in the sleepy beach town of Murk—so far from the action that she worries she'll never be able to return to it.
What's a thwarted soldier of fortune to do?
Spending her hours at a beleaguered bookshop in the company of its foul-mouthed proprietor is the last thing Viv would have predicted, but it may be both exactly what she needs and the seed of changes she couldn't possibly imagine.
Still, adventure isn't all that far away. A suspicious traveler in gray, a gnome with a chip on her shoulder, a summer fling, and an improbable number of skeletons prove Murk to be more eventful than Viv could have ever expected.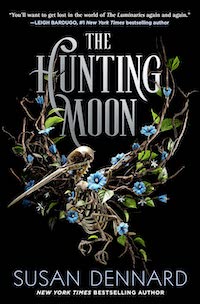 The Hunting Moon by Susan Dennard
Release Date: November 7 from Tor Teen
Why We're Excited: The highly anticipated sequel to The Luminaries, The Hunting Moon continues the story of Hemlock Falls, which—and I mean this in the best way possible—all feels like a welcome return to early 2010s paranormal YA fantasy.
Publisher's Description: Winnie Wednesday has gotten everything she thought she wanted. She passed the deadly hunter trials, her family has been welcomed back into the Luminaries, and overnight, she has become a local celebrity.
The Girl Who Jumped. The Girl Who Got Bitten.
Unfortunately, it all feels wrong. For one, nobody will believe her about the new nightmare called the Whisperer that's killing hunters each night. Everyone blames the werewolf, even though Winnie is certain the wolf is innocent.
On top of that, following her dad's convoluted clues about the Dianas, their magic, and what happened in Hemlock Falls four years ago is leaving her with more questions than answers.
Then to complicate it all, there is still only one person who can help her: Jay Friday, the boy with plenty of problems all his own.
As bodies and secrets pile up around town, Winnie finds herself questioning what it means to be a true Wednesday and a true Luminary—and also where her fierce-hearted loyalties might ultimately have to lie.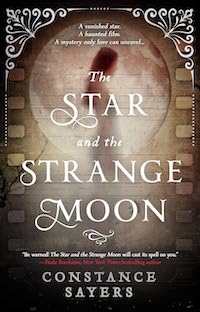 ​​The Star and the Strange Moon by Constance Sayers
Release Date: November 14 from Redhook
Why We're Excited: A horror-tinged tale of a missing actress and a haunted film, The Star and the Strange Moon has one of the most original premises of any release this Fall.
Publisher's Description: 1968: Actress Gemma Turner once dreamed of stardom. Unfortunately, she's on the cusp of slipping into obscurity. When she's offered the lead in a radical new horror film, Gemma believes her luck has finally changed. But L'Etrange Lune's set is not what she expected. The director is eccentric, and the script doesn't make sense.
Gemma is determined to make this work. It's her last chance to achieve her dream—but that dream is about to derail her life. One night, between the shadows of an alleyway, Gemma disappears on set and is never seen again. Yet, Gemma is still alive. She's been transported into the film and the script—and the monsters within it—are coming to life. She must play her role perfectly if she hopes to survive.
2015: Gemma Turner's disappearance is one of film history's greatest mysteries—one that's haunted film student Christopher Kent ever since he saw his first screening of L'Etrange Lune. The screenings only happen once a decade and each time there is new, impossible footage of Gemma long after she vanished. Desperate to discover the truth, Christopher risks losing himself. He'll have to outrun the cursed legacy of the film—or become trapped by it forever.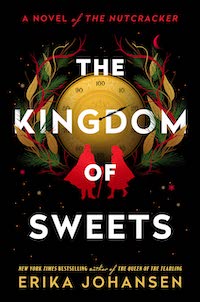 The Kingdom of Sweets by Erika Johansen
Release Date: November 28 from Dutton
Why We're Excited: The Queen of the Tearling series was so impactful for me as a fantasy fan that I'll gladly read anything Erika Johansen chooses to write afterward. That The Kingdom of Sweets is a dark Nutcracker retelling is just the icing on the cake.
Publisher's Description: Light and dark—this is the destiny placed upon Natasha and Clara, the birthright bestowed by their godfather, the mysterious sorcerer Drosselmeyer. Clara, the favorite, grows into beauty and ease, while Natasha is cursed to live in her sister's shadow. But one fateful Christmas Eve, Natasha gets her chance at revenge. For Drosselmeyer has brought the Nutcracker, an enchanted present that offers entry into a deceptively beautiful world: the Kingdom of Sweets.
In this land of snow and sugar, Natasha is presented with a power far greater than Drosselmeyer: the Sugar Plum Fairy, who is also full of gifts . . . and dreadful bargains. As Natasha uncovers the dark destiny laid before her birth, she must reckon with powers both earthly and magical, and decide to which world she truly belongs.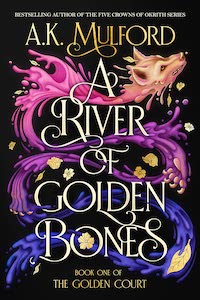 A River of Golden Bones by A.K. Mulford
Release Date: December 5 from Harper Voyager
Why We're Excited: Look, I'd read anything that came with a cover this gorgeous, but the prospect of a new romantasy series from A.K. Mulford (the mind behind the Five Crowns of Okrith series) is awfully tempting too.
Publisher's Description: Twins Calla and Briar have spent their entire lives hiding from the powerful sorceress who destroyed their kingdom…and from the humans who don't know they are Wolves. Each twin has their own purpose in life: Briar's is to marry the prince of an ally pack and save the Golden Court. Calla's purpose is to remain a secret, her twin's shadow . . . the backup plan.
No one knows who Calla truly is except for her childhood friend–and sister's betrothed–the distractingly handsome Prince Grae. But when Calla and Briar journey out of hiding for Briar's wedding, all of their well-made plans go awry. The evil sorceress is back with another sleeping curse for the last heir to the Golden Court.
Calla must step out of the shadows to save their, their kingdom, and their own legacy. Continuing to hide as a human and denying who she truly is, Calla embarks on a quest across the realm, discovering a whole world she never knew existed. Outside the confines of rigid Wolf society, Calla begins to wonder: who could she be if she dared to try?

All the Hidden Paths by Fox Meadows
Release Date: December 5 from Tor Books
Why We're Excited: Foz Meadows' A Strange and Stubborn Endurance was a fantastic and unexpected find—a queer fantasy that deftly explored everything from romance, identity, and sexuality all while telling a complicated story of political intrigue. That it's getting a sequel before the end of the year is a wonderful early holiday gift.
Publisher's Description: With the plot against them foiled and the city of Qi-Katai in safe hands, Velasin and Caethari have begun to test the waters of their relationship. But the wider political ramifications of their marriage are still playing out across two nations, and all too soon, they're summoned north to Tithena's capital city, Qi-Xihan, to present themselves to its monarch.
With Caethari newly invested as his grandmother's heir and Velasin's old ghosts gnawing at his heels, what little peace they've managed to find is swiftly put to the test. Cae's recent losses have left him racked with grief and guilt, while Vel struggles with the disconnect between instincts that have kept him safe in secrecy and what an open life requires of him now.
Pursued by unknown assailants and with Qi-Xihan's court factions jockeying for power, Vel and Cae must use all the skills at their disposal to not only survive, but thrive – because there's more than one way to end an alliance, and more than one person who wants to see them fail.
---
Lacy Baugher Milas is the Books Editor at Paste Magazine, but loves nerding out about all sorts of pop culture. You can find her on Twitter @LacyMB