Fleetwood Mac recently kicked off the second leg of its immensely successful "On With the Show" tour, its first to feature the invaluable Christine McVie since Rumours was only celebrating its 20th anniversary. Having caught the group's Atlanta stop in December, I can testify that witnessing their charisma and musicianship was well worth losing the internal organs I had to harvest to afford a couple of tickets. As with any band as enduringly popular as the Mac, the group has been the subject of a mountainous amount of scribing—most of it having to do with who slept with whom and who snorted what. I prepped for my first FM show after 40 years of humming "Monday Morning" and "You Make Loving Fun" by revisiting some of the more ephemeral entries in the bibliography. Few of these books will ever show up on a syllabus, but that doesn't mean they aren't enjoyable reads. Far from it. Whether quick cash-ins published when Rumours ruled the charts, insider exposés or entries in now-discontinued series, they each possess unique charm and curiosity. Dive in:

The First Wave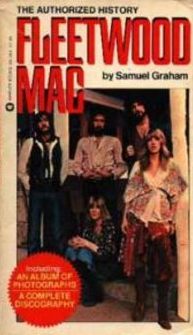 1. Fleetwood Mac: The Authorized History by Samuel Graham (1978)
From "private lives to platinum personalities," reads the back cover of this record-company-commissioned bio, but don't expect many behind-the-scenes insights. We are years away from tales of cocaine-on-the-membrane excess. Even the much-publicized breakups of the McVies and Buckingham and Nicks that made listening to Rumours in this period feel like aural rubbernecking are handled with kid gloves.
The main appeal here is the funky '70s lingo and the dated references: wives and girlfriends are "old ladies," tracks "cook like crazy" and Rona Barrett and Mary Hartman, Mary Hartman are namedropped as if they're lingua franca. (For non-geezers who weren't around back then, Barrett was a gossip columnist and Mary a TV show). Nicks is repeatedly introduced as "Stephanie 'Stevie' Nicks" just so we don't mistake her for a guy, as the publicity department at Warner Bros. did in early ads when she joined the lineup. Graham may also be the only writer in recorded history to describe Buckingham as "unassuming."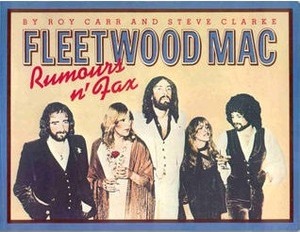 2. Fleetwood Mac: Rumours n' Fax by Roy Carr and Steve Clarke (1978)
Despite the title, this is not a book that explores the Mac's dependency on the cumbersome telecopying technology that took a 46-pound Xerox machine six minutes to transmit a single page of text across a phone line at the time. It is, instead, a poor man's version of The Beatles: An Illustrated Record (1975), which reached No. 2 on The New York Times trade paperbacks bestsellers list. Veteran rock critic Carr was the king of this format in the '70s and '80s, pithily assessing the discographies of everybody from Elvis to Bowie alongside four-color photo spreads and reproductions of period headlines and concert posters.
This book remains the best introduction to pre-Buckingham/Nicks FM, with entertaining appraisals of such classics from founding guitarist Peter Green as "Albatross," "Oh Well Part I" and "Black Magic Woman" (which some people still assume Carlos Santana wrote). Fans who consider the Green-led Then Play On (1969) an acid-casualty opus won't like Carr's dismissal of that cult classic, but he makes up for it by heralding Jeremy Spencer, the obscure 1970 solo outing by the group's second guitarist. (As fans know, Green quit FM at the height of its initial British success, troubled by rock 'n' roll materialism, while Spencer soon disappeared into the nether reaches of the Children of God.)
Carr's one sour note is his treatment of Buckingham Nicks, the 1973 duet that led Mick Fleetwood to recruit the couple when Bob Welch of "Sentimental Lady" fame quit after Heroes are Hard to Find—Carr calls the album "milk-tooth" and says its famously kitschy naked jacket photo is its best asset. One peculiarity of this book: the color photos are all printed backwards, turning guitarist Buckingham and bassist McVie into lefties.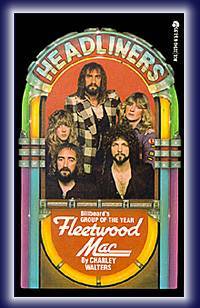 3. Headliners: Fleetwood Mac by Charley Walters (1979)
This book should more properly be called Hairliners, because its cover and photo section are glorious reminders of what utter furballs Rumours-era Mac were. We're talking white-man Afros as spherical as Saturn, thick British beards, blond waves of feathered tresses and those floppy poodle bangs of Nicks' that had every girl in seventh grade racing for her curling iron. The text itself is unremarkable, made up (as most future FM books would be) of quotes taken out of context from newspaper and magazine interviews. The most eye-popping of these cribbings comes from Buckingham as he predicts the band's musical direction after Rumours: "The style of future Fleetwood Mac albums won't change drastically." The imminent arrival of Tusk, aka the Bizarro-Rumours, would render this quote ironic to say the least.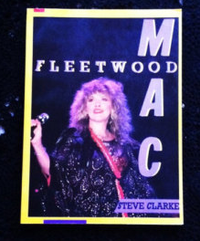 4. Fleetwood Mac by Steve Clarke (1984)
Clark authors the first career survey to cover the perceived failure of Tusk, which only moved 4 million units and, according to legend, robbed record execs of their annual bonuses. The economic impact on coke dealers and hookers was undoubtedly devastating as well. Far from a fan favorite, Clarke's bio is worth hunting down if only for its odd cover, which features a solo close-up of Nicks. Her first two solo albums, Bella Donna (1981) and The Wild Heart (1983), sold circles around both Tusk and its follow-up, Mirage, whipping up speculation that she would soon "go her own way," as punsters liked to quip. Even if the book jacket is a testament to Nicks' star power at time, leaving off the rest of the band seems a little harsh on the publisher's part.…

The Tell-Alls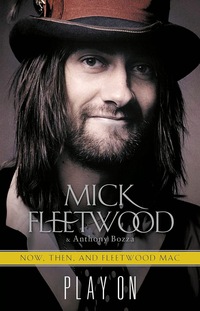 5. Fleetwood: My Life and Adventures in Fleetwood Mac by Mick Fleetwood and Stephen Davis (1990); Play On: Now, Then and Fleetwood Mac by Mick Fleetwood with Anthony Bozza (2014)
Fleetwood's two autobiographies ought to be read alongside each other, assuming, of course, that one has no life or obligations to attend. Some passages are virtually identical, while others reveal the band's genial "Big Daddy" backtracking on earlier unflattering remarks. The first book opens more dramatically with a scene depicting Fleetwood's 1984 bankruptcy, but the second goes into greater detail on the origin of those trademark surrogate testicles dangling on the cover of Rumours. (They're what in British pubs passed for a toilet lever).
The first book tries way too hard to persuade readers that the group's post-Buckingham future was rosy (1990's dull Behind the Mask would prove otherwise), but the second admits that Fleetwood should have pulled the plug on the band before tarnishing the brand with 1995's Time, which replaced Nicks with Bekka Bramblett, daughter of the early-'70s duo Delaney and Bonnie. The new book is more emotional and poignant, including a scene in which the drummer breaks the news of John McVie's 2013 cancer diagnosis to his ex-wife.
Unlike Fleetwood, Play On also does fans the major favor of sparing us the author's inventive synonyms for male genitalia. References in the first installment to "the Veal Viper" are enough to turn a reader vegan.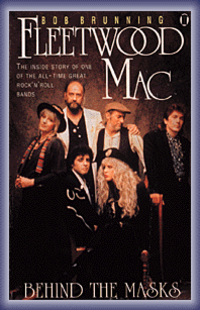 6. Fleetwood Mac: Behind the Masks by Bob Brunning (1991)
Brunning was FM's original bassist, hired by Peter Green in 1967 as a seat-filler when John McVie hesitated to leave his steady gig with John Mayall's Bluesbreakers, even though Green had already named half of the band in his honor. After a brief gig with the Savoy Brown Blues Band, Brunning became a London school teacher and headmaster, later authoring an influential history of the blues in Britain. He published two updates of this 1990 Mac bio under different titles (1998's Fleetwood Mac: The First 30 Years and 2004's Fleetwood Mac: Rumours and Lies), but the edition for collectors to seek out is this 1991 UK paperback. Who are those two unfamiliar guys on the cover, and what have they done with Lindsey Buckingham? (For the record, they're Billy Burnette and Rick Vito, who took on the unenviable task of replacing the Linds in 1987).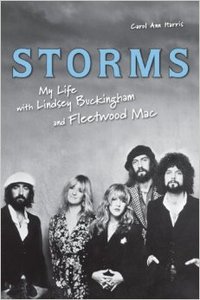 7. Storms: My Life with Lindsey Buckingham and Fleetwood Mac by Carol Ann Harris (2007)
And now we arrive at the most problematic entry in the FM library. Harris was Buckingham's post-Nicks girlfriend from 1976 to 1984. By her own account, she heartily partook of the Peruvian marching powder fueling the band, although she denies that her addiction drove Buckingham to give her the boot. (He supposedly wrote his solo hit "Go Insane" about her.) As John Bergstrom writes in an excellent Pop Matters review of this overlong memoir, "Throughout the book and the relationship it chronicles, the elephant in the room is the emotional and, more shockingly, physical abuse she claims to have suffered at the hands of Buckingham.… [I]s Harris describing isolated, drug-fuelled incidents that seem endemic of the time and culture she was living in—or serial, criminal abuse? Can she be trusted—even sympathized with—or is she out to make a buck?" Not surprisingly, fans remains divided about this one.

The Serious Stuff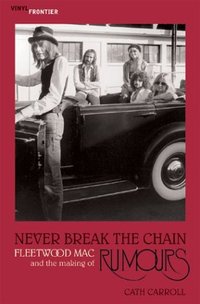 8. Never Break the Chain: Fleetwood Mac and the Making of Rumours by Cath Carroll (2004)
Given the landslide of attention to FM's romantic intrigue and drug abuse, discussion of the actual music sometimes seems a frustrating afterthought. In recent years, at least three valuable books have appeared that attempt to untangle the appeal of the band's landmark albums. Carroll's book, the first to appear, was part of a series called Vinyl Frontier that, unfortunately, Chicago Review Press discontinued after only a handful of entries, including useful studies of the Beatles' White Album and Beach Boys' Pet Sounds.
Never Break the Chain includes some insider revelations uncovered through interviews with the FM entourage, although there's little here that one can't find in the Classic Albums' DVD documentary that VH-1 aired back in the late '90s. My favorite section of the book actually has to do with the making of 1975's Fleetwood Mac, the band's warm-up to Rumours. According to producer Keith Olsen, the group couldn't get through a complete take of "Rhiannon" in the studio and almost ditched the song until he spliced a version together that convinced them otherwise.
One glaring omission: Carroll doesn't poll any of the thousands of now 38-year-old Rhiannons named after Nicks's Welsh witch in 1976. Had Olsen not saved the song, these women could have gone through life christened after Henry Gross's "Shannon" or Michael Martin Murphy's "Wildfire."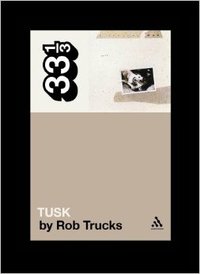 9. Tusk by Rob Trucks (2011)
One can approach this love letter to the anti-Rumours from one of two angles. On the one hand, as with many entries in Bloomsbury's 33-1/3 series, the book will strike a reader as self-indulgent, sprawling, formless, and in need of some serious editing. On the other hand, given that those adjectives perfectly describe Tusk, an album whose greatness lies in the fact that it's self-indulgent, sprawling, formless and in need of some serious editing, the style feels perfectly appropriate.
Trucks doesn't spend much time analyzing songs; the book is a tribute to the auteur spirit, reminding us over and over again that Fleetwood Mac probably would have made Rumours II if Buckingham hadn't demanded that they let him pursue his kooky muse. Readers may skim Trucks' long digressions into his own autobiography, which is too bad because they contain some interesting anecdotes, especially regarding the popularity of the Buckingham Nicks album in the author's native Alabama. The real draw of the book, however, are interpolated testimonials from indie rockers such as Camper Van Beethoven's Jonathan Segel and Dave Portner of Animal Collective, all of whom, not surprisingly, profess to prefer Buckingham's weirdly avant-garde cuts to the track that's most likely your mom's favorite (Nicks' "Sara," because your mom has excellent taste).
The book's money quote comes from Gretchen Heffler, a trumpeter with the USC marching band when Mick Fleetwood invited the Trojans to record the brassy riff to "Tusk" at Dodger Stadium (a recording session memorably captured on film, replete with Nicks twirling a baton): "We got free albums and things once [the record] was produced. I was with a bunch of people and we put it on the stereo and we listened to the whole album and kind of went, 'Oh my God, this is going to tank.' I mean, this is so abnormal to what was in the music scene at the time it's not even funny.…"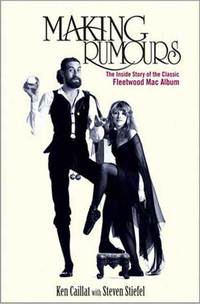 10. Making Rumours: The Inside Story of the Classic Fleetwood Mac Album by Ken Caillat and Steve Stiefel (2012)
Finally, at long last, if one book is essential to the FM library, this memoir by Rumours' co-producer and engineer is it. Caillat spends less time on the snorting and sexing and focuses on the nerdy minutiae of recording. The book is a fascinating exploration of the creative process, revealing the collaborative nature of music-making and the essential role of sound design. Want to know why Christine McVie's clavinet in "You Make Loving Fun" sounds so seductively funky? Or how Fleetwood's hi-hat was made to splash through Nicks' "Dreams" as hypnotically as a soft summer rain? Or how John McVie came up with the bass line to his ex-wife's "Oh Daddy?" (He may or may not have been imitating whale calls, whole albums of which were in vogue in the '70s. Caillat can't confirm the inspiration, though, because McVie is sloshed on vodka for most of the recording sessions and storms off whenever complimented for an inventive contribution.)
Despite the attention to sonic detail, the book doesn't scrimp on the soap opera and includes plenty of episodes of bickering for the voyeurs. Still, I'd much rather read about how Buckingham recorded a complete instrumental track to his fingerpicking extravaganza "Never Going Back Again" before realizing he couldn't sing it in that particular key, or how Fleetwood came up with the tom rhythms in the verses of "Go Your Own Way," than sit through scenes of romantic acrimony. (I have my own exes for that.)

Plenty of other Fleetwood Mac books can be found online. These—to me—are the Top 10 reads, however … at least until Nicks turns 90 and delivers her promised memoir or Fleetwood writes his third autobiography.