For The Record: Conversations with People Who Have Shaped the Way We Listen to Music by Red Bull Music Academy
Deep Hidden Meaning
Books
Reviews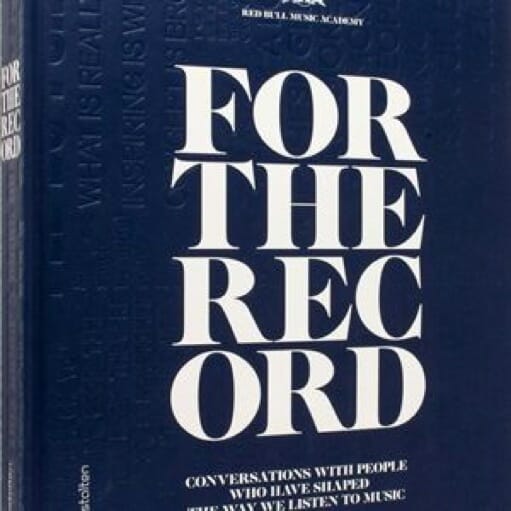 What kind of thinking leads to massive hits and new musical trends? This new book offers a look at the thought processes of a group of musical creators, from Motown arranger Paul Riser to hip-hop beat-maker Just Blaze.
The concepts that artists rely on when creating commercially and artistically successful music can be difficult to pin down. Maybe a musician won't share his or her secrets, worried that those treasures will promptly be stolen by the hordes of competitors. Or perhaps producers can't actually describe the sparks that lead to their precious creations—it's too difficult to capture that inspiration, wrestle it to the ground, put it into language.
For The Record tries to solve this problem by placing famous musicians in conversation with each other. Nile Rodgers, for example, the guitarist from disco-aficionados Chic, talks with Martyn Ware, who had '80s success with the likes of the Human League and Heaven 17. Jaki Leibezeit, drummer in the avant-garde German group Can, talks with Bernard Purdie, a player with James Brown, Quincy Jones and Steely Dan, and one of the most prolific and talented drummers in '60s and '70s R&B and pop.
Reading musicians' thoughts about their art helps draw connections among several of the genres, and it creates a broader picture of what might lead to artistic achievement. For the collection of musicians in this book, who traffic mainly in disco, rap and electronic music, inspiring movement stands apart as a crucial element—even if, like the drummer in Can or Throbbing Gristle guitarist Cosey Fanny Tutti, we don't explicitly associate the artists with "dance music." Movement provides purpose.
For Purdie, the path to artistic freedom leads straight to a dancing audience. He believes, "I need folks to dance. When you dance, you got 'em. You got 'em lock, stock, and barrel. Then we can do anything we want." Purdie's drumming on Aretha Franklin's "Rock Steady" provides a good example—his rhythm exerts an undeniable pull, flitting lightly, landing forcefully. The only elements the song requires to function? Purdie and Franklin. You could take away the bass, the guitar, and the other rhythm instruments and rebuild the song however you liked, with an orchestra, a brass band, or a group of kazoos. Purdie helps snare the listener, and once that happens, the musicians open a whole new world of possibilities.
For famous reggae drummer Sly Dunbar, the call to boogie feels just as basic: Inciting coordinated (or, as is often the case, uncoordinated) movement among listeners is the principal reason to make music. Like eating or breathing, "If you're not dancing, something is wrong." This guiding principle has allowed Dunbar to play with a huge group of artists, starting in reggae—Culture's Two Sevens Clash, for example, or Black Uhuru's Red—then expanding into other fields. He worked on albums by Grace Jones and Gwen Guthrie, who released a sinuous combination of funk, pop, and disco. He held down the beat for Bob Dylan and Talking Heads. But if Dunbar's belief seems basic, obviously it's easier said than done. Few other drummers have appeared on as many important recordings.
If rhythms get too tricky, dancing gets too difficult. This also relates to the other guiding principle for many musicians in the book: simplicity.
To be clear, simplicity doesn't mean easy. Patrick Adams, a producer and engineer with an impressive resume in soul, disco and hip-hop, once had an artist tell him, "'You're trying to give me a Lincoln. I'm looking for a Ford.'" He relates that "'it took about two years…to fully realize the implications of that…you can do what you need to do with less sometimes than if you go high-tech. I have found when I'm working with artists that if you keep things simple, it usually works best." This likely helped the producer when it came to engineering early hip-hop recordings like Salt-N-Pepa's "Push It" and Eric B. and Rakim's debut, Paid In Full. The genre offered a return to the simplest of building blocks, the beat and the voice.
Other artists side with Adams' story. Adrian Sherwood, an English producer and musician known for releasing reggae, punk and post-punk, expands on the importance of an uncomplicated approach. He believes it helps separate music from business and encourages collective musical action.
"Dub," he explains, "is a part of what the Jamaicans call 'version'… 20, 30, 40 cuts of a great rhythm… You would think that would apply to good R&B, but no. Because of the business people. The Jamaicans worked autonomous of the business… It's the most uncluttered music in the world." Through working and re-working the same templates, dub artists take a radical approach to music making (hip-hop comes close to this, as a variety of rappers take on the same parts of an old soul song or the exact same beat on a mixtape), wringing every ounce of meaning from a rhythm, forcing innovation within its constraints.
Nile Rodgers agrees: Simplicity implies versatility.
"When I write a song," Rodgers says, "I define it as DHM. Deep hidden meaning… as an orchestrator and arranger, I can change it to whatever style I want. I can turn it into a reggae song, change it to deep house, drum & bass… that's just the song." Paul McCartney suggested a similar thing in an interview with the BBC in 1964: "…the point is that the tunes that we write aren't in any iddum, idiom…For instance, 'From Me To You.' It could be done as an old ragtime tune…"
Rodgers' career reflects this adaptive view. His hits with Chic, Sister Sledge and as a solo artist—and more recently with Daft Punk—usually came to life as disco, but he could adapt easily to other forms, meshing David Bowie's electronic rock approach with groove, helping Madonna with string-heavy ballads and chugging synthesizer tracks, supplying Grace Jones with hammering, dark funk and Carly Simon with reggae styling.
The book doesn't always succeed, because not all the featured musicians speak articulately enough about their tunes to make interesting points. A few also suffer from a translation issue—namely the famous reggae producer Lee "Scratch" Perry, who exists in his own world. When asked about his "favorite effect," Perry replied, "There are two things that created life: One is 'pump um,' and one is 'titi.' So the pump um is the female and bass play part of a man, but he's not a man, he's a woman." This gets confusing.
Yet when pressed and prodded, musicians can offer key insights into their work. Later in his interview, Perry proclaims, "My sound represents thunder that's rolling in the heavens." That's about as good a description of his style as any you're likely to come across.
Elias Leight's writing about books and music has appeared in Paste, The Atlantic, Splice Today, and Popmatters. He comes from Northampton, Massachusetts, and can be found at signothetimesblog.