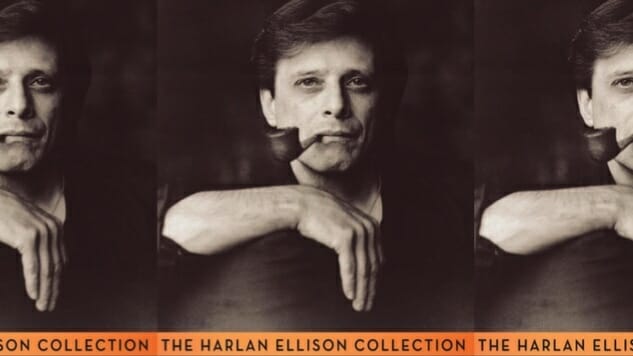 The legendary—and divisive—science fiction writer Harlan Ellison has died, as announced by Christine Valada on Twitter Thursday at the behest of Harlan's wife, Susan Ellison. Ellison died in his sleep; he was 84.
Susan Ellison has asked me to announce the passing of writer Harlan Ellison, in his sleep, earlier today. "For a brief time I was here, and for a brief time, I mattered."—HE, 1934-2018. Arrangements for a celebration of his life are pending.

— Christine Valada, J.D. (@mcvalada) June 28, 2018
After publishing his first piece in The Cleveland News at age 15 (after he ran away and joined the circus as a teenager), Ellison's writing career would go on to span six decades. He wrote short stories, screenplays, novels, TV scripts and even one comic. His work includes his short stories "I Have No Mouth and I Must Scream" and "'Repent, Harlequin!' said the Ticktockman."
Ellison is arguably most famous for penning what many consider to be the finest episode of Star Trek ever written, the first season's penultimate episode, "The City on the Edge of Forever." In the episode, Kirk goes back in time and falls in love, but must let the woman die to prevent the Nazis from winning World War II.
Famously argumentative, Ellison picked a lot of fights during his career. He sued AOL for copyright infringement and accused James Cameron of ripping off a script he wrote for Outer Limits in The Terminator. He demanded payment for his work and was known for his unofficial catchphrase "Pay the writer!" (as well as the laughably crotchety soundbite, "I don't take a piss without getting paid for it.") Still, Ellison invested in other authors. After meeting fellow science fiction great Octavia Butler at a workshop in 1970, Ellison would buy some of her early work and go on to serve as her mentor.
An outpouring of tributes have emerged on social media following Ellison's death.
Harlan Ellison: There was no one quite like him in American letters, and never will be. Angry, funny, eloquent, hugely talented. If there's an afterlife, Harlan is already kicking ass and taking down names.

— Stephen King (@StephenKing) June 28, 2018
My friend is dead and I am so sad. https://t.co/0OgaeLCj4m

— Neil Gaiman (@neilhimself) June 28, 2018
I once asked Harlan Ellison how many books and stories he hadn't had time to write because he just had to fuck around and pick a giant fight over every little thing.

He said, "Sure, but you can't let the bastards get away with it."

— W????? E???s (@warrenellis) June 28, 2018
Watch a trailer for the 2008 documentary Dreams with Sharp Teeth below to see Ellison at his cantankerous best.