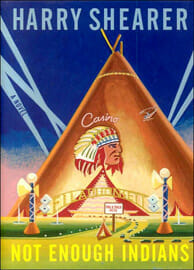 Harry Shearer — Not Enough Indians
Shearer creates a Simpsons-worthy small town
In his debut novel, Harry Shearer creates an ensemble cast as eccentric and amusing as any he ever voiced on The Simpsons or played on the big screen in This is Spinal Tap or A Mighty Wind.
The plot of Indians is Homer-worthy—Gammage, a small town in Upstate New York that even Wal-Mart won't touch, fakes a Native American heritage to build a tax-free casino in a last-ditch e?ort at solvency. The town is full of nuts, from a selectperson with a diaper fetish to a citizen activist who re?exively opposes every town motion. They get help from a Vegas mobster who can't keep control of his would-be gambling empire, and also a lifer in the Bureau of Indian Affairs who's under heavy pressure to improve public relations.
Shearer's satire is nimble and broad enough to skewer everything from public radio to pervasive consumerism, with just enough slapstick to keep the tone light and the laughs coming.