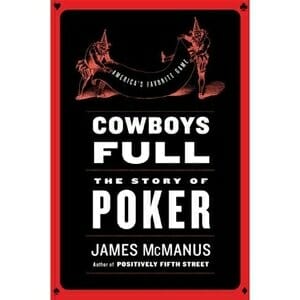 Go all-in on this one
James McManus parlayed an assignment for Harper's at the 2000 World Series of Poker into a fifth place finish in the Main Event. His new history of the game traces poker from its roots in China, the Middle East and Europe to today's cultural phenomenon of nonstop televised Texas Hold `Em.
Cowboys Full is loaded with colorful stories and even more colorful characters, not all of whom played by the rules. McManus attributes poker's ascent to American-national-pastime status to Holocaust survivor Henry Orenstein, who invented a table with glass panels through which cameras could reveal each player's hole cards. Prior to the pocket cam, McManus argues, poker on television was "akin to watching bears hibernate and smoke."
McManus does overplay his hand a little with Cowboys Full's "life is poker" theme. But, who knows? Maybe he's just bluffing.