Junot Díaz Cleared by MIT After Investigation into Sexual Misconduct Allegations
Photo by Andrew Toth/Getty
Books
News
Junot Diaz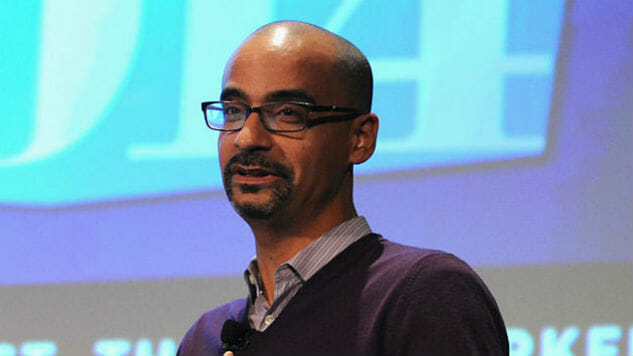 After a month-long investigation, MIT has cleared author Junot Díaz of allegations of sexual misconduct. Díaz teaches writing at the prestigious university and will now be able to continue to do so.
Díaz is the author of critically acclaimed novels Drown (1996), The Brief Wondrous Life of Oscar Wao (2007) and This Is How You Lose Her (2012), among others. He received the Pulitzer Prize for Fiction in 2008 for Oscar Wao. Previously, Díaz was awarded a MacArthur Genius Grant and was invited to lunch by President Obama to discuss his work.
Last month, author Zinzi Clemmons (What We Lose) stated that Díaz cornered her in a stairwell when she was his graduate student. "I was an unknown wide-eyed 26-year-old, and he used it as an opportunity to corner and forcibly kiss me," she stated on Twitter. "I'm far from the only one he's done this to, I refuse to be silent anymore."
Clemmons' accusations came after Díaz published a controversial essay in The New Yorker in April, describing how he was raped as an eight-year-old child, and how the traumatic experience has led to him having frequently troubled relationships with women. While many praised the honesty of the essay, others saw the essay as an attempt to get out in front of allegations that he has mistreated women.
After extensively interviewing Díaz and his fellow faculty, and asking students with concerns to come forward, the university found no evidence of misconduct by the author. "To date, MIT has not found or received information that would lead us to take any action to restrict Professor Díaz in his role as an MIT faculty member, and we expect him to teach next academic year," MIT said in a statement to WBUR.
Díaz continues to hold his position as the fiction editor at the Boston Review, which he has held for the last 15 years. Three poetry editors at the Boston Review quit out of protest. The Pulitzer Prize board is currently conducting an independent review of the accusations against Díaz that has not yet been resolved; the author has stepped down as the board's chairman.
Díaz's made a statement to The New York Times through his literary agent: "I take responsibility for my past," he said, without referencing specific actions. "I am listening to and learning from women's stories in this essential and overdue cultural movement. We must continue to teach all men about consent and boundaries."