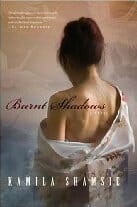 Placing the Displaced
This is Shamsie's fifth novel, and her most ambitious. In it, Hiroko, a Japanese woman, loses her German paramour, Konrad, in 1945's Nagasaki bombing. Displaced, her path leads to love with Sajjad—a male servant at the household of Konrad's half-sister Elizabeth Burton—in India. Partition forces her into motion again. The novel ends in the United States just after 9/11, with fate dictating yet another displacement.
Shamsie delicately builds the momentum of everyday life against the insidiously political situations of our times, arriving at surprisingly plausible plot twists. This is, more than anything else, a tribute to her skills as a writer of sharp, compact narratives that leave the reader enticed and provoked in equal measure.
Kamila Shamsie's book is the latest addition to a fertile crop of fiction emerging from one of South Asia's most fragile nations, Pakistan. In the past few years, a slew of writers—Mohsin Hamid, Mohammed Hanif and Daniyal Mueenuddin among them—have staked claim to a literary voice that more than matches the fiction emerging from Pakistan's bête noire, India.