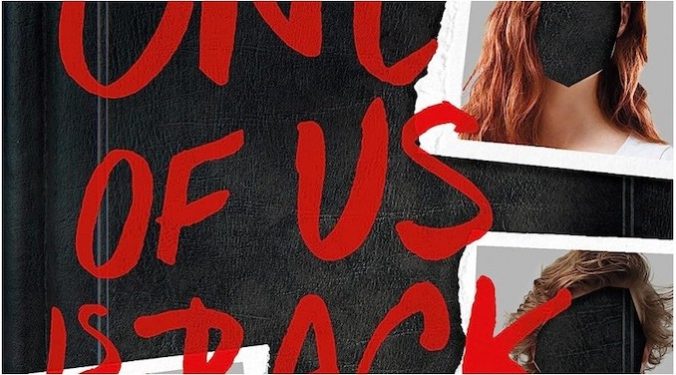 It is a truth universally acknowledged that no one writing in the young adult world today does teen thrillers quite like Karen McManus. The bestselling author of such hits as The Cousins, Nothing More to Tell, and You'll Be the Death of Me, she's probably best known for her One of Us Is Lying series, a trilogy of novels about a town named Bayview and the toxic, abusive, and occasionally deadly games teens play there. The series includes everything from a malicious gossip app and a mysterious murder in detention, to a copycat killer and a vicious game of truth or dare, and its breakneck packing and relentless twists established McManus as a must-read voice in this genre space.
The series' third and final installment, titled One of Us Is Back, offers a unique twist on the series' first two novels—it essentially combines them. Or, at least, it combines their primary characters. After the traumatic events of the earlier books, the group colloquially referred to as the Bayview Crew—comprised of the original Bayview Four (Nate, Bronwyn, Cooper, and Addy, their successors (Maeve, Phoebe, and Knox), as well as Cooper's boyfriend Kris and Maeve's boyfriend Luis—are all just trying to get on with their lives.
But their lowkey summer takes an uncomfortably tense turn after Jake (Addy's ex-boyfriend who tried to kill her and frame her for murder) gets released from jail on a technicality. And when a creepy new digital billboard pops up in town announcing that it's "Time for a New Game, Bayview," the group is more than a little concerned that history might be about to repeat itself (again). 
Frustrated by the Bayview Police Department's ongoing incompetence, the teens, their partners, and some unexpected faces join forces to try to suss out the truth behind the billboard, and a series of strange disappearances that begin when one of their own is kidnapped, and left with a threatening message scrawled into their skin. Along the way, McManus deftly delves into the ongoing trauma and PTSD many of the characters are still experiencing, and how each of them has changed and grown since their original appearances in the series. 
Nate, hustling at three different jobs to make ends meet and support his struggling/in-recovery parents, is determined to make himself into someone worthy of Bronwyn's love. Phoebe suffers under the weight of keeping the secret of her brother Owen's involvement in the copycat scheme that drove the plot of One of Us Is Next, and Abby battles her own ongoing anxiety about not only the possibility of Jake's release from prison but the way her relationship with him exposed cracks in her own psyche and self-esteem. 
The story shifts effortlessly between and among over half a dozen present-day POV characters, as well as a couple of other voices in flashback form (including One of Us's Lying's Simon, whose hold over Bayview it seems apparent will never be truly relinquished). And its breakneck pacing feels like nothing so much as a good old-fashioned Netflix binge, speeding through twists and revelations in thrilling fashion. But it is the mixing of the casts from the series' two novels that makes this such a compelling conclusion to McManus's trilogy, and the carefully crafted bonds that develop between various members of the two groups. 
Alongside multiple shocking revelations—-some of which retroactively impact events we saw in the previous books—stories of self-acceptance, honesty, and generational trauma unfold, each with surprising emotional depths. Granted, some of the final act's twists tend to skew a bit on the unbelievable and/or wildly convenient side, but because McManus keeps the emotional beats for each of her characters true, readers are unlikely to mind too much.
A sense of finality is shot throughout the book's pages—as several characters begin to consider a life outside of Bayview and the identities they've formed there—but the story's conclusion is ultimately a strangely hopeful one, which simultaneously acknowledges everything these teens have lost while celebrating the fact of their survival, and the people they've become in between. 
So often, popular YA trilogies don't manage to stick the landing, struggling to figure out how to bring a series' larger stories to a close or what its ultimate message was. The One of Us Is Lying series successfully eschews that problem by staying true to the messages that have always worked for the series: Secrets always come out. The truth can set you free. And there's no one you can count on like your friends. It's been real, Bayview. 
One of Us Is Back is available now wherever books are sold. 
---
Lacy Baugher Milas is the Books Editor at Paste Magazine, but loves nerding out about all sorts of pop culture. You can find her on Twitter @LacyMB