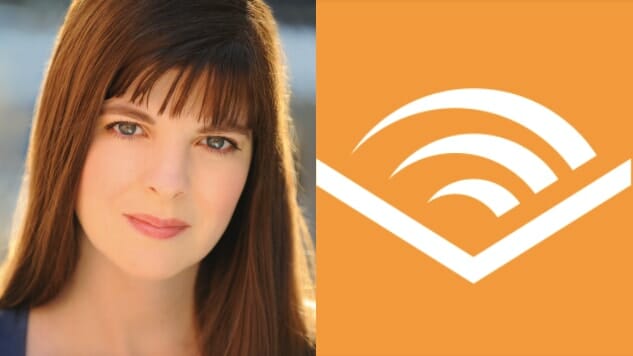 Enthralling audiobook narrators don't achieve celebrity in the way that television or film or music stars do, but theirs is easily the most intimate art form we can consume. Their voices live inside our brains for long, solitary hours, paving the new neural pathways every new reading experience creates. A great audiobook narrator lives with us as deeply as our own thoughts.
Katherine Kellgren, the phenomenal narrator of over 200 audiobook titles and winner of more than a dozen Audies, passed away earlier this month. Her voice now lives in the marrow of countless readers, and it will shape the thoughts of countless more. And there will be more—her participation in a project, whether solo narration or collaboration, was like a celestial stamp of approval: listen to this one, it says, this one is worth the precious few hours you have on this earth.
While there is a kind of thematic thread running through Kellgren's catalogue-she favored stories starring children or plucky young ladies or clever bunnies, more often than not taking place in an earlier time period than our own—she never put herself in a box. "It's very important to never judge a book," she told Wired in 2015. "If you judge a book while you're reading it, then you're the one who looks like a fool."
This means that if you browse your favorite genre, there's likely a Kellgren performance waiting for you-from sleuthing royals to David Foster Wallace essays to Nordic noir. And if you're looking for somewhere to start, here are five of our favorite rollicking, raucous and ridiculously charming Kellgren performances—all of which will keep her memory vibrant for generations of listeners to come.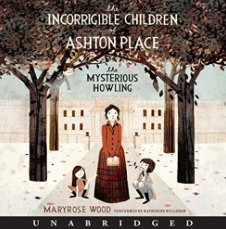 1. The Incorrigible Children of Ashton Place Series by Maryrose Wood
Awards: AudioFile Best of 2010 Children (Book 1: The Mysterious Howling)
Run time: 5 hours and 28 minutes (Book 1: The Mysterious Howling)
The Incorrigible Children of Ashton Place series follows a confident governess and her three wolf-raised (and possibly actually wolfish) charges. All three of them speak with variously wolfish diction, including growls, barks and howling. In the wrong hands, so much wolfishness laid on top of young children's voices could easily go haywire. In Kellgren's expert grasp, it is the most delightful comedy of beastly British errors since Paddington.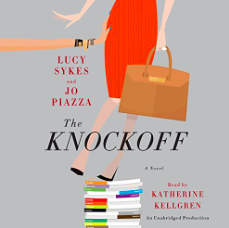 2. The Knockoff by Lucy Sykes and Jo Piazza
Run time: 12 hours and 10 minutes
The Knockoff is a book for anyone who has A) a job, B) intergenerational anxiety, C) a desire to add more worst-case scenarios to their daily inner catastrophizing or D) all of the above. The novel centers around a Millennial disruptor who stages a coup during a fashion magazine's Editor-in-Chief's mastectomy leave with the aim of turning the venerable print institution into an app. And while most of the success of this satisfyingly stressful book comes from the writing, Kellgren's narration—which shifts between the EIC's refined British, the disruptor's husky American and the new assistant's piercingly "Millennial" uptalk-extracts the maximum level of anxiety and vicarious thrills from the listener.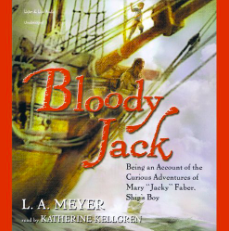 3. The Bloody Jack Series by L.A. Meyer
Awards: Best Female Narrator, 2016 Audies; Best Teen Narrator, 2012 Audies; Best Solo Narration—Female and Best Teen Narration, 2009 Audies; Best Children's 12+ Narrator, 2008 Audies; AudioFile Best of 2011 Young Adult
Run time: 7 hours and 26 minutes (Book 1: Bloody Jack)
This middle grade, gender-swapping pirate series is what audiobook dreams are made of! There are pirates (and a girl disguising herself as a boy to be one), sea shanties, fiddle tunes and every accent on the Atlantic Ocean. With Kellgren and her mastery of over-the-top British and kids' voices on board (pun intended), picking the audio for this read is a no-brainer.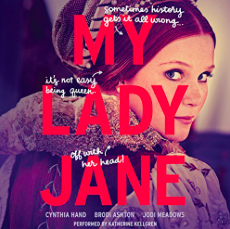 4. My Lady Jane by Brodi Ashton, Cynthia Hand and Jodi Meadows
Run time: 13 hours and 47 minutes
This alternate, Young Adult reimagining of tragic moment in Tudor history is hilarious, which means it needs a narrator with a keen sense of comedic timing. Kellgren's intense vocal control is put to great use in all her performances, but in My Lady Jane—with all its shouting and wooing and poisoning and politicking and sudden animal-human transformation—it is in top form. Plus, the story is told with tongue-in-cheek asides from the authors, which takes on an extra meta-narratorial dimension when performed by Kellgren as literal narrator. It's narrator-Inception, and it's magnificent.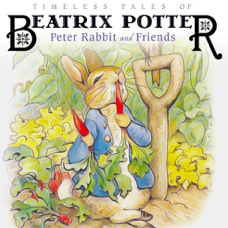 5. Timeless Tales of Beatrix Potter: Peter Rabbit and Friends by Beatrix Potter
Run time: 3 hours and 31 minutes
Beatrix Potter's critters fit directly into Kellgren's cozy wheelhouse, and Peter's adventures pop with her interpretation. If you have kids who need a good bedtime story when you're too tired to read, this is a perfect choice. And if you're an adult looking for your own bedtime story, well, Katherine Kellgren is here for you, too.

Katherine—Thank you for your voice. It will live with us forever.
Kellgren's husband has requested that anyone who wishes to do so give to the Hispanic Federation in his wife's memory.
---
Alexis Gunderson is a TV critic and audiobibliophile whose writing has appeared on Forever Young Adult, Screener and Birth.Movies.Death. She'll go 10 rounds fighting for teens and intelligently executed genre fare to be taken seriously by pop culture. She can be found @AlexisKG.