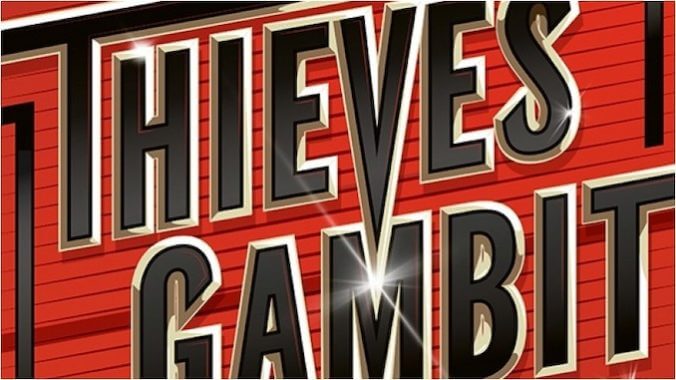 It may only be March, but Kayvion Lewis's Thieves' Gambit is already building major buzz as one of the must-read YA releases of the Fall. Lionsgate Studios has already snapped up the film rights, and its dramatic, high-stakes story, in which a cutthroat competition brings together the world's best thieves to compete for the chance to earn a wish that could change the world (or, at the very least, their own lives) sounds as though it was made for Hollywood.
A cinematic heist thriller, Thieves' Gambit is the story of a master thief who longs for a different kind of life—one with a lot less need for escape in it—but who must instead put her skills to the test in a dangerous, potentially life or death game to try and save her mother.
Here's how the publisher describes the story.
At only seventeen years old, Ross Quest is already a master thief, especially adept at escape plans. Until her plan to run away from her legendary family of thieves takes an unexpected turn, leaving her mother's life hanging in the balance.
In a desperate bid, she enters the Thieves' Gambit, a series of dangerous, international heists where killing the competition isn't exactly off limits, but the grand prize is a wish for anything in the world—a wish that could save her mom. When she learns two of her competitors include her childhood nemesis and a handsome, smooth-talking guy who might also want to steal her heart, winning the Gambit becomes trickier than she imagined.
Ross tries her best to stick to the family creed: trust no one whose last name isn't Quest. But with the stakes this high, Ross will have to decide who to con and who to trust before time runs out. After all, only one of them can win.
Thieves Gambit won't arrive on shelves until September 26, 2023, but we're excited to be able to offer a first look at its cover right now.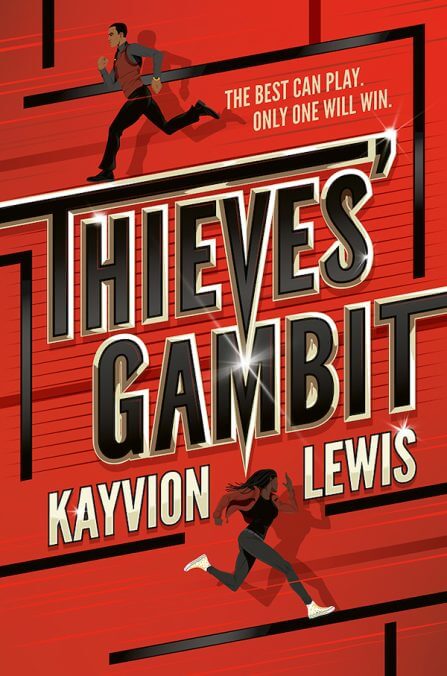 We also had the chance to chat with the author herself about the inspiration behind the story, what to expect from its heroine, and lots more.

Paste Magazine: Tell us a little bit about Thieves' Gambit. How did you come up with the idea for this story?
Kayvion Lewis: Thieves' Gambit is my personal fever-dream adventure/action day-dream put to paper. It's got globetrotting, car chases, galas, arch-enemies, family secrets and messy friendships, all wrapped up in the framework of a multi-part, international thieving competition. I've heard other people calling it Ocean's Eleven meets The Hunger Games, but I personally think Mission Impossible meets Squid Game with a dash of Inheritance Games is more accurate, what with the outrageous action set pieces, multi-part deadly game, and family secrets element.
I know it's cliché, but the idea for Thieves' Gambit came to me in a dream. (A disembodied voice sort of just told me the premise.) I woke up convinced that someone had written this book already, and spent the morning googling things like "thieving competition book", "thriller thief game", and "heist YA books not fantasy". Turned out no one had written the book I'd dreamed about! Of course, I dropped the project I was working on and started writing Thieves' Gambit that day.
Paste: How would you describe Rosalyn Quest—which is an amazing name for a heroine by the way!—and what the arc of her story is?
Lewis: So glad you love the name! Fun fact: Rosalyn Quest is actually named after two of my favorite family members. Rosalyn is my mom's legal name (Though she didn't discover this until she was forty. Long story, but her parents forgot her real name after she was born and were calling her the wrong name her whole life.) My aunt's married name is Turnquest. I was using that as a placeholder last name, but eventually dropped the "Turn" and ended up with Ross Quest.
Ross is the coolest, slickest protagonist I've ever written—but she's also awkward and a bit socially inept, at least when she's not pretending to be someone else for a job. She longs for friendship and connection with people outside of her small family, but having grown up in a world all about double-crosses and fake identities, her training tells her that trusting outsiders is dangerous. Naturally, Ross's arc is all about trust. Can she trust another thief? Is everyone out to get her? If not, how does she know who's safe to trust and who's not? Is she allowed to risk her own heart, even if it puts her family in danger? A high-pressure competition where some of her competitors might be trying to kill her isn't the most ideal place for her to be figuring all this out, but whatever. She can multitask.
Paste: Tell us a little, if you can, about some of the other supporting characters in the book. Personally, I am intrigued by the "handsome, smooth-talking guy who might also want to steal [Rosalyn's] heart"…."
Lewis: I'm as in love with my supporting cast as I am with Ross! They're nine teens from nine different countries who all share two things in common: they're really good at stealing things and they all want to win.
I won't give you all of their life stories, but their ranks include: Ross's nemesis from a rival thieving family, a fashionista who wears weapons like jewelry, a grumpy boy obsessed with becoming the most perfect thief possible, a tech girl who's not as ditzy as she wants people to think, oh, and the hot British guy who's got to be hiding something…right?
Paste: The idea of a thieving competition that basically goes around the world committing crimes is fascinating! What do you think it is about these high-stakes competition stories (I'm thinking everything from books like The Inheritance Games and All of Us Villains) that is making them so popular right now?
I think stories that center around competitions or games, where the rules of the world are spelled out instead of implied, lend themselves to being more tense and addictive by default. A heist is cool, but a heist that must be completed within a time limit, while eight other thieves are working against you, and is just one in a series of escalating heists you have to complete? That's, like, extra cool.
The competition framework also has the dual benefit of making the scenario more difficult for the characters—which usually makes for a more compelling read—and turning the story into a puzzle for the reader as well. They know the rules of the game too, so they get to figure out how to win along with the characters. Life is so stressful nowadays. Games have always been a form of escapism, just like reading. Maybe books about games/competitions double the experience.
Paste: I read that Lionsgate already has the adaptation rights to Thieves' Gambit. Was it strange to know that someone is already thinking about making a movie of your book when it hasn't even hit shelves yet? How excited are you to see your characters on screen?
Lewis: It's sooo strange! It was especially bizarre at first, since we started receiving film/TV offers before we sold book rights. (We ended up with 18 offers total! Still blows my mind.) I've been in the unique position of simultaneously working on Thieves' Gambit the book and Thieves' Gambit the movie, so I guess the weirdest thing is having two versions of my story on my plate at the same time. One of the cooler things is chatting with my producers and screenwriter about expanded details about the world and character backstories that didn't quite make it into the book.
I think the most surreal experience of my life will be seeing characters I made up in my head portrayed by real people. I can't wait to see them brought to life in all their stylish, petty, sticky-fingered glory.
Paste: What is the one thing you hope people take away from this book and Rosalyn's story?
Lewis: No matter how old you are or what your passion is, whether it's anime or reading or high-stakes heists, it's never too late to find your crew.
Thieves Gambit will hit shelves on September 26, 2023, and you can pre-order it right now.
---
Lacy Baugher Milas is the Books Editor at Paste Magazine, but loves nerding out about all sorts of pop culture. You can find her on Twitter @LacyMB.