Jo and Laurie Find Romance in This Excerpt from a Novel That Reimagines Little Women
Photo of Melissa de la Cruz by Maria Cina; photo of Margaret Stohl by Joseph Moretti
Books
Features
Little Women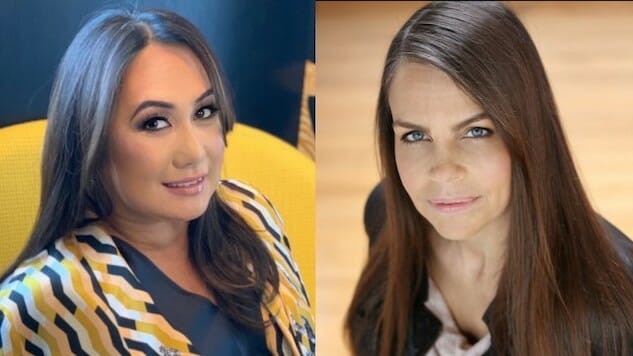 If you wanted Jo and Laurie to end up together in Little Women, you're not alone. Bestselling authors Melissa de la Cruz and Margaret Stohl have set out to "[right] the wrongs of fictional history" in their new Young Adult novel, Jo & Laurie, which imagines a romance between the beloved characters.
In Louisa May Alcott's Little Women, (spoiler alert) Jo marries Professor Bhaer and Laurie marries Jo's younger sister Amy. But readers have fantasized about a marriage between Jo and Laurie ever since Alcott's novel was published in 1868. When Jo & Laurie hits shelves next summer, readers will finally see the results of that romance in print.
Intrigued? Here's the novel's description from the publisher:
After the publication of Little Women, Jo March is shocked to discover her book of scribbles has become a bestseller, and her publisher demands a sequel. While pressured into coming up with a story, she goes to New York with her dear friend Laurie. But despite her growing feelings, her desire to remain independent leads her to turn down his heartfelt marriage proposal and sends the boy off to college heartbroken. But when Laurie returns to Concord with a sophisticated new girlfriend, will Jo finally communicate her true heart's desire or lose the love of her life forever?
We're excited to reveal an exclusive excerpt from the novel, which features a conversation between Jo and Laurie at a secret swimming hole. But first, we want to share the details of how de la Cruz and Stohl developed their story.
You two are longtime friends and bestselling authors in your own right. What made you want to collaborate now, and why on Jo & Laurie?
Melissa de la Cruz: I had always loved Little Women—my favorite was Jo's Boys—and doing some kind of re-telling was an idea I'd had for a long time. Jo March is the writer every little girl grows up wanting to be, and I was no different. So I'd been wrestling with the idea for a while, but when I mentioned it in passing to Margie, she just completely flipped out. I didn't realize I was offering up her dream project, or that she had spent years studying Alcott and her contemporaries in grad school.
Margaret Stohl: I had also loved Little Women, but my real fascination with 19th century American Literature began at Amherst College, where Emily Dickinson's home was just a few doors down from my dormitory. By the time I went on to Stanford and Yale, I was obsessed with the entire period—not just with its stories, but also with how they were read, with who was reading them, with the popular culture surrounding them—especially when a woman's voice was involved.
How did you collaborate as authors?
de la Cruz: Margie wrote a bunch of pages to crack the tone of the book while I outlined the larger structure. Then we both wrote the book together, trading it back and forth until we were ready to kill each other over certain lines being in or not. Kidding. Not really. It was a very passionate project and we got a bit heated because in the end, we really, really, really cared about this book.
Stohl: It's true. We fight like siblings and if you have a sibling you know how bloody that can be. But it was worth it; it always is with us. Whether it's a book festival or a book, we bring out the best in each other. Well, first the worst, then the best. When I waffle on, she cuts me off. When she goes short, I give her loft. It's the messiest possible kind of perfect, like our friendship.
Jo & Laurie is a clever spin on some beloved and well-established characters. What can readers expect?
de la Cruz: Readers can expect to enjoy going back into the world of Little Women and seeing beloved characters brought back to life, but they'll also be getting to know them in a deeper way. I feel like we have known these characters for so long, but then seeing them again on the page is such a delight. It was really amazing to see how Jo and her sisters—and her Laurie—still just leap off the page even in a retelling. Our book is set in between the publication of Little Women and Good Wives; the book that we now know as Little Women was originally written and published in two parts. Our book imagines that Jo has published the first book which became a massive success and is now struggling with the sequel, in which she has to finish all the marriage plots she has set up in the first. No pressure!
Stohl: That's what was so interesting to us. Almost everyone who reads the original book struggles with the same question we had—why would Jo refuse Laurie? And relatedly, why would Louisa May Alcott set up one of the greatest YA romances ever written, only to walk away from it? So our book writes that romance. And—spoiler alert—oh yes. Yes, yes yes! If, like us, you've ever been frustrated that Jo and Laurie don't end up together in the original, this is the book for you! If you thought Professor Bhaer was just an insult, this is the book for you! If you never believed Laurie would end up paired off with essentially his little sister, this is the book for you!
This is the fan fiction of fan fictions, and we honestly wrote it for ourselves more than anyone else. But also, our book is about what it is to be a girl and a writer when you are also a sister and a daughter, in mourning and in love, in success and in failure. Something Mel and I know all too well.
Penguin Teen will release Jo & Laurie on June 2th, 2020, and you can pre-order the novel here.

The water was bracing and cold. It took the breath from their chests and the blush from their faces. There, surrounded by moss and overgrowth, splashing in the same dark green water they'd been swimming in since they were children, everything became and remained as normal as it ever had been or ever could be.
It was a place for secrets, the swimming hole. Their secrets. It always had been.
It was true that most girls wouldn't have gone swimming in their britches with the boy from next door—but most girls weren't bohemian writers setting out to make a name for themselves as the voice of their generation, and most boys weren't Laurie.
Besides, they weren't only best friends—they were loyalists. Neither one of them would ever tell.
"I'm meant to write this book," Jo finally said, treading water. "And I hate it."
"You will," Laurie said, treading next to her.
"I don't know if I have another one in me." She felt her knickers swishing back and forth beneath the water.
"Then don't write it?"
"But I have to! For money, Teddy. I signed a contract. Good Wives. The Roberts Brothers say the story's not finished the way it is."
"They do?" he asked. "Is it or isn't it? Wouldn't you know? Aren't you the writer?"
"You would think."
"So?" The word gurgled out with a mouthful of pond water.
"So I don't want to write it," Jo said simply. "I can't make it…tidy. Tie up all those loose ends in a nice, neat bow. They're ours to tie…or untie. I won't do that to my family. Marry them off like that."
"So…don't." Laurie was looking at her strangely now, almost as if he had never seen her before. She could only imagine what she looked like, soaked through her two undershirts, with at least one, maybe two vines in her hair. Not that she cared, although it was maddening to realize she might, a little.
"Don't write it? Just like that?" She kicked her legs beneath her.
"Just like that," Laurie said.
"But it's meant to make us our fortune," Jo said, mulling. "My family, I mean."
"A fortune? From a book? I'll be damned." He went under the water, then came bursting back to the surface, shaking and spraying water from his hair like a hound. "Do you care?"
"Spoken like a true Laurence." Jo tipped her head back until the cold crept all the way up her pooling brown hair to her forehead. She kicked harder, grazing his leg with her toe.
"Was that a yes?" He looked confused.
She yanked her head forward, letting the water drip into her eyes. "Not everyone is a Laurence, Teddy."
"But you're a March." He grabbed a handful of the ferns growing out of the bank, holding himself above the water enough to stop kicking. "Marches don't care about that sort of thing. That's part of their—your—magical…"
Jo leaned on his shoulder and he pressed his chin against the top of her head, putting an arm around her to help keep her head up from the surface.
"Magic," he said.
"Really." Jo smiled, moving slightly away so that she could look him in the eye.
His eyes twinkled. "You're the writer."
Now she could feel his pruned fingers against her arm as he supported her weightlessness easily against him. "Life could be easier. Just because we don't talk about it doesn't mean it's not a weight on Mama Abba…on all of us. But that doesn't make it a virtue, either. Not for my family. Not for me."
He pulled her arm around his shoulder so that he was holding her steady. "You and your family, Jo. That's what makes Orchard House so wonderful."
"Please do give me a church sermon in your underwear in this watering hole." She rolled her eyes, feigning annoyance.
He laughed. "I'm allowed to think you're wonderful, Jo. I've never pretended not to."
She rested her chin on his cold shoulder. His shirt stuck to his muscled body like a second skin, and she found herself looking away. "Being poor doesn't make anyone wonderful, just like being rich doesn't."
"I didn't mean that," he said quietly, letting one hand fall on her back at her waist, as if to better support her. "I just mean—you shouldn't worry about it. Grandfather and I…we'd never let anything happen to you. To any of you."
She knew he spoke the truth. She'd seen it herself, they all had, when Beth needed special doctors, special medications, special treatments.
Jo shivered. "That's the thing. I don't want to let anyone—not you, not your grandfather—let me do anything. I want to…let myself…if there's letting to be done."
Even if it means writing the damnable book.
She had done well so far, hadn't she? She and her sisters didn't need to make rich matches and fortunate marriages. That wasn't the story that she was going to tell. Not at all!
"You're the writer," he repeated, though he didn't move his hand away. How strange it felt, the growing warmth pressing through the cold, cold water. So comfortable and familiar and welcome, and yet…and yet…
"We should go," Jo said, suddenly breaking free from his arms. She kicked across the pond and climbed up the rock, shrugging back into her clothes, dripping wet. "Race you home."
Laurie's only answer was a great leap past her, leaving his coat on the shore.
And with that, they raced all the way back to Orchard House—chasing and hollering and stumbling, frightening every chattering magpie along the path—until they collapsed in the garden, breathless children again.