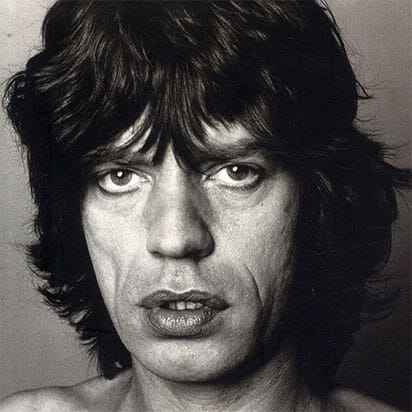 Mick Jagger – written by Philip Norman, who has previously authored books about John Lennon, Buddy Holly, Elton John, and the Rolling Stones — adds yet another entry to the seemingly endless chronicles of the Stones. 2012 marks the group's 50th anniversary, and there may not be another musical entity in history that has been as well documented.
Over the years, directors have put together countless documentaries, from all stages of their career – Gimme Shelter, depicting their famous Altamont concert, where four fans were killed; Cocksucker Blues, grainy footage from famous photographer Robert Frank that floats around the Internet displaying the Stones at their most hedonistic; Shine A Light, where Scorsese shows the Stones in post-82 mode (1981 being the year of their last good album, Tattoo You) playing to baby-boomers with booming bank accounts. This year added two more entries to this list, Charlie Is My Darling, which shows the band on tour in Ireland back in 1965, and Crossfire Hurricane, out recently on HBO, which contains scenes of the band in various decades.
We also have the photo books, full-band histories, cultural accounts of the '60s and '70s, fact books, Life magazine compilations, and Playboy interviews. And of course biographies and autobiographies, a few of which focus on the Stones' less-famous members: Brian Jones, one of the founders, who died in 1969; Charlie Watts, drummer; Bill Wyman, bassist; Ronnie Wood, the band's third lead guitarist. Naturally, the lion's share of the bios focuses on the Stones' two heads—"the glimmer twins"—guitarist Keith Richards, who famously works with great success to look more like a member of the undead every year, and lead singer Mick Jagger, who attempts with less success to try to maintain his youthful, swinging-fashionista persona.
Jagger and Richards have been at odds frequently throughout their careers. In that life-long competition, Richards's score (point total, not the kind of score that preoccupied him for much of his life) went up in 2010, when he released his much-lauded autobiography, Life, which often described Jagger as a vain primadonna with less talent than his guitarist. The people in the Jagger camp may have noticed this and worried their boy was falling behind. They increased their Mick production as a result; a quick search on Amazon indicates that four new Jagger-centric books came out in 2011 and 2012, including this one.
Author Norman suggests that Jagger cultivates a slippery blandness with the media that allows him to avoid "months boringly closeted with a ghostwriter, or answer[ing] awkward questions about his sex life." (According to Norman, Jagger put together a draft of an autobiography in 1983, but the "manuscript was pronounced irremediably dull by the publisher and the entire advance had to be returned".) Thus, since Jagger has bowed out, either unable or purposely unwilling to talk about himself, it becomes Norman's duty to write this book.
Mick Jagger begins with a series of hyperbolic and hagiographic statements. Norman writes that "despite all the proliferating genres of 'new' rock 'n' roll, everyone knows there is only one genuine kind and that Mick Jagger remains its unrivaled incarnation," and, "Without Mick, the Stones would have been over by 1968." These assertions appear not just disputable, but unnecessary – does Jagger really need Mr. Norman's endorsement?
Norman then invites the reader to fantasize:
Jagger's reputation as a modern Casanova is unequaled. . . looking at the craggy countenance, one tries but fails to imagine the vast carnal banquet on which he has gorged, yet still not sated himself. . . the unending gallery of beautiful faces and bright, willing eyes. . . the countless brusque adjournments to beds. . . the ever-changing voices, scents. . . the names instantly forgotten, if ever known. . .
While this passage seems to set the table for a scintillating variation on 50 Shades Of Grey starring Mick Jagger, the book does not focus solely on Jagger's sex life, and after a wobbly start, contains only a few instances of Mick-worship. Norman takes a more predictable path, beginning with Jagger's stable childhood, his introduction to blues music, and his meeting with Richards and the rest of the boys. Originally Michael Phillip Jagger, he became Mick. Once the Stones settled on their image as unkempt, naughty boys and released their first hit, it's off to the races: girls, booze, love triangles( and rectangles and more complex geometric figures), breakups, fabulous houses and apartments, drugs, famous friends, marriages, divorces, albums, tours, parties, and contracts.
We know well the contours of the Stones's musical story – their early obsession with the blues, frequent attacks by screaming hordes of women, the move from covers to original material, a detour into psychedelia followed by a retrenching into the old American music that got them going in the first place. We're familiar with the band's increasingly wild and substance-addled way of life, Brian Jones's death, exile from England because of unpaid taxes, records made in a mansion in Southern France that once belonged to the Nazis, and some amazing albums between 1968 and 1978.
So much of the interest in Norman's book comes from small details, nifty tidbits about Jagger. His dad coached the highly un-English sport of basketball for a period, and Jagger enjoyed shooting hoops. The nickname "the glimmer twins" apparently came about when an out-of-the-loop "middle-aged British couple" on a cruise with Jagger and Richards asked the two men to give them "a glimmer" about their identities.
Norman provides a lot of information about Jagger's various relationships and his screen career. Jagger the wannabe movie star gets a surprising amount of attention, considering his movie career never really took off, after numerous attempts. His most famous acting roles include starring in the Australian outlaw film Ned Kelly and a gangster-meets-free-love film, Performance, which also featured Richards' girlfriend Anita Pallenberg (according to Norman, this drove Richards wild with paranoia about Jagger and Pallenberg's relationship, causing him to write "Gimme Shelter"). There's not as much specific musical information as in Richards' Life, where the famous rhythm player commented at length on his special guitar tunings and the way he put together riffs for some of the best known Stones' songs.
But Norman gets plenty of tunes into the book. Jagger received some backstage dance lessons from Tina Turner. "Sympathy For The Devil" drew inspiration from Mikhail Bulgakov's The Master And Margarita. "Wild Horses" stems from words uttered by Marianne Faithful, a former flame of Jagger's, when she woke up in a hospital after attempting suicide. When the Stones stopped to record a few tracks at Muscle Shoals studio in Alabama—a famed site for southern soul—the studio musicians couldn't understand the Stones' accents, and vice versa.
The bulk of Mick Jagger concerns itself with the most relevant period of its subject, which means that Norman doesn't have to waste too much time justifying Jagger's later (post-82) period as a solo artist or with the Stones. This weighed down the back end of Life; Richards couldn't resist plugging the albums he put out on his own and the tours he went on where he didn't have to worry about Jagger drama. Norman can't stop himself from taking potshots either, dismissing Richards' criticism of Jagger's solo debut—Richards likened it to Mein Kampf— and defending the album as "an impressive effort." But mainly, he keeps his book, along with his swipes at Richards, focused on the important earlier years.
To say something new, an author writing a biography about a cultural icon like Jagger must look for unpublished (or unmined) material, emphasize a part of the subject's life that doesn't get much attention (if such a period exists), or find an approach that makes the icon more relevant to his own time or to today. Repeating or reorganizing old material may contribute to the iconic status of the subject, but it adds little to our understanding of the figure or his cultural importance.
The Stones continue to be an institution, unchanged for so many years that constancy has become a principal virtue. Norman fills in a few more details about Jagger and the band's development, adding material on the margins. But don't pick up this book expecting a work that changes the narrative or sheds much new light on a thoroughly documented, if still moving, subject.
Elias Leight is getting a Ph.D. at Princeton in politics. He is from Northampton, Massachusetts, and writes about music at signothetimesblog.