The Most Anticipated Book to Movie Adaptations of 2019
Photo of Cate Blanchett in Where'd You Go, Bernadette via Annapurna Pictures
Books
Lists
movies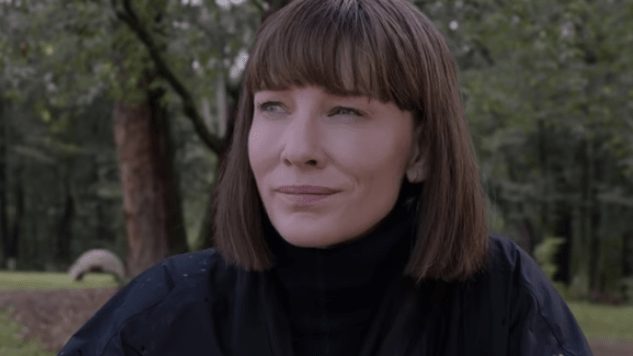 Hollywood loves to adapt books to film, and next year's slate of movies is no exception. We'll see numerous cinematic book adaptations from diverse genres in 2019; Young Adult fiction offers bestsellers like Artemis Fowl and The Sun Is Also a Star, while period pieces include classics like Little Women. In other words, there's bound to be an adaptation for everyone next year.
Scroll down to view our picks for the 13 books we're most excited to see on the big screen in 2019.

1. The Rhythm Section
Release Date: February 22
Based On: The Rhythm Section by Mark Burnell
Director: Reed Morano
Cast: Blake Lively, Jude Law, Sterling K. Brown, Richard Brake
Synopsis: Stephanie Patrick's world is turned upside down when an airplane with all her loved ones aboard crashes with no survivors. Devastated, she turns to drugs and prostitution—until she learns that the crash wasn't an accident, but an act of terrorism. Filled with rage, she joins a questionable intelligence organization that requires she take on new identities to carry out even more questionable assignments. The catch: after she completes her assignments, she's been promised the opportunity to take out the terrorists who brought down the flight that killed her loved ones.

2. Chaos Walking
Release Date: March 1
Based On: The Knife of Never Letting Go by Patrick Ness (Book 1 of the Chaos Walking trilogy)
Director: Doug Liman
Cast: Tom Holland, Daisy Ridley, Nick Jonas
Synopsis: Todd Hewitt has been raised to believe that a viral germ has killed all women and unleashed Noise, the special ability to read people's and animals' minds through a stream of images, words and sounds. After discovering a patch of silence, free of Noise, Todd is forced to flee his town. Alone, he must face a planet erupting in war—that is, until he meets Viola, the source of the silence.

3. Where'd You Go, Bernadette
Release Date: March 22
Based On: Where'd You Go, Bernadette by Maria Semple
Director: Richard Linklater
Cast: Cate Blanchett, Billy Crudup, Emma Nelson, Kristen Wiig, Judy Greer, Laurence Fishburne
Synopsis: Where'd You Go, Bernadette revolves around an agoraphobic architect and mother named Bernadette Fox, who goes missing prior to a family trip to Antarctica, and the laugh-out-loud chaos that ensues. The book is told in a series of documents (emails, memos, transcripts, etc.) with the occasional interlude by Bernadette's 15-year-old daughter Bee Branch, so we're extra excited to see what the filmmakers do about that odd structure on the screen.

4. The Best of Enemies
Release Date: April 5
Based On: The Best of Enemies: Race and Redemption in the New South by Osha Gray Davidson
Director: Robin Bissell
Cast: Taraji P. Henson, Sam Rockwell, Babou Ceesay, Anne Heche, Wes Bentley, Bruce McGill, John Gallagher Jr.
Synopsis: In 1971, Ann Atwater, an outspoken civil rights activist, and C.P. Ellis, a local Ku Klux Klan leader, agree to co-chair a two-week community meeting to deal with a court-ordered school desegregation decree. The Best of Enemies tells the true story of the unlikely relationship between these two individuals and the ways it changes both of their lives.

5. The Aftermath
Release Date: April 26
Based On: The Aftermath by Rhidian Brook
Director: James Kent
Cast: Keira Knightley, Alexander Skarsgård, Jason Clarke, Alexander Scheer
Synopsis: Post-World War II, Rachael Morgan arrives in the ruins of Hamburg to be reunited with her husband, Lewis, a British colonel charged with the task of rebuilding the broken city. But Rachael is in for a surprise: she will be sharing their house with its previous owners, a German widower and his troubled daughter.

6. The Rosie Project
Release Date: May 10
Based On: The Rosie Project by Graeme Simsion
Director: Ben Taylor
Cast: Ryan Reynolds
Synopsis: The Rosie Project centers on the brilliant but socially inept genetics professor Don Tillman, who's decided it's time he found a wife. Don creates a pseudo-scientific questionnaire to assess the suitability of female partners, but his plans are set off course when he meets Rosie, who does not fit many (if any) of Tillman's criteria, but immediately captivates him.

7. The Sun Is Also a Star
Release Date: May 17
Based On: The Sun Is Also a Star by Nicola Yoon
Director: Russo-Young
Cast: Charles Melton, Yara Shahidi, Gbenga Akinnagbe
Synopsis: Two teens—Daniel, the son of Korean shopkeepers, and Natasha, the daughter of undocumented Jamaican immigrants—cross paths in New York City. Daniel is on his way to an interview with a Yale alum, and Natasha is meeting with a lawyer to try and prevent her family's deportation to Jamaica. And then the pair falls in love.

8. Artemis Fowl
Release Date: August 9
Based On: The Artemis Fowl series by Eoin Colfer
Director: Kenneth Branagh
Cast: Ferdia Shaw, Lara McDonnell, Tamara Smart, Nonso Anozie, Hong Chau, Josh Gad, Judi Dench
Synopsis: To help his criminal father and restore the family's fortune, Artemis Fowl II and his trusted servant and bodyguard Butler seek out fairies to rob them.

9. The Kitchen
Release Date: September 20
Based On: The Kitchen comic book series by Ollie Masters and Ming Doyle
Director: Andrea Berloff
Cast: Melissa McCarthy, Tiffany Haddish, Elisabeth Moss
Synopsis: The Kitchen centers on the wives of Irish mobsters—Kathy, Ruby and Claire—who take over organized crime operations after the FBI arrests their husbands.

10. The Woman in the Window
Release Date: October 4
Based On: The Woman in the Window by A.J. Finn
Director: Joe Wright
Cast: Amy Adams, Julianne Moore, Gary Oldman, Wyatt Russell, Brian Tyree Henry, Fred Hechinger, Anthony Mackie
Synopsis: Anna Fox is an agoraphobic child psychologist who hasn't left her home in 10 months. Her only view of outside world is via her window, through which she begins to watch her new neighbors, the Russells. Anna witnesses a crime while spying on her neighbors, leaving her with the decision of whether or not to alert the police.

11. The Goldfinch
Release Date: October 11
Based On: The Goldfinch by Donna Tartt
Director: John Crowley
Cast: Ansel Elgort, Oakes Fegley, Aneurin Barnard, Finn Wolfhard, Ashleigh Cummings, Jeffrey Wright, Luke Wilson, Willa Fitzgerald, Nicole Kidman
Synopsis: The Goldfinch tells the story of Theo Decker, a teenager who survives a terrorist attack in a museum, but loses his mother in the blast. In the shock of the attack, Theo steals an infamous Dutch painting, "The Goldfinch," which serves as the one constant as he comes of age. The painting is the only link he still has to his late mother, but it's beginning to turn his life upside-down.

12. The Good Liar
Release Date: November 15
Based On: The Good Liar by Nicholas Searle
Director: Bill Condon
Cast: Helen Mirren, Ian McKellen
Synopsis: The Good Liar follows a man named Roy, who successfully deceives a wealthy widow he meets online. As she opens her home and life to him, he is surprised to find himself growing to care about her over the course of a decade.

13. Little Women
Release Date: December 25
Based On: Little Women by Louisa May Alcott
Director: Greta Gerwig
Cast: Florence Pugh, Emma Watson, Saoirse Ronan, Timothée Chalamet, Meryl Streep, Laura Dern
Synopsis: Following the lives of the four March sisters—Meg, Jo, Beth and Amy—Little Women details their passage from childhood to womanhood. The latest adaptation is expected to focus more on the March sisters' young adult lives, particularly after the sisters leave their family home.