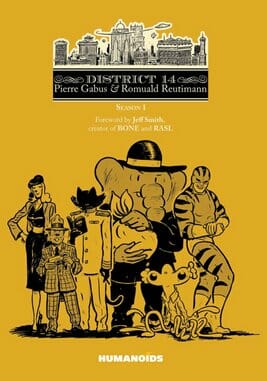 Writer: Pierre Gabus
Artist: Romuald Reutimann
Publisher: Humanoids
Release Date: February 27, 2013
The Angoulême Festival, held every year in a small city in southwestern France, doesn't attract nearly as much coverage as Comic-Con International, although it's considerably bigger. In fact, it's the second largest comics festival in the world. The event also has a history of rewarding innovative work, including District 14, a series whose first compilation won the prize for Best Series last year and has now been translated in English. Its authors remain somewhat mysterious. A bit of rusty high school French used to translate the publisher's Web site reveals that both the writer and artist may work under pseudonyms, and their biographies appear largely fictitious, taking place in the world they create within their series.
For at least the first half of this large book, It's hard to tell whether the plot is merely a mess or something more interesting, but this confusion is worth powering through. At a certain point, the mix of elements emulsifies into something strong, weird, and great. The story is somewhat old fashioned, focused on rival groups of gangsters, a mysterious immigrant, a superhero with many secrets, and a courageous newspaperman. Its rendering is considerably stranger and darker, however, than a simple plot summary can make it sound.
In this universe, humans consort with anthropomorphized animals (our heroes are an elephant, a beaver, and a cat) as well as aliens. That sort of species mixing isn't too uncommon in European comics, where Lewis Trondheim and Jason have built careers on it, but calling attention to the device is. Not only do the characters refer to one another as animals, aliens, and so on, but their evolved status seems to be in question. One side plot even addresses a back-to-nature movement among the beasts, in which they give up clothing and civilized behavior and de-evolve to eating one another. Most of all, even as the plots hurtle along, it's hard to know where everything is going, which supplies the kind of keen pleasure that comes from a new voice.