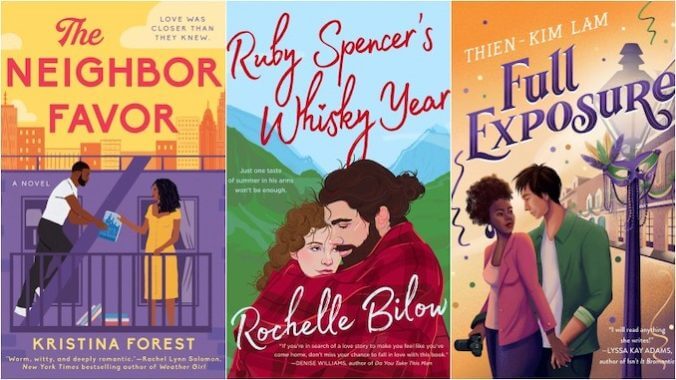 Yes, it's that time of year again—the month where all of us romance readers hold our breath and wait for the media-at-large's outdated takes on the genre to start rolling in. This time around, however, I think it's safe to say we've all been spared, if such a thing is even possible. Technically, there are a few days left in February, so there is still opportunity left for me to be proven wrong.
I'm not sure what it is about February in general, but I've felt even more compelled to pick up a romance than I normally am—and that's saying quite a lot. I've read romances that are much older than the ones on this month's list and romances that have technically yet to be published, but what all of these books keep me coming back to is the fact that this genre is so expansive and comforting and daring and boundary-breaking, maybe even more so than any other genre out there. From secret spies to handsome Scots, February's list offers something for those of us who are happy to lose ourselves in a good romance instead of worrying about any tired thinkpieces.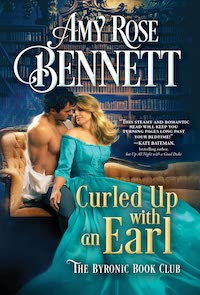 Curled Up with an Earl by Amy Rose Bennett
Release Date: February 7 from Sourcebooks Casablanca
Why You'll Love It: I was already sold after the first of the books in Amy Rose Bennett's Byronic Book Club series, Up All Night with a Good Duke, so it did not take much for me to crack open the follow-up novel about a group of ladies who hold a secret book club — as well as the men who adore them for exactly who they are.
What immediately made Curled Up with an Earl a standout in my view, even more than its predecessor, is how united the main couple is with one another, which creates a cozy, low-angst offering perfect for any reader looking for a lot less strife and a lot more union. (And that's even taking into account the fact that Will is a spy, a profession that tends to lend itself to more lies than are often excusable!) It isn't the only book on this list in which one character decides to infiltrate the home of another before falling head over heels unsuspectingly, but the way that Bennett tackles every obstacle Lucy and Will could encounter and then subverts all of the obvious tropes makes this one a must-read.
Publisher's Description: Miss Lucy Bertram is content to spend her days writing scientific articles or curling up with a Gothic romance novel. Indeed, she'd rather stick a hatpin in her eye than attend a ball. But when her father, the eccentric botanist Sir Oswald, insists she accept the suit of a wealthy but stiffer-than-a-poker industrialist to save the family from penury, Lucy decides to act. She's certain her disowned brother, Monty, will take her side. But first she must find him in St. Giles's cutthroat rookeries.
A covert agent for the Crown, William Lockhart, the Earl of Kyle, is on the hunt for a ruthless killer determined to destroy the Linnean Society. Sir Oswald, a botanical poisons expert, is the prime suspect. Posing as a groom in the baronet's household, it shouldn't take Will long to unearth the evidence Scotland Yard needs. If only the beguiling Miss Bertram wasn't so damn distracting…
As an unexpected but undeniable passion flares between Lucy and Will, confidences are exchanged and dark secrets come to light. But will a murderer, determined to stay hidden, destroy their chances of finding a happy-ever-after?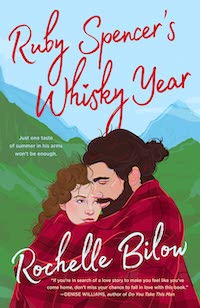 Ruby Spencer's Whisky Year by Rochelle Bilow
Release Date: February 14 from Berkley
Why You'll Love It: Anyone who's ever been desperate for the possibility of reinvention will undoubtedly relate to the titular protagonist of Bilow's romance debut—which left me half-ready and willing to pack up only as many belongings as needed in order to make my own Scottish getaway happen. Ruby Spencer has traveled abroad in an effort to not just follow her longtime dream of writing a cookbook, but she's in desperate need of a change of scenery. She gets all that and more in the Highlands, including a local pub that could use more than a little sprucing up and a very handsome handyman who keeps popping in to fix up the cottage she's renting.
This book doesn't just have a phenomenal romance at its heart—and a sexy Scotsman to swoon over—but a truly immersive sense of place, one that you'll never want to leave once you've allowed yourself to discover Thistlecross's inherent charms and the hilarious locals who inhabit this cozy village.
Publisher's Description: When a thirty-something American food writer moves to a Scottish village for one year to fulfill her dream of writing a cookbook she finds more than inspiration—she meets a handsome Scotsman she can't resist.
Ruby Spencer is spending one year living in a small cottage in a tiny town in the Scottish Highlands for three reasons: to write a bestselling cookbook, to drink a barrelful of whisky, and to figure out what comes next. It's hard to know what to expect after an impulse decision based on a map of Scotland in her Manhattan apartment—but she knows it's high time she had an adventure.
The moment she sets foot in Thistlecross, the verdant scenery, cozy cottages, and struggling local pub steal her heart. Between designing pop-up suppers and conversing with the colorful locals, Ruby starts to see a future that stretches beyond her year of adventure. It doesn't hurt that Brochan, the ruggedly handsome local handyman, keeps coming around to repair things at her cottage. Though Ruby swore off men, she can't help fantasizing what a roll in the barley might be like with the bearded Scot.
As Ruby grows closer to Brochan and the tightly held traditions of the charming village, she discovers secret plans to turn her beloved pub into an American chain restaurant. Faced with an impossible choice, Ruby must decide between love, loyalty, and the Highlands way of life.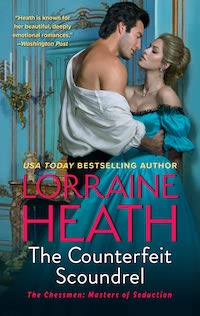 The Counterfeit Scoundrel by Lorraine Heath
Release Date: February 21 by Avon
Why You'll Love It: I'm firm of the mind that there is no one out there doing it exactly like Lorraine Heath, and the first installment of her newest series, The Chessmen: Masters of Seduction, is paper proof of why. If that title sounds even the slightest bit familiar, you might recognize the Chessmen themselves from her previous Once Upon a Dukedom series— The Duchess Hunt's Hugh is himself a member of the longtime group. Naturally, the rest of the Chessmen are destined for their own happily-ever-afters, right?
Heath kicks things off with Bishop, aka David Blackwood, who has acquired a reputation for himself as an unapologetic rake in society, except for the fact that he's only pretending to have affairs with women in order to help free them from terrible marriages. That doesn't stop Marguerite Townsend from infiltrating his house after being hired by a husband to collect proof of Bishop's trifling with his wife, but what she doesn't expect is to fall in love with him herself. It's inevitable that these two will discover each other's secret, but the story doesn't end there. I won't spoil any more than that; you'll have to pick this one up yourself to find out how it continues!
Publisher's Description: Born into an aristocratic family, yearning for a life beyond Society's strictures, Marguerite "Daisy" Townsend is an enterprising sleuth. Hired to obtain proof of a wife's infidelity, she secures a position in the household of the woman's lover, never expecting to be lured into the seductive blackguard's arms herself.
Devilishly handsome, David Blackwood, known widely as Bishop, quickly realizes the enticing maid is interested in far more than dusting. She aims to uncover his sins. Although tempted by the dangerous beauty, he can't risk her learning the truth: his affairs are chaste. As a boy who witnessed his mother's abusive relationship, Bishop now helps desperate wives escape unhappy marriages.
Yet when he is accused of murdering the husband of a "paramour," he is forced to seek Daisy's assistance in proving his innocence. As their perilous search draws them into a web of deceits, they can no longer deny their simmering desire. Once secrets are revealed, will Daisy's counterfeit scoundrel give up the scandalous games he plays and surrender his heart into her keeping?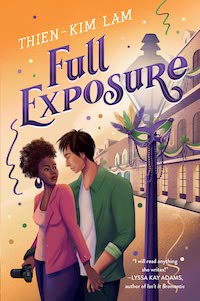 Full Exposure by Thien-Kim Lam
Release Date: February 21 from Avon
Why You'll Love It: I was exactly the right target for Thien-Kim Lam's previous romance, Happy Endings, an unapologetically sex-positive debut, and even though Mardi Gras is mostly in our rearview now, I knew Full Exposure would be the perfect book to crack open prior to a planned New Orleans vacation. Lam has a knack for introducing two characters who click believably even if it happens nigh-immediately, but then finding very smart ways to craft the circumstances that will enable them to take the scenic route to their inevitable HEA.
Spencer is more than prepared to drop the l-word when it comes to Josie—and who wouldn't fall in love with this stunning heroine?—but it's in the emotional brakes-pumping that the book allows for these two people to tackle some of their deeper respective issues. Spencer is the more spontaneous by far, while Josie wants everything to happen according to plan, and the true heart of Full Exposure is where they eventually meet in the middle.
Publisher's Description: Boudoir photographer Josie Parks never ever takes a vacation. But when a client cancels a New Orleans shoot at the last minute, she decides to fly out from her Washington, D.C., studio anyway. Maybe the trip will reawaken her recently stagnant muse. After all, it's Mardi Gras season…
Spencer Pham has come home after twelve soul-sucking years in corporate hell to pursue his passion: making a docu-film on his family's history as the first Vietnamese Mardi Gras krewe. The last thing he expects is getting whacked in the head by a beautiful woman trying to snag some parade beads.
During a long night at urgent care, Spencer and Josie connect over their artistic pursuits. He offers to show her the real New Orleans, if she'll help him with the camerawork for his film. Despite Josie's type-A personality clashing with Spencer's laissez-faire attitude, they seem to make a great team, and soon, the good times are rolling both on and off camera. But Josie has a life in D.C., and they both have big dreams they're chasing. When this Big Easy fling starts feeling awfully serious, can they find a way to choose between personal and professional passion?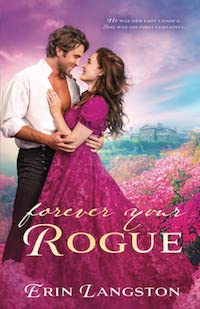 Forever Your Rogue by Erin Langston
Release Date: February 28 from Erin Langston
Why You'll Love It: If the absolutely gorgeous cover isn't enough to draw you head-over-heels into this historical romance, then the story should be more than capable of luring you the rest of the way. There is so much that Forever Your Rogue achieves on its own as one of the newest additions to the genre this month, but I would have been sold purely on the basis of it being a marriage of convenience romance.
Fortunately, Langston's book also tackles everything else with just as much meaning and importance as it does even the most familiar of tropes. Between Cora, the widow and single mother who is desperate to maintain custody of her children, and Nate, the rake who has no real interest in reforming himself, the end result is a simmering, swoonworthy story that takes you to places both excitingly new and reassuringly familiar.
Publisher's Description: Cora, Lady Dane, gave up her dreams of happily ever after a long time ago. Now newly widowed, the young mother is determined to finally live on her own terms…until a devastating betrayal shatters her hopes for the future. Faced with the prospect of losing her beloved children to overbearing relatives, Cora needs the help of the one thing she swore she'd never have again: a husband.
Nathaniel Travers hasn't a care—or responsibility—in the world. Content with his wayward lifestyle, the charismatic rogue has no interest in marriage or duty. That is, until the earl cuts off his bank accounts. No stranger to wild escapades, Nate is game for any scheme that keeps him afloat…even a madcap ruse with a stubborn viscountess.
A fake engagement should be a straightforward solution to both of their dilemmas. But a summer at Cora's estate tests their arrangement, and it isn't long before their simmering attraction escalates to a feverish crescendo. When they are forced to confront the real complications of their faux betrothal, Nate has to make the first worthy gamble of his life…if only Cora can risk her guarded heart.

The Neighbor Favor by Kristina Forest
Release Date: February 28 from Berkley
Why You'll Love It: I'm always on the hunt for books that offer a premise I've rarely seen before in romance, and Kristina Forest's adult romance debut The Neighbor Favor checked off all of the boxes. It's also a book that feels tailor-made for book lovers, from the excellent recommendations its lead characters share with each other to the novel that brings the two of them together in the first place.
Lily Greene works in publishing, but she's always had dreams of landing a job as a children's book editor. In the midst of dealing with her various work stresses, she decides to send off an email to one of her all-time favorite authors, N.R. Strickland—who published one fantasy novel and then disappeared— but she never imagines she'll get a reply back. Thus begins a correspondence between two lonely people, which Strick ultimately cuts short for cryptic reasons. Then again, there is a very handsome neighbor who's just moved in down the hall from Lily, someone who may or may not actually be the person she'd bared her heart and soul to via e-letter…
Publisher's Description: Shy, bookish, and admittedly awkward, Lily Greene has always felt inadequate compared to the rest of her accomplished family, who strive for Black excellence. She dreams of becoming an editor of children's books but has been frustratingly stuck in the nonfiction division for years without a promotion in sight. Lily finds escapism in her correspondences with her favorite fantasy author, and what begins as two lonely people connecting over e-mail turns into a tentative friendship and possibly something else Lily won't let herself entertain—until he ghosts her.
Months later, still crushed but determined to take charge of her life, Lily seeks a date to her sister's wedding. And the perfect person to help her is Nick Brown, her charming, attractive new neighbor, whom she feels drawn to for unexplainable reasons. Little does she know that Nick is an author—her favorite fantasy author.
Nick, who has his reasons for using a pen name and for pushing people away, soon realizes that the beautiful, quiet woman from down the hall is the same Lily he fell in love with over e-mail months ago. Unwilling to complicate things even more between them, he agrees to set her up with someone else, though this simple favor between two neighbors is anything but—not when he can't get her off his mind.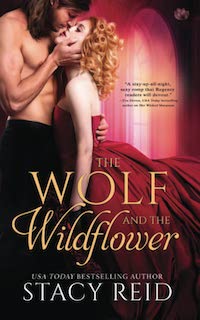 The Wolf and the Wildflower by Stacy Reid
Release Date: February 28 from Entangled
Why You'll Love It: In many cases, a romance's title can be more of a playful metaphor—or a winking pun—rather than a literal description. That's not necessarily the case with Stacy Reid's latest historical romance, The Wolf and the Wildflower, where the titular wolf has been forced to survive in the most desolate of circumstances and now must reassert himself in society as James, the respectable Duke of Wulverton (we love an on-the-nose title!).
The only one who can seemingly tame his wild ways is the wildflower herself, but Jules has been living her life under the guise of a man from the very beginning. In the end, it's only these two who see each other for who they really are, beyond what exists on the outside. This might be the closest to a paranormal historical I've ever read where the Duke didn't actually turn into a werewolf himself, so take that as you will.
Publisher's Description: London is buzzing with the news that James Winters, the Duke of Wulverton—thought lost at sea a decade ago—survived in the harsh wilderness of the Yukon. Now he's been returned to his family, his responsibilities, and a nightmarish world of artifice and noise. He has three weeks to become a refined, elegant duke for the Queen…or doom the entire family to ruin and scandal.
Promising psychologist Jules Southby knows a lot about disguises. She's secretly been living as a boy since birth, enjoying the freedoms of men and knowing little about how to behave like a woman. When she meets the alluring duke, she's unprepared for his raw, masculine beauty and icy intelligence…or that he can see through her darkest secret.
Jules has very little time to transform the duke into a true semblance of an English gentleman. Yet his very presence seems to unravel her in every way. Their attraction is stark and achingly real—and forbidden. But loving the lost duke would mean losing every sacrifice she's made to earn her freedom…
---
Carly Lane is an Atlanta-based writer who considers herself a lifelong Star Wars fan, newbie Trekker, diehard romance reader, nascent horror lover, and occasional live-tweeter. She is the senior TV editor at Collider, a former contributing editor for SYFY FANGRRLS, and has also written for Vulture, the Boston Globe, Nerdist, Teen Vogue, Den of Geek, The Toast, and elsewhere around the Internet.