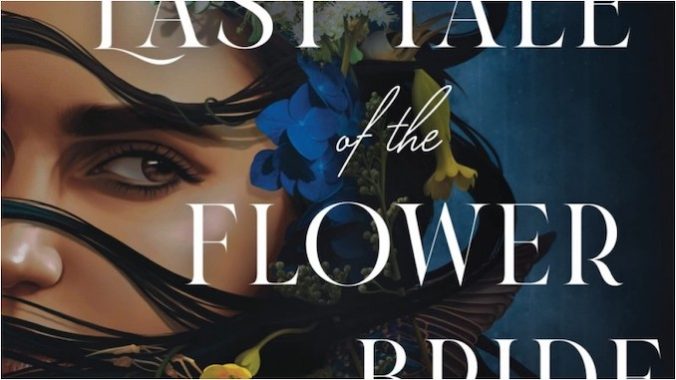 Roshani Chokshi is the latest in a long line of popular YA authors making the leap to writing adult fiction over the past year or two. But those that loved her young adult books—-Hades and Persephone-inspired fantasy The Star-Touched Queen and the magical heist trilogy The Gilded Wolves—may be surprised to discover that her adult debut, The Last Tale of the Flower Bride finds this author venturing off down a whole new storytelling path—and one in which there's no magic in sight. (At least not of the literal variety.)
Instead, Chokshi crafts a rich, luxurious, and utterly decadent Gothic fairytale about the nature of friendship and love that goes down like the smoothest of dark chocolates. True, The Last Tale of the Flower Bride is a bit on the dark side for the just-in-front-of-Valentine's-Day release window in which it arrives, but its story is also achingly beautiful, a cautionary tale about losing ourselves in the things we love, and a strangely hopeful ode to the possibility of allowing others to see us for who we are. A seemingly slim, delicate story about the secrets at the heart of a marriage, this is a novel that holds surprising hidden depths.
The story follows an unnamed narrator known only as "The Bridegroom," a scholar who meets the mysterious, wealthy heiress Indigo Maxwell-Castenada when he asks permission to see a rare manuscript from her family's vast collection. The two bond immediately over their love of stories—particularly the delicately built worlds of fairytales, with their set hierarchies and strict rules about power and truth. Their shared passion and eventual marriage are built on telling one another many of these tales, playing fantastical games, and incorporating elements from their favorite stories into their everyday lives. There's even a dark catch—-Indigo makes her new husband promise that he'll never ask questions about or otherwise dig into her past. He readily agrees, because what kind of fairytale would this be if someone didn't make a vow we all know they'll never be able to keep?
When Indigo gets word that her estranged aunt and one-time guardian is dying, she takes her husband to her childhood home, the beautiful and bizarre mansion known as the House of Dreams. Full of secrets and stories of its own, the House is as much a character in its own right as any other figure in the novel, and we often get brief snippets of insight into how it's feeling toward and reacting to specific events and people. During his stay at the house, The Bridegroom finds himself drawn to its echoes of Indigo's childhood best friend Azure that lurk in dark corners, and fascinated by the prospect of the adventures the two girls once shared within its walls. As he inches ever closer to the secrets his wife buried so long ago about Azure and her disappearance, the Bridegroom begins to wonder if the only way the story of his marriage can end is if one of its members vanishes too.
Though the plot of the book is certainly propulsive—and the tension surrounding the truth of what happened to Azure is nigh unbearable at times—-The Last Tale of the Flower Bride is, at its heart a story driven by its characters and the complex relationships between them. Told via two alternating POVs—Azure's and the Bridegroom's—and set across two distinct time periods, the book draws uncomfortable parallels between the two narrators' experiences as people drawn in by the privilege, comfort, and often downright magical feel of Indigo's lifestyle. (This is particularly stark during snippets that reveal Azure's difficult working-class home life, complete with a mother who constantly chooses her sketchy boyfriend over her daughter.) Both narrators, in their way, long for the easy freedom Indigo possesses, marvel at the absolute surety of her belief in her own supposedly magical destiny, and frequently find themselves overrun by her dogged, often cruel insistence on bending the world to her own whims.
Like many fairytales, The Last Tale of the Flower Bride is also a coming-of-age story, and Azure's recounting of her childhood spent alongside Indigo is a fascinating exploration of two young girls who, finding the real world lacked the magic they longed for, decided to make some of their own. The power imbalance at the heart of their relationship is complicated and messy, often made even more so by Indigo's cruel streak and Azure's slowly growing desire to see more of the world outside their fairytale-esque cocoon.
Chokshi's prose drips with lush descriptions and memorably crafted imagery, all mixed with the sharply written observations about human nature that characterize the best sorts of folktales. The story is glittering and ghastly by turns, full of shining promise and terrible betrayals. Teeming with princesses, crones, selkies, and starlings, the happily ever afters in The Last Tale of the Flower Bride come wrapped in deceits meant to disguise the most simple of truths—-that this, as all fairytales, no matter how magical, is a story about painfully human foibles and truths.
---
Lacy Baugher Milas is the Books Editor at Paste Magazine, but loves nerding out about all sorts of pop culture. You can find her on Twitter @LacyMB.