After diving into the best new and continuing series of 2014, we now acknowledge the best reprints of the past 12 months. Years past, most of the works in this list traditionally brought old pages back into print, but now online comics (or works scattered along a host of media) are now finding a new home on the inked page. No matter what form you once read them in, these collections deliver a holistic view of amazing comics with an immaculate level of polish. Happy re/reading.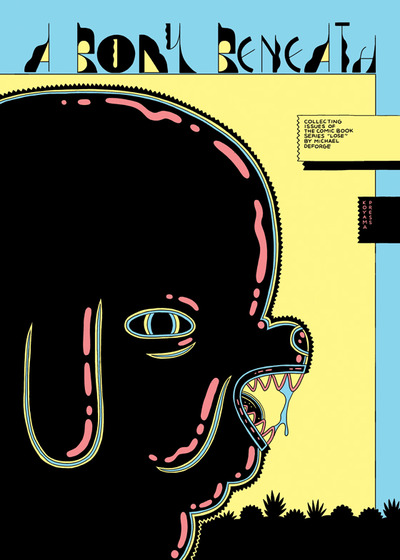 10. A Body Beneath
Writer & Artist: Michael DeForge
Publisher: Koyama Press
Yes, the stories on display here are uneven, but they are also primordial in more than one sense: they give insight into (Michael DeForge's) growth and development as an artist, but even more so, they arise from a place of guts and muck only thinly overlaid by civilization and pretense. Like folk tales, they fill us with dread and take terrible but expected turns. This sort of viscera-level reaction is precisely DeForge's greatest strength, and it has clearly been present from the beginning of his career. Hillary Brown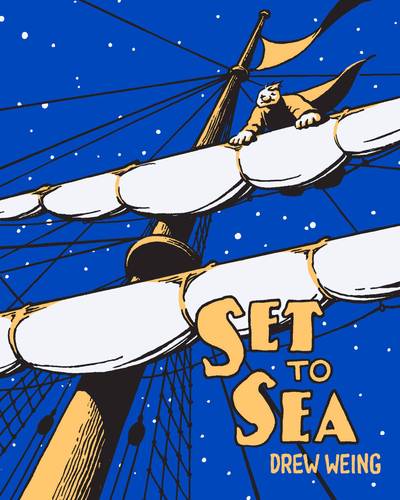 9. Set to Sea
Writer & Artist: Drew Weing
Publisher: Fantagraphics
Originally issued by Fantagraphics four years ago, Drew Weing's Set to Sea remains a wonderful pocket-sized seafaring adventure. Now released in paperback, the graphic novel provides an immersive, harrowing experience, following the transition from innocence to experience for an aspiring poet kidnapped and forced into sailor life. A sort of Ferdinand (huge but gentle), the unnamed protagonist discovers his inner tough guy as he encounters pirates, hardship and the dangers of the sea throughout his involuntary adventure. Hillary Brown

8. Hip Hop Family Tree Book 2: 1981-1983
Writer & Artist: Ed Piskor
Publisher: Fantagraphics
Collecting his online comic on Boing Boing, Ed Piskor's Hip Hop Family Tree is nothing short of rigorous. The cartoonist streamlines a tangle of facts and figures into a cohesive history of America's most subversive art form. The project showcases the power and versatility of the medium, channeling the era through sepia-stained pages and pulpy paper textures. Fresh. Sean Edgar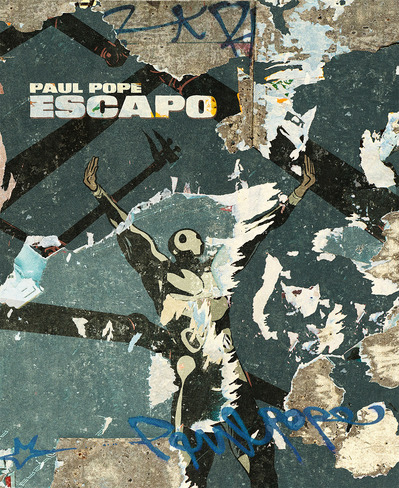 7. Escapo
Writer & Artist: Paul Pope
Publisher: Z2 Comics
Paul Pope's Escapo feels like some half-forgotten dream gleaned from a Cirque du Soleil show, hoisting its performers through death traps that would make a James Bond villain jealous. With that said, this gem — first published in '99 — also revels in the understated moments of its hero, escape artist Vic, as he pines for a high-wire beauty with romantic abandon. Just like its protagonist, the reader doesn't escape this intoxicating gem with any easy answers — just an appreciation of the immensity of life and the complex problems that define it. The gloriously ornate set pieces are also colored in striking yellows, blacks and blues for the first time by the immensely talented Shay Plummer. Sean Edgar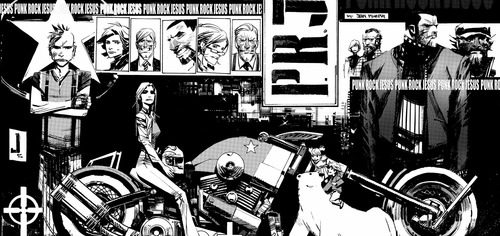 6. Punk Rock Jesus
Writer & Artist: Sean Murphy
Publisher: Vertigo
Punk Rock Jesus's version of the rumored messiah goes by "Chris," and neglects to demonstrate magical abilities at any point during his saga's six issues, newly gathered in a hardcover deluxe edition including new pages, concept art, author comments, covers, sketches and additional bonuses. To give you an idea of how many extras they loaded into this thing, the supplemental material comes close to equaling the story itself. Apparently Vertigo wanted to make sure readers get their $40 worth.
The farcical premise and on-the-nose social commentary of PRJ would be amusing on their own, but the focus on Chris' coming-of-age and complex interpersonal relationships are what truly make this volume a trenchant, crucial read. A tale of a bioengineered religious icon with his own network TV reality show sounds hilarious in theory…until you realize this scenario isn't a far cry from real-world plausibility. Then it becomes scary and kind of sad. Barry Thompson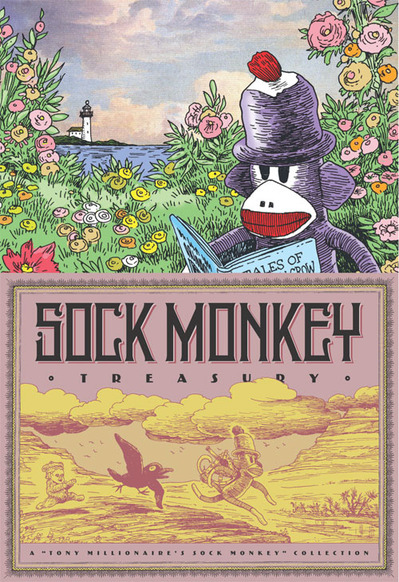 5. Sock Monkey Treasury
Writer & Artist: Tony Millionaire
Publisher: Fantagraphics
Fantagraphics has provided no essays, notes, or context for these stories, just a beautiful presentation in a large, well-bound format with lovely endpapers. That may appear initially disappointing, but on the whole, it's the right approach. These stories are almost unanalyzable; like some of the best works of children's literature, they are better felt and experienced than pulled apart. Hillary Brown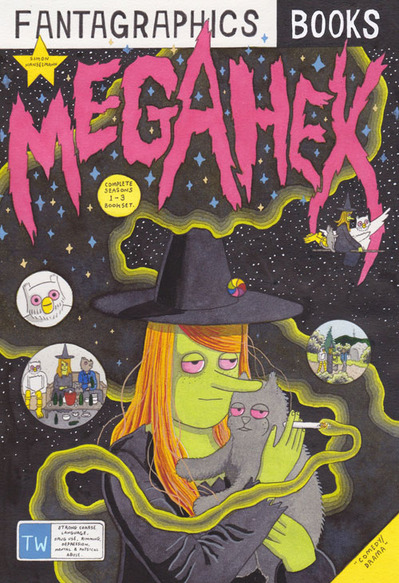 4. Megahex
Writer & Artist: Simon Hanselmann
Publisher: Fantagraphics
Packaged like a DVD box set with an end-sheet inspired by John Everett Millais' painting of Ophelia, Simon Hanselmann's Megahex — a collection of his popular episodic comic — is much more ambitious than what its stoner characters might initially suggest. The small cast features Megg (a witch), Mogg (a cat/Megg's lover) and Owl (a humanoid owl); the trio share a house where they spend most of their time smoking weed, watching TV and going on misadventures that start out comedic and slowly turn tragic. It's not just Megg's depressive episodes, which are impressively bleak on their own, but the self-sabotaging behavior that all the characters participate in, revealing a deep, clear sadness behind the arching narrative. There may be an abundance of stoner comedies, but very few stoner tragedies exist; Hanselmann's subtle approach makes Megahex both at the same time, and reliably interesting even to those who have long since left extended adolescence behind. Hillary Brown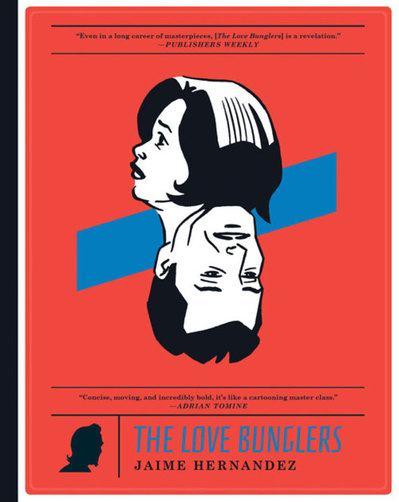 3. The Love Bunglers
Writer & Artist: Jaime Hernandez
Publisher: Fantagraphics
Hernandez's Locas storyline has drawn comparisons to John Updike's Rabbit series of four novels, but it may be just as accurate to compare this work to Proust. While Updike sticks to a fairly steady and predictable path, per the nature of his American exceptionalism theme, Proust and Hernandez have a tendency to meander. This straying can be frustrating, especially when it highlights secondary characters, but the realization that you have to surrender to the author's judgment and direction is liberating. These digressions are a crucial part of the full picture being painted; if you are patient, you will be rewarded with gloriousness. Hernandez is clearly in the home stretch, as the end of The Love Bunglers makes clear, and his books display more depth, filled with both light and darkness, as time marches on. In other words, they're only getting better. Hillary Brown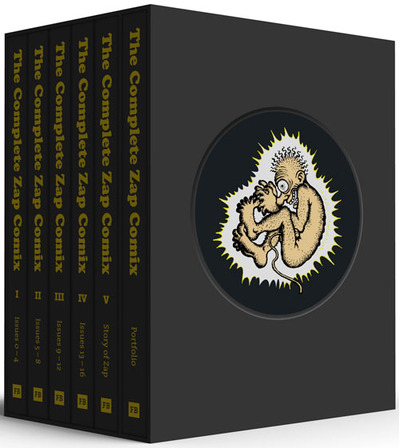 2.The Complete Zap Comix
Writers/Artists: R. Crumb, Rick Griffin, Paul Mavrides, Victor Moscoso, Spain Rodriguez, Gilbert Shelton, Robert Williams, S. Clay Wilson
Publisher: Fantagraphics
The arguable foundation of the underground comic book movement, The Complete Zap Comix collects every single issue of the seminal series in five hardbound volumes with an additional portfolio, all nestled inside a slipcase. Published in the late '60s, Zap gave Robert Crumb the vehicle to project his relentless honesty and social commentary alongside a rotating cast of other pioneering cartoonists. Provocative, filthy and unquestionably excellent, this collection is a crown jewel in comics history. It also includes the unpublished 17th issue, as well as the Zam mini-comic jam. Sean Edgar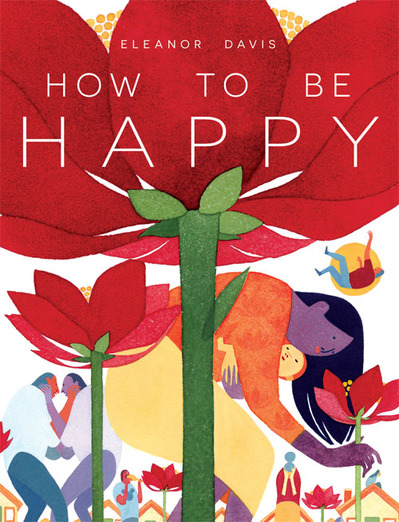 1. How To Be Happy
Writer & Artist: Eleanor Davis
Publisher: Fantagraphics
To break the rules and still succeed, you have to know them well enough to quote them without even thinking about it. How to Be Happy, Eleanor Davis' first collection of her shorter work, serves as both an illustration of that principle and a portfolio of what she can do. There's no table of contents to guide the way nor story breaks to delineate chapters, save the shifting visual styles. While enmeshed in this reading experience, you have no idea how long it will last or where it's going. Unlike the classic 32-page floppy comic arcs, in which the reader harbors an expectation that a chapter or story concludes between two covers with obvious transitions, each of Davis' stories exists in a void. They might be one page. They might be 16. They break off at strange, unpredictable moments, concluding their narratives without warning.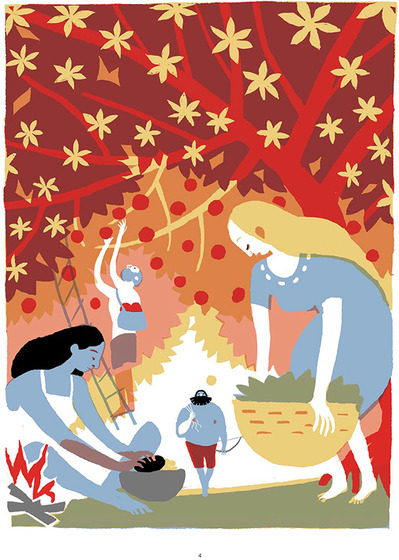 Davis' work can be messy, dangerous, frightening, delicate, thoughtful, brutal, painful, esoteric, tightly-focused, weird and sometimes frustrating. It manages to be all of these things and more within the course of these sadly brief 146 pages. Most of all, How to Be Happy is fearless and fantastic, unafraid to break rules or to make new ones. All eyes are on Davis for her next step. Hillary Brown