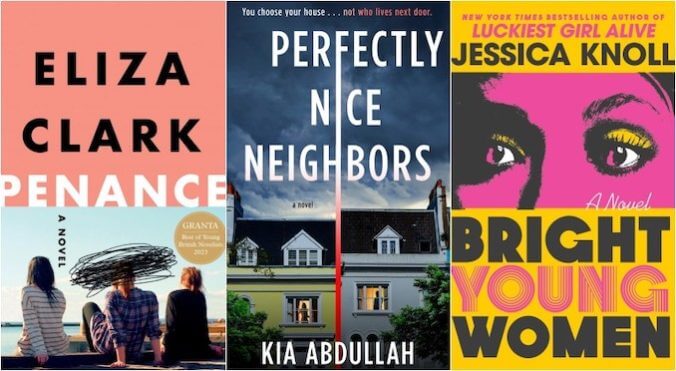 Fall means many things: Cozy sweaters, vibrant leaves, pumpkin spice lattes, cool evenings that turn dark sooner than ever. And for book lovers, the shadowy vibes of the season tend to relentlessly draw readers' eyes toward the thriller and mystery sections of their local bookshops. (Or toward things that go bump in the night but that's a very different kind of list.)
Here are our picks for the upcoming thriller book releases that belong on your Fall reading list.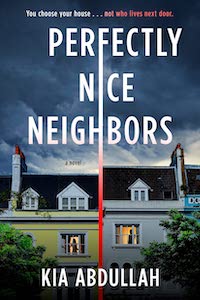 Perfectly Nice Neighbors by Kia Abdullah
Release Date: September 12 from G.P. Putnam & Sons
Why We're Excited: An unfortunately timely story that wrestles with everything from success, social media, resentment, racism, cancel culture, and the dark underbelly of suburbia, Perfectly Nice Neighbors is a thriller that feels both uncomfortable and uncomfortably necessary.
Publisher's Description: Salma Khatun is hopeful about Blenheim, the safe suburban development into which she, her husband, and their son have just moved. The Bangladeshi family are in desperate need of a fresh start, and Blenheim feels like just the place. 
Soon after they move in, Salma spots her white neighbor, Tom Hutton, ripping out the anti-racist banner her son put in the front garden. Choosing not to confront Tom, Salma takes the banner inside and puts it in her window instead. But the next morning, she wakes up to find her window smeared with paint. 
This time she does confront Tom, and the battle lines between the two families are drawn. As racial and social tensions escalate and the stakes rise, it's clear that a reckoning is coming…
And someone is going to get hurt.

Bright Young Women by Jessica Knoll
Release Date: September 19 from Marysue Rucci Books
Why We're Excited: A serial killer thriller that grounds its fictional story in echoes of Ted Bundy's real life crimes in order to explore complex themes of misogyny, survivor's guilt and sensationalism, this is a true crime adjacent novel that thoughtfully deconstructs the genre at its center. 
Publisher's Description: January 1978. A serial killer has terrorized women across the Pacific Northwest, but his existence couldn't be further from the minds of the vibrant young women at the top sorority on Florida State University's campus in Tallahassee. Tonight is a night of promise, excitement, and desire, but Pamela Schumacher, president of the sorority, makes the unpopular decision to stay home—a decision that unwittingly saves her life. Startled awake at 3 a.m. by a strange sound, she makes the fateful decision to investigate. What she finds behind the door is a scene of implausible violence—two of her sisters dead; two others, maimed. Over the next few days, Pamela is thrust into a terrifying mystery inspired by the crime that's captivated public interest for more than four decades.
On the other side of the country, Tina Cannon has found peace in Seattle after years of hardship. A chance encounter brings twenty-five-year-old Ruth Wachowsky into her life, a young woman with painful secrets of her own, and the two form an instant connection. When Ruth goes missing from Lake Sammamish State Park in broad daylight, surrounded by thousands of beachgoers on a beautiful summer day, Tina devotes herself to finding out what happened to her. When she hears about the tragedy in Tallahassee, she knows it's the man the papers refer to as the All-American Sex Killer. Determined to make him answer for what he did to Ruth, she travels to Florida on a collision course with Pamela—and one last impending tragedy.

Penance by Eliza Clark
Release Date: September 26 from Harper
Why We're Excited: An ambitious deconstruction of society's voyeuristic obsession with the true crime genre, written as a pseudo piece of investigative nonfiction, Penance is…a lot. But it's a big, big swing.
Publisher's Description: On a beach in a run-down seaside town on the Yorkshire coastline, sixteen-year-old Joan Wilson is set on fire by three other schoolgirls.
Nearly a decade after the horrifying murder, journalist Alec Z. Carelli has written the definitive account of the crime, drawn from hours of interviews with witnesses and family members, painstaking historical research, and most notably, correspondence with the killers themselves. The result is a riveting snapshot of lives rocked by tragedy, and a town left in turmoil.
But how much of the story is true?

Midnight is the Darkest Hour by Ashley Winstead
Release Date: October 3 from Sourcebooks Landmark
Why We're Excited: An atmospheric thriller about murder, feminism, and religious oppression that boasts more than a few Southern Gothic tendencies this is a creepy Fall winner. 
Publisher's Description: This is a twisted tale of murder, obsessive love, and the beastly urges that lie dormant within us all…even the God-fearing folk of Bottom Springs, Louisiana. In her small hometown, librarian Ruth Cornier has always felt like an outsider, even as her beloved father rains fire-and-brimstone warnings from the pulpit at Holy Fire Baptist.
Unfortunately for Ruth, the only things the townspeople fear more than the God and the Devil are the myths that haunt the area, like the story of the Low Man, a vampiric figure said to steal into sinners' bedrooms and kill them on moonless nights. When a skull is found deep in the swamp next to mysterious carved symbols, Bottom Springs is thrown into uproar—and Ruth realizes only she and Everett, an old friend with a dark past, have the power to comb the town's secret underbelly in search of true evil.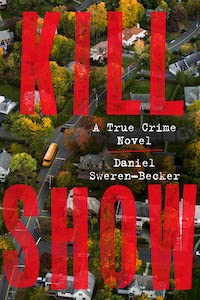 Kill Show by Daniel Sweren-Becker
Release Date: October 3 from Harper Collins
Why We're Excited: The story of a missing girl that doubles as a critique of the burgeoning multimedia industry around true crime, Kill Show's unexpected, genre-hopping premise is unlike any other thriller on this list.
Publisher's Description: Sara Parcell disappeared without a trace on a crisp April morning in Frederick, Maryland. Her tragic story was a national obsession and the centerpiece of a controversial television docu-series that followed her disappearance in real time–but is it possible that everyone missed the biggest secret of all? Ten years after these events, the people who knew Sara best are finally ready to talk. 
In this genre-bending novel, Daniel Sweren-Becker fashions an oral history around the seemingly familiar crime of a teenage girl gone missing–yet Kill Show, filled with diabolical twists and provocative social commentary, is no standard mystery. Through "interviews" with family members, neighbors, law enforcement, television executives, and a host of other compelling characters, Sweren-Becker constructs a riveting tale about one family's tragedy—and Hollywood's insatiable desire to exploit it.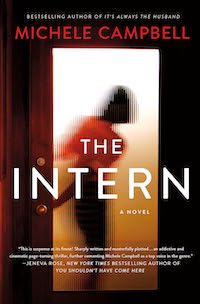 The Intern by Michele Campbell
Release Date: October 3 from St. Martin's Press
Why We're Excited: A timely legal thriller about a complicated relationship between a charismatic judge and the Harvard law student who lands an internship with her while covering up the fact that her wayward brother's drug case is on her docket. But that's not the only secret either of these women are keeping.
Publisher's Description: Madison Rivera lands the internship of a lifetime working for Judge Kathryn Conroy. But Madison has a secret that could destroy her career. Her troubled younger brother Danny has been arrested, and Conroy is the judge on his case. When Danny goes missing after accusing the judge of corruption, Madison's quest for answers brings her deep into the judge's glamorous world. Is Kathryn Conroy a mentor, a victim, or a criminal? Is she trying to help Madison or use her as a pawn? And why is somebody trying to kill her? As the two women circle each other in a dangerous cat-and-mouse game, will they save each other, or will betrayal leave one of them dead?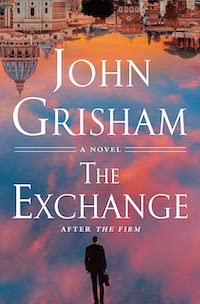 The Exchange by John Grisham
Release Date: October 17 from Doubleday
Why We're Excited: It's hard to overstate the impact of John Grisham's The Firm — a novel that introduced a generation of readers to the legal thriller, turned its author into a veritable household name, and got adapted into a hit film that starred A-listers like Tom Cruise, Holly Hunter, Ed Harris, and Jeanne Tripplehorn. More than thirty years later we're finally getting a sequel—and will finally find out what happened to Mitch and Abby McDeere after they exposed the titular firm's crimes.
Publisher's Description: What became of Mitch and Abby McDeere after they exposed the crimes of Memphis law firm Bendini, Lambert & Locke and fled the country?It is now fifteen years later, and Mitch and Abby are living in Manhattan, where Mitch is a partner at the largest law firm in the world. When a mentor in Rome asks him for a favor that will take him far from home, Mitch finds himself at the center of a sinister plot that has worldwide implications—and once again endangers his colleagues, friends, and family. Mitch has become a master at staying one step ahead of his adversaries, but this time there's nowhere to hide.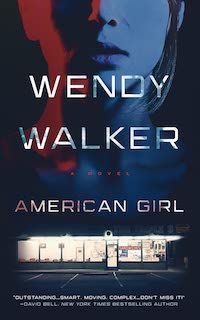 American Girl by Wendy Walker
Release Date: October 17 from Blackstone Publishing
Why We're Excited: This story of the death of a small business owner in an economically distressed community features a unique protagonist and promises plenty of unexpected twists 
Publisher's Description: Charlie Hudson, an autistic 17-year-old, is determined to leave Sawyer, PA as soon as she graduates high school — in the meantime, she works as many hours as she can at a sandwich shop called The Triple S to save money for college. But when shop owner Clay Cooper — a man who is both respected and feared by many in this economically depressed community — is found dead, each member of his staff becomes a suspect in the perplexing case. Charlie must work to protect herself and her friends, and uncover the danger that may still be at large in their tightknit community.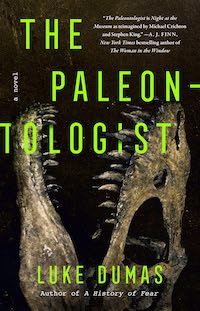 The Paleontologist by Luke Dumas
Release Date: October 31 from Atria Books
Why We're Excited: Look, I'm absolutely reading any thriller that involves a dinosaur expert who solves crimes.
Publisher's Description: Curator of paleontology Dr. Simon Nealy never expected to return to his Pennsylvania hometown, let alone the Hawthorne Museum of Natural History. He was just a boy when his six-year-old sister, Morgan, was abducted from the museum under his watch, and the guilt has haunted Simon ever since. After a recent break-up and the death of the aunt who raised him, Simon feels drawn back to the place where Morgan vanished, in search of the bones they never found.
But from the moment he arrives, things aren't what he expected. The Hawthorne is a crumbling ruin, still closed amid the ongoing pandemic, and plummeting toward financial catastrophe. Worse, Simon begins seeing and hearing things he can't explain. Strange animal sounds. Bloody footprints that no living creature could have left. A prehistoric killer looming in the shadows of the museum. Terrified he's losing his grasp on reality, Simon turns to the handwritten research diaries of his predecessor and uncovers a blood-soaked mystery 150 million years in the making that could be the answer to everything.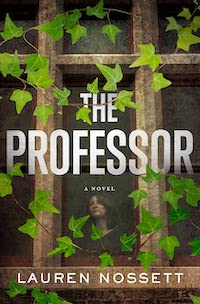 The Professor by Lauren Nossett
Release Date: November 14 from Flatiron Books
Why We're Excited: A twisty mystery about the death of a promising University of Georgia, Lauren Nossett's follow-up to 2022 thriller The Resemblance similarly explores the dark corners of academia.
Publisher's Description: On a spring afternoon in Athens, Georgia, Ethan Haddock is discovered in his apartment, dead, apparently by his own hand. His fatality immediately garners media not because his death reflects the troubling increase of depression and mental health issues among college students, but because the media has caught the whiff of a scandal. His professor, Dr. Verena Sobek, has been taken in for questioning, and there are rumors his death is the result of a bad romance. A Title IX investigation is opened, the professor is suspended, and social media crusaders and trolls alike are out for blood.
Marlitt Kaplan never investigated love affairs. A former detective turned research assistant, she misses the excitement of her old job, but most of all the friendship of her partner, Teddy. When her mother, a professor at the university and colleague of the accused professor, asks for her help, she finds herself in the impossible position of proving something didn't happen. Without the credentials to interview suspects or access phone records, she will have to get closer to a victim's life than ever before. And she quickly finds herself in his apartment, having dinner with his roommates, even sleeping in his bed. But is she too close to see the truth?
In her relentless pursuit to uncover the mystery behind Ethan's death, Marlitt will be forced to confront the power structures ingrained in the classroom against the backdrop of a historic campus and an institution that sometimes fails its most vulnerable members.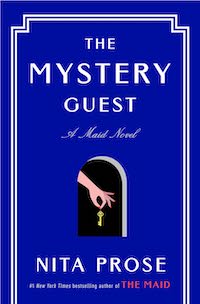 The Mystery Guest by Nita Prose
Release Date: November 28 from Ballantine Books
Why We're Excited: Given the crossover popularity of The Maid, it seems safe to assume everyone's looking forward to this follow-up, which sees Molly investigate the death of a famous author in the hotel's tea room. 
Publisher's Description: Molly Gray is not like anyone else. With her flair for cleaning and proper etiquette, she has risen through the ranks of the glorious five-star Regency Grand Hotel to become the esteemed Head Maid. But just as her life reaches a pinnacle state of perfection, her world is turned upside down when J.D. Grimthorpe, the world-renowned mystery author, drops dead— very dead —on the hotel's tea room floor.
When Detective Stark, Molly's old foe, investigates the author's unexpected demise, it becomes clear that this death was murder most foul. Suspects abound, and everyone wants to who killed J.D. Grimthorpe? Was it Lily, the new Maid-in-Training? Or was it Serena, the author's secretary? Could Mr. Preston, the hotel's beloved doorman, be hiding something? And is Molly really as innocent as she seems?
As the case threatens the hotel's pristine reputation, Molly knows she alone holds the key to unlocking the killer's identity. But that key is buried deep in her past—because long ago, she knew J.D. Grimthorpe. Molly begins to comb her memory for clues, revisiting her childhood and the mysterious Grimthorpe mansion where she and her dearly departed Gran once worked side by side. With the entire hotel under investigation, Molly must solve the mystery post-haste. If there's one thing Molly knows for sure, it's that dirty secrets don't stay buried forever…
---
Lacy Baugher Milas is the Books Editor at Paste Magazine, but loves nerding out about all sorts of pop culture. You can find her on Twitter @LacyMB