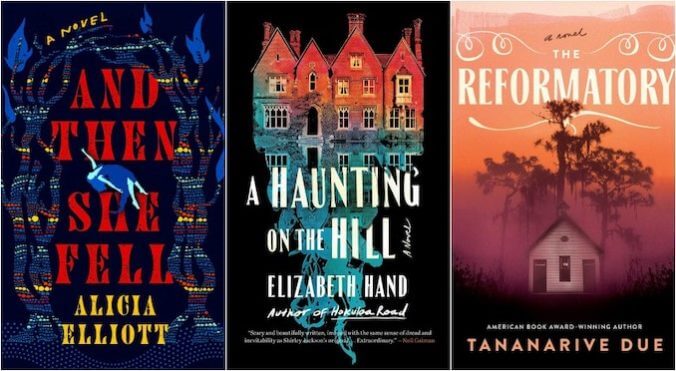 After a long summer that's still simmering many of us under its oppressive heat, fall is finally almost here. The days are getting shorter, the nights are getting cooler, and soon it'll be time for ghosts and goblins to come knocking on your door in search of candy. For those of us who just can't wait to get the plastic skeletons out of the attic, Spooky Season is already here.
Naturally, that means publishers are ready to trot out their horror offerings to an eager readership who can't wait to dive into the next addictive scary story, so the fall calendar is absolutely packed with spooky new reads just waiting to be devoured. From intriguing debuts to new releases from masters of the craft, here are 25 horror books we're dying to read this fall.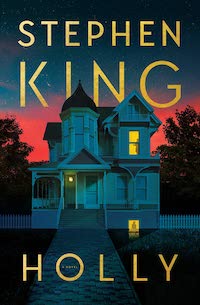 Holly by Stephen King
Release Date: September 5 from Scribner
Why We're Excited: Holly Gibney began life as a supporting player in Stephen King's mystery series of Mr. Mercedes novels, and has since grown into one of his go-to characters. After co-starring in The Outsider and leading the title novella in If It Bleeds, she's back in her very own full-length novel. 
Longtime King fans love it when he plays with the connections of a shared universe of characters and stories, and since Holly is a fan-favorite, we can't wait to see what she does with a horror book all to herself.
Publisher's Description: Stephen King's Holly marks the triumphant return of beloved King character Holly Gibney. Readers have witnessed Holly's gradual transformation from a shy (but also brave and ethical) recluse in Mr. Mercedes to Bill Hodges's partner in Finders Keepers to a full-fledged, smart, and occasionally tough private detective in The Outsider. In King's new novel, Holly is on her own, and up against a pair of unimaginably depraved and brilliantly disguised adversaries.
When Penny Dahl calls the Finders Keepers detective agency hoping for help locating her missing daughter, Holly is reluctant to accept the case. Her partner, Pete, has Covid. Her (very complicated) mother has just died. And Holly is meant to be on leave. But something in Penny Dahl's desperate voice makes it impossible for Holly to turn her down.
Mere blocks from where Bonnie Dahl disappeared live Professors Rodney and Emily Harris. They are the picture of bourgeois respectability: married octogenarians, devoted to each other, and semi-retired lifelong academics. But they are harboring an unholy secret in the basement of their well-kept, book-lined home, one that may be related to Bonnie's disappearance. And it will prove nearly impossible to discover what they are up to: they are savvy, they are patient, and they are ruthless.
Holly must summon all her formidable talents to outthink and outmaneuver the shockingly twisted professors in this chilling new masterwork from Stephen King.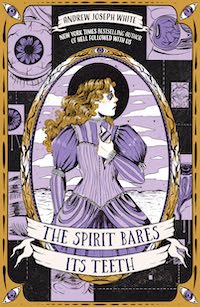 The Spirit Bares Its Teeth by Andrew Joseph White
Release Date: September 5 from Peachtree Teen
Why We're Excited: Andrew Joseph White caught a lot of eyes with his debut novel Hell Followed With Us, and now he's back with another story aiming to challenge and bewitch readers. 
An alternate history set in the days when Spiritualism was all the rage in London, The Spirit Bares Its Teeth has all the makings of a high-concept Gothic chiller, complete with White's focus on trans characters reshaping horror in their own unique ways.
Publisher's Description: Mors vincit omnia. Death conquers all.
London, 1883. The Veil between the living and dead has thinned. Violet-eyed mediums commune with spirits under the watchful eye of the Royal Speaker Society, and sixteen-year-old trans, autistic Silas Bell would rather rip out his violet eyes than become an obedient Speaker wife.
After a failed attempt to escape an arranged marriage, Silas is diagnosed with Veil sickness—a mysterious disease sending violet-eyed women into madness—and shipped away to Braxton's Finishing School and Sanitorium. When the ghosts of missing students start begging Silas for help, he decides to reach into Braxton's innards and expose its guts to the world—so long as the school doesn't break him first.
Featuring an autistic trans protagonist in a historical setting, Andrew Joseph White's much-anticipated sophomore novel does not back down from exposing the violence of the patriarchy and the harm inflicted on trans youth who are forced into conformity.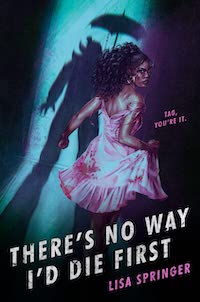 There's No Way I'd Die First by Lisa Springer
Release Date: September 5 from Delacorte Press
Why We're Excited: A horror-comedy from debut author Lisa Springer, There's No Way I'd Die First comes from a place of profound horror fandom, following a teen protagonist who's obsessed with the genre who gets swept up in a deadly game she didn't plan on. Fortunately, horror fans know how to navigate horror stories in real life…right? This book sounds perfect for fans of My Heart is a Chainsaw and Clown in a Cornfield, as well as anyone who knows horror tropes by heart.
Publisher's Description: Seventeen-year-old Noelle Layne knows horror. Every trope, every warning sign, every survival tactic. She even leads a successful movie club dedicated to the genre. Who better to throw the ultimate, most exclusive Halloween party on all of Long Island?
With some of the top influencers in her school on the guest list, including gorgeous singer-songwriter Archer Mitchell, her popularity is bound to spike. She could really use the social boost for an upcoming brand expansion. Nothing is going to ruin this party.
Except…maybe the low budget It clown she hired for a stirring round of tag. He axes one of her classmates. From the looks of his devilish grin and bag full of killer tricks, he's just getting started.
A murderous clown is out for blood, but Noelle has been waiting her entire life to prove that she's a Final Girl.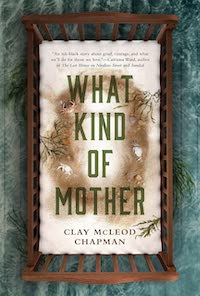 What Kind of Mother by Clay McLeod Chapman
Release Date: September 12 from Quirk Books
Why We're Excited: In novels like Whisper Down the Lane and 2022's exceptional Ghost Eaters, Clay McLeod Chapman established himself as an author who deftly weaves place, character, and atmosphere into something absolutely terrifying. Now, he's out to do it again with this dark tale of a palm reader plunged into a hometown mystery she never asked for, full of dark secrets she'll never be able to forget. If you know Chapman's work, you probably can't wait for What Kind of Mother already. If you don't, consider this your invitation to make his next book your first.
Publisher's Description: After striking out on her own as a teen mom, Madi Price is forced to return to her hometown of Brandywine, Virginia, with her seventeen-year-old daughter. With nothing to her name, she scrapes together a living as a palm reader at the local farmers market.  
It's there that she connects with old high school flame Henry McCabe, now a reclusive local fisherman whose infant son, Skyler, went missing five years ago. Everyone in town is sure Skyler is dead, but when Madi reads Henry's palm, she's haunted by strange and disturbing visions that suggest otherwise. As she follows the thread of these visions, Madi discovers a terrifying nightmare waiting at the center of the labyrinth—and it's coming for everyone she holds dear.
Combining supernatural horror with domestic suspense into a visceral exploration of parental grief, What Kind of Mother cements Clay McLeod Chapman's reputation as a "star" (Vulture) and "the twenty-first century's Richard Matheson" (Richard Chizmar, Chasing the Boogeyman.)

Nails and Eyes by Kaori Fujino
Release Date: September 12 from Pushkin Press
Why We're Excited: You might already know Japanese horror on the big screen, but Japanese horror on the page is just as exciting, just as specific, and just as chilling. After making waves in her native Japan, Kaori Fujino's Nails and Eyes is coming to English language readers for the first time this fall, and we can't wait to sink our teeth into a book that's being compared to titles like Tender is the Flesh.
Publisher's Description: A young girl loses her mother, and her father blindly invites his secret lover into the family home to care for her. As she obsessively tries to curate a pristine life, this new interloper remains indifferent to the girl, who seems to record her every move – and she realises only too late all that she has failed to see.
With masterful narrative control, Nails and Eyes—appearing in English for the first time—builds to a conclusion of disturbing power. Paired with two additional stories of unsettled minds and creeping tension, it introduces a daring new voice in Japanese literature.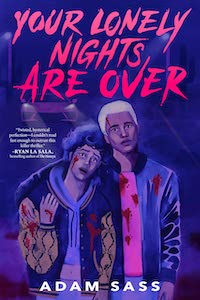 Your Lonely Nights Are Over by Adam Sass
Release Date: September 12 from Viking Books for Young Readers
Why We're Excited: First of all, Adam Sass' latest YA novel is being pitched as Clueless meets Scream, so how could you not get pumped with a hook like that? Throw in a delightful twist on slasher tropes and high school gossip that has shades of the wonderful indie horror film Tragedy Girls (look it up), and you've got a must-read.
Publisher's Description: Dearie and Cole are inseparable, unlikeable, and (in bad luck for them) totally unbelievable.
From the day they met, Dearie and Cole have been two against the world. But whenever something bad happens at Stone Grove High School, they get blamed. Why? They're beautiful, flirtatious, dangerously clever queen bees, and they're always ready to call out their fellow students. But they've never faced a bigger threat than surviving senior year, when Mr. Sandman, a famous, never-caught serial killer emerges from a long retirement—and his hunting ground is their school Queer Club.
As evidence and bodies begin piling up and suspicion points at Dearie and Cole, they will need to do whatever it takes to unmask the real killer before they and the rest of Queer Club are taken down. But they're not getting away from the killer without a fight.
Along the way, they must confront dark truths hidden beneath the surface of their small desert community. When the world is stacked against them and every flop they know is a suspect, can Dearie and Cole stop Mr. Sandman's rampage? Or will their lonely nights soon be over . . .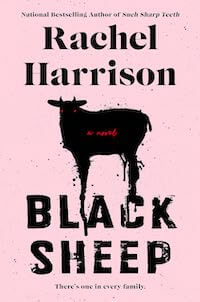 Black Sheep by Rachel Harrison
Release Date: September 19 from Berkley
Why We're Excited: The author of The Return, Cackle, and last year's Such Sharp Teeth is back with her fourth full-length horror novel, and once again Rachel Harrison is out to do something new. 
Anyone who read Such Sharp Teeth knows that Harrison can absolutely nail thorny family dynamics and blend them with visceral horror, but with Black Sheep, there's something new going on, proving yet again that Harrison is one of the most versatile authors in the genre right now.
Publisher's Description: Nobody has a "normal" family, but Vesper Wright's is truly…something else. Vesper left home at eighteen and never looked back—mostly because she was told that leaving the staunchly religious community she grew up in meant she couldn't return. But then an envelope arrives on her doorstep. 
Inside is an invitation to the wedding of Vesper's beloved cousin Rosie. It's to be hosted at the family farm. Have they made an exception to the rule? It wouldn't be the first time Vesper's been given special treatment. Is the invite a sweet gesture? An olive branch? A trap? Doesn't matter. Something inside her insists she go to the wedding. Even if it means returning to the toxic environment she escaped. Even if it means reuniting with her mother, Constance, a former horror film star and forever ice queen.
When Vesper's homecoming exhumes a terrifying secret, she's forced to reckon with her family's beliefs and her own crisis of faith in this deliciously sinister novel that explores the way family ties can bind us as we struggle to find our place in the world.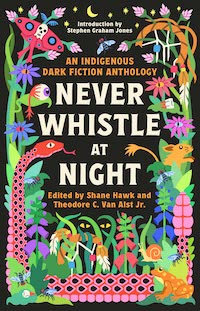 Never Whistle at Night: An Indigenous Dark Fiction Anthology edited by Shane Hawk and Theodore C. Van Alst Jr. 
Release Date: September 19 from Vintage
Why We're Excited: This anthology of indigenous horror authors earned the seal of approval from no less a luminary than Stephen Graham Jones, so you know it's legit. And with a list of authors including genre stars like Nick Medina, Rebecca Roanhorse, and Darcie Little Badger, you know you don't want to miss this dark exploration of Indigenous traditions, themes, and characters.
Publisher's Description: Many Indigenous people believe that one should never whistle at night. This belief takes many forms: for instance, Native Hawaiians believe it summons the Hukai'po, the spirits of ancient warriors, and Native Mexicans say it calls Lechuza, a witch that can transform into an owl. But what all these legends hold in common is the certainty that whistling at night can cause evil spirits to appear—and even follow you home.
These wholly original and shiver-inducing tales introduce readers to ghosts, curses, hauntings, monstrous creatures, complex family legacies, desperate deeds, and chilling acts of revenge. Introduced and contextualized by bestselling author Stephen Graham Jones, these stories are a celebration of Indigenous peoples' survival and imagination, and a glorious reveling in all the things an ill-advised whistle might summon.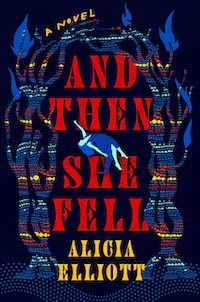 And Then She Fell by Alicia Elliott
Release Date: September 26 from Dutton
Why We're Excited: Speaking of Indigenous writers, there's Alicia Elliott's And Then She Fell, the story of an Indigenous woman whose life starts to crumble before her eyes as she tries to capture one of her people's most important stories through her own voice and perspective. The blending and clashing of cultures at work in this synopsis, and the ways in which it plays into a very particular kind of horror, sounds intoxicating, and we can't wait to see how it reads.
Publisher's Description: On the surface, Alice is exactly where she thinks she should be: She's just given birth to a beautiful baby girl, Dawn; her charming husband, Steve—a white academic whose area of study is conveniently her own Mohawk culture—is nothing but supportive; and they've moved into a new home in a posh Toronto neighborhood. But Alice could not feel like more of an impostor. She isn't connecting with her daughter, a struggle made even more difficult by the recent loss of her own mother, and every waking moment is spent hiding her despair from Steve and their ever-watchful neighbors, among whom she's the sole Indigenous resident. Even when she does have a minute to herself, her perpetual self-doubt hinders the one vestige of her old life she has left: her goal of writing a modern retelling of the Haudenosaunee creation story.
Then, as if all that wasn't enough, strange things start to happen. She finds herself losing bits of time and hearing voices she can't explain, all while her neighbors' passive-aggressive behavior begins to morph into something far more threatening. Though Steve assures her this is all in her head, Alice cannot fight the feeling that something is very, very wrong, and that in her creation story lies the key to her and Dawn's survival…. She just has to finish it before it's too late.
Told in Alice's raw and darkly funny voice, And Then She Fell is an urgent and unflinching exploration of inherited trauma, womanhood, denial, and false allyship, which speeds to an unpredictable—and surreal—climax.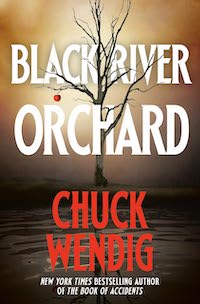 Black River Orchard by Chuck Wendig
Release Date: September 26 from Del Rey
Why We're Excited: Chuck Wendig's The Book of Accidents is one of the best horror novels of the last few years, and if you know his social media presence, you know the dude loves some apples. So, the idea of Wendig combining his love of apples with his skill as a horror storyteller is too good to pass up. Then of course, there's the imminently spooky, folk-horror plot tease of Black River Orchard, which makes it feel like the perfect fall read to enjoy alongside a glass of hot cider. 
Publisher's Description: It's autumn in the town of Harrow, but something besides the season is changing there.
Because in that town there is an orchard, and in that orchard, seven most unusual trees. And from those trees grows a new sort of apple: strange, beautiful, with skin so red it's nearly black.
Take a bite of one of these apples, and you will desire only to devour another. And another. You will become stronger. More vital. More yourself, you will believe. But then your appetite for the apples and their peculiar gifts will keep growing—and become darker.
This is what happens when the townsfolk discover the secret of the orchard. Soon it seems that everyone is consumed by an obsession with the magic of the apples . . . and what's the harm, if it is making them all happier, more confident, more powerful?
Even if something else is buried in the orchard besides the seeds of these extraordinary trees: a bloody history whose roots reach back to the very origins of the town.
But now the leaves are falling. The days grow darker. It's harvest time, and the town will soon reap what it has sown.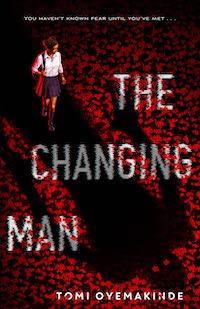 The Changing Man by Tomi Oyemakinde
Release Date: September 26 from Fiewel & Friends
Why We're Excited: Spooky boarding schools are a time-honored tradition in horror for a reason, and this fall debut author Tomi Oyemakinde puts his own spin on the subgenre with YA chiller, The Changing Man.  
Trying to fit in at a school where you already feel like you don't belong is challenging enough, but doing it while there's a legendary monster possibly emerging among your classmates is absolutely nightmarish, in more ways than one.
Publisher's Description: Face front. Watch your back. BE BRAVE.
If it was left to her, Ife Adebola wouldn't be starting at Nithercott School. Because despite her being in the Urban Achievers scholarship program, her parents can barely afford the tuition. No matter who is trying to be friends with her, like her classmate Bijal, or how much the prestigious boarding school tries to pull her in, Ife is determined not to get caught up in any of it.
But when another student, Malika, begins acting strange, Ife can't help but wonder if there's more going on at Nithercott than she realizes. Could there be any truth to the school's decades-old legend of the Changing Man? Is there any connection to the missing older brother of her classmate, Ben?
As more questions arise, Ife has no choice but to team up with Ben and Bijal to investigate. But can the trio act quickly enough to uncover who is behind everything, before one―or all―of them is the Changing Man's next victim?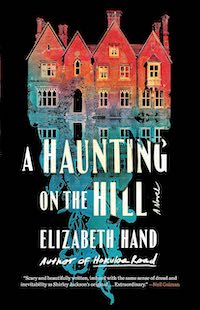 A Haunting on the Hill by Elizabeth Hand
Release Date: October 3 from Mulholland
Why We're Excited: Elizabeth Hand is one of our finest horror authors, which means any new release from her is cause for celebration. Even with that in mind, though, A Haunting on the Hill feels special. Approved by the Shirley Jackson estate, it's an authorized follow-up to The Haunting of Hill House, marking the first time an author has moved into Jackson's legendary world with the backing of her literary legacy. Why aren't we reading this right now?
Publisher's Description: Holly Sherwin has been a struggling playwright for years, but now, after receiving a grant to develop her play Witching Night, she may finally be close to her big break. All she needs is time and space to bring her vision to life. When she stumbles across Hill House on a weekend getaway upstate, she is immediately taken in by the mansion, nearly hidden outside a remote village. It's enormous, old, and ever-so eerie—the perfect place to develop and rehearse her play.
Despite her own hesitations, Holly's girlfriend, Nisa, agrees to join Holly in renting the house for a month, and soon a troupe of actors, each with ghosts of their own, arrive. Yet as they settle in, the house's peculiarities are made known: strange creatures stalk the grounds, disturbing sounds echo throughout the halls, and time itself seems to shift.  All too soon, Holly and her friends find themselves at odds not just with one another, but with the house itself. It seems something has been waiting in Hill House all these years, and it no longer intends to walk alone . . .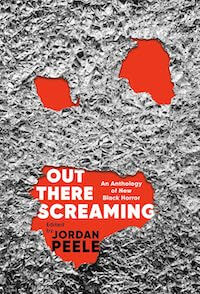 Out There Screaming: An Anthology of New Black Horror edited by Jordan Peele
Release Date: October 3 from Random House
Why We're Excited: Come on, it's Jordan Peele! In the years since Get Out, he's become one of the most important voices in modern horror, not just as a storyteller but as a curator. Now, he's bringing us a collection of stories from black authors both established and new that will explore the Black experience in frightening new ways. Just look at that roster of talent. There's no way we're passing this up. 
Publisher's Description: A cop begins seeing huge, blinking eyes where the headlights of cars should be that tell him who to pull over. Two freedom riders take a bus ride that leaves them stranded on a lonely road in Alabama where several unsettling somethings await them. A young girl dives into the depths of the Earth in search of the demon that killed her parents. These are just a few of the worlds of Out There Screaming, Jordan Peele's anthology of all-new horror stories by Black writers. Featuring an introduction by Peele and an all-star roster of beloved writers and new voices, Out There Screaming is a master class in horror, and—like his spine-chilling films—its stories prey on everything we think we know about our world . . . and redefine what it means to be afraid.
 Featuring stories by: Erin E. Adams, Violet Allen, Lesley Nneka Arimah, Maurice Broaddus, Chesya Burke, P. Djèlí Clark, Ezra Claytan Daniels, Tananarive Due, Nalo Hopkinson, N. K. Jemisin, Justin C. Key, L. D. Lewis, Nnedi Okorafor, Tochi Onyebuchi, Rebecca Roanhorse, Nicole D. Sconiers, Rion Amilcar Scott, Terence Taylor, and Cadwell Turnbull.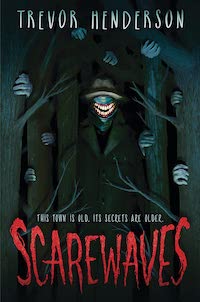 Scarewaves by Trevor Henderson
Release Date: October 3 from Scholastic
Why We're Excited: One of the internet's finest purveyors of all things creepy, Trevor Henderson has made his reputation on frightening, intriguing, and clever monsters designs of all shapes and sizes. Now, he's bringing all those talents to bear on a middle-grade novel about kids going to the scary places the adults can't spot. It's always good to start horror fans young, and Scarewaves is bound to be the perfect first horror book for lots of lucky kids out there.
Publisher's Description: Internet horror superstar Trevor Henderson is famous for his ghastly creations and hair-raising creepypastas. Now he brings that talent for the terrifying to this debut middle-grade thriller.
You don't stay out after dark in Beacon Point…
The small town of Beacon Point has always been plagued by eerie local phenomena. It's a town where disappearances are common, strange creatures have been sighted with unnerving frequency, and a ghastly secret lurks in the woods.
The adults in town are oblivious to these strange occurrences. Others prefer not to talk or even think about them. But over the course of several terrifying nights, a group of kids will come face to face with the horrors hiding within their sleepy town. Guided by the mysterious radio host Alan Graves, they must follow the clues to a terrifying secret before it eats them alive.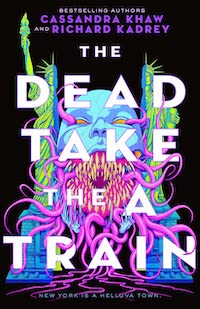 The Dead Take the A Train by Cassandra Khaw and Richard Kadrey
Release Date: October 3 from Nightfire
Why We're Excited: Cassandra Khaw and Richard Kadrey are both authors more than capable of getting us excited by themselves, two of genre's best contemporary stylists with their own singular spins on dark fiction. But combine them, and we're there even faster. 
The first in a pair of new books set in a magical, spooky version of New York City, The Dead Take the A Train packs a great concept and the combined talent of a horror superteam.
Publisher's Description: Julie is a coked-up, burnt-out thirty-year-old whose only retirement plan is dying early. She's been trying to establish herself in the NYC magic scene, and she'll work the most gruesome gigs, exorcize the nastiest demons, and make deals with the cruelest gods to claw her way to the top. But nothing can prepare her for the toughest job yet: when her best friend, Sarah, shows up at her door in need of help. Keeping Sarah safe becomes top priority.
Julie is desperate for a quick fix to break the dead-end grind and save her friend. But her power grab sets off a deadly chain of events that puts Sarah – and the entire world – directly in the path of annihilation.
The first explosive adventure in the Carrion City Duology, The Dead Take the A Train fuses Cassandra Khaw's cosmic horror and Richard Kadrey's gritty fantasy into a full-throttle thrill ride straight into New York's magical underbelly.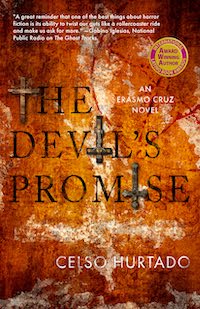 The Devil's Promise by Celso Hurtado
Release Date: October 3 from Inkshares
Why We're Excited: Texas Horror is its own wild subgenre, but even within that specificity, San Antonio Horror is its own strange beast, as Celso Hurtado proved with The Ghost Tracks. Now, the hero of that story is back again with a new supernatural mystery that promises secret rituals and the rise of the Devil himself. If you want horror where the setting is an intriguing character all its own and brings a singular flavor, pick this one up.
Publisher's Description: San Antonio is full of secrets, and seventeen-year-old Erasmo Cruz investigates the strangest of them. After gaining renown for surviving the city's legendary Ghost Tracks, he has set up shop as a paranormal investigator. But helping exorcize other people's demons doesn't seem to relieve his own; his best friend Rat has abandoned him, his grandmother is nearing death, and his own health has taken a sudden decline.
None of these hardships can prepare Erasmo for the story his newest client brings him. Two decades after a strange ritual at a rural ranch, Bradley Erickson is being hunted by the Devil. In exchange for the life of his dreams, Bradley must surrender the blood of his child. The case hurls Erasmo into a dark web of cults, bargains, and broken pasts. Only one thing is certain: the Devil keeps his promises.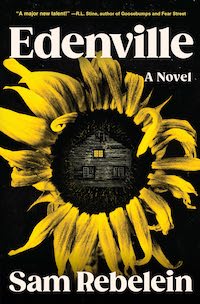 Edenville by Sam Rebelein
Release Date: October 3 from William Morrow
Why We're Excited: Yet another promising debut this fall, Edenville promising to combine two enticing subgenres: Dark academia and urban legends. There are a lot of familiar ideas at work in the setup for Edenville, and it'll be exciting to see how Sam Rebelein plays with those expectations to deliver something we might not expect.
Publisher's Description: After publishing his debut novel, The Shattered Man, to disappointing sales and reviews, Campbell P. Marion is struggling to find inspiration for a follow-up. When Edenville College invites him to join as a writer-in-residence, he's convinced that his bad luck has finally taken a turn. His girlfriend Quinn isn't so sure—she grew up near Edenville and has good reasons for not wanting to move back. Cam disregards her skepticism and accepts the job, with Quinn reluctantly following along.
But there's something wrong in Edenville. Despite the charming old ladies milling about Main Street and picturesque sunflowers dotting the sidewalks, poison lurks beneath the surface. As a series of strange and ominous events escalate among Edenville and its residents, Cam and Quinn find themselves entangled in a dark and disturbing history.
Told with equal parts horror and humor, Edenville explores the urban legends that fuel our nightmares and the ways in which ambition can overshadow our best instincts. Sam Rebelein is an exciting, sharp new voice, sure to terrify readers for years to come.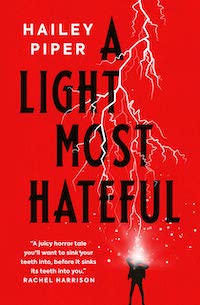 A Light Most Hateful by Hailey Piper
Release Date: October 10 from Titan
Why We're Excited: Hailey Piper is one of horror's brightest stars at the moment thanks to books like Queen of Teeth and No Gods for Drowning, and she promises to deliver yet another must-read with A Light Most Hateful. The story of a small town set upon by strange events and the young woman at the center of it all, it's one of those books that launches right into the terror from the very first page and promises to never let up. 
Publisher's Description: Three years after running away from home, Olivia is stuck with a dead-end job in nowhere town Chapel Hill, Pennsylvania. At least she has her best friend, Sunflower.
Olivia figures she'll die in Chapel Hill, if not from boredom, then the summer night storm which crashes into town with a mind-bending monster in tow.
If Olivia's going to escape Chapel Hill and someday reconcile with her parents, she'll need to dodge residents enslaved by the storm's otherworldly powers and find Sunflower.
But as the night strains friendships and reality itself, Olivia suspects the storm, and its monster, may have its eyes on Sunflower and everything she loves.
Including Olivia.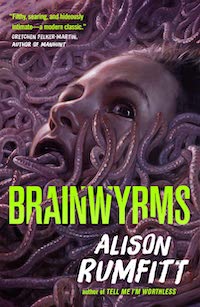 Brainwyrms by Alison Rumfitt
Release Date: October 10 from Tor Nightfire
Why We're Excited: Just months ago Alison Rumfitt wowed horror readers with her vicious, acclaimed debut, Tell Me I'm Worthless. Now it turns out we get two novels from her in the same year. With a great title and a lot of momentum behind it, Brainwyrms promises to go even further than Rumfitt's previous book, delivering a shock we won't soon forget just in time for Halloween.
Publisher's Description: When a transphobic woman bombs Frankie's workplace, she blows up Frankie's life with it. As the media descends like vultures, Frankie tries to cope with the carnage: binge-drinking, sleeping with strangers, pushing away her friends. Then, she meets Vanya. Mysterious, beautiful, terrifying Vanya.
The two hit it off immediately, but as their relationship intensifies, so too does Frankie's feeling that Vanya is hiding something from her. When Vanya's secrets threaten to tear them apart, Frankie starts digging, and unearths a sinister, depraved conspiracy, the roots of which go deeper than she ever imagined.
Shocking, grotesque, and downright filthy, Brainwyrms confronts the creeping reality of political terrorism while exploring the depths of love, pain, and identity.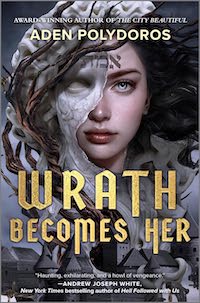 Wrath Becomes Her by Aden Polydoros
Release Date: October 10 from Inkyard Press
Why We're Excited: A new vision of the Jewish folkloric creature known as the golem? We're in. A new golem story set against the backdrop of World War II and the atrocities of the Holocaust, promising vengeance and darkness and very old magic? There's no way we're missing this. Even if you're not a horror fan, the folklore at the core of Wrath Becomes Her makes it the kind of book that might sweep you off your feet.
Publisher's Description: Vera was made for vengeance.
Lithuania, 1943. A father drowns in the all-consuming grief of a daughter killed by the Nazis. He can't bring Chaya back from the dead, but he can use kishuf — an ancient and profane magic — to create a golem in her image. A Nazi killer, to avenge her death.
When Vera awakens, she can feel her violent purpose thrumming within her. But she can also feel glimpses of a human life lived, of stolen kisses amidst the tragedy, and of a grisly death. And when she meets Akiva, she recognizes the boy with soft lips that gave warm kisses. But these memories aren't hers, and Vera doesn't know if she gets—or deserves—to have a life beyond what she was made for.
Vera's strength feels limitless—until she learns that there are others who would channel kishuf for means far less noble than avenging a daughter's death. As she confronts the very basest of humanity, Vera will need more than what her creator gave her: Not just a reason to fight, but a reason to live.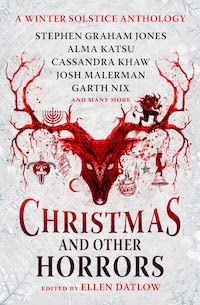 Christmas and Other Horrors: An Anthology of Solstice Horror edited by Ellen Datlow
Release Date: October 24 from Titan 
Why We're Excited: Ellen Datlow is the reigning queen of horror anthologies, and this fall she's turning her always-great taste toward the holiday season with this collection of Yuletide terrors. And as you'd expect from a Datlow anthology, the roster of authors is simply jaw-dropping, with names like Stephen Graham Jones, Alma Katsu, Josh Malerman, Benjamin Percy, and more all lending their stories to this volume.
Publisher's Description: The winter solstice is celebrated as a time of joy around the world—yet the long nights also conjure a darker tradition of ghouls, hauntings, and visitations. This anthology of all-new stories invites you to huddle around the fire and revel in the unholy, the dangerous, the horrific aspects of a time when families and friends come together—for better and for worse.
From the eerie Austrian Schnabelperchten to the skeletal Welsh Mari Lwyd, by way of ravenous golems, uncanny neighbors, and unwelcome visitors, Christmas and Other Horrors captures the heart and horror of the festive season.
Because the weather outside is frightful, but the fire inside is hungry…

The Reformatory by Tananarive Due
Release Date: October 31 from Saga Press
Why We're Excited: Few people alive know the shadows and light of modern horror quite like Tananarive Due. Now the legendary author and academic is back with a new novel rooted in one of America's darkest chapters, and the horrors of her own family's past. A haunting blending of historical fiction and terror, The Reformatory promises a can't-miss experience.
Publisher's Description: Gracetown, Florida
June 1950
Twelve-year-old Robbie Stephens, Jr., is sentenced to six months at the Gracetown School for Boys, a reformatory, for kicking the son of the largest landowner in town in defense of his older sister, Gloria. So begins Robbie's journey further into the terrors of the Jim Crow South and the very real horror of the school they call The Reformatory.
Robbie has a talent for seeing ghosts, or haints. But what was once a comfort to him after the loss of his mother has become a window to the truth of what happens at the reformatory. Boys forced to work to remediate their so-called crimes have gone missing, but the haints Robbie sees hint at worse things. Through his friends Redbone and Blue, Robbie is learning not just the rules but how to survive. Meanwhile, Gloria is rallying every family member and connection in Florida to find a way to get Robbie out before it's too late.
The Reformatory is a haunting work of historical fiction written as only American Book Award–winning author Tananarive Due could, by piecing together the life of the relative her family never spoke of and bringing his tragedy and those of so many others at the infamous Dozier School for Boys to the light in this riveting novel.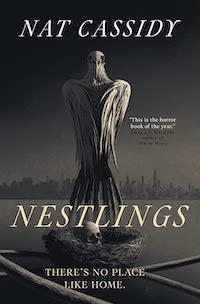 Nestlings by Nat Cassidy
Release Date: October 31 from Nightfire
Why We're Excited: The author of Mary: An Awakening of Terror returns with a book that's pitched as Rosemary's Baby meets Salem's Lot. That's all we need to open the door to a dark New York luxury apartment building and see what's inside…even if we never come out again. 
Publisher's Description: Ana and Reid needed a lucky break.
The horrifically complicated birth of their first child has left Ana paralyzed, bitter, and struggling: with mobility, with her relationship with Reid, with resentment for her baby. That's about to change with the words any New Yorker would love to hear―affordable housing lottery.
They've won an apartment in the Deptford, one of Manhattan's most revered buildings with beautiful vistas of Central Park and stunning architecture.
Reid dismisses disturbing events and Ana's deep unease and paranoia as the price of living in New York―people are odd―but he can't explain the needle-like bite marks on the baby.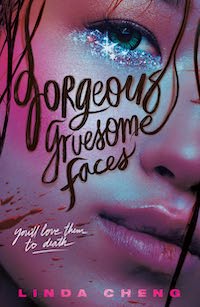 Gorgeous Gruesome Faces by Linda Cheng
Release Date: November 7 from Roaring Brook Press
Why We're Excited: Part horror, part romance, part exploration of the K-Pop phenomenon, Linda Cheng's debut novel promises a blend of She is a Haunting and Yellowjackets, maybe with a dash of Perfect Blue thrown in. There's a lot of mystery in the setup, which means that we can't wait for the payoff, particularly if you're one of those readers obsessed with the dark underbelly simmering beneath pop music.
Publisher's Description: THEN:
Sunny Lee is on the top of the world. She's one third of Sweet Cadence, the hottest up-and-coming teen pop group, alongside her new BFFs, Candie and Mina. The three are inseparable as they ride their way to the top of the charts, even as Candie and Sunny fight to resist the growing spark between them. But when a shocking scandal breaks, the group is suddenly torn apart. Then the unthinkable – Mina dies tragically right before Sunny and Candie's eyes. And Sunny suspects the dark and otherworldly secrets she and Candie were keeping may have had something to do with it . . 
NOW:
For the past two years, Sunny has spent her days longing for her former life and her nights wondering just what happened the night Mina died. So when she discovers that Candie is attending a new K-pop workshop right in her hometown, Sunny has no choice but to follow her there. Candie might be chasing stardom again, but Sunny is only after one thing: answers.
At the workshop, the lines between nightmare and reality start to blur as Sunny is haunted by ghostly visions and her competitors' bodies turn up bizarrely maimed and mutilated. To survive the twisted carnage, Sunny will have to expose the ugly truth behind the workshop's spotlights and the sinister forces swirling around Candie. Stitched with cutting commentary on the ugly side of stardom and impossible beauty standards, Linda Cheng's mind-bending thriller will have readers screaming and swooning for more.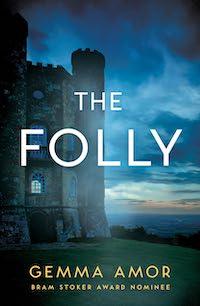 The Folly by Gemma Amor
Release Date: December 5 from Polis Books
Why We're Excited: One of horror's most thrilling up-and-coming voices, Gemma Amor's Bram Stoker-nominated prose is always worth reading, and The Folly feels like the next step in her evolution as an author. A piece of coastal horror with a wide range of influences, The Folly feels like the perfect read for a dark December night, particularly if there's a body of water nearby.
Publisher's Description: Morgan always knew her father, Owen, never murdered her mother, and has spent the last six years campaigning for his release from prison. After a retrial, a fresh jury acquits him,  and he is set free into an uncertain world. A pandemic is sweeping across the nation, Morgan is broke, and both of them have the heavy stench of a highly publicized trial. Both need a change of scene, as Morgan can no longer live in the house that was last decorated by her Mother's blood after she fell down the stairs – the accident her father was wrongly accused of orchestrating. Or was he?
Salvation comes in the form of a tall, dark and somewhat notorious decorative granite tower on the Cornish coastline known only as 'The Folly'. The owner is used to rehabilitating ex-cons, and offers them new life, in exchange for taking care of The Folly. It's an offer that is too good to refuse. 
At first the Folly is idyllic, but soon a stranger arrives who seems obsessed with Morgan's dead mother. The stranger acts like her mother, talks like her mother, and wears her dead mother's clothes. It quickly becomes apparent that he has a message, but with each new encounter, Morgan becomes increasingly unsure as to what that message is, and worse, who it is she is dealing with, exactly: a deranged stranger hell-bent on vengeance, or her restless Mother's spirit itself? 
As a strained father and daughter become increasingly uncomfortable in the Folly, the stranger continues to haunt and taunt them. Questions pile up: who exactly is this stranger? Why must he speak, act and dress like her deceased mother? Is her father as innocent as she always thought? And, most importantly, what happened the night her mother died? 
An atmospheric blend of the The Lighthouse, with hints of Du Maurier's Rebecca, played out on a lonely, Cornish backdrop, THE FOLLY is visceral mystery and family drama, a dark examination of love, loyalty, guilt and possession that draws on the very real horror of betrayal by those closest to us, by those we love the best. 
---
Matthew Jackson is a pop culture writer and nerd-for-hire who's been writing about entertainment for more than a decade. His writing about movies, TV, comics, and more regularly appears at SYFY WIRE, Looper, Mental Floss, Decider, BookPage, and other outlets. He lives in Austin, Texas, and when he's not writing he's usually counting the days until Christmas.