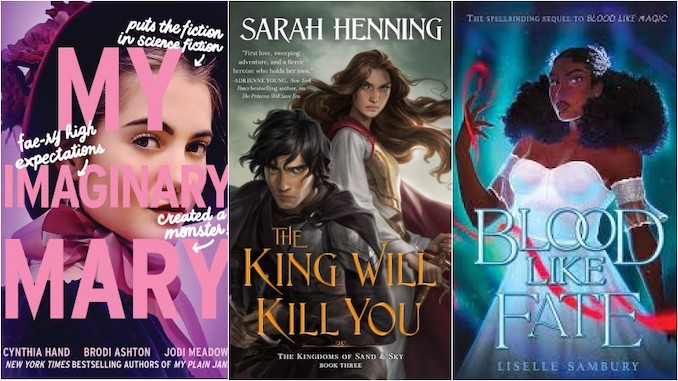 Traditionally, August has often been seen as sort of a slow time in the publishing industry, as readers continue to devour the glut of beach reads that hit shelves in early summer, and look forward to the rush of new titles that will arrive with the Fall. (Just wait till you see the September version of this list, just saying!) But this year, that conventional wisdom is fully out the window.
August 2022 is positively bursting with intriguing new books across virtually all genres, including and possibly most especially in the young adult space, where there are stories about everything from princesses and witches to teen true crime investigators and even Mary Shelley herself.
Here are our favorite August young adult releases.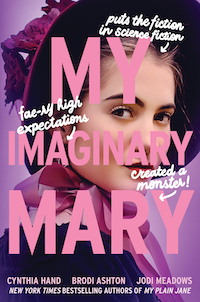 My Imaginary Mary by Cynthia Hand, Brodi Ashton and Jodie Meadows
Release Date: August 2 from HarperTeen
Why You'll Love It: The latest installment in the "Lady Janies" series from a popular trio of YA authors, My Imaginary Mary is the second installment in their Mary-themed trilogy, which puts a magical spin on the lives of famous women named Mary. The first, My Contrary Mary, sets the early life of Mary, Queen of Scots, in a magical fifteenth-century world of shapeshifters, but this latest offering turns famous author Mary Shelley—along with renowned inventor Ada Lovelace—fae, and sees the pair accidentally create an autonomous sentient robot out of magic and spare parts.
On the surface, this story sounds patently ridiculous, but this series has historically been a delight throughout and My Imaginary Mary is no different, full of whip-smart dialogue and fun pop culture references.
Publisher's Description: Mary may have inherited the brilliant mind of her late mother, Mary Wollstonecraft, but she lives a drab life above her father's bookstore, waiting for an extraordinary idea that'll inspire a work worthy of her parentage—and impress her rakishly handsome (and super-secret) beau, Percy Shelley.
Ada Lovelace knows a thing or two about superstar parents, what with her dad being Lord Byron, the most famous poet on Earth. But her passions lie far beyond the arts—in mechanical engineering, to be exact. Alas, no matter how precise Ada's calculations, there's always a man willing to claim her ingenious ideas as his own.
Pan, a.k.a. Practical Automaton Number One, is Ada's greatest idea yet: a machine that will change the world, if only she can figure out how to make him truly autonomous . . . or how to make him work at all.
When fate connects our two masterminds, Mary and Ada learn that they are fae—magical people with the ability to make whatever they imagine become real. But when their dream team results in a living, breathing, thinking PAN, Mary and Ada find themselves hunted by a mad scientist who won't stop until he finds out how they made a real boy out of spare parts.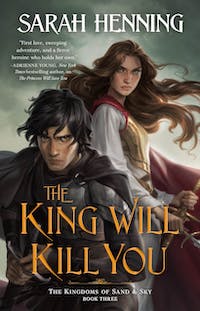 The King Will Kill You by Sarah Henning
Release Date: August 2 from Tor Teen
Why You'll Love It: Sarah Henning's Kingdoms of Sand and Sky trilogy may have started out as a gender-swapped The Princess Bride retelling with series' opener The Princess Will Save You, but third and final novel The King Will Kill You makes it clear that this story is very much its own thing at this point. As Amarande fights not just for the chance to rule her kingdom as a queen in her own right but to remake it into a better, more equitable world, an array of threats assemble against her, including the somehow resurrected crown prince of Pyrenee she killed at the altar. Fast-paced and full of both strong women and familiar pop culture references, The King Will Kill You is a fitting conclusion to Henning's princesses doing it for themselves-style tale. And if the story leans a little too heavily into the fight the patriarchy rhetoric at times, these days, it's hard to complain too much. Go get 'em girls.
Publisher's Description: ??Princess Amarande is finally on the verge of having everything she wants. To be with her true love Luca, no one nor law standing in the way. To rule Ardenia as queen outright, no marriage is necessary, as Luca does the same with the reformed Torrence. To rebuild the continent of The Sand and Sky into a place not defined by archaic, patriarchal laws, but by the will of its people.
However, threats await in the shadows of Amarande's hoped-for happily ever after. One expected and deadly to both her love and every one of her objectives. The other, unexpected, and arising with a vicious aim: revenge at any cost. Against the princess who killed him, the boy whose love made her do it, and the continent cruel enough to deserve his rage.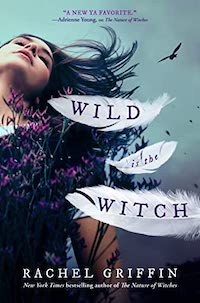 Wild is the Witch by Rachel Griffin
Release Date: August 2 from Sourcebooks Fire
Why You'll Love It: A contemporary romance about witches, endangered animals, and a slow-burn enemies-to-lovers vibe? Sold. Rachel Griffin's previous novel The Nature of Witches was a much more overtly magical story, about witches whose powers were all about balancing the elements and tied to specific seasons. Wild is the Witch feels more like a story that could actually happen, you know, if we lived in a world where magic and witches existed in the first place. Iris's struggle to accept her witchy abilities is a relatable coming-of-age tale, and her road trip with a prickly co-worker to track down an endangered owl she accidentally cursed with the power to turn others into witches is all sorts of trope-y romantic fun.
Publisher's Description: Iris Gray knows witches aren't welcome in most towns. When she was forced to leave her last home, she left behind a father who was no longer willing to start over. And while the Witches' Council was lenient in their punishment, Iris knows they're keeping tabs on her. Now settled in Washington, Iris never lets anyone see who she really is; instead, she vents her frustrations by writing curses she never intends to cast. Otherwise, she spends her days at the wildlife refuge which would be the perfect job if not for Pike Alder, the witch-hating aspiring ornithologist who interns with them.
Iris concocts the perfect curse for Pike: one that will turn him into a witch. But just as she's about to dispel it, a bird swoops down and steals the curse before flying away. If the bird dies, the curse will be unleashed?and the bird is a powerful amplifier, and unleashing the curse would turn not just Pike, but everyone in the region, into a witch.
New witches have no idea how to control their magic and the consequences would be dire. And the Witches' Council does not look kindly on multiple offenses; if they found out, Iris could be stripped of her magic for good. Iris begs Pike to help her track the bird, and they set out on. a trek through the Pacific Northwest looking for a single bird that could destroy everything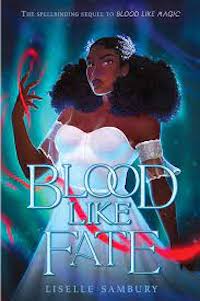 Blood Like Fate by Liselle Sambury
Release Date: August 9 from Margaret K. McElderry
Why You'll Love It: Stories about teen witches are a dime a dozen in the YA space, but there's something special about Liselle Sambury's Blood Like Magic duology, a contemporary fantasy story that explores identity, family, and self-determination, all wrapped up in a unique generational magic system with dark and occasionally disturbing undertones.
Heroine Voya's story continues in sequel Blood Like Fate which sees the newly Called young witch struggle to deal with the fallout from the events in the first book. From the death of her grandmother to the family strife caused by her sudden ascension to the role of Matriarch and a cataclysmic vision that promises the destruction of the Black witch community in Toronto, Voya's got a lot to handle, and even harder choices to face. Sambury's story is full of compelling twists and pulls no punches about the costs and risks involved.
Publisher's Description: Voya Thomas may have passed her Calling to become a full-fledged witch, but the cost was higher than she'd ever imagined.
Her grandmother is gone.
Her cousin hates her.
And her family doesn't believe that she has what it takes to lead them.
What's more, Voya can't let go of her feelings for Luc, sponsor son of the genius billionaire Justin Tremblay—the man that Luc believes Voya killed. Consequently, Luc wants nothing to do with her. Even her own ancestors seem to have lost faith in her. Every day Voya begs for their guidance, but her calls go unanswered.
As Voya struggles to convince everyone—herself included—that she can be a good Matriarch, she has a vision of a terrifying, deadly future. A vision that would spell the end of the Toronto witches. With a newfound sense of purpose, Voya must do whatever it takes to bring her shattered community together and stop what's coming for them before it's too late.
Even if it means taking down the boy she loves—who might be the mastermind behind the coming devastation.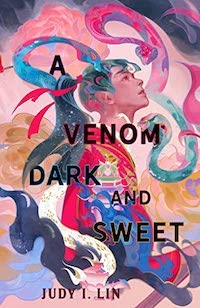 A Venom Dark and Sweet by Judy I. Lin
Release Date: August 23 from Fiewel and Friends
Why You'll Love It: A Venom Dark and Sweet, the second half of Judy I. Lin's Book of Tea duology, arrives just a handful of months after the publication of A Magic Steeped in Poison and pushes the stakes and storytelling up to eleven with the threat of the end of the world on the horizon. The world-building in this series remains phenomenal, shot through with diverse cultural references and mythology, and the beautiful tea ceremonies that form the basis of the story's magical system are worth the price of admission alone.
Publisher's Description: A great evil has come to the kingdom of Dàxi. The Banished Prince has returned to seize power, his rise to the dragon throne aided by the mass poisonings that have kept the people bound in fear and distrust.
Ning, a young but powerful shénnóng-shi—a wielder of magic using the ancient and delicate art of tea-making—has escorted Princess Zhen into exile. Joining them is the princess' loyal bodyguard, Ruyi, and Ning's newly healed sister, Shu. Together the four young women travel throughout the kingdom in search of allies to help oust the invaders and take back Zhen's rightful throne.
But the golden serpent still haunts Ning's nightmares with visions of war and bloodshed. An evil far more ancient than the petty conflicts of men has awoken, and all the magic in the land may not be enough to stop it from consuming the world..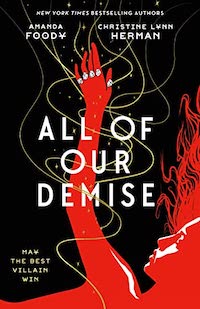 All Our Demise by Amanda Foody & Christine Lynn Herman
Release Date: August 30 from Tor Teen
Why You'll Love It: The dramatic conclusion to Amanda Food and Christine Lynn's Herman's dark All of Us Villains duology in which seven families must offer a child in a tournament to the death in order to keep control of the world's last remaining magic, All of Our Demise sees alliances shift and the prospect of a new world emerge. Whether or not the champions will choose to break the curse that has haunted their families, none of its competitors or the city of Ilvernath will be the same again.
Publisher's Description: For the first time in this ancient, bloodstained story, the tournament is breaking. The boundaries between the city of Ilvernath and the arena have fallen. Reporters swarm the historic battlegrounds. A dead boy now lives again. And a new champion has entered the fray, one who seeks to break the curse for good… no matter how many lives are sacrificed in the process.
As the curse teeters closer and closer to collapse, the surviving champions each face a choice: dismantle the tournament piece by piece, or fight to the death as this story was always intended.
Long-held alliances will be severed. Hearts will break. Lives will end. Because a tale as wicked as this one was never destined for happily ever after.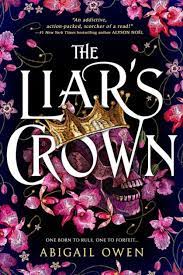 The Liar's Crown by Abigail Owen
Release Date: August 30 from Entangled Teen
Why You'll Love It: A YA fantasy centered on a secret twin who essentially only exists to step in and risk herself if it looks like someone is about to kill her sister? Yes, please.
Second-born princess Mereen dreams of nothing more than having a life of her own. Instead, she's been hidden from birth and used as a double for her elder sister Tabra whenever it seems as though danger is near, which is often given the longtime threat posed by the neighboring kingdom of Eidolon. But when she's kidnapped while standing in for Tabra during an event on the eve of her sister's coronation, she learns she might have more in common with the being who kidnapped her than she ever could have imagined.
Publisher's Description: Everything about my life is a lie. As a hidden twin princess, born second, I have only one purpose—to sacrifice my life for my sister if death comes for her. I've been living under the guise of a poor, obscure girl of no standing, slipping into the palace and into the role of the true princess when danger is present.
Now the queen is dead and the ageless King Eidolon has sent my sister a gift—an eerily familiar gift—and a proposal to wed. I don't trust him, so I do what I was born to do and secretly take her place on the eve of the coronation. Which is why, when a figure made of shadow kidnaps the new queen, he gets me by mistake.
As I try to escape, all the lies start to unravel. And not just my lies. The Shadowraith who took me has secrets of his own. He struggles to contain the shadows he wields—other faces, identities that threaten my very life.
Winter is at the walls. Darkness is looming. And the only way to save my sister and our dominion is to kill Eidolon…and the Shadowraith who has stolen my heart.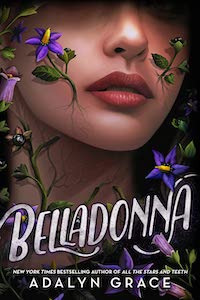 Belladonna by Adalyn Grace
Release Date: August 30 from Little, Brown for Young Readers
Why You'll Love It: Author Adalyn Grace's follow-up to her (exceptional) All the Stars and Teeth duology, Belladonna may have less overt adventure (and a sad lack of seafaring in general), but it is no less thrilling to read. From its lush Gothic setting to the central mystery that keeps the larger wheels of the plot turning, the novel is full of vivid descriptions, haunting imagery, and more obviously adult themes. Signa Farrow is cursed and can't die, and as a result, she is followed by death, in both a metaphorical and a very literal sense. Their contentious relationship drives much of the novel, as does the murder mystery Signa finds herself enmeshed in. Determined to cover the identity of the person who may or not be poisoning her newfound relatives, Signa is simultaneously forced to unravel the mystery of who she really wants to become.
Publisher's Descrlption: Orphaned as a baby, nineteen-year-old Signa has been raised by a string of guardians, each more interested in her wealth than her well-being—and each has met an untimely end. Her remaining relatives are the elusive Hawthornes, an eccentric family living at Thorn Grove, an estate both glittering and gloomy. Its patriarch mourns his late wife through wild parties, while his son grapples for control of the family's waning reputation and his daughter suffers from a mysterious illness. But when their mother's restless spirit appears claiming she was poisoned, Signa realizes that the family she depends on could be in grave danger and enlists the help of a surly stable boy to hunt down the killer.
However, Signa's best chance of uncovering the murderer is an alliance with Death himself, a fascinating, dangerous shadow who has never been far from her side. Though he's made her life a living hell, Death shows Signa that their growing connection may be more powerful—and more irresistible—than she ever dared imagine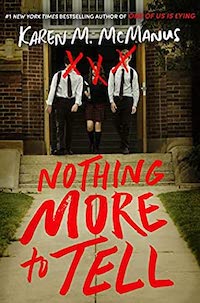 Nothing More to Tell by Karen McManus
Release Date: August 30 from Delacorte Press
Why You'll Love It: Absolutely no one does YA thrillers like Karen McManus, which you're probably aware of if you've read any of her other bestselling books like One of Us Is Lying, The Cousins, or You'll Be the Death of Me, all of which feature twisty mysteries and her signature fast-paced POV-shifting format. But Nothing More to Tell may just be her best yet, as a budding journalism student returns to her former school and decides to investigate the unsolved murder of her favorite teacher as part of her internship with a true-crime podcast. Even if it means reconnecting with the ex-best friend who lied to the police for her back when he died.
Publisher's Description: Four years ago, Brynn left Saint Ambrose School following the shocking murder of her favorite teacher—a story that made headlines after the teacher's body was found by three Saint Ambrose students in the woods behind their school. The case was never solved. Now that Brynn is moving home and starting her dream internship at a true-crime show, she's determined to find out what really happened.
The kids who found Mr. Larkin are her way in, and her ex-best friend, Tripp Talbot, was one of them. Without his account of events, the other two kids might have gone down for Mr. Larkin's murder. They've never forgotten what Tripp did for them that day. Just like he hasn't forgotten that everything he told the police was a lie.
Digging into the past is bound to shake up the present, and as Brynn begins to investigate what happened in the woods that day, she begins to uncover secrets that might change everything—about Saint Ambrose, about Mr. Larkin, and about her ex-best friend, Tripp Talbot.
Four years ago someone got away with murder. The most terrifying part is that they never left.
---
Lacy Baugher Milas is the Books Editor at Paste Magazine, but loves nerding out about all sorts of pop culture. You can find her on Twitter @LacyMB.