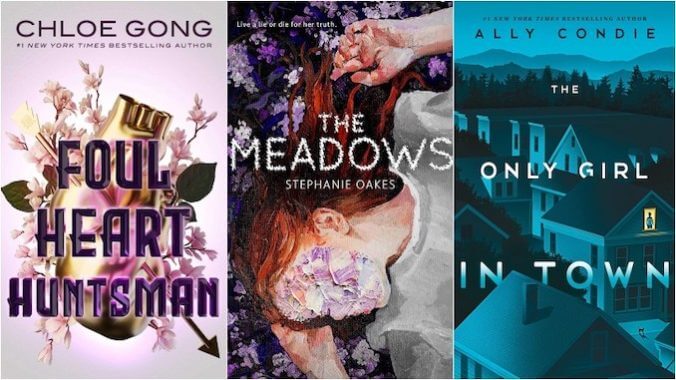 September is traditionally an extremely busy time in the world of publishing, with a positive deluge of titles hitting shelves as booksellers celebrate the end of summer and look forward to the all-important holiday shopping season. What that means for us as readers is that there are simply so many great books arriving this month that it feels impossible to attempt to keep up with—let alone read—-them all. One of the busiest genres in that regard is YA fiction, which is launching titles of every possible stripe this month.
From queer romance and coming-of-age stories to supernatural horror, heist thrillers, and dystopian nightmares, YA fans are truly spoiled for choice this month. (Heck, through the remainder of the year, really!)
Here are our picks for the best YA novels hitting shelves this month.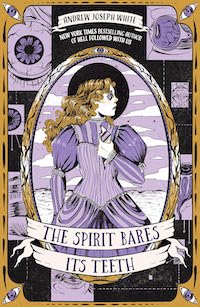 The Spirit Bares Its Teeth by Andrew Joseph White
Release Date: September 5 from Peachtree Teen
Why You'll Love It  If you missed his debut Hell Followed With Us, you might not know that Andrew Joseph White is writing some of the most interesting, boundary-pushing young adult fiction out there right now. And his latest, The Spirit Bares Its Teeth, is no different. Centered on an autistic trans protagonist in an alternate history version of Victorian England, it explores life, death, and what comes afterward— as well as the people we give ourselves permission to be in between.
Publisher's Description: Mors vincit omnia. Death conquers all.
London, 1883. The Veil between the living and dead has thinned. Violet-eyed mediums commune with spirits under the watchful eye of the Royal Speaker Society, and sixteen-year-old Silas Bell would rather rip out his violet eyes than become an obedient Speaker wife. According to Mother, he'll be married by the end of the year. It doesn't matter that he's needed a decade of tutors to hide his autism; that he practices surgery on slaughtered pigs; that he is a boy, not the girl the world insists on seeing.
After a failed attempt to escape an arranged marriage, Silas is diagnosed with Veil sickness—a mysterious disease sending violet-eyed women into madness—and shipped away to Braxton's Sanitorium and Finishing School. The facility is cold, the instructors merciless, and the students either bloom into eligible wives or disappear. So when the ghosts of missing students start begging Silas for help, he decides to reach into Braxton's innards and expose its rotten guts to the world—as long as the school doesn't break him first.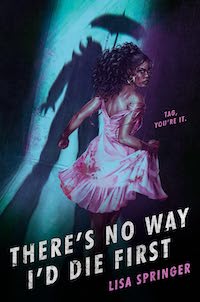 There's No Way I'd Die First by Lisa Springer
Release Date: September 5 from Delacorte Press
Why You'll Love It: This fast paced contemporary YA horror novel follows the story of a  genre-obsessed heroine who invites the 12 most popular kids at her elite school to a decadent Halloween party designed to boost her follower count. But when influences start turning up dead and a killer clown appears to be on the loose, the event will test their horror movie survival skills for real.
Publisher's Description: Noelle Layne knows horror. Every trope, every warning sign, every survival tactic. She even leads a successful movie club dedicated to the genre. Thus, who better to throw the ultimate, most exclusive Halloween party on all of Long Island? And with the guest list including the coolest kids in her senior class, her popularity is bound to spike. Hopefully, enough to warrant an expansion into podcasting. Plus, the fact that attractive, singer-songwriter Archer Mitchell is coming is honestly the candy corn on top. Nothing is going to kill her party vibes.
Except…maybe the low-budget It clown she hires to lead a classic round of tag. He's supposed to be terrifying, though in a comforting, nostalgic way. Instead, the guy is giving major creeps. But maybe Noelle's just that good at hosting? Her confidence is immediately rocked when the night's entertainment axes one of her guests. And he's not done yet. If an evil, murderous clown thinks life is a game, then Noelle is ready to play. She's been waiting a long time to prove that she's a Final Girl.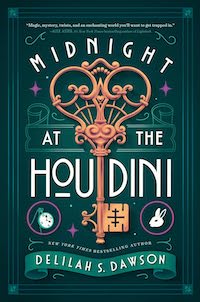 Midnight at the Houdini by Deliah S. Dawson 
Release Date: September 5 from Delacorte
Why You'll Love It: A magical YA thriller that tells the story of a quiet Las Vegas teen who must uncover the mysterious secrets of a magical hotel before she becomes trapped inside its walls—permanently—the unique premise and sweet romance at its center help this title stand out from the pack.
Publisher's Description: A girl discovers a surreal hotel where no one ever leaves. When the clock strikes midnight she'll be trapped there forever unless she's able to break free from magic that in turn breaks all her rules. Perfect for fans of Caraval and The Starless Sea!
The night is perfect and glorious and sparkling, too beautiful to be real. Like magic.
Anna may have grown up in glitzy Las Vegas, but she's determined that no one will ever call her shallow. While her older sister Emily is the star of the family, Anna is the diligent stage manager, making sure that both their lives go perfectly to plan. But when Emily reveals a startling betrayal, Anna flees in the middle of a raging storm and takes shelter in a boutique establishment she's never seen before: The Houdini. 
Inside, Anna discovers a magic hotel . . . and a magical boy. Earnest, curious Max has lived his entire life inside the Houdini. Over the course of one surreal evening, he becomes Anna's guide to the curious building. For the first time in her life, Anna is center stage, in a place that anticipates her every desire, with a boy who only has eyes for her.  
But that's because the Houdini has no other guests. No one ever enters the Houdini . . . and no one ever leaves. When the clock strikes midnight, Anna will be trapped in the Houdini forever. If Anna's ever going to find out who she is on her own in the real world, she'll first have to make an impossible escape. But will she be able to do it if it means leaving Max behind?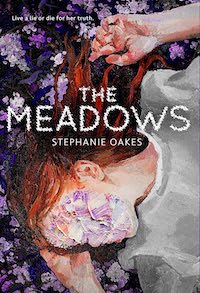 The Meadows by Stephanie Oakes
Release Date: September 12 from Dial Books
Why You'll Love It: Unfortunately, our current social and political environment means that fiction exploring issues of women's bodily autonomy is more necessary and timely than ever. And this story of state-run schools in a post-climate disaster world that teach select young women to be perfect wives and mothers to help repopulate society doesn't feel as alien or—far away—as it once might have. Timely and thoughtful.
Publisher's Description: Everyone hopes for a letter—to attend the Estuary, the Glades, the Meadows. These are the special places where only the best and brightest go to burn even brighter.
When Eleanor is accepted at the Meadows, it means escape from her hardscrabble life by the sea, in a country ravaged by climate disaster. But despite its luminous facilities, endless fields, and pretty things, the Meadows keeps dark secrets: its purpose is to reform students, to condition them against their attractions, to show them that one way of life is the only way to survive. And maybe Eleanor would believe them, except then she meets Rose.
Four years later, Eleanor and her friends seem free of the Meadows, changed but not as they'd hoped. Eleanor is an adjudicator, her job to ensure her former classmates don't stray from the lives they've been trained to live. But Eleanor can't escape her past . . . or thoughts of the girl she once loved. As secrets unfurl, Eleanor must wage a dangerous battle for her own identity and the truth of what happened to the girl she lost, knowing, if she's not careful, Rose's fate could be her own.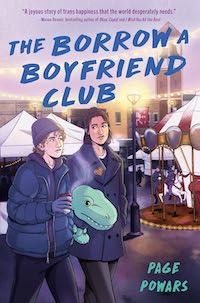 The Borrow a Boyfriend Club by Page Powars
Release Date: September 12 from Delacorte Press
Why You'll Love It: A remarkable debut that features sensitive, necessary trans representation in a sweet enemies-to-lovers romance about a trans boy who accidentally joins his new high school's secret boyfriend borrowing service by accident. Charming all around, and Noah makes for an especially appealing and vulnerable protagonist.
Publisher's Description: A feel-good, coming-of-age rom-com from debut author Page Powars that follows a trans teen who joins a boyfriend borrowing service masquerading as an Italian Club to prove that he's one of the guys, especially to its frustratingly handsome leader.
Noah Byrd is the perfect boy. At least, that's what he needs to convince his new classmates of to prove his gender. His plan? Join the school's illustrious (and secret) Borrow a Boyfriend Club, whose members rent themselves out for dates. Once he's accepted among the bros, the "slip-ups" end.
But Noah's interview is a flop. Desperate, he strikes a deal with the club's prickly but attractive president, Asher. Noah will help them win an annual talent show—and in return, he'll get a second shot to demonstrate his boyfriend skills in a series of tests that include romancing Asher himself.
If Noah can't bring home the win, his best chance to prove that he's man enough is gone. Yet even if he succeeds, he still loses . . . because the most important rule of the Borrow a Boyfriend Club is simple: no real boyfriends (or girlfriends) allowed.
And as long as the club remains standing as high as Asher's man bun, Noah and Asher can never explore their growing feelings for one another.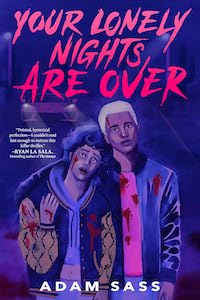 Your Lonely Nights Are Over by Adam Sass
Release Date: September 12 from Viking Books for Young Readers
Why You'll Love It: A campy serial killer thriller from the author of The 99 Boyfriends of Micah Summers, Adam Sass's latest is a heartfelt, hilarious, and emotionally satisfying celebration of queer identity. (With a little murder on top.)
Publisher's Description: Dearie and Cole are inseparable, unlikeable, and (in bad luck for them) totally unbelievable.
From the day they met, Dearie and Cole have been two against the world. But whenever something bad happens at Stone Grove High School, they get blamed. Why? They're beautiful, flirtatious, dangerously clever queen bees, and they're always ready to call out their fellow students. But they've never faced a bigger threat than surviving senior year, when Mr. Sandman, a famous, never-caught serial killer emerges from a long retirement—and his hunting ground is their school Queer Club.
As evidence and bodies begin piling up and suspicion points at Dearie and Cole, they will need to do whatever it takes to unmask the real killer before they and the rest of Queer Club are taken down. But they're not getting away from the killer without a fight.
Along the way, they must confront dark truths hidden beneath the surface of their small desert community. When the world is stacked against them and every flop they know is a suspect, can Dearie and Cole stop Mr. Sandman's rampage? Or will their lonely nights soon be over . . .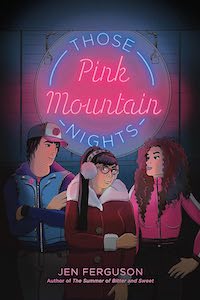 Those Pink Mountain Nights by Jen Ferguson
Release Date: September 12 from Heartdrum
Why You'll Love It: This sophomore effort from Jen Ferguson thoughtfully explores complex topic ranging from depression to the plight of missing and murdered Indigenous women, while still managing to tell a subtly moving story about the power of friendship and found family. 
Publisher's Description: Over-achievement isn't a bad word—for Berlin, it's the goal. She's securing excellent grades, planning her future, and working a part-time job at Pink Mountain Pizza, a legendary local business. Who says she needs a best friend by her side?
Dropping out of high school wasn't smart—but it was necessary for Cameron. Since his cousin Kiki's disappearance, it's hard enough to find the funny side of life, especially when the whole town has forgotten Kiki. To them, she's just another missing Native girl.
People at school label Jessie a tease, a rich girl—and honestly, she's both. But Jessie knows she contains multitudes. Maybe her new job crafting pizzas will give her the high-energy outlet she desperately wants.
When the weekend at Pink Mountain Pizza takes unexpected turns, all three teens will have to acknowledge the various ways they've been hurt—and how much they need each other to hold it all together.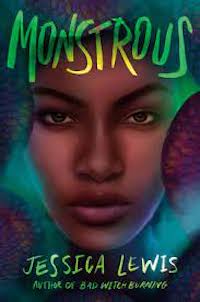 Monstrous by Jessica Lewis
Release Date: September 12 from Delacorte Press
Why You'll Love It: This supernatural YA thriller about a small Alabama town and the monsters that lurk in its shadows—both human and otherwise—Monstrous features a fascinating anti-heroine as its lead character who is unafraid to make some real dark choices, morally speaking.
Publisher's Description: Don't go outside past dark. Come straight home after church. And above all—never, ever, go into Red Wood.
These are the rules Latavia's aunt tells her as soon as she arrives in Sanctum, Alabama for the summer. Weird, but Latavia isn't here to solve any scary small town mysteries; she's here for six weeks and six weeks only, and then she's off to college and won't look back. Still, Sanctum has its perks—mainly, the cute girl who works at the local ice cream shop.
But Latavia can't ignore how strange her aunt's tiny town is. The residents are suspicious of her and at times hostile, and it's clear she's some kind of outsider. That's proven when Latavia is dragged out of her house in the dead of night, into the forbidden Red Wood, and presented as a human sacrifice to an ancient monster.
Latavia won't be eaten without a fight. She'll do whatever she has to do to survive—even if that includes making a deal with the monster, endangering her crush and family, and even risk turning into a monster herself.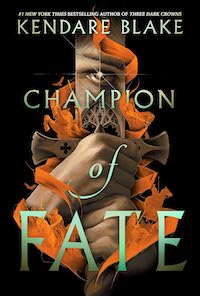 Champion of Fate by Kendare Blake
Release Date: September 19 from Quill Tree Books
Why You'll Love It: The start of a new fantasy series from Kendare Blake (whose Three Dark Crowns series remains an underrated gem) is automatically cause for celebration. And this one, which follows the story of a foundling girl chosen to join the legendary order of female warriors who help guide the heroes who will one day be immortalized in stories to victory, has a particularly unique and intriguing set up.  
Publisher's Description: Behind every great hero is an Aristene.
Aristene are mythical female warriors, part of a legendary order. Though heroes might be immortalized in stories, it's the Aristene who guide them to victory. They are the Heromakers.
Ever since she was an orphan taken in by the order, Reed has wanted to be an Aristene. Now, as an initiate, just one challenge stands in her way: she must shepherd her first hero to glory on the battlefield. Succeed, and Reed will take her place beside her sisters. Fail, and she'll be cast from the only home she's ever known.
Nothing is going to stop Reed–until she meets her hero. Hestion is fiery and infuriating, but what begins as an alliance becomes more, and as secrets of the order come to light Reed begins to understand what becoming an Aristene may truly cost. Battle looming, she must choose: the order and the life she had planned, or Hestion, and the one she never expected.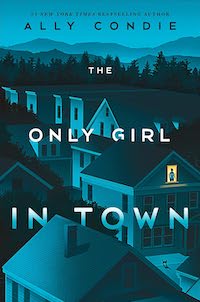 The Only Girl in Town by Ally Condie
Release Date: September 19 from Dutton Books for Young Readers
Why You'll Love It: A high-concept dystopian thriller from the author of the Matched trilogy, The Only Girl in Town follows the story of Ella, who finds herself on her own after everyone in her town vanishes. Ultra-short chapters give the story a breakneck feel, and the escalating sense of dread hints that something went terribly wrong at the end of the summer will keep readrs guessing about what actually occurred.
Publisher's Description: What would you do if everyone you love disappeared? What if it was your fault?
For July Fielding, nothing has been the same since that summer before senior year.
Once, she had Alex, her loyal best friend, the one who always had her back. She had Sydney, who pushed her during every cross-country run, and who sometimes seemed to know July better than she knew herself. And she had Sam. Sam, who told her she was everything and left her breathless with his touch.
Now, July is alone. Every single person in her small town of Lithia has disappeared. No family. No Alex or Sydney. No Sam. July's only chance at unraveling the mystery of their disappearance is a series of objects, each a reminder of the people she loved most. And a mysterious GET TH3M BACK.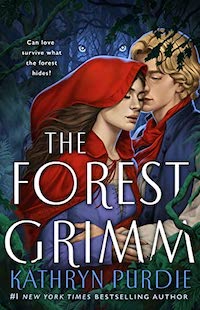 The Forest Grimm by Kathryn Purdie
Release Date: September 19 from Wednesday Books
Why You'll Love It: Mixing dark fairytale vibes with the story of a young girl desperate to find her lost mother, locate a missing magical book, and save her cursed village in the process, The Forest Grimm is a delicious combination of sinister and sweet. 
Publisher's Description: "Tell me again, Grandmère, the story of how I die."
The Midnight Forest. The Fanged Creature. Two fortune-telling cards that spell an untimely death for 17-year-old Clara. Despite the ever-present warning from her fortune-teller grandmother, Clara embarks on a dangerous journey into the deadly Forest Grimm to procure a magical book – Sortes Fortunae, the Book of Fortunes – with the power to reverse the curse on her village and save her mother.
Years ago, when the villagers whispered their deepest desires to the book, its pages revealed how to obtain them. All was well until someone used the book for an evil purpose―to kill another person. Afterward, the branches of the Forest Grimm snatched the book away, the well water in Grimm's Hollow turned rancid, and the crops died from disease. The villagers tried to make amends with the forest, but every time someone crossed its border, they never returned.
Now, left with no alternative, Clara and her close friend, Axel―who is fated never to be with her―have set their minds to defying fate and daring to accomplish what no one else has been able to before. But the forest―alive with dark, deadly twists on some of our most well-known fairy tales―has a mind of its own.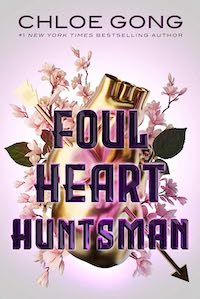 Foul Heart Huntsman by Chloe Gong
Release Date: September 26 from Margaret K. McElderry Books
Why You'll Love It: The direct sequel to Foul Lady Fortune and the final installment in Chloe Gong's Secret Shanghai series, Foul Heart Huntsman features high stakes, conflicting loyalties, and a surprisingly impressive ending.
Publisher's Description: Winter is drawing thick in 1932 Shanghai, as is the ever-nearing threat of a Japanese invasion.
Rosalind Lang has suffered the worst possible fate for a national spy: she's been exposed. With the media storm camped outside her apartment for the infamous Lady Fortune, she's barely left her bedroom in weeks, plotting her next course of action after Orion was taken and his memories of Rosalind wiped. Though their marriage might have been a sham, his absence hurts her more than any physical wound. She won't rest until she gets him back.
But with her identity in the open, the task is near impossible. The only way to leave the city and rescue Orion is under the guise of a national tour. It's easy to convince her superiors that the countryside needs unity more than ever, and who better than an immortal girl to stir pride and strength into the people?
When the tour goes wrong, however, everything Rosalind once knew is thrown up in the air. Taking refuge outside Shanghai, old ghosts come into the open and adversaries turn to allies. To save Orion, they must find a cure to his mother's traitorous invention and take this dangerous chemical weapon away from impending foreign invasion—but the clock is ticking, and if Rosalind fails, it's not only Orion she loses, but her nation itself.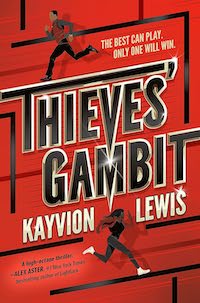 Thieves Gambit by Kayvion Lewis
Release Date: September 26 from Nancy Paulsen Books
Why You'll Love It: A fast-paced story about a cutthroat competition that brings together the world's best thieves to compete for the chance to earn a wish that could change the world, Thieves Gambit also features a fabulous, easy-to-root-for heroine at its center.
Publisher's Description: At only seventeen years old, Ross Quest is already a master thief, especially adept at escape plans. Until her plan to run away from her legendary family of thieves takes an unexpected turn, leaving her mother's life hanging in the balance.
In a desperate bid, she enters the Thieves' Gambit, a series of dangerous, international heists where killing the competition isn't exactly off limits, but the grand prize is a wish for anything in the world–a wish that could save her mom. When she learns two of her competitors include her childhood nemesis and a handsome, smooth-talking guy who might also want to steal her heart, winning the Gambit becomes trickier than she imagined.
Ross tries her best to stick to the family creed: trust no one whose last name isn't Quest. But with the stakes this high, Ross will have to decide who to con and who to trust before time runs out. After all, only one of them can win.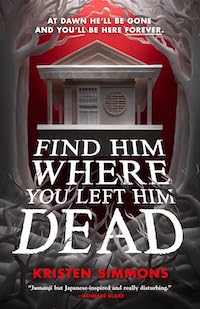 Find Him Where You Left Him Dead by Kristen Simmons
Release Date: September 26 from Tor Teen
Why You'll Love It: A group of estranged friends forced to play a deadly game in a nightmarish underworld filled with creatures from Japanese folklore after abandoning one of their own. Fast-paced and deeply creepy, it's a perfect kickoff to spooky season. 
Publisher's Description: Four years ago, five kids started a game. Not all of them survived.
Now, at the end of their senior year of high school, the survivors—Owen, Madeline, Emerson, and Dax—have reunited for one strange and terrible reason: they've been summoned by the ghost of Ian, the friend they left for dead.
Together they return to the place where their friendship ended with one goal: find Ian and bring him home. So they restart the deadly game they never finished—an innocent card-matching challenge called Meido. A game without instructions.
As soon as they begin, they're dragged out of their reality and into an eerie hellscape of Japanese underworlds, more horrifying than even the darkest folktales that Owen's grandmother told him. There, they meet Shinigami, an old wise woman who explains the rules:
They have one night to complete seven challenges or they'll all be stuck in this world forever.
Once inseparable, the survivors now can't stand each other, but the challenges demand they work together, think quickly, and make sacrifices—blood, clothes, secrets, memories, and worse.
And once again, not everyone will make it out alive.
---
Lacy Baugher Milas is the Books Editor at Paste Magazine, but loves nerding out about all sorts of pop culture. You can find her on Twitter @LacyMB