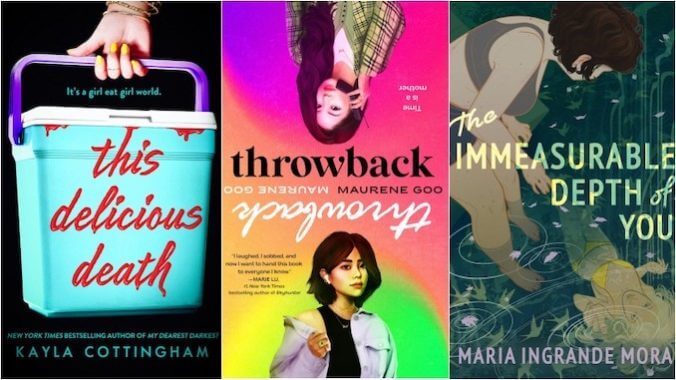 One of the main reasons the young adult genre is so popular is the sheer breadth of stories it can encompass. From contemporary coming-of-age tales to fantastical adventures, creepy horror stories, and historical romances, this April it is extremely apparent that the world of YA books absolutely has the range. And as you're looking for something to read while all those proverbial April showers keep you cooped up indoors, you've got plenty of great new options available this month. 
These are the best YA books hitting shelves this April.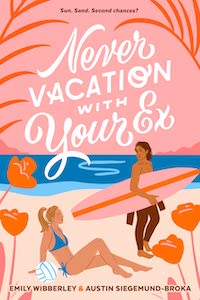 Never Vacation With Your Ex by Emily Wibberley and Austin Siegemund-Broka
Release Date: April 4 from Viking Books for Young Readers
Why You'll Love It: A breezy, light-hearted YA romance perfect for spring, this latest collaboration from Emily Wibberley and Austin Siegemund-Broka is destined to become a beach-read staple. 
Publisher's Description: Seventeen-year-old volleyball star Kaylee Jordan lives a life of player rankings, constant training, and a carefully curated social media full of followers watching to see if she'll go pro out of high school like her famous mom. Her one refuge, and the thing she looks forward to every summer? The vacation her family spends in Malibu with the Freeman-Yus. This year, there's only one problem: Kaylee and their son, Dean, dated for the past three months, and Kaylee just unceremoniously dumped him. Hoping to spare them the worst summer ever, Kaylee comes to Dean with her unconventional solution: she's going to walk him through her rules for getting over an ex. When Dean grudgingly cooperates, Kaylee's got her work cut out for her. But helping Dean follow her own rules starts becoming difficult when the pressures of Kaylee's family legacy and perfect life start to feel less like a plan and more like a prison…and amid warm California nights and stolen laughs, Kaylee feels herself falling for Dean for the same reasons and some new ones. With their trip coming to an end, Kaylee has to make the complicated choice between doing what's expected and taking a (second) chance on love.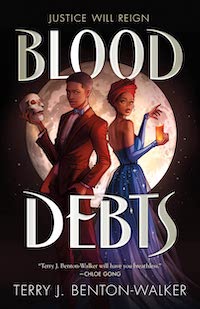 Blood Debts by Terry J. Benton-Walker
Release Date: April 4 from Tor Teen
Why You'll Love It: A pair of estranged siblings struggle with how (and whether) to use the generational magic that is their birthright when they discover their dying mother isn't sick—she's cursed. Messy family dynamics, a colorful New Orleans setting, and a surprisingly layered story about trauma, betrayal, and trust will leave you hoping for a sequel. 
Publisher's Description: Thirty years ago, a young woman was murdered, a family was lynched, and New Orleans saw the greatest magical massacre in its history. In the days that followed, a throne was stolen from a queen.
On the anniversary of these brutal events, Clement and Cristina Trudeau—the sixteen-year-old twin heirs to the powerful, magical, dethroned family—are mourning their father and caring for their sick mother. Until, by chance, they discover their mother isn't sick—she's cursed. Cursed by someone on the very magic council their family used to rule. Someone who will come for them next.
Cristina, once a talented and dedicated practitioner of Generational magic, has given up magic for good. An ancient spell is what killed their father and she was the one who cast it. For Clement, magic is his lifeline. A distraction from his anger and pain. Even better than the random guys he hooks up with.
Cristina and Clement used to be each other's most trusted confidant and friend, now they barely speak. But if they have any hope of discovering who is coming after their family, they'll have to find a way to trust each other and their family's magic, all while solving the decades-old murder that sparked the still-rising tensions between the city's magical and non-magical communities. And if they don't succeed, New Orleans may see another massacre. Or worse.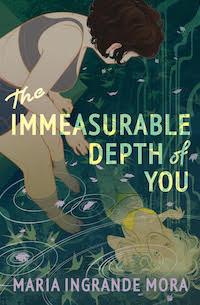 The Immeasurable Depth of You by Maria Ingrande Mora
Release Date: April 4 from Peachtree Teen
Why You'll Love It: This haunting, beautifully written queer coming-of-age tale deftly explores loss, shame, anxiety, and mental illness with a supernatural twist. 
Publisher's Description: Fifteen-year-old Brynn can't stop thinking about death. Her intrusive thoughts and severe anxiety leave her feeling helpless—and hopeless. So after her mom interprets one of Brynn's blog posts as a suicide note, she takes extreme measures, confiscating Brynn's phone, blocking her Internet access, and banishing her to stay with her father who lives "off the grid" on a houseboat in the Florida mangroves. Isolated from her online friends—her only friends—Brynn resigns herself to a summer of mind-numbing boredom and loneliness… until Skylar appears.
Skylar is everything Brynn isn't—sultry, athletic, and confident. Yet Brynn feels at home around this fearless girl who pushes her to try new things and makes her belly flutter with nerves that have nothing to do with anxiety. When Brynn discovers that Skylar is trapped in the bayou and can't tell her why, she resolves to free her new crush from the dark waters, even if it means confronting all of her worst fears.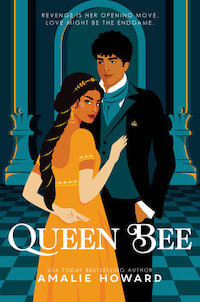 Queen Bee by Amalie Howard
Release Date: April 4 from Joy Revolution
Why You'll Love It: A multi-cultural Regency YA romp from romance author Amalie Howard, Queen Bee puts a refreshingly different sort of historical romance that asks whether one girl's revenge scheme—against the former BFF who backstabbed her over a boy—is actually worth it.
Publisher's Description: Lady Ela Dalvi knows the exact moment her life was forever changed—when her best friend, Poppy, betrayed her without qualm over a boy, the son of a duke. She was sent away in disgrace, her reputation ruined.
Nearly three years later, eighteen-year-old Ela is consumed with bitterness and a desire for . . . revenge. Her enemy is quickly joining the crème de la crème of high society while she withers away in the English countryside.
With an audacious plan to get even, Ela disguises herself as a mysterious heiress and infiltrates London's elite. But when Ela reunites with the only boy she's ever loved, she begins to question whether vengeance is still her greatest desire.
In this complicated game of real-life chess, Ela must choose her next move: Finally bring down the queen or capture the king's heart?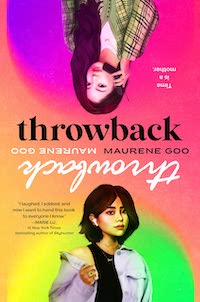 Throwback by Maurene Goo
Release Date: April 11 from Zando Young Readers
Why You'll Love It: A heartfelt, time-traveling YA novel about a Gen Z daughter who gets sent back to the 1990s to get to know the younger version of the Gen X mom she doesn't get along with, Throwback is both nostalgia bait for 90s kids and a charming coming-of-age story about how far we've all come since then. 
Publisher's Description: Being a first-generation Asian American immigrant is hard. You know what's harder? Being the daughter of one. Samantha Kang has never gotten along with her mother, Priscilla—and has never understood her bougie-nightmare, John Hughes high school expectations. After a huge fight between them, Sam is desperate to move forward—but instead, finds herself thrown back. Way back.
To her shock, Sam finds herself back in high school . . . in the '90s . . . with a 17-year-old Priscilla. Now this Gen Z girl must try to fit into an analog world. She's got the fashion down, but everything else is baffling. What is "microfiche"? What's with the casual racism and misogyny? And why does it feel like Priscilla is someone she could actually be . . . friends with?
Sam's blast to the past has her finding the right romance in the wrong time while questioning everything she thought she knew about her mom . . . and herself. Will Sam figure out what she needs to do to fix things for her mom so that she can go back to a time she understands?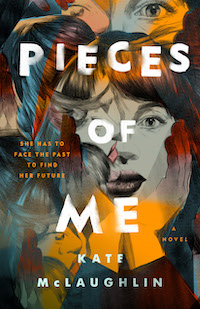 Pieces of Me by Kate McLaughlin
Release Date: April 18 from Wednesday Books
Why You'll Love It: Pieces of Me is a surprisingly nuanced (if occasionally uneven) exploration of Dissociative Identity Disorder that never feels sensational or exploitative and paves some much-needed new ground in the young adult fiction space.
Publisher's Description: When eighteen-year-old Dylan wakes up, she's in an apartment she doesn't recognize. The other people there seem to know her, but she doesn't know them – not even the pretty, chiseled boy who tells her his name is Connor. A voice inside her head keeps saying that everything is okay, but Dylan can't help but freak out. Especially when she borrows Connor's phone to call home and realizes she's been missing for three days.
Dylan has lost time before, but never like this.
Soon after, Dylan is diagnosed with Dissociative Identity Disorder, and must grapple not only with the many people currently crammed inside her head, but that a secret from her past so terrible she's blocked it out has put them there. Her only distraction is a budding new relationship with Connor. But as she gets closer to finding out the truth, Dylan wonders: will it heal her or fracture her further?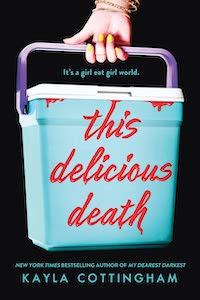 This Delicious Death by Kayla Cottingham
Release Date: April 25 from Sourcebooks Fire
Why You'll Love It: An entertainingly gory spin on the zombie genre unfolds after melting icecaps release a pathogen that causes a small percentage of the population to be unable to consume normal food. Synthetic human flesh (yes really) ultimately helps satisfy the hunger of those affected and life goes back to normal—mostly. But when a group of teenage girls heads off to a desert music festival and one of them unexpectedly goes feral and eats a member of one of the bands that are performing, they'll have to solve the mystery of whose drugging attendees in an attempt to make them hunt one another. Along the way, they deal with fairly predictable teen problems of friendship and self-image—and the result is something utterly unique.
Publisher's Description: Three years ago, the melting of arctic permafrost released a pathogen of unknown origin into the atmosphere, causing a small percentage of people to undergo a transformation that became known as the Hollowing. Those impacted slowly became intolerant to normal food and were only able to gain sustenance by consuming the flesh of other human beings. Those who went without flesh quickly became feral, turning on their friends and family. However, scientists were able to create a synthetic version of human meat that would satisfy the hunger of those impacted by the Hollowing. As a result, humanity slowly began to return to normal, albeit with lasting fear and distrust for the people they'd pejoratively dubbed ghouls.
Zoey, Celeste, Valeria, and Jasmine are all ghouls living in Southern California. As a last hurrah before their graduation, they decided to attend a musical festival in the desert. They have a cooler filled with hard seltzers and SynFlesh and are ready to party.
But on the first night of the festival, Val goes feral, and ends up killing and eating a boy. As other festival guests start disappearing around them the girls soon discover someone is drugging ghouls and making them feral. And if they can't figure out how to stop it, and soon, no one at the festival is safe.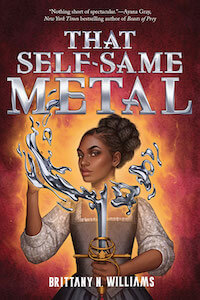 That Self Same Metal by Brittany N. Williams
Release Date: April 25 from Amulet Books
Why You'll Love It: A magical fantasy about a young Black girl (and sword expert) fighting a Fae uprising in Shakespearean London? What about this concept is not to love?
Publisher's Description: Sixteen-year-old Joan Sands is a gifted craftswoman who creates and upkeeps the stage blades for William Shakespeare's acting company, The King's Men. Joan's skill with her blades comes from a magical ability to control metal—an ability gifted by her Head Orisha, Ogun. Because her whole family is Orisha-blessed, the Sands family have always kept tabs on the Fae presence in London. Usually, that doesn't involve much except noting the faint glow around a Fae's body as they try to blend in with London society, but lately, there has been an uptick in brutal Fae attacks. After Joan wounds a powerful Fae and saves the son of a cruel Lord, she is drawn into political intrigue in the human and Fae worlds.
---
Lacy Baugher Milas is the Books Editor at Paste Magazine, but loves nerding out about all sorts of pop culture. You can find her on Twitter @LacyMB.