The Kremlin's Man: How Donald Trump's Businesses are Financed by Russian Cash (Part 2 of 5)
Photo by Spencer Platt/Getty
Business
Features
Donald Trump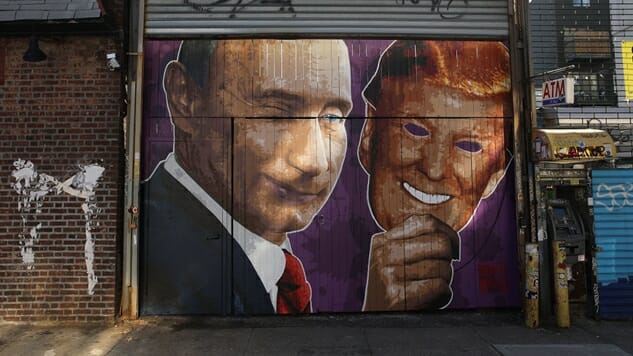 Time and time again, Donald Trump has proven that he will get into bed with anyone in order to make a buck. From constructing a hotel in Azerbijan built with a partner from the government ministry whom U.S. diplomats suspect launders money for Iran's military, to one under criminal investigation in Brazil, to investments under serious scrutiny in Turkey, Toronto (more on that later), Scotland and Ireland, among many others—it is clear that Trump is not as discerning about his business partners as his bluster indicates.
His extensive dealings in Atlantic City could not have been done without help from the mob, and he has intimated as such, when he told Chris Matthews last February:
"I've known some tough cookies over the years. I've known the people that make the politicians you and I deal with every day look like little babies."
Upon his initial foray into Atlantic City, he partnered with Kenneth Shapiro and Daniel Sullivan. The former was a bag man for Philadelphia's Scarfo crime family, while the latter was a mafia associate-turned FBI informant. However, when he was looking to acquire a gambling license in 1982, Trump told regulators that he didn't "think there was anything wrong with [Shapiro and Sullivan]" and that they "have been in Atlantic City for many, many years and I think they are well thought of."
Yet, a year before that, Trump spoke with FBI agents, and per the memorandum produced from that meeting, "Trump advised Agents that he had read in the press media and had heard from various acquaintances that Organized Crime elements were known to operate in Atlantic City…Trump advised that he wanted to build a casino in Atlantic City but he did not wish to tarnish his family's name."
As his infamous bankruptcies demonstrate, Trump did build casinos in Atlantic City, and this was simply the start of his relationship with organized crime figures. His mentor—Roy Cohn—who is most well-known for being Senator Joseph McCarthy's chief witch hunter, also advised a litany of mafia figures after leaving public life for a private practice on East 68th Street in New York City. Some of his clients included Anthony "Fat Tony" Salerno and Paul "Big Paul" Castellano among many other mobsters. According to Wayne Barrett's 1992 book Trump: The Deals and the Downfall, Cohn told a reporter that Trump called him "fifteen to twenty times a day, asking what's the status of this, what's the status of that."
With Cohn's help, Trump's Grand Hyatt New York on East 42nd street was practically built by the mafia. According to the FBI, the demolition company was secretly owned by a top Philadelphia mobster with extensive ties to Atlantic City; Biff Halloran—who was later convicted in a price gouging racket run by the mob—poured the concrete for the hotel; and the carpentry contract was given to a Genovese family-controlled enterprise, as later discovered through a federal probe.
Donald Trump partnered with John Staluppi, and slapped his name on a line of stretch limousines for his casinos. According to the FBI, Staluppi was a made member of the Colombo crime family, yet Trump claimed to know nothing about Staluppi's mob ties. Trump's ties to another mafia figure he claimed to not know—Joseph Weichselbaum—are much more extensive. While living out of Trump Tower in 1986 (part of his rent was paid by allowing Trump access to his fleet of private helicopters), Weichselbaum plead guilty to federal charges of cocaine smuggling. Trump and Weichselbaum were so close that Trump provided a letter to the court on behalf of his friend as someone who was "conscientious, forthright and diligent." After his three-year sentence ended, Weichselbaum came home to an even nicer apartment at Trump Tower, and when Trump was asked about his letter to the judge by casino officials in 1990, he said he did not remember writing it.
Robert LiButti was such a heavy hitter at Trump's casinos that they complied with his wish to not have any African Americans or women deal while he lost over $20 million at his tables between 1984 and 1990. Trump's casinos were subsequently fined hundreds of thousands of dollars for these violations, and in 1991, LiButti was banned from Atlantic City entirely as regulators concluded that he was an associate of John Gotti—the boss of the Gambino crime family. When a reporter later asked Trump about LiButti, Trump responded: "I wouldn't know him if he was standing in front of me."
Now to be fair, no federal probe has ever labeled Trump a "mob associate," which is what the FBI calls someone under the sway of organized crime, but Trump clearly has a pattern of getting into bed with bad dudes and conveniently forgetting about them when it eventually blows up in his face. So if you are of the opinion that any Trump-Russia business connections are farfetched, ask yourself, if he'll tie himself to almost any member of the Italian mob, what's stopping him from working with people connected to the Russian mafia? (who are inherently tied to Russian oligarchs, who are inherently tied to the Kremlin)
Bayrock
"I don't settle lawsuits—very rare—because once you settle lawsuits, everybody sues you." — Donald Trump in March 2016
In part one, I chronicled Trump's statements related to Russia over the years, and in the late 2000's, he clearly became much more interested in doing business with Moscow. This is exemplified by perhaps his most high-profile failure, which is filled with shady Russian connections and a settlement that was made on the condition that those settling could not cooperate with a parallel criminal investigation into the project. Per the New York Times' report on Trump SoHo, a 46-story luxury condominium/hotel in Lower Manhattan:
He and his co-defendants settled the case in November 2011, agreeing to refund 90 percent of $3.16 million in deposits, while admitting no wrongdoing. The backdrop to that unusual denouement was a gathering legal storm that threatened to cast a harsh light on how he did business. Besides the fraud accusations, a separate lawsuit claimed that Trump SoHo was developed with the undisclosed involvement of convicted felons and financing from questionable sources in Russia and Kazakhstan. And hovering over it all was a criminal investigation, previously unreported, by the Manhattan district attorney into whether the fraud alleged by the condo buyers broke any laws, according to documents and interviews with five people familiar with it. The buyers initially helped in the investigation, but as part of their lawsuit settlement, they had to notify prosecutors that they no longer wished to do so. The criminal case was eventually closed.
The Times provided additional details about the portion of the settlement requiring those cooperating with the criminal investigation:
That part required the plaintiffs to notify any investigative agency with which they "may have previously cooperated" that they did not want to "participate in any investigation or criminal prosecution" related to matters in the lawsuit, according to a confidentiality agreement signed by more than 20 people. The plaintiffs could respond to a subpoena or court order, but would also have to notify the defendants that they had received it, the agreement said. The criminal investigation was closed sometime afterward.
Bayrock is a development company with offices based out of Trump Tower in Manhattan, and it is largely inactive these days, save for fighting any remaining lawsuits against it. They were one of two partners on Trump SoHo. As far as Bayrock's involvement in the project, Trump said in a deposition that he and Arif worked on "numerous deals all over the world" and:
"Bayrock knew the people, knew the investors, and in some cases I believe they were friends of Mr. Arif. And this was going to be Trump International Hotel and Tower Moscow, Kiev, Istanbul, etc., Poland, Warsaw."
Arif grew up in Kazakhstan, which was part of the Soviet Union until 1992. He worked in the Soviet Ministry of Commerce and Trade as Deputy Director of Hotel Management for 17 years. After the collapse of the Soviet Union, he worked for a short while in Turkey, before moving the states, buying property in Brooklyn, then subsequently founding Bayrock in Trump Tower.
Bayrock is connected to a litany of shady figures in the former Soviet Union—one being Viktor Khrapunov, the ex-mayor of Almaty, Kazakhstan. According to the Financial Times, lawyers for the city told a U.S. court in March 2016 that Khrapunov and his family "conspired to systematically loot hundreds of millions of dollars of public assets…and to launder their ill-gotten gains through a complex web of bank accounts and shell companies…particularly in the United States." Three of the networks in Almaty's case were Soho 3310, Soho 3311, and Soho 3202—all LLC's, which enabled them to hide their ownership.
After they were created in April 2013, property records show that they paid $3.1 million to purchase apartments in Trump SoHo, and bank statements tied those purchases to Khrapunov's daughter in California, Elvira Kudryashova—a purported central link in this laundering scheme. The same amount of money was shown to leave Kudryashova's Wells Fargo account to New York lawyer Martin Jajan, who signed the purchase documents for the apartments in Trump SoHo, with the central benefits going to Bayrock/Sapir Organization LLC.
A 2007 Bayrock investor presentation cites Alexander Mashevich's "Eurasia Group" as a partner. Along with two other Kazakh billionaires—Patokh Chodiev and Alijan Ibragimov—the three who would come to be known as "the Trio" who ran the Eurasian Natural Resources Cooperation.
The Trio has been involved in the standard bribery, money laundering and racketeering that defines the post-Soviet republics, and they subsequently controlled a huge portion of Kazakhstan's mineral and gas reserves. State Department cables leaked by Wikileaks in 2010 demonstrate a very close relationship between the Trio and Nursultan Nazarbayev—who has been Kazakhstan's president since its independence from the Soviet Union in 1991, with his last "reelection" coming with a Saddam Hussein-like 98% of the vote. This is the world that Trump was referring to when he said "Bayrock knew the people, knew the investors."
However, the former Soviet Republic is not where Arif's most damning Kremlin connections come into play, but through an Icelandic fund called FL Group which tends to find its way into many of Trump's investments. According to James S. Henry's must-read deep dive into Trump's business ties to Russia in The American Interest:
For purposes of our story, the most interesting thing about Iceland is that, long before this crisis hit and utterly bankrupted FL Group, our two key Russian/FSU/Brooklyn mobster-mavens, Arif and Sater, had somehow stumbled on this obscure Iceland fund. Indeed, in early 2007 they persuaded FL Group to invest $50 million in a project to build the Trump SoHo in mid-town Manhattan.
The 2007 Bayrock investor presentation linked to above named FL Group as the Trio's other "strategic partner" in this venture. The Trump Organization denied any connection with FL Group despite the fact that with an 18% stake in Trump SoHo, Donald Trump personally had to sign off on the deal.
In the 1990s, Iceland turned their banking industry into a neoliberal paradise, and this produced massive returns for their investors obscured by the cloak of privatization up until the financial crisis of 2008, where Iceland was hit incredibly hard. Iceland's largest private investment fund prior to the 2008 crash? FL Group, who had a dizzying series of connections to all of Iceland's major financial institutions. Per Henry's investigation in The American Interest:
Fourth, Iceland's largest banks also made a series of extraordinary loans to Russian interests during the run-up to the 2008 crisis. For example, one of Russia's wealthiest oligarchs, a close friend of President Putin, nearly managed to secure at least €400 million (or, some say, up to four times that much) from Kaupthing, Iceland's largest bank, in late September 2008, just as the financial crisis was breaking wide open. This bank also had important direct and indirect investments in FL Group. Indeed, until December 2006, it is reported to have employed the FL Group private equity manager who allegedly negotiated Felix Sater's $50 million deal in early 2007.
Fifth, there are unconfirmed accounts of a secret U.S. Federal Reserve report that unnamed Iceland banks were being used for Russian money laundering. Furthermore, Kaupthing Bank's repeated requests to open a New York branch in 2007-08 were rejected by the Fed. Similar unconfirmed rumors repeatedly appeared in Danish and German publications, as did allegations about the supposed Kazakh origins of FLG's cash to be "laundered" in the Kriss lawsuit.
Toronto's Trump Tower and Hotel
Alex Shnaider is a Russian-Canadian billionaire who partnered with Donald Trump to co-finance Toronto's Trump Tower and Hotel, which was the tallest building in Canada before going out of business this past year. Shnaider is connected to FL Group in a litany of ways—one simple example being a €45.8 million loan to him from Kaupthing Bank to buy a yacht. Kaupthing Bank is one of the poster children of how the financial crisis wrecked the Icelandic economy—as more than 70 percent of the liabilities of the three biggest banks in Iceland (Kaupthing, Landsbanki and Glitnir) were denominated in foreign currency, with the banking system comprising eight times Icelandic GDP. In what I'm sure is a completely unrelated fact—in 2013, the CEO, chairman of the board and two other executives at Kaupthing Bank were sentenced to five years in jail for fraud.
An Icelandic Bank swimming in Kremlin cash is just the tip of the iceberg of Shnaider's Russian connections, as his ex-father-in-law is Boris J. Birshtein. According to the FBI, Birshtein was a close business associate of Sergei Mikhaylov, who allegedly runs the largest branch of the Russian mob—Solntsevskaya Bratva. According to Fortune, this is the highest grossing organized crime group in the world. In a 1996 intelligence report compiled by the FBI, Birshtein put together a meeting in his Tel Aviv office to discuss "sharing interests in Ukraine" that included Mikhaylov, along with several other leaders of the Russian mafia. In the early 1990s, investigators tracked transfers for millions of dollars between bank accounts of Ukrainian government officials, Mikhaylov and Birshtein.
In 1993, Boris Yeltsin—the first president of Russia following the collapse of the Soviet Union—accused Birshtein of illegally exporting seven million tons of Russian oil and then laundering the gains from it. According to the New York Times, Dmytro Iakoubovski—a former associate of Birshtein's—was cooperating with this investigation, and a gunman fired three shots into his home, then left a note telling him to stop collaborating with the detectives. Birshtein laundered this money as part of a larger project at Seabeco, a company that former KGB chief Vladimir Kryuchkov said "was created in order to apply the KGB money." According to the Belgian newspaper Le Soir, two of the three members of the Trio—Chodiev and Mashkevich—were also involved in this KGB front known as Seabeco.
So how does this connect to Alex Shnaider—Trump's Toronto financier? Well, aside from Birshtein being family for a portion of Shnadier's life, according to the Toronto Globe and Mail, Shnaider started working for Birshtein at Seabeco's headquarters in Zurich in 1991. The Toronto Globe and Mail reported that Shnaider left Seabeco in January 1994 to start his own company with an unknown Belgian partner. Kudos to James Henry of The American Interest for finding this Le Soir article showing that Mikhaylov and Birshtein co-founded MAB International in Antwerp, Belgium at that exact same time. If this were a tweet, this is where the thinking face emoji would go.
So to recap, Trump's Toronto financier came up through the ranks a company which was quite literally created by the KGB in order to swim in untraceable cash; was able to obtain a massive loan to buy a freaking yacht from a Kremlin-connected bank holding a significant stake in an investment fund which helped finance Trump's New York SoHo debacle—one which Trump settled a civil lawsuit filed against him where one of the central provisions was that those helping with the criminal investigation had to stop talking to the feds. Nothing to see here.
Now this brings us to the last part of this whole triumvirate—one that is ongoing to this very day.
Felix Sater
"Felix Sater, boy, I have to even think about it. I'm not that familiar with him." – Donald Trump in December 2015 while speaking to the to Associated Press.
Notice a theme with Trump's denials? There's a subtle acknowledgement that he may once have known these now discredited characters, but as far as current Donald is concerned, they're complete strangers. Despite Trump's assertion in 2015 that he did not know Sater, two years prior to that he seemed sure enough of who he was to issue another hedged denial against the fact that Sater was tied to the mob during a deposition over a failed Ft. Lauderdale condo deal.
Last July, Sater told Politico that he attended a "confidential" meeting at Trump Tower, and donated $5,520 to Trump's campaign, and there is even a record of a $120 refund by the Trump campaign to Sater for over-payment in order to comply with campaign finance laws. Sater's LinkedIn page still lists Trump.com at the top of his websites, and he wrote this post after the election, titled "President elect Trump will be one of the best Presidents this country has ever had. Looking forward to the American century about to begin."
Justin Henderson, a developer in Denver who worked with Trump and Sater on an unsuccessful deal to try to bring a Trump Tower to Colorado in 2005 told the Rocky Mountain News that "they seemed to get along just fine. It seemed that Mr. Trump relied heavily on Mr. Sater's opinion on certain markets."
Sater's past reads like a spy novel, per The New York Times:
Recently unsealed federal court records show that Mr. Sater helped the government disrupt an organized crime ring on Wall Street and deal with an unexplained national security matter involving his foreign connections. He was not the only F.B.I. informant in Bayrock's offices. Another was Salvatore Lauria, an associate of Mr. Sater, who sometimes showed up to work wearing a court-ordered ankle monitor. Mr. Lauria brokered a $50 million investment in Trump SoHo and three other Bayrock projects by an Icelandic firm preferred by wealthy Russians "in favor with" President Vladimir V. Putin, according to a lawsuit against Bayrock by one of its former executives.
That Icelandic firm is the aforementioned FL Group. Salvatore Lauria co-wrote a book with former AP reporter David S. Berry called The Scorpion and the Frog: High Times and High Crimes. Lauria now denounces the book as fiction, yet Berry maintains that the entire piece is fact, and claims that all the stories in the book are documented with official records and recorded interviews. The stories being true would explain quite a lot of what we know is factual about Felix Sater's past. During Loretta Lynch's confirmation hearings for attorney general in 2015, she said that Sater provided information "crucial to national security" while he worked as an operative for the U.S. government.
Sater, who was born in the Soviet Union in 1966, came to the United Sates at the age of eight. By the time he turned 32, he was accused by the federal government of conspiring with the mafia to launder money and defraud investors (notice how many money launderers tend to be in Trump's orbit?). A 2000 indictment described Sater as an "unindicted co-conspirator" in a $40 million scheme that included 19 stockbrokers and members of four mafia families. This was related to the complaint the federal government filed against him in 1998, which remains sealed to this very day. Sater's former friend, Gennady Klotsman—who is accused as a co-conspirator in the scheme—claims they both plead guilty in 1998, and that is when Sater began to cooperate with authorities.
In The Scorpion and the Frog: High Times and High Crimes, Sater unsuccessfully brokered a deal to buy a dozen missiles from Osama bin-Laden for the CIA. According to Klotsman, Sater was able to acquire another set of black market missiles and this "bought Felix his freedom."
Klotsman himself is an interesting figure, as he was sentenced to 10 years in a Russian prison for his role in a heist that stole $2.8 million in jewels and $670,000 in cash. In August of last year, Russia reached out to the United States to try to swap Klotsman and 12 other Americans for two high value Russians. Per The Moscow Times:
According to a Foreign Ministry document cited by Izvestia newspaper on Aug. 3, Russia went straight for the top of its wish-list: the infamous international arms dealer Viktor Bout and a drug-running pilot, Konstantin Yaroshenko. These are men who may or may not have dirt on Russia's leadership.
One would assume that if Russia initiated this trade, their proposal would contain people of value to the United States, and Klotsman's relationship with Sater must have been one of the primary factors into his inclusion in this offer—as he was listed third on lists disseminated by Russian media. Even more eerie is the fact that Klotsman and Sater were in Moscow in 1998 when the United States charged them with defrauding investors in collusion with the mob. What this all means is unclear, but it's yet another Russian government connection that we can tie to Donald Trump within just a few degrees' separation.
What we do know is that Felix Sater has a direct link to Trump as far back as 1999, or at the very latest, 2003, and according to Sater, it continues to this day. He even has a business card from the Trump Organization classifying him as a "Senior Advisor to Donald Trump." Sater confirms that he was at the center of the newly revealed Ukrainian peace plan, and the Ukrainian lawmaker on the other side of it told Business Insider that Sater confirmed that his proposal was delivered to the White House.
Felix Sater testified under oath that he took Donald Trump Jr. and Ivanka Trump to Moscow in 2006, had met personally with the elder Donald over the course of the 2000s, and confirmed the aforementioned trip to Colorado with Trump, yet in 2013, Donald Trump said about Felix Sater in court: "if he were sitting in the room right now, I really wouldn't know what he looked like."
Russian American Chamber of Commerce
Sergei Millian is the head of the shadowy Russian American Chamber of Commerce, and in 2009 said that it had "signed formal agreements with The Trump Organization" in an April newsletter that is no longer on its website. An investigation by the Financial Times revealed that most of its board members are non-descript organizations with unclear ownership, and after calling all phone numbers listed, roughly half went unanswered. One FT reporter went to the Wall Street address listed on the RACC's website and found no trace of its existence, even though it has facilitated a bunch of trips for Russian regional governors to the United States.
KGB expert and former Russian MP Konstantin Borovoi—who was president of Russia's first commodities exchange—told the FT that prior to the dissolution of the Soviet Union, the Chamber was "the official representative office of the secret services." In an interview with Ria Novosti in April of last year, Millian said that he met Donald Trump in 2007 at the "Millionaire Fair." He went on to elaborate on this connection (note: this quote is translated from Russian using Google Chrome's built-in translator):
"Later we met in his office in New York, where he introduced me to his right hand—Michael Cohen. He—the chief lawyer Trump, through which all contracts. Next to me was signed to a contract for promotion in Russia and the CIS one of the real estate projects. You could say I was their exclusive broker. Then, in 2007-2008, the Russians bought dozens of apartments in buildings Trump in the US. But I would not want to disclose the specific amounts and names."
Hope Hicks, a campaign spokeswoman for Donald Trump, told the Fianancial Times that Trump and Millian "met and spoke on one occasion almost a decade ago at a hotel opening."
.@SergeiMillian have you seen the polls that were announced formally today?

— Michael Cohen (@MichaelCohen212) August 19, 2016
So you're telling me that Trump's "right hand" reached out to his "exclusive broker" last summer to ask if he had seen polling even though Trump and Millian only "met and spoke on one occasion." Yeah, sure.
Trump Tower in Manhattan
Trump Tower has notoriously been known as a relative beehive for Russian mobsters (and all mobsters in general), with the most prominent case being the illegal gambling ring ran by Anatoly Goubchik which took up the entire 51st floor. The Moscow Times reported that Alimzhan Tokhtakhounov was also involved in this operation. Tokhtakhounov has the distinction of making the 2008 Forbes list of the World's Ten Most Wanted Criminals along with others like Osama bin-Laden, Joaqin "El Chapo" Guzman, and Joseph Kony. The links with this notorious mobster don't end at Trump Tower, as he reportedly traveled to Moscow as Donald Trump's special VIP at his 2013 Miss Universe contest. Vadim Trincher was alleged by the FBI to be running a connected illegal gambling ring specifically for Russian oligarchs, and Trincher's wife still lives in Trump Tower.
Other occupants of Trump Tower include Chuck Blazer, who plead guilty to racketeering and wire fraud in 2013 while running an international soccer federation out of the 17th floor. Jose Maria Marin is under house arrest in Trump Tower after pleading not guilty to bribery charges in the same investigation. Mel Cooper was convicted for mob-tied loan-sharking in 1985 and rented two apartments in Trump Tower a decade later. Robert Hopkins, who has been linked by law-enforcement to the Lucchese crime family, was arrested in his 59th floor duplex in 1986 for allegedly ordering a hit on a rival gambling ring (the charges were thrown out a year later). Ernie Garcia—who plead guilty to bank fraud in 1990 in connection with the infamous collapse of Charles Keating's Lincoln Savings & Loan—owned a unit in the building. David Bogatin, with an apartment on the 53rd floor, plead guilty to tax evasion in 1987.
Bogatin served in the Soviet Army in North Vietnam, and the FBI believed he was a central cog in Semion Mogilevich's crime syndicate. Mogilevich was a KGB agent, and one of the FBI's top ten most wanted men from 2009 to 2015. Bogatin said in Trump: The Greatest Show on Earth: The Deals, the Downfall, the Reinvention that his five condos in Trump Tower were sold to him by Donald Trump himself. Bogatin is not the only reported Mogilevich crime syndicate member to live in Trump Tower—as one of his lieutenants, Vyacheslav Ivankov lived there and reportedly had the private telephone and fax numbers for the Trump Organization's office.
According to a lawsuit filed by the Panamanian government in 1986, Trump sold an apartment to Lasa Trade and Finance, which was a cover for the brutal Haitian dictator Jean-Claude "Baby Doc" Duvalier. And this is all just in New York City. Reuters found that at least 63 people with Russian passports or addresses invested nearly $100 million among seven Trump-branded towers in South Florida. One of these individuals recently posted a picture of himself with the head of a Russian biker gang in Crimea.
To be fair, Trump Tower isn't solely populated by criminals, as people like Johnny Carson, Bruce Willis, Andrew Lloyd Weber, and Fay Wray—star of 1933's King Kong—also owned apartments in the building. Steven Hoffenberg, who went to prison for 18 years after being sued by the Securities and Exchange Commission for running one of the largest Ponzi schemes in history, and who now runs a pro-Trump Super PAC, helped shine a light on how our new president chooses his tenants when he told the Irish Examiner that "renting space has nothing to do with color or race—or indictment. It has to do with if you can pay the rent."

Trump businesses connected to the Kremlin within a few degrees separation are so extensive that this story could easily be twice as long and it still would leave many important details out. I have referenced a lot of it above, and if you want to dive into more—including what the Panama Papers reveal about Trump's business ties—I cannot recommend this much more in-depth piece by James Henry in The American Interest enough. Many of the sources cited above came from his research. Adam Khan (@Khanoisseur) is also a terrific resource on this subject, as is Caroline O. (@RVAwonk).
Simply put, Trump's business ties to Russia are obvious and pervasive. Russian real estate broker Ilya Reznik told the Financial Times that the sounds of the Russian language were nearly ubiquitous in the hallways of Trump's Florida properties. Financial records reviewed by FT corroborate this assertion. Despite insisting that he "has nothing to do with Russia," Trump has admitted to selling one of his Florida homes to Dmitry Rybolovev in what is believed to be the most expensive home sale in U.S. history. Trump also personally connected himself to notorious oligarch Aras Agalarov, by not only collecting a portion of a $14M deal as part of his 2013 Miss Universe pageant in Moscow, but by also leaving a digital paper trail.
@AgalarovAras I had a great weekend with you and your family. You have done a FANTASTIC job. TRUMP TOWER-MOSCOW is next. EMIN was WOW!

— Donald J. Trump (@realDonaldTrump) November 11, 2013
Agalaraov's son told Forbes that "now that he [Trump] ran and was elected, he does not forget his friends." The White House is also accused of sitting on a written response from Wilbur Ross, despite the fact that Ross told Senator Bill Nelson of Florida that he was eager to provide answers to his questions. Ross is Trump's Secretary of Commerce and a vice-chairman of the Bank of Cyprus, which is part-owned by one of Putin's close allies. If you're wondering where all this smoke around Trump's business leads, here is former NSA analyst John Schindler's theory:
IOW, Trump Org has functioned as money-laundering front for Russia's biggest OC group, which is functionally RIS.https://t.co/eAUKaRaBOC

— John Schindler (@20committee) January 9, 2017
OC = Organized Crime and RIS = Russian Information Service. Kenneth F. McCallion, a lawyer with 40 years of experience who has worked high-profile cases like the Exxon Valdez spill, Shoreham Nuclear Power Plant, and on settlement claims of thousands of victims of the German government during WWII, penned a column for the New York Daily News that concurred with that assertion.
So these are just two theories from people outside the investigation, and theories are all they are, right? Wrong.
Per the Financial Crimes Enforcement Network at the United States Department of the Treasury:
Trump Taj Mahal, a casino in Atlantic City, New Jersey, admitted to several willful BSA violations, including violations of AML program requirements, reporting obligations, and recordkeeping requirements. Trump Taj Mahal has a long history of prior, repeated BSA violations cited by examiners dating back to 2003. Additionally, in 1998, FinCEN assessed a $477,700 civil money penalty against Trump Taj Mahal for currency transaction reporting violations.
"Trump Taj Mahal received many warnings about its deficiencies," said FinCEN Director Jennifer Shasky Calvery. "Like all casinos in this country, Trump Taj Mahal has a duty to help protect our financial system from being exploited by criminals, terrorists, and other bad actors. Far from meeting these expectations, poor compliance practices, over many years, left the casino and our financial system unacceptably exposed."
Trump Taj Mahal admitted that it failed to implement and maintain an effective AML program; failed to report suspicious transactions; failed to properly file required currency transaction reports; and failed to keep appropriate records as required by the BSA. Notably, Trump Taj Mahal had ample notice of these deficiencies as many of the violations from 2012 and 2010 were discovered in previous examinations.
The Treasury fined Trump $10 million for these "significant and long standing anti-money laundering violations." So you tell me, when it comes to Trump's extensive ties to Russia, who are you going to believe, Donald Trump?
Russia has never tried to use leverage over me. I HAVE NOTHING TO DO WITH RUSSIA – NO DEALS, NO LOANS, NO NOTHING!

— Donald J. Trump (@realDonaldTrump) January 11, 2017
Or Donald Trump Jr., who told the "Bridging U.S. and Emerging Markets Real Estate" conference in Manhattan in September 2008:
"In terms of high-end product influx into the United States, Russians make up a pretty disproportionate cross-section of a lot of our assets; say in Dubai, and certainly with our project in SoHo and anywhere in New York. We see a lot of money pouring in from Russia."
Part three tomorrow: The mysterious arrests and deaths of high-level Russian officials.
You can read part one here: How Donald Trump's Own Words Connect him to Russia.
Jacob Weindling is Paste's business and media editor, as well as a staff writer for politics. Follow him on Twitter at @Jakeweindling.