European Court Calls Intel Fine Into Question
Europe is all over them like a chip suit
Justin Sullivan / Getty
Business
Features
Intel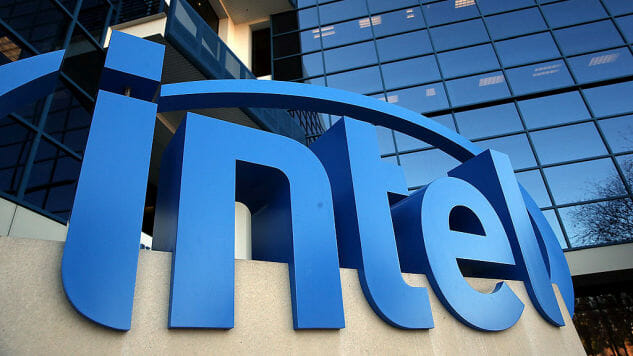 It was announced Wednesday that the Brobdingnagian overlord of circuits, the Intel corporation, might escape a fine. A European court levied a fine on the chip-maker back in 2009. Now the highest court on the Eurocontinent has decreed that Intel might not have been monopolistic enough to fall under the lash of the law.
Per the Times:
The highest court in the European Union ruled on Wednesday that Intel's $1.3 billion antitrust fine get a second look, a decision that bodes well for Google and other American technology giants facing challenges to their dominance in the region. The move to send the case back to a lower court for re-examination is a blow to Europe's competition authorities, who have aggressively been cracking down on an array of household names in the tech industry, from Apple and Amazon to Google and Facebook. It could also embolden these American firms, which have long complained that officials in Europe target them unfairly, to challenge rulings and investigations against them.
According to the dictates of the Court of Justice, Intel might not have to pay the original penalty hat was levied eight years ago.
The Intel charge last entered in the news back in 2014, when the penalty was upheld by another European court. The company and the continent have continually clashed on the law front, and there seems little chance they will back down anytime soon. Far-seeing eyes fixated on this case should recognize what it implies. Victory by law for European prosecutors might mean the chaining of Amazon and Google. This one legal battle is merely the silhouette, the shade of the cases that will come.
From the Times again:
The back-and-forth between the chipmaker and European authorities has outsize impact, affecting not only the 500 million consumers in the 28-nation bloc, but also the wide variety of national and international regulators who take their cue from Brussels on antitrust issues. It will also affect ongoing legal cases between Europe's competition officials and several other Silicon Valley companies … Intel's record fine was overtaken in June by a €2.4 billion penalty against Google, which was accused of using its dominant position in online search to give preferential treatment to its internet shopping service over those of its rivals.
Let's cut to the chase: in this country, tech giants get away with screeching murder. The government has zero courage when it comes to confronting the Valley. New robber barons demand new braveries, and regular confrontation from the forces of the law. America is wanting in such daring, but the Old World confronts New Tech on the regular. When the Valley says that corporations have undue burdens placed on their backs by Europeans, who are they kidding? They are the lords of commerce, but they are not beyond the law.
Naturally, they will fight to keep their predominance.
As TechCrunch notes:
The lower court will need to examine whether rebates used by the company could have restricted competition — likely meaning there are years more left in a legal saga that has already clocked up more than eight years of appeals. The activity by Intel that was deemed by the Commission to have breached EU competition law dates back to between 2002 and 2007. The EC takes that view that Intel had tried to block rival chipmaker AMD by giving rebates to PC makers for buying most of their computer chips from Intel. Commenting on today's ECJ's ruling, Assimakis Komninos, partner at global law firm White & Case, suggested it is encouraging for other big corporations that are also embroiled in EC antitrust actions and investigations.
Unfortunately, Komninos is correct. But those of us who want to strike back against Silicon Valley dominance may draw cheer from this result. The tech companies of the Bay bestride this world like colossi, but they can be fought. It's comforting to see, that for all their ballyhooed innovation, new money can occasionally be just as frustrated as the old, when it comes to matters of justice. Moore's Law may half processing speed while the wheels of justice grind sure slow, but occasionally the wheels grind aright. Europe's courts may have reweighed their original decision—but let us hope they return to their original conclusion.