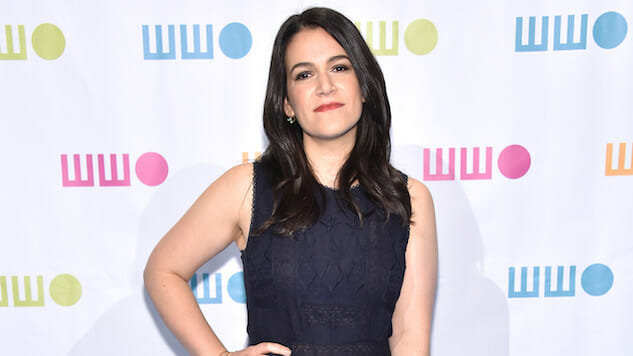 Ever go to an art museum and stare at a bicycle wheel on display, wondering what significance you were missing?
Don't worry, we all have—but starting next month, Broad City's Abbi Jacobson is here to put it all in context.
In collaboration with WNYC Studios (producer of podcasts like Radiolab and 2 Dope Queens), The Modern Museum of Art presents A Piece of Work, a new 10-part podcast series in which Jacobson will explore themes of modern and contemporary art.
In each episode, Jacobson will be joined by artists, MoMA curators, or some of her famous friends like Hannibal Buress, Questlove, RuPaul, Tavi Gevinson and Samantha Irby to discuss different art movements through collections on display at the MoMA. The series, inspired by frequently asked questions the museum gets from visitors, aims to guide listeners through the ideas and processes informing a wide range of artworks with lively conversation and compelling storytelling.
Aside from playing one on Broad City, Jacobson is an artist herself. She published her own book of illustrations last year, making her the perfect host for A Piece of Work.
"Until I started this project, I didn't realize how many questions I had, and how much I missed looking at and talking about art," Jacobson said. "Museums can be intimidating spaces, and I hope this podcast makes them more accessible."
The debut episode of A Piece of Work will be available July 10 on WNYC, MoMA and Apple Podcasts.