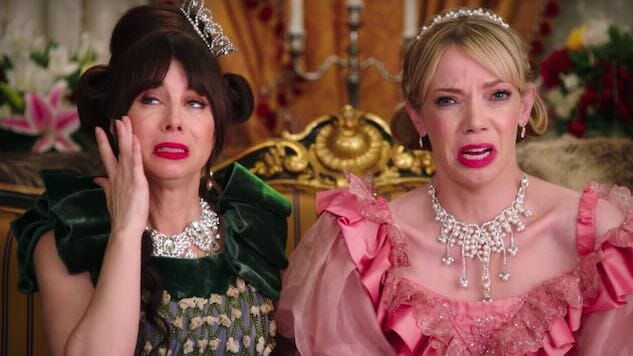 Don't cry, the third season of Another Period is on its way, and we have a trailer to prove it.
The third season of the Comedy Central show finds the Bellacourt sisters (played by Natasha Leggero and Riki Lindholme) dealing with the fight for women's suffrage, the Olympics and making "America great again, for the first time." The list of comedians in supporting or cameo roles is gigantic, so we'll limit it to just a few: Kate Micucci, Jemaine Clement, Paul F. Tompkins, Patton Oswalt and Chelsea Perretti will all be making appearances this season. And there are so many more.
Here's the season's official synopsis, per Comedy Central:
Now in its third season, Another Period tells the incredible story of the Bellacourt sisters, Lillian and Beatrice (played by Leggero and Lindhome), who are defined by their family's wealth and care only about becoming super famous—which is a lot harder in 1902. The series follows the insanely decadent and outrageous life of the Bellacourt coterie which, before others claimed their own fame, were the one American family who epitomized all that was spoiled, shameless and stupid—with more servants than relatives and days filled with money, sex, drugs … and more money.
Season three of Another Period premieres on Comedy Central on Jan. 23 at 10:30 p.m. EST. You can find our episode-by-episode reviews here.