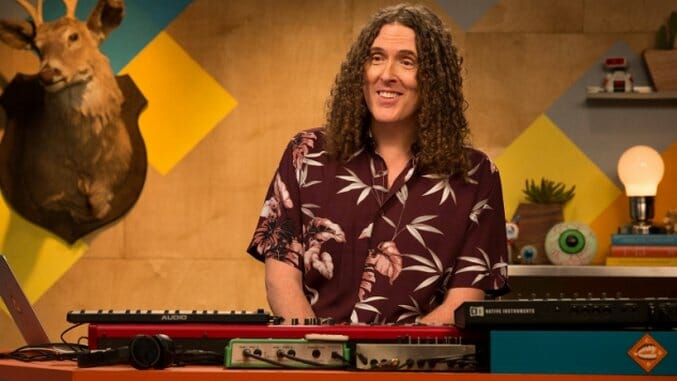 While Scott Aukerman and "Weird Al" Yankovic have been great so far in the fifth season of Comedy Bang! Bang!, already it's clear the real VIPs this year are the editors. For example, in "The Lonely Island Wear Dark Pants and Eyeglasses," the show could've easily cut any traces of Scott, The Lonely Island or George St. Geegland and Gil Faizon losing their shit, but wisely chose to keep these great moments. Or take for example just how much of a pain it must be to have Fourvel on the set, yet his addition on the show in "Tegan and Sara Wear Leather Jackets and Skinny Jeans" makes the entire episode. The same is true of this week's two episodes "T-Pain Wears Shredded Jeans and a Printed Shirt" and "Aubrey Plaza Wears a Velvet Off-the-Shoulder Gown With Flowers in Her Hair," where excellent editing of the various elements of the episodes blend together seamlessly.
More often than not, Comedy Bang! Bang! knows exactly how much it should go in on its premise. With "T-Pain," it's very little, as a cloning machine allows Scott to create his own minions in his image—which suspiciously look like Orphan Black clones—to do various chores for him. This idea barely presents itself and the episode is better for it, giving us small moments that surprise, such as the realization that the original Scott Aukerman from season one has been hiding in the walls for years and confuses Al for Reggie Watts. The clone idea is mostly in the background and is never too distracting, which is exactly how this idea should be used.
The editing is most brilliantly used this week when T-Pain arrives on the couch. I rarely watch the promo teasers that Comedy Bang! Bang! releases for each episode, but I've watched the incredible "music video" for T-Pain's impromptu song "Bleep Bloop Blap" several times and it only gets better with each viewing. Scott's dance to these three words belongs in the halls of great meme masterpieces.
Horatio Sanz is also a welcome treat as Melvin Alberts, an alien abductee who suffers from "Helsinki Syndrome." Sanz is always a fun addition to the TV show and podcast because he's clearly finding out what the hell his character is going to be right in front of us, and we get to watch him figure it out on the fly. It's also always a wonderful surprise when the guest gets in on the character interview, as T-Pain completely accepts the premise and co-hosts right along with Scott for the segment.
In the second episode "Aubrey Plaza Wears a Velvet Off-The-Shoulder Gown with Flowers in Her Hair," we get the incredibly rare episode of Comedy Bang! Bang! without the typical celebrity guests, but instead an episode full of characters. Unlike "T-Pain," "Aubrey Plaza" goes all-in with its episode idea, as Scott and Al go to a TV exhibit where they aren't known and time-travel back to Camelot, so they can become the first talk show, cementing their popularity.
Once they end up in the past, Scott mentions that "this will fill thirty minutes," and that is slightly what it feels like. Lady Aubrey of Plaza does have some fun with her character, especially when explaining the land's past time-traveling visitors. Nate Corddry as Lancelot doesn't exactly get anything much to do, though, besides joke about sleeping with Lady Guinevere right under her husband's nose.
But why this episode works is that it is the first time we've seen Scott and Al on an adventure together. It showcases their dynamic in a way that we haven't seen yet. The best moments of "Aubrey Plaza" are near the beginning, as Scott and Al walk through the TV museum, or at the end when Merlin (Fred Willard) tells them that they'll just have to live through the next 1,500 years to catch up to the present, while Scott and Al discuss killing famed German dictator Franz Gunther. We get to see these two be goofy together in a story that features both of them, and it shows how badly we need more moments like these between this great new duo.
Ross Bonaime is a D.C.-based freelance writer and regular contributor to Paste. You can find more of his writing at RossBonaime.com and follow him on Twitter.