Aziz Ansari is familiar with Internet criticism (see, for example, Dangerously Delicious, in which the comic eviscerates someone who suggests he "buy a real e-mail account" instead of complaining about a Gmail outage). So surely he knows that the common cynic's refrain about his stand-up is that he isn't that good, he's just really likable—as if his charisma were not a carefully-crafted, deliberate part of his routine. True, Ansari didn't rise to the top of the stand-up world on sheer comedic innovation alone, and his material often draws from familiar wells like dating, relationships and family. On the other hand, you'd be hard pressed to find a comedian who can joke about Internet culture and racism with as much skill as Ansari. But stand-up isn't a science; you don't have to move the whole field forward in order to have something to say. No, stand-up is a very human art form, and knowing how hard Ansari reportedly works, his charm isn't simply some serendipitous gift from above, it's a tool he has honed to make his (actually quite excellent) material pop, and to climb to the top of his craft. Each of Ansari's four stand-up specials is different, but each is also captivating in a way that proves that the stardom he has now attained is well-deserved.
With his Netflix sitcom, Master of None, premiering tomorrow, let's take a look back at Ansari's rise through the lens of those four specials, ranked in order from worst to best.
4. Dangerously Delicious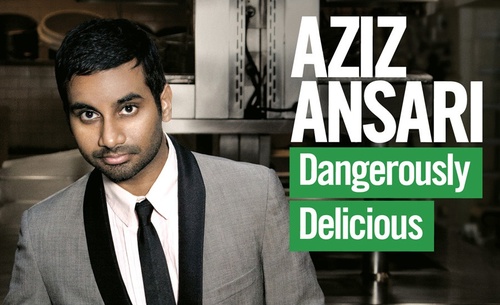 Generally speaking, there are two Ansaris: the excitable, energetic Ansari of Intimate Moments for a Sensual Evening (2010) and Dangerously Delicious (2012), and the more mature performer found in Buried Alive (2013) and Live at Madison Square Garden(2015). Ansari has never lost that spunkiness, but he's learned not to rely too hard on it for a laugh. During that earlier era, Dangerously Delicious failed to surpass his debut special. It's still funny but, in hindsight, it feels more like an awkward transition between his persona-heavy performances and his more confident, collected specials from the past two years. Delicious has a lot of ingredients in common with Intimate Moments: a bit about his cousin Harris, some commentary on race, stories about brushing shoulders with fame, and an extended rumination on R. Kelly. But it's also the special in which his more memorable observational humor about texting, dating and modern life first came to the fore. His reaction to not receiving a reply text as soon as he issues an invitation ("What? Did you check your phone into a locker and go ride a roller coaster for a few hours?") would fit right in with his more recent work.
3. Intimate Moments for a Sensual Evening
Intimate Moments is rough around the edges, an awkwardly assembled jumble of anecdotes, R. Kelly jokes and an ill-advised ending in which Ansari performs as Raaaaaaaandy from Funny People. But it's such a compelling introduction to Ansari's unique energy that it can be forgiven for its faults. This was, after all, the first time we learned about Ansari's cousin Harris (whose Facebook study group the comedian memorably trolled), the first time we heard him lust after creature comforts ("Where the rest of my threads?" he says, of sheets whose thread counts are too low), and the first time we heard him lampoon racism ("Are white people just psyched all the time?" he asks in response to white people suggesting he should be excited about Indian actors appearing in Slumdog Millionaire). There are only a few hints here of the performer that Ansari would later become—for example, some brief material on texting early on, which has since become one of his best wellsprings—but it's admirable for how well it preserves the performer who spent so much time jumping around the stage, and using his physicality to sell punchlines. As Ansari says of R. Kelly, "You are not gonna see shit like that at a Modest Mouse concert!"
2. Live at Madison Square Garden
It's hard to put Ansari's career-high Madison Square Garden event behind the earlier Buried Alive because it is such a confident showing in its own right. But it doesn't quite match up to his earlier Netflix special. Madison Square Garden is Ansari at his most personal. He jokes about his parents and brings them onstage at the end. There's a lot of material about his relationship, too, including a particularly good bit about guilting his girlfriend when he was actually in the wrong. It's gratifying to see Ansari be so confident in his own skin, and to have become so successful that people are now as interested in him as they are in his material. But Buried Alive is still his stand-up pinnacle by a hair. There's some great crowd work in Madison Square Garden, like when he reads a single woman's text exchange out loud, but there's better crowd work in his previous hourlong show. And his social commentary about "creepy dudes" is a welcome evolution from Buried Alive (in which he jokes about sending a stranger's dick pic to a female friend as a joke) but he delivers similar commentary with a little more punch in the earlier special. He leans just a little too hard on the size of the venue, too, asking the audience to participate in polls with their applause. It's still an excellent piece of work but, like Dangerously Delicious, it feels transitional in the most promising of ways.
1. Buried Alive
Buried Alive is a perfect bite of everything delicious about Ansari. His jokes about dating and marriage are at their peak, like when he compares having a kid to messing up a "very large complicated puzzle" that you have "finally" completed, or when he reimagines marriage as a sadistic ritual ("Eat a slice [of cake], now feed a little bit to me."). His crowd work here is phenomenal and, in fact, the special's biggest laugh comes when he asks a man who proposed to his wife at a supposedly "five-star" restaurant that serves breadsticks, "When it comes to their breadstick policy, does the word 'unlimited' come to mind?" His material on racism, and how he likes to think about racists while having interracial intercourse, is sharp and tenacious. Ansari also shows off his keen understanding of shifting social dynamics when he summarizes the younger generation's treatment of same-sex marriage as a total non-issue thusly: "Oh, two dudes are kissing? I'm about to watch every movie ever right now." The special also hits a sweet spot between high- and low-energy Ansari. There are moments when he seems genuinely reflective in the same fashion as he was in Madison Square Garden ("What if we're all supposed to be at Bed Bath & Beyond right now?" he asks, after telling a story about his now-married friends meeting at the store) but we also get to watch him dance across the stage parodying club music, singing "This is the best night of your life!" That night out probably wasn't the best one of your life, but this is definitely still Ansari's best special.
May Saunders is a professional dog walker living in Minneapolis and an occasional freelance writer. In her spare time, she enjoys hanging out with her cat, who does not need to be walked. Follow her on Twitter.