Zach Galifianakis Brings Back Between Two Ferns to Drag Jerry Seinfeld, Rain Praise on Cardi B
Cue the Seinfeld bass music
Images via Funny or Die
Comedy
News
Between Two Ferns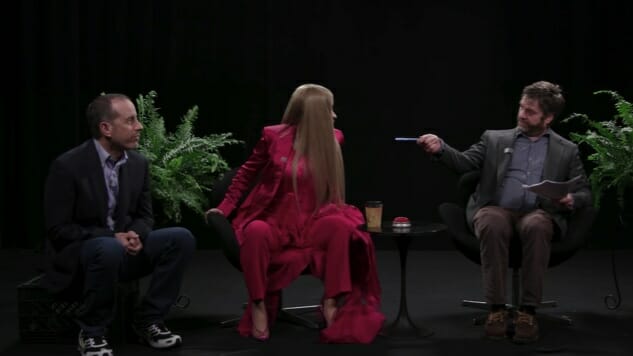 Zach Galifianakis' anti-interview show Between Two Ferns has made its triumphant return with one of its very best episodes. The last episode was released in September 2016 and featured Galifianakis interviewing then-presidential candidate Hillary Clinton. That episode, while funny, didn't see Galifianakis fully leaning into what makes Between Two Ferns such a subversive and acidic piece of interview-based comedy. The open criticism and "played for humor" disdain of the interviewee was lacking in that episode and, with this new episode, Galifianakis taps back into that … with a twist.
In this latest episode, Galifianakis interviews Jerry Seinfeld, airing his grievances about how Seinfeld's sitcom sparked the fire for white-focused sitcoms that took over the 1990s and much of today. Seinfeld, being a comedian, retorts with how, well, how bad The Hangover and its sequels are—with an emphasis on the cash grab nature of the two sequels. Yet, as the vocal attrition is finding its comedic feet, Cardi B crashes the interview and it is there that the humor really begins—it is doubly humorous in that the tonal shift from acidic to adoring sees Galifianakis's whole demeanor as a host and interviewer change.
When Cardi B enters the frame, Galifianakis is awe-struck. He trips over word after word as he heaps praise on her vocally and he even gives her physical gifts—a onesie for her soon-to-be-born child, for example. From her entrance onwards, Cardi B pays no attention to Seinfeld as he, more or less, becomes as much window-dressing as the eponymous ferns. Even as Galifianakis tries to rope Seinfeld back into his game of verbal warfare, Cardi B pays no attention and it makes for a brilliant example of situational and uncomfortably social humor, built around the norms and mores of group inclusivity/exclusivity.
The episode ends with Galifianakis pointing fun at the stand-up comedy routine that acted as an introduction to every episode of Seinfeld. He points fun at the tackiness of it all, and it is as cringe-inducing as it is smartly comedic. Between Two Ferns remains one of the more subversive and blatantly comedic web-shows that Funny or Die has to offer, despite the show's move to episodes airing once every few years. In this, it makes each episode feel like an event and, judging from the most recent episode, Galifianakis's weird little interview show has what it takes to live up to the event-like fervor that comes with each new episode.
Check out the newest episode of Between Two Ferns below.