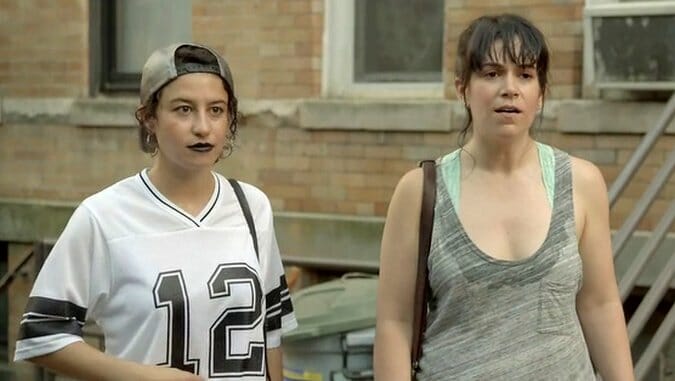 Rest easy, anxious Abbi and Ilana watchers: Broad City is back and it's good. In the best way possible, last night's Season 2 premiere felt like a throwback to the show's early episodes, recalling the brisk pace and hustler's grit that made "Pussy Weed" and "What A Wonderful World" so great. The girls' air conditioner problem was a solid premise that served up equally funny and familiar tangents, like asking for help on social media, returning to college and trying to attract someone while personally feeling pretty gross.
Most importantly, Ilana and Abbi were still very much Ilana and Abbi without feeling like broad parodies of the characters. Last season's Oprah tattoo gag was maybe a bit much, but Abbi's weirdly intimate relationship with the Bed, Bath & Beyond employees was just about perfect, as was everything we learned about Ilana last night, who apparently doesn't know Mount Rushmore is a sculpture and just kicks it at Foot Locker, not even shopping.
Also strong in "In Heat" were the show's guest stars, who are so consistently excellent it's almost not worth mentioning anymore. Seth Rogen—who, while always enjoyable, can seem a bit out of his depth onscreen—felt more at home on Broad City than he has in any fictional universe since Undeclared. Silicon Valley's Kumail Nanjiani similarly killed it, setting a new standard for the role of "Smug Nerd Dick" with just a hemet cam and few seconds of obnoxious mugging.
Really, the only thing I didn't love about last night's episode was the "Abbi is a predator" storyline. It seemed like the show was trying to explore the kind of queasy self-reflection that comes with talking honestly and openly about consent, but too often it came across as "what if a woman was a rapist haha." Like Jezebel's Lindy West and Feministing founder Jessica Valenti, I'm not opposed to jokes about rape outright, but it better be a damn good joke if it hopes to justify its existence. This one wasn't and it didn't.
The above misstep aside, "In Heat" was a return to form for Broad City and it left me pretty optimistic about the show's new season. We'll see if future episodes can match the humor and energy of this week's entry, but I wouldn't bet against these girls.