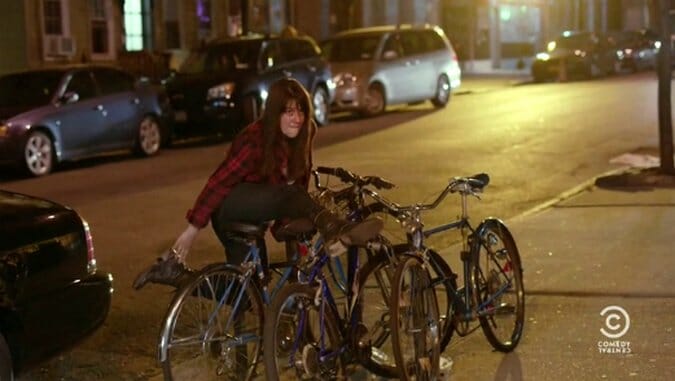 As lucrative as they've found the specter of the shiftless, Internet-addicted millennial, the media has struggled to come up with believable representations of life as a young person in the 21st century. Even in the traditionally youthful world of comedy, efforts to capture the zeitgeist have either skewed too humiliating (like Girls), too care-free (like Workaholics), or, in the case of Two Broke Girls, too much like the racist mutterings of a drunk, lecherous uncle, to really ring true. Undoubtedly, a big part of this inauthenticity stems from the fact that the people involved in the projects are themselves serious success stories, having landed plum TV jobs after relatively little time in the post-recession wilderness.
Luckily, Comedy Central's new series Broad City has much stronger bona fides, its cast stacked with real-life comedy hustlers. This extends from leads Ilana Glazer and Abbi Jacobson (who started Broad City as a series of web shorts) to supporting actors like Chris Gethard of DIY talk show fame. Even Hannibal Burress, probably the most famous of Broad City's cast members, can claim serious grit cred, having literally slept on the subway when he first moved to New York.
All of this translates into one of the most honest portrayals of the contemporary 20-something experience as you're likely to see on TV. Abbi and Ilana aren't figures of Obama-era ennui or funemployed party girls, but two people trying to get by in the big city without becoming homeless or overly bored. They're also, it needs to be said, crazy funny.
Broad City's first episode is filled with solid laughs, both and situational and gag-based, with special recognition going to an especially Hannibal-ly Hannibal Burress and an oddly-prized electronics store gift card. But none of these jokes could land without Glazer and Jacobson supplying the comedic core that drives the show as the impulsive Ilana and rudderless Netflix-junkie Abbi, slacker doubles of Broad City's creators.
In "What A Wonderful World," Ilana talks a reluctant Abbi into ditching work for a Lil Wayne concert, until a lack of cash forces them into a series of increasingly desperate and hilarious money-making schemes. It's an old premise, but the duo's fund-raising methods are distinctly 21st century, including bucket drumming and the kind of light online sex work that may be all too familiar to Broad City's audience. That scene, featuring Fred Armisen as a creepy adult baby, unsurprisingly results in some of the funniest moments in an already very funny episode.
Really the only place where Broad City's debut misses its mark is when it addresses Abbi's supposed loneliness, expressed primarily through a regrettable recurring joke about her dating her vibrator. Viewers might also be put off by the show's sparse, no-fuss production, though personally I found the editing to be pleasingly unobtrusive. But besides these two (frankly negligible) demerits, "What A Wonderful World" is an impressively strong opener that should make comedy fans excited about the show's future. After all, when you're at the bottom things can only go up.