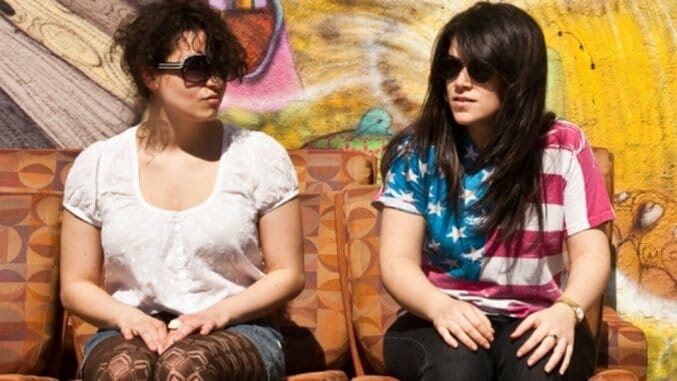 Before it was a popular and critically acclaimed sitcom on Comedy Central, Broad City was a video series on YouTube. The web series ran for two seasons and 25 episodes from 2009 and 2011, and consisted of sketches, many of them averaging about five minutes, that offered brief looks into the fictionalized lives of its two stars/creators Ilana Glazer and Abbi Jacobson. All of them are still freely available to view. Watching them in light of the TV show that followed, they offer a fascinating glimpse into seeing two creative minds developing their characters and collective vision. The short format also allowed them to take greater creative chances than if they started with a half-hour show on a cable network, and that risk-taking zeal has continued into the series. Here are 10 of the more noteworthy episodes from their preliminary YouTube run.
1. "Making Change," Season 1
Glazer and Jacobson's opening salvo was this two-minute vignette that sees the former daring to try to make change with a homeless person begging for money, to the latter's embarrassment. Even more noteworthy than the amusing scenario itself is the economy with which the two stars established their respective characters: Jacobson the self-conscious plain Jane to Glazer's carefree firebrand. The particulars of their broader vision had yet to be firmly established, but these two people wasted no time in locking in on their personas.
2. "Under the Mistletoe," Season 1
The loyalty between Glazer and Jacobson has been one of the most consistent themes of the TV series, to the point where they have toyed with the possibility, for Ilana at least, of something more than just friendship. One can see the first stirrings of such sapphic undertones in the climax of this episode, in which Ilana, seeing Abbi strike out multiple times in trying to hook up with guys at a holiday party, kisses her friend on the lips in order to help Abbi realize her dream of kissing someone under a mistletoe.
3. "Laundry," Season 1
Another hallmark of the TV series is its New York-centric humor (case in point: the Prospect Park dog wedding in the second-season episode "The Matrix"). For many young New Yorkers, it's something of a holy grail to be able to live in an apartment with one's own washer and dryer. When, in "Laundry," Ilana discovers a male friend has both in his apartment, she seduces him just to be able to do her laundry free of charge. As hilarious as the episode is, it's also arguably one that will resonate most with dyed-in-the-wool New Yorkers.
4. "VChat," Season 1
This episode is basically an extended video chat, with the camera pointed at Ilana's and Abbi's respective computer screens while cutting back and forth—just an inkling of the kind of stylistic chances Broad City would regularly take. Beyond the formal playfulness, "VChat" not only offers a pointed satire of the sometimes inscrutable nature of dating in the digital age—with text messages suggesting a vast, confounding ocean of romantic subtext—but also perhaps the show's most direct articulation of its inner feminist perspective when Ilana briefly launches into a defense of women articulating exactly what they want.
5. "Date Night," Season 1
Speaking of dating, this episode is striking for the fact that it isn't exactly funny. In fact, it's essentially a dual romance, with Abbi enjoying herself with someone on a date that she goes home with him, and Ilana hanging out with a current love interest (played by Hannibal Buress in his first of many appearances in the Broad City universe). Naturally, Jacobson's portion of the episode is sincerely romantic, while Glazer's portion is much bawdier. Both threads converge in a final image that locates friendly warmth in a vulgar text.
6. "Do the Right Thing," Season 1
This Season 1 closer daringly reconfigures Spike Lee's classic 1989 treatise on American racism into an attack on sexism—an empowering call to arms to all the women that deal with harassment every day on the streets, from the mouths of men who see them merely as sex objects instead of individuals. Certainly, it was the first episode of the series that explicitly articulated its inner social conscience, in ways that were inspiring without losing its impish side.
7. "Valentine's Day," Season 2
Season 2 kicked off with this mostly dialogue-free episode chronicling these two single gals' adventures traipsing around New York City on Valentine's Day—set, à la Woody Allen's Manhattan, to George Gershwin's Rhapsody in Blue—before it unexpectedly climaxes with argument kickstarted by Ilana's attempt to kiss a horrified Abbi in a gesture toward "sealing the evening." The punchline here is that Ilana's act stems from a misconception of the ending of Thelma and Louise as a result of her having only seen parts of the film.
8. "Dream," Season 2
Abbi's skittishness about Ilana's romantic overtures are given a workout in this episode, which, as suggested by its title, is essentially an extended dream sequence. But it's the nature of this dream that truly dazzles: As Abbi keeps waking up to ever-more-outlandish nightmare visions of Ilana's clingy devotion, the episode develops a nested-doll structure that is perhaps the most formally daring thing Glazer and Jacobson have conceived in the Broad City world. In such a context, a fart coming from Ilana has rarely sounded more welcoming as Abbi realizes she's finally back to reality.
9. "The Commute," Season 2
At first, the contrast between Abbi's and Ilana's morning habits—the former methodical, the latter messy—is amusing enough. But notice the accompanying songs to contrast their routines: Fleetwood Mac's "Gypsy" in Abbi's scenes, Missy Elliot's "Pass the Dutchie" in Ilana's. The episode cuts back and forth until, finally, both characters converge and Dan Chamberlain's mash-up of both songs overtake the soundtrack as they both walk to work (in the YouTube episodes, Abbi and Ilana work at the same company). This structurally and aurally inventive episode's high-flying exhilaration ends when Ilana realizes that it's only Tuesday, not Friday.
10. "I Heart New York," Season 2
This last hurrah for Glazer and Jacobson before they made their jump to Comedy Central offers a fitting summary of the YouTube series as a whole. As Ilana and Abbi run around Manhattan in their attempt to score a free cookie at a coffee shop, motifs from the series pop up—an ogler from "Do the Right Thing" reappears to hassle them again; later, a couple of parents and their infant clog up a sidewalk, thereby recalling the scorn that greeted them in the Season 1 episode "Yoga" when the two dismissively admitted to their fellow yuppie yoga peers that they didn't have children. But markers of the TV series to come appear as well: Its quest narrative foreshadows similarly structured episodes like Season 1's "Destination: Wedding" and Season 2's "Hashtag: FOMO;" plus, Amy Poehler—who would become one of the executive producers of the TV show—makes a delightful cameo appearance. Here, in a seven-minute nutshell, is Glazer and Jacobson's vision of New York: as an alternately exasperating and wondrous playground on which these two negotiate their personal and professional anxieties while trying to have fun wherever possible.
---
Kenji Fujishima is a freelance film critic, contributing to Slant Magazine, Brooklyn Magazine, The Playlist and the Village Voice in addition to Paste. He is also Deputy Editor of Movie Mezzanine and former editor-in-chief of In Review Online. When he's not watching movies and writing and editing film criticism, he's trying to absorb as much music, art, and literature as possible. He has not infrequently been called a "culture vulture" for that reason.