Chloe Dykstra Appears to Accuse Ex-Boyfriend Chris Hardwick of Long-Term Emotional and Sexual Abuse
In the immediate aftermath of Dykstra's account, Hardwick has been scrubbed from the Nerdist website
Photos by Joe Scarnici/Getty, David Livingston/Getty
Comedy
News
Chris Hardwick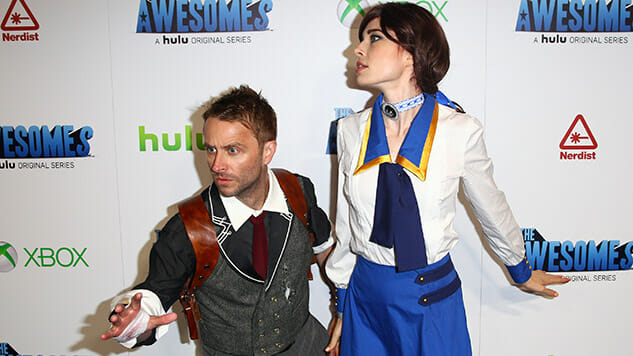 Actress and TV personality Chloe Dykstra has accused an unnamed ex-boyfriend of long-term emotional/sexual abuse and career blacklisting in an emotional essay.
Dykstra begins her Medium post by saying it's taken her "quite literally 17 times" to put her words to paper. She goes on to detail the abuse in her three-year relationship that led to her bottomed-out self worth and a struggle with anorexia.
While she does not outwardly name the subject of her essay, the timing and details of the accusations suggest that she is referring to comedian, host of AMC's The Walking Dead after-show Talking Dead and Nerdist CEO Chris Hardwick. In the hours since Dykstra's essay was published and reported upon, Hardwick has been scrubbed from the Nerdist website, as THR reports.
In her essay, titled "Rose-Colored Glasses: A Confession," Dykstra writes that she "ended up falling for a man almost 20 years my senior." She talks about how the man exhibited controlling behavior, including imposing a series of rules, during their three-year relationship. She also alleges that he demanded she stay in their hotel during a trip to San Diego Comic Con while he went to parties by himself "and got a famous actress's number with intention to date her at the same time as me." Dykstra says she was prohibited from going out at night, maintaining friendships with other males and speaking in public spaces.
Dykstra has also ostensibly accused Hardwick, 46, of forcing her to take a job at his production company, which she accepted out of fear of upsetting him, despite her aversion to working for her significant others.
Her essay details sexual abuse allegedly perpetrated by her ex. She recalls how one night when she told him she was too sick to have sex, he responded with a "veiled threat," saying, "I just want to remind you, the reason my last relationship didn't work out was because of the lack of sex."
Later, Dykstra was hospitalized for an ectopic pregnancy, breaking the news to him over the phone through her sobbing. "My fear of his anger at me for getting pregnant was literally greater than my fear of death," she writes. After her surgery, her ex allegedly asked the doctor, "When do you think I can have sex with her again?"
Once their relationship had ended, Dykstra says she was blacklisted from the entertainment industry by her ex, with the help of another woman who had "gained my trust and heart," and "actively made it her mission to destroy my friendships." Dykstra claims she was blacklisted because she left her ex for another man. Hardwick married actress Lydia Hearst in 2016.
For Dykstra, "Rose-Colored Glasses: A Confession" serves as both closure that she never received and a "warning for each and every one of you, regardless of gender." She adds a quote from BoJack Horseman—"You know, it's funny; when you look at someone through rose-colored glasses, all the red flags just look like flags"—and urges everyone to look out for the red flags.
At the end of the essay, she adds that she has video and audio corroborating her story that were not included in hopes of receiving an apology, but that she plans on using them in the case of a lawsuit arising from her post. The actress later tweeted to thank her friends and fans for their support.
I quietly posted an article today, unlisted on Medium. It clearly made the rounds. I'm overwhelmed and I want to thank all of you for your support and kind words- they mean so much to me. I may take some time off the internet, please know your support means everything to me.

— Chloe Dykstra (@skydart) June 15, 2018
Meanwhile, a Legendary Entertainment spokesperson explained Hardwick's removal from the Nerdist website in a statement:
Chris Hardwick had no operational involvement with Nerdist for the two years preceding the expiration of his contract in December 2017. He no longer has any affiliation with Legendary Digital Networks. The company has removed all reference to Mr. Hardwick even as the original Founder of Nerdist pending further investigation.
Read Dykstra's essay in full here. Hardwick has yet to comment publicly on the situation.