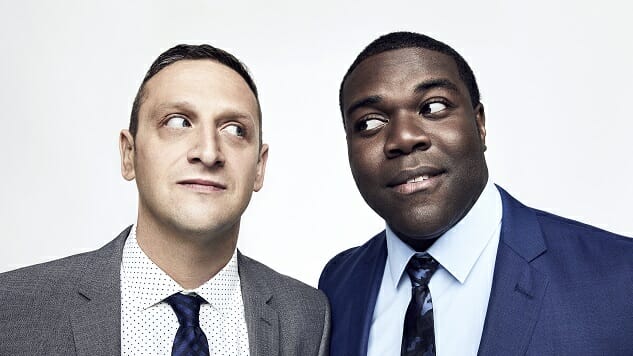 There is an entire genre of documentary / true crime that seems to film full time in the state of Michigan. Between Flint and Detroit, there's been an abundance of features and Netflix miniseries that tackle the ever-worsening situation in that state—from economic collapse, to violent crime, to the very water itself being poison to those who live there. If you didn't know better, you'd think there was a constant darkness shrouding the hand-turkey state, so anyone who tries to inject a bit of light into it is doing some good in the world. Jack White opened a record press up there, which gave jobs to… five people? And our president has promised to bring jobs back, but that's probably out the window after threatening all of our allies at the G7. Point being, Michigan needs all the bright spots it can get these days.
That brings us to the Comedy Central show Detroiters. Executive produced by Lorne Michaels and SNL alum Jason Sudeikis, the show is lead by Detroit natives Sam Richardson and Tim Robinson as young ad men trying to make their breakthrough in a city where small businesses can actually be saved through experimental acts of marketing. It's a great jumping-off point that doesn't waste any time with establishing backstories, and instead just dives right in from the pilot onward. There's a diverse team of side characters all contributing towards an episodic end product, and the stunted status of the city means that aiming for early 2000s level viral video content still works, because it's going up on local TV instead of competing with online placements.
The show captures one of the best bromances in the history of a network based on bromance TV. "The key is using our real friendship," Sam Richardson says of his real life best friend. "It just so happens that we can translate this into a visual medium. It is real love translated onto camera."
Tim Robinson adds, "We're just always doing stuff in real life and saying we should put it on the show. And now we get to do that."
Filmed last summer, the second season of Detroiters is set to start airing this week. For two long time best-friend comedy partners, it's a dream come true to bring their interpersonal nonsense to the screen. In season one, there's an entire episode where Tim keeps cockblocking Sam and he can't figure out why. That's based on a real world issue.
"Tim is married to his high school sweetheart," Richardson says. "So for years he would interrupt anyone who was trying to talk to me and he was annoyed by these girls."
"It wasn't on purpose," Robinson says. "But I didn't see it through Sam's point of view and I never got the hint. Now I see it. Girls weren't leaving when I wanted them to leave because Sam was courting them."
"I've forgiven him," Richardson tags.
These two friends were born and raised in Detroit, Richardson in the city and Robertson "from the suburbs, baby!" They'd made a pact that if they ever got an opportunity, they'd come back to Detroit, but only if they had something to bring back. They came up through Second City in Detroit and then Chicago, and then they split for the coasts—so this gig was their big break to return as conquering heroes. In celebration of that, their show set in Detroit is entirely filmed in Detroit, and uses a Detroit crew. Hiring dozens of actual Detroiters makes an economic difference.
"We've had to deal with a lot of Michigan storms," Robinson says. "They'll break out for ten scary minutes and then pass on." This was his worst ordeal from a Michigan filming. Richardson's was hilariously more complicated.
"We were filming next to a clock tower," Richardson says. "You'd think it goes off every hour. Nope. The bells kept ringing out every few minutes. UH OH HERE COMES 'FOGGY DAY IN LONDON TOWN' AGAIN. So we'd just sit there, between takes, trying to wait out the clock." They eventually prevailed.
Throughout the show there's an idea that both its characters and Detroit itself must be represented well. Between seasons, the team figured out how to writer inter-episode arcs, with stories that kept building, until Detroiters built its own comedic world. This gives the show something to build out from, allowing for higher stakes, better characters, and everything that comes with it that would make a second season feel like an expansion on the first..
"My dream for the show is that we get to play in real life with the Lions or another big sports team," Richardson says. Robinson thinks their participation in a Thanksgiving Day parade would be a bigger win. But not as big as the victory of the show getting to use local Detroit celebrities like Mort Crim.
"It doesn't mean as much to the viewers as it means to Sam and I," Robinson says, "but it's a big deal."
"That's why when it comes to this show," Richardson says, "the thing you need to know is that it starts airing Thursday. There are ten episodes. You should watch all ten episodes. They're good."
---
The second season of Detroiters premieres on Comedy Central at 10 PM / 9 PM C tonight, and continues every Thursday at 10:30 PM / 9:30 PM C.
Brock Wilbur is a writer and comedian from Los Angeles who lives with his wife Vivian Kane and their cat, Cat. He is the co-author (with Nathan Rabin) of the forthcoming book Postal for the Boss Fight Books series.