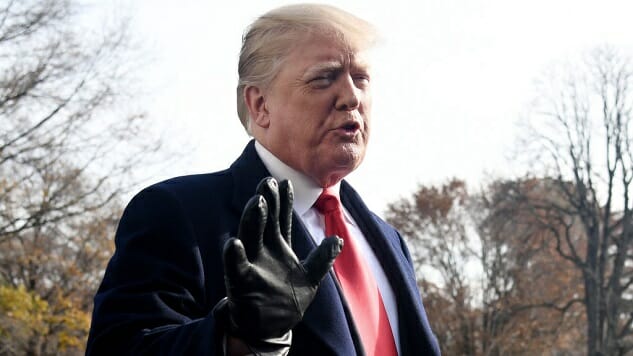 Here's a fun reminder: our president doesn't know how to spell the word "smoking."
"Democrats can't find a Smocking Gun tying the Trump campaign to Russia after James Comey's testimony. No Smocking Gun…No Collusion." @FoxNews That's because there was NO COLLUSION. So now the Dems go to a simple private transaction, wrongly call it a campaign contribution,…

— Donald J. Trump (@realDonaldTrump) December 10, 2018
This isn't the first time Trump has referred to a "smocking gun" on Twitter. He did it back in August, too. And since that's the kind of error that's typically caught by a smart phone's spellcheck feature, that means he's spelled it as "smocking" so many times that his phone just lets it go at this point. He's made his phone as dumb as he is.
Some of Trump's most hopeless supporters have twisted this typo as another subversively brilliant move by the man they worship as a master strategist. We hate to ever acknowledge somebody as buffoonish as Bill Mitchell here, but you gotta admire the epic lengths he'll go to utterly embarrass himself.
Why would Trump use "Smocking Gun," capitalized as to draw even more attention to it?

Because he is MOCKING the Democrats for having no smoking gun.

Consider yourselves #smocked Democrats.

— Bill Mitchell (@mitchellvii) December 10, 2018
And you can find all manner of other conspiracy-addled QAnon-style fantasists somehow changing the subject to smear John Podesta some more, for some inexplicable reason.
Mostly though Twitter is just rightfully tearing Trump apart for repeatedly misspelling a word that most folks have a firm handle on early in elementary school. Here are some of the best of those jokes.
2018: Waking up and seeing #SmockingGun trending and already just knowing exactly why without clicking on anything.

— Heather Hogan (@theheatherhogan) December 10, 2018
The original #SmockingGunpic.twitter.com/orPP8OU3OE

— Ben Mulroney (@BenMulroney) December 10, 2018
A smocking gun is what an elementary school art teacher uses to committ murder.

— Tronald Dump (@ChrisCubas) December 10, 2018
So embarrassing that our president thinks the term is "smocking gun" not "hot glue gun". Imagine all the frustrated fits he's thrown in front of confused Michael's employees.

— Eliza Skinner (@elizaskinner) December 10, 2018
here's a picture of Donald Trump's favorite tag team, the Smocking Gunns pic.twitter.com/lvvMez27qi

— Brandon Stroud (@MrBrandonStroud) December 10, 2018
It literally takes extra energy to write smocking twice instead of smoking. My autocorrect keeps being like "are you sure???"

— Jiffy VVild (@jiffywild) December 10, 2018
the only thing that stops a bad guy with a smocking gun is a good guy with Spell-check

— Matt Oswalt (@MattOswaltVA) December 10, 2018
UPDATE: The Surgeon General reminds you that smocking is dangerous to your health.

— Disalmanac (@Disalmanac) December 10, 2018
I started vapping to help me quit smocking

— Bryan Donaldson (@TheNardvark) December 10, 2018
I saw mommy smocking Santa Claus

— Dave Itzkoff (@ditzkoff) December 10, 2018
Smoking. Smoking. Smoking. Nope. I can't make autocorrect say "smocking" by accident. Just one more try. Smoking. Nope.

— John Hodgman (@hodgman) December 10, 2018
[pulls up tweets I made from last time Trump misspelled "smoking" as "smocking"] https://t.co/UDVPRJ2Nx6

— Parker Molloy (@ParkerMolloy) December 10, 2018
Today only: One free smocking gun with every purchase of a full-price covfefe.

— Kendra Alvey (@Kendragarden) December 10, 2018
The only way to stop a bad guy with a smocking gun is a good guy with a smocking gun.

— Tony Posnanski (@tonyposnanski) December 10, 2018