Drew Landry's Mini Special All My Friends Are Dead Is Full of Life-Affirming Laughs
Image by Hayley Frazier
Comedy
Reviews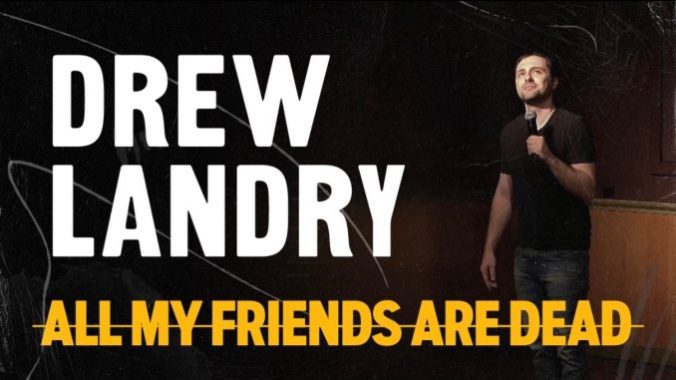 There's a no-frills attitude about Drew Landry's mini special All My Friends Are Dead, and his approach is apt considering that his main topic—death—is much the same. We can try to dress it up with prayers and funerals, but at the end of the day someone is gone and we feel their absence with every breath we take and they don't.
Landry may have a name that makes it sound like he's a star quarterback, but he's actually a comedian originally from Baltimore and now based in Los Angeles (in fairness, maybe he's also good at football, I don't know). His mini special stands at just under 22 minutes and was filmed at the LA Connection Comedy Theatre in late 2022. He begins by just launching into his set without any fancy introduction building him up. The unassuming start, as well as his excellent first bit about being diagnosed with bipolar disorder, immediately draw in the viewer.
Landry's been performing stand-up since he was 13, and his on-stage ease is a large part of what makes this special work. Many of us aren't even comfortable talking about death with our loved ones, while Landry lays bare some of the toughest moments of his life in front of strangers. Over the course of All My Friends Are Dead, he talks about the death of his childhood best friend Tucker at the age of eight, and later Tucker's twin sister and Landry's other best friend Ellie, who died in her 20s. Landry also examines the long-lasting effects of grief and how it crops up in strange and unnerving ways. His frank and frankly hilarious discussion of mental health is one of the special's greatest strengths. Life's hard and it hurts, but we can still laugh about it.
All My Friends Are Dead also succeeds because of Landry's deep empathy for the audience. He gives us permission to laugh at certain things that usually discomfit us, and also recognizes those moments that are too horrific or sad to make light of, gently setting them aside. Landry's understanding of his audience and gauging of the room's emotions keep the special safely on track.
As for his writing, Landry's jokes are streamlined and elegant in their simplicity. Sometimes they can be predictable, however, his bits are delivered with such gusto that even if you see the punchline coming, you still keep laughing.
All My Friends Are Dead is a life-affirming 20-odd minutes that showcase both Landry's talent as a comedian and his deep love for Ellie and Tucker. You'd be hard-pressed not to call up your best friend as soon as the credits roll.
Watch All My Friends Are Dead on YouTube here.
---
Clare Martin is a cemetery enthusiast and Paste's assistant comedy editor. Go harass her on Twitter @theclaremartin.