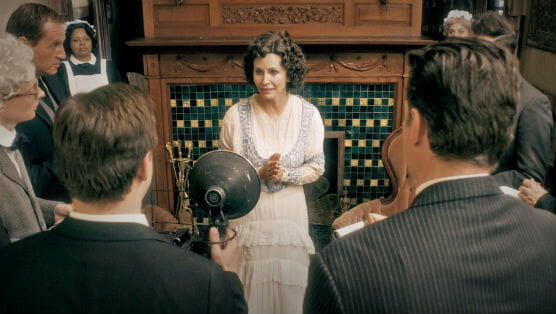 There's no justification left for people who claim "women aren't funny," but unfortunately it's fair to say the stories of "First Ladies" most definitely are not.
Maybe as Season 2 of Drunk History wraps up, it's simply too late into the night, everyone's too drunk to be charming anymore and we're all sorta just ready to go home. For this week's finale, there seemed to be a goal to go out strong on the "drunk" in Drunk History, and really hammer home that these storytellers are, well, hammered. Sure, it's the show's core premise, but this was one of those episodes where the magic never quite clicks and the result is more sloppy than slapstick.
It says something for Molly McAleer's story about Frances Cleveland, wife to President Grover Cleveland, that the producers found it more entertaining to stop the historical re-enactment and show McAleer baking a batch of chicken nuggets. Bobby Moynihan and Alia Shawkat do what they can with the material they're given—and a cameo from Paget Brewster is always welcome—but McAleer's story is so flat and, frankly, boring that their performances never inspire more than a smile or two. Oh, and the history lesson to take away? Frances Cleveland was a very nice person who did lots of nice things.
Jen Kirkman gets a little more mileage out of the story of Edith Wilson, who she proclaims served as "the first female president of the United States" when President Woodrow Wilson suffered a stroke while in office. It's an anecdote more in line with the "Huh, I never knew that" theme of Drunk History's best scenes, and Courteney Cox brings the right amount of snap to her portrayal of Edith. But as the segment wears on, Kirkman's level of drunkenness moves from funny to frustrating, as both she and the story fizzle out.
The episode makes a valiant attempt at recovering in the final act, with Jenny Johnson telling the tale of Dolley Madison saving valuable artifacts from the White House before the British set fire to it during the War of 1812. Few comedians can play self-aware sassy like Casey Wilson, so she's a perfect choice for Johnson's portrayal of a confident, hard-partying, proudly patriotic First Lady (the first presidential wife to go by that title). Ian Roberts isn't given much to do as President James Madison, but the segment is the most successful of the night, benefiting from more compelling visuals and narrative action than the previous stories. The producers also smartly incorporate Johnson's break to take a photo with her iPhone into the historical re-enactment, imagining a British soldier stopping during the attack so he can "Instagram this shit."
It's a shame to see Drunk History end its second season on a weak note after a pretty solid run of episodes. Still, as a whole Derek Waters and team have managed to avoid a sophomore slump. For all of the buzz about the high-profile guest stars, it's worth taking a moment to acknowledge the show's regular ensemble cast, particularly Craig Cackowski, Bennie Arthur, Tymberlee Hill, Tim Baltz, Jeremy J. Tutson and Mort Burke. Waters has a deep bench, and his own performances match up to the more famous names around him. Glad he'll be back next year for another round.