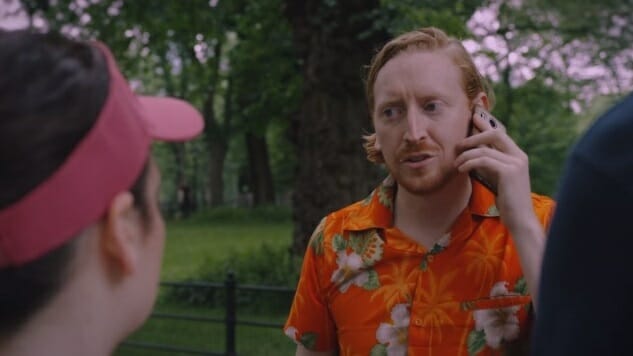 The internet: there's a lot of stuff on it! (In it?—Ed.) This much we know. We're drowning in content these days and there's far too many people making great stuff to spotlight at once, but it's worth a shot. In that spirit: here's a roundup of some of our favorite sketches and videos from April.
Wes Haney: "Bounce" and "Rebound"
This pair of videos from Wes Haney (The Characters) gives us a look at the family of a man (Haney) who leaves his family with no warning to move to New York and seemingly just hang out and is caught in the act. Both have real serenity to them, and Haney's performance specifically is just wonderful optimistic anxiety in a bottle. In the second of the two shorts, which cuts over to what's happening back on the homefront with Haney's family, we're treated to the wonderful phrase "you and the boy wanna watch me chop wood?" We're praying for a Part Three.
---
Natasha Vaynblat: "Nail Performance Artist"
Meet the future of nail art, the Nail Performance Artist. @natashavaynblatpic.twitter.com/1imJK9UwiW

— Comedy Central (@ComedyCentral) April 23, 2019
Natasha Vaynblat (who we previously covered for her lightning-round Twitter characters) is back on the list this month, this time for some of her recent work for Comedy Central. Her mini-mockumentary about a nail salon run by personable but boundary-pushing performance artist packs a dizzying number of visual jokes into less than two minutes, from acrylic ducks drowning in symbolic oil to a cascade of nail clippings falling into Vaynblat's mouth. We can start its campaign for "Best Documentary (Short Subject)" right now, if we want.
---
The Pembrook Brothers: "The Bros Get Booked"
The market for L.A.-based webseries about aspiring artists may seem crowded, but you won't feel that way after you start The Pembrook Brothers, Anna Garcia and Gabrielle DeCaro's series about two brothers attempting to make a triumphant comeback in the city's art scene. It's a real shot in the arm, a heightened mix of live-action and animation that's self-aware without becoming disaffected, functioning as a loving send-up of West Coast aimlessness on top of everything else. It also has eggs, eggs that scream.
---
Tony Zaret: "Trying to Be 'Hot' for Bae"
Can you imagine attempting to do a suave 'striptease' for your partner, only to have it end up being 'goofy'? If not, then simply take a look at one of the innumerable comedic videos featuring this very premise, one of which is this #ThrowbackThursday#instagramskit I made! pic.twitter.com/mppoJFwh3N

— Tony Zaret (@tonyzaret) April 11, 2019
Tony Zaret's unhinged parodies of meme culture are incredibly consistent and all worth your time. This month's highlight was a prime example of his ability to imitate the clumsy, off-tone rhythms of Instagram sketches that are transparently desperate for virality. Zaret's sketches often hinge on their subjects assuming their experiences (both monotonous and insanely specific) are so relatable that they're begging for the "TFW" treatment, and "Trying to Be 'Hot' for Bae" is a high-water mark for that. Would that Zaret's sketches could shame actual examples of this out of existence, but that might be asking a bit much.
---
Sarah Dooley: "Game of Thrones Recaps"
I watched Game of Thrones for the first time on Sunday and did a recap…pretty sure I got all the details right?? #GamefThronespic.twitter.com/6GISS4BSV7

— Sarah Dooley (@unruliestdooley) April 18, 2019
Comedian/songwriter Sarah Dooley has found herself in a position faced by many non-high-fantasy/incest fans: she doesn't watch Game of Thrones, nor has she ever. Unlike those cowards, Dooley is diving in headfirst and providing commentary on this season's episodes unhindered by that pesky decade of context leading up to them. The fun in these, for those who do watch the show, is deciphering what exactly she's talking about, though once we realize, we have to agree her points-of-reference are pretty spot on. "When I looked up from my phone," she says, "a dragon had paid the hot ones to have sex while he watched." She's not far off.
---
Sam Naismith: "Hacking"
Hacking pic.twitter.com/xrD23QZfGP

— Sam Naismith (@DrSamNaismith) April 5, 2019
Sam Naismith's race-against-the-clock minute of concentrated hacking (into the mainframe, presumably) yields unwelcome results for him, but not for us. "Hacking" has Matrix hues and distorted faces and fake typing and heart-poundingly generic action climax music. Naismith says half of one word here, but that's all this video needs. It's extremely silly. It makes me want to go hack something. I don't normally have this instinct.
---
Trevor Martin: "Oh, What A Beautiful Day"
A new video sketch every month, from your friend here at The Trevor Show. Oh, what a beautiful day. pic.twitter.com/NAy1obNfuY

— Trevor Martin (@The_Trevor_Show) April 5, 2019
I want to say absolutely as little about this one as possible. You will quickly come to realize what this video's deal is and I'm not about to spoil it for you. I'll just say that Trevor Martin has changed the way I look at nature itself. If that's not enough of a selling point I don't know what to do for you.
---
Graham Techler's writing has been featured by McSweeney's and The New Yorker, and he performs at the Upright Citizens Brigade Theatre in New York. You'd be doing him a real solid by following him on Twitter @gr8h8m_t3chl3r.