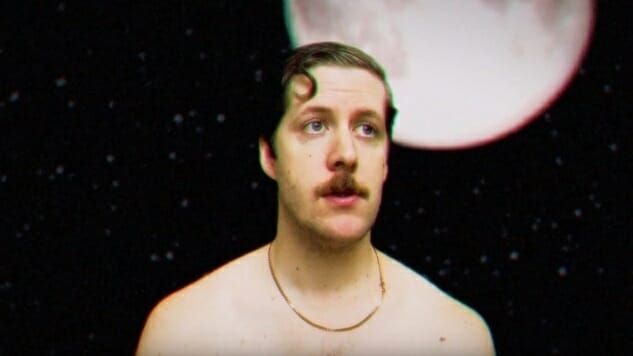 Each month, we dive into the recesses of the internet and scour them for our favorite funny videos. We're always excited to show you what we come up with, and this past month was no exception. October may be the spookiest month of the year, but we were treated to a wealth of spooky and non-spooky comedy videos alike. Check them out below.
Rachel Wenitsky — "Come to My Haunted House!"
Come to my haunted house!!!!!!!!!!! pic.twitter.com/mABnRgIsPD

— Rachel Wenitsky (@RachelWenitsky) October 26, 2019
We've always been big fans of Rachel Wenitsky's (The Tonight Show) Twitter videos, so we were glad to get a Halloween-y one, wherein Wenitsky promotes a haunted house filled with rooms full of real-life terrors like "the room where my college boyfriend dumped me while we were watching ESPN," or "the public bathroom at the beach in Tel Aviv where I got ringworm on my Birthright Israel trip."
---
Jeremy Kaplowitz — "1990s Jerry Seinfeld Doing Bits About His 17-Year-Old Girlfriend"
I did stand-up last night as "1990s Jerry Seinfeld Doing Bits About His 17-Year-Old Girlfriend" pic.twitter.com/hFKr7ie6JP

— Jeremy Kaplowitz (@jeremysmiles) October 29, 2019
A surprise guest at the New York Halloween bit show "Schtick or Treat" this year was Jerry Seinfeld—specifically, the 38-year-old Jerry Seinfeld who actually dated a high schooler. That doesn't stop Jerry from entertaining the audience with observations like, "you ever notice how girlfriends are always talking about math homework?"
---
Amy Zimmer — "Share This With Someone…"
Whoa! Share this with someone who today <3 pic.twitter.com/3Zd6aLTDfG

— Amy Zimmer (@oneamyzimmer) October 18, 2019
A poignant reminder that Twitter character videos don't owe you anything, this video sees Amy Zimmer stride right up to the camera and chastise the viewer for presuming that she was going to do anything once she got there. "It's Lincoln Center," she says. "Home of culture? How about you give me a break."
---
John Reynolds — "To the Moon!"
John Reynolds adapts his character Barth Pencil, an elderly sports announcer, into this insane short featuring a laundry list of New York alt-comedians. Gorgeously directed by Marty Schousboe, it's a wonderful mix of idyllic mid-century Americana, genuinely disturbing imagery, and surprising pathos.
---
Hard Drive — "Jolie Darrow at Comic Con"
our writer @Joliedarrow saw some of the coolest cosplays at new york comic con and just HAD to get a picture from them!! pic.twitter.com/9qKX75EwTE

— Hard Drive (@HardDriveMag) October 23, 2019
Countless websites took to the floor of New York Comic Con to interview the colorful cosplayers assembled there to represent their favorite characters, but no site was better equipped to do so than the satirical gaming site Hard Drive. Sending Jolie Darrow, one of their top contributors, to the front lines, they managed to create the only Comic Con video you'll need to watch this year.
---
Sam Taggart — "Fell in Love on Halloween"
Sam Taggart has a type, and according to this melancholy Halloween music video, it's guys in off-brand costumes. In this case, Mario (or, one of the brothers from 'Super-Sicilian Sibling Guys' on their quest to rescue 'Kidnapped Princess Fruit.')
---
Natalie Walker — "Send in the Clowns"
I do not think last night's show was filmed professionally so I have cobbled together from instagram this short film of me, living in a society pic.twitter.com/99yB3qisq3

— Natalie Walker (@nwalks) November 1, 2019
Our consolation prize for having to deal with Joker and the Joker-related cultural conversation was this performance of A Little Night Music's "Send in the Clowns" from Natalie Walker. Smearing Joker makeup across her face as she sings every Wall Street bro's favorite Sondheim number, Walker is also sure to include a great take on the Joker's famous "murder dance," which was and has always been a totally normal and cool thing to see the Joker do.
---
Dana Donnelly — "I Date A Lot of White Guys"
i date a lot of white guys. pic.twitter.com/oYxzOPX2J5

— Dana Donnelly (@danadonly) October 25, 2019
Dana Donnelly (co-host of the Los Angeles comedy show Funnilingus) breaks down the romantic pitfalls involved in dating white guys in this short and excellent stand-up clip. "I've noticed that some white guys are so afraid of seeming racist," she says, "that when I ask them if I'm their first girlfriend that's not white, they will totally avoid answering the question by reminding me that I'm not their girlfriend."
---
Demi Adejuyigbe — "Succession Theme Song"
not trying to start a feud or anything but I'm a little annoyed @HBO & Nicholas Britell asked Pusha T to write lyrics to the Succession theme, since they asked me to first and turned my version down https://t.co/MUywcSIYzqpic.twitter.com/q8OLy52krZ

— demi adejuyigbe (@electrolemon) October 9, 2019
Demi Adejuyigbe returns to this list for a second month in a row thanks to this rendition of the Succession theme song that HBO "rejected" before going with Pusha T's take. I dare you to watch an episode and not hear "Who. Will! Get. A! Kiss. From Da-ddy!" from now on.
---
Kelly Bachman — "Fuck Harvey Weinstein"
Keep getting new followers today is it because my tweets are so fire? lol fuck Weinstein and thanks @ambercrollo ILY #mysecondtweetpic.twitter.com/hLjWn5VM8Y

— Kelly Bachman (@bellykachman) October 24, 2019
The circumstances of this particular video were obviously harrowing and upsetting, so we don't want to be cavalier in including it here. It shouldn't have been a situation anyone was put in in the first place. It just feels like we'd be remiss not to mention the already iconic clip of comedian Kelly Bachman at a bar in Manhattan's Lower East Side—using sharp humor and nerves of steel to bravely stand up to Harvey Weinstein and those who would try to support him. It's certainly the most important work any comedian did this month.
---
Graham Techler's writing has been featured by McSweeney's and The New Yorker, and he performs at the Upright Citizens Brigade Theatre in New York. You'd be doing him a real solid by following him on Twitter @gr8h8m_t3chl3r.